New Haven Underground
Pitkin Street Tunnel, New Haven
January 2021
You may not think of Connecticut as state with tunnels that matter, but it kind of is. The tunnel through West Rock, called Heroes Tunnel, is the only highway/road tunnel through a land feature in New England. Surprising, right? Connecticut is also home to the oldest railroad tunnel in the country in Lisbon. Super cool.
Which brings us to New Haven's secret tunnel. No, not one of the rumored secret tunnels that criss-cross beneath Yale, but the actual honest-to-goodness real tunnel underneath a city block right downtown: the Pitkin Street Tunnel.
This curving tunnel, which connects the south side of Elm Street between Church and Orange to State Street just above Chapel, used to be quite well known. It was a common cut-through to avoid traffic and traffic lights. If you needed to get from here to there and knew what was up, you took the Pitkin Street tunnel.
Pitkin Street has an interesting and long history. The Daily Nutmeg has written about it and provides a lot of the good stuff for this page, including the first photo.
[Pitkin's] name descends from a mostly forgotten but apparently historic road that once connected Orange and State: Pitkin Street. According to Doris B. Townshend's The Streets of New Haven: The Origin of Their Names (1984), Pitkin Street, named for the family that held it, was "for a long time the oldest privately owned street in America." After converting to a public way, it was later minimized into Pitkin Alley. Then it disappeared altogether as a drivable route, becoming what we know today as Pitkin Plaza.
Whoa! Did you catch that? This is a US Oldest on top of being a quirky tunnel! The city's urban planners planned to do what all urban planners planned to do in the late 1960's and early 1970's: destroy the fabric of another city. Having succeeded wiping out Long Wharf with I-95, they tried to knock down half of the buildings around the Green. They were stopped short of total destruction at least.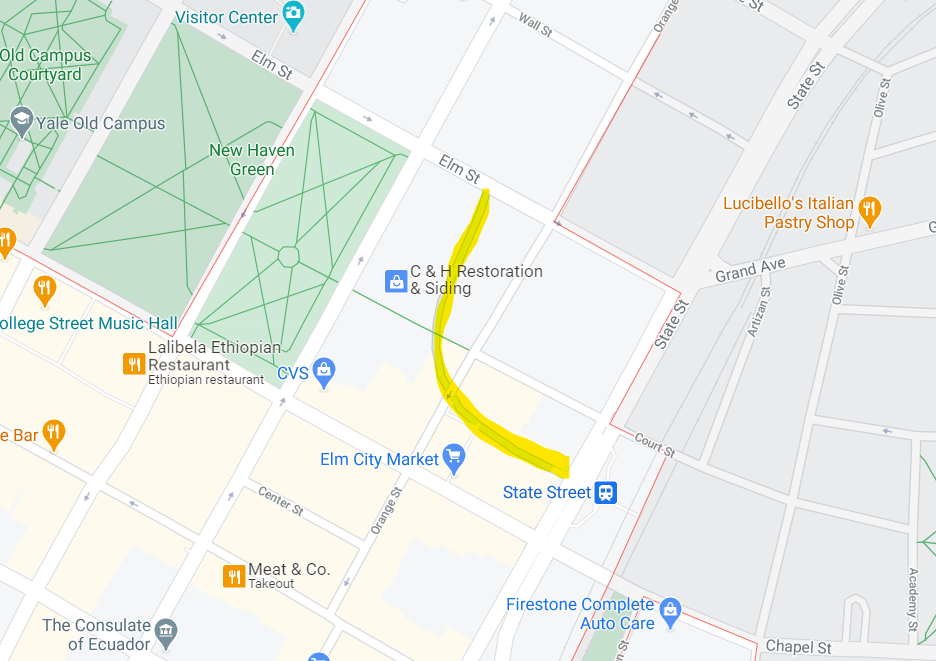 Built by the Public Building Services division of the General Services Administration, other goals behind the tunnel are laid out in the GSA's 1974 environmental impact report for the construction of the Giaimo Building: "An underground tunnel will be constructed to provide access to all parking, loading and unloading facilities of the various developments in the Government Center Area. This will be a public right-of-way."
The tunnel was a concession of sorts, since the plan was to close some ground-level streets. That didn't happen, but the tunnel did… and wound up being shared by the public and the federal government.
Then 9-11 happened and while it took some time to change things here, they eventually changed. Someone realized that up above, there sat city hall, Richard C. Lee Federal Courthouse, the Giaimo Federal Building, the City of New Haven's Emergency Operations Center, as well as two public office towers. Suddenly allowing all sorts of box trucks to drive underground willy-nilly seemed like a pretty dangerous idea.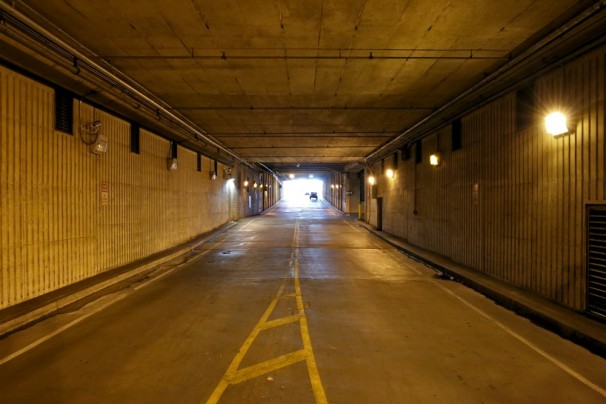 Especially since the federal building houses Homeland Security folks. Maybe one of them figured it out. So public access was limited, then limited more. Guard booths and blockades now guard Pitkin Street. In the late 2010's, the public was allowed to drive through for a few hours each weekday, during rush hours. Now? I don't know.
If you want to try, you need to know how to look for it. Both openings look like nondescript parking garage entrances. (There are a lot of parking spaces in there for key-card holding employees of the above buildings.) It is poorly lit and fairly unwelcoming. US Marshals man booths at each end (when open) and security cameras are everywhere.
I believe that you can still walk through it. Sure, it's an unappealing, somewhat dangerous walk, but if you're a true tunnel fan, go for it. (You will likely have to speak to a US Marshal to do so, however.)

CTMQ's Highways, Roads, and Tunnels