Heroes Tunnel (a.k.a. West Rock Tunnel)
New Haven
Regicides Trail above, Wilbur Cross Parkway below
The Regicides Trail traverses the ridge above the well-known tunnel on the Wilbur Cross Parkway. When I was just gaining a love for long distance trail hiking as a young Boy Scout, we hiked a section of the Appalachian Trail over the Lehigh Tunnel. Something about looking down at the cars below going through the mountain I had climbed felt… felt powerful somehow. I was probably 11 at the time and I remember that feeling fondly. This trail and tunnel are not quite as impressive, but it's still something cool to do in CT. In fact, you can't do this ANYWHERE else in New England. Why? Because Heroes Tunnel (renamed from West Rock Tunnel in 2003) is the only road tunnel in New England that goes through a land feature.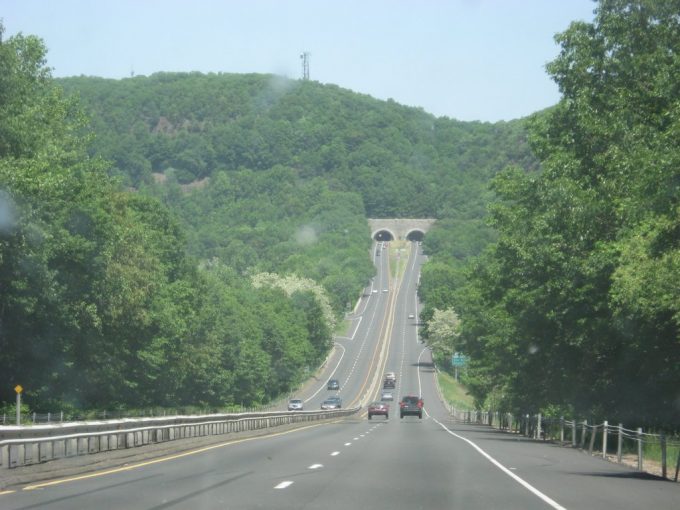 The following is excerpted from my Regicides hike report:
We trudged onward towards what was, for Andy, the highlight of the day: hiking over the West Rock Tunnel and the Wilbur Cross Parkway (which becomes the Merritt a bit further south). I'll admit, it was sort of cool and of course all subsequent drives through the tunnel will annoy my wife and child: "Papa has been up there. Above us now. Right over this tunnel. Yeah, that's right."




There is a stone tower in the middle of the woods here which is a ventilation tower for the tunnel a couple hundred feet below. I didn't try to enter it, but apparent – for several years anyway – the door was open and you could walk into the ventilation shaft of a tunnel. Which I'm sure is a blast.

Note: That doesn't really sound all that fun to me, but it does sound like something I wish I did when I was up there.

The bottom line here is that this tunnel is the only highway tunnel through the earth in all of New England and I just find that rather amazing when I think about it. Some clowns on Wikipedia have disputed this claim, noting two examples.

One is Vernon's Keyhole Tunnel which deserves an eyeroll and the other is the East Side Trolley Tunnel which passes under College Hill in Providence, Rhode Island. Okay. But that's for trolley's, not cars. Weak sauce, Vernon Wiki-Editor Person, weak sauce.