Bop It
It at Jordan's Furniture, New Haven
June 2019
The first thing you need to know here is that you're not allowed to have your camera (phone) with you on the course. However, I do see in the FAQ that chest-mounted GoPros are permissible. I do not have a chest-mounted GoPro.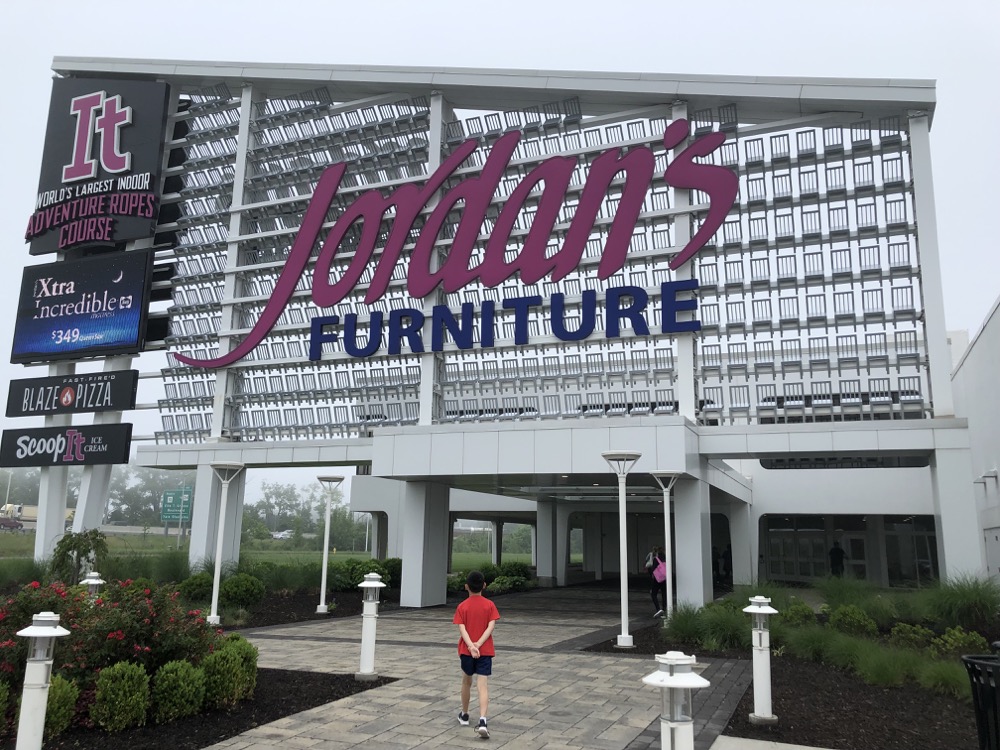 The second thing to know is that "it" is indeed called "It" and I have no idea why. I'm sure there's some explanation for It somewhere, but it is not in the FAQ. Something I did learn in the FAQ is that they'll give you some shoes to borrow if you show up in flip-flops. I like that.
Other things to know? It is expensive. It is in a furniture store and you must walk through the store to reach It. That would be Jordan's Furniture. They're the store that does those sort of mature, calmer, wiser, slightly higher-end commercials with a more earnest spin than Amazing Bob. Except they do that Red Sox no hitter promotion every year which always strikes me as really dumb. Strikes me… heh. But the spokesman (and owner, I assume) seems like a nice guy in his commercials.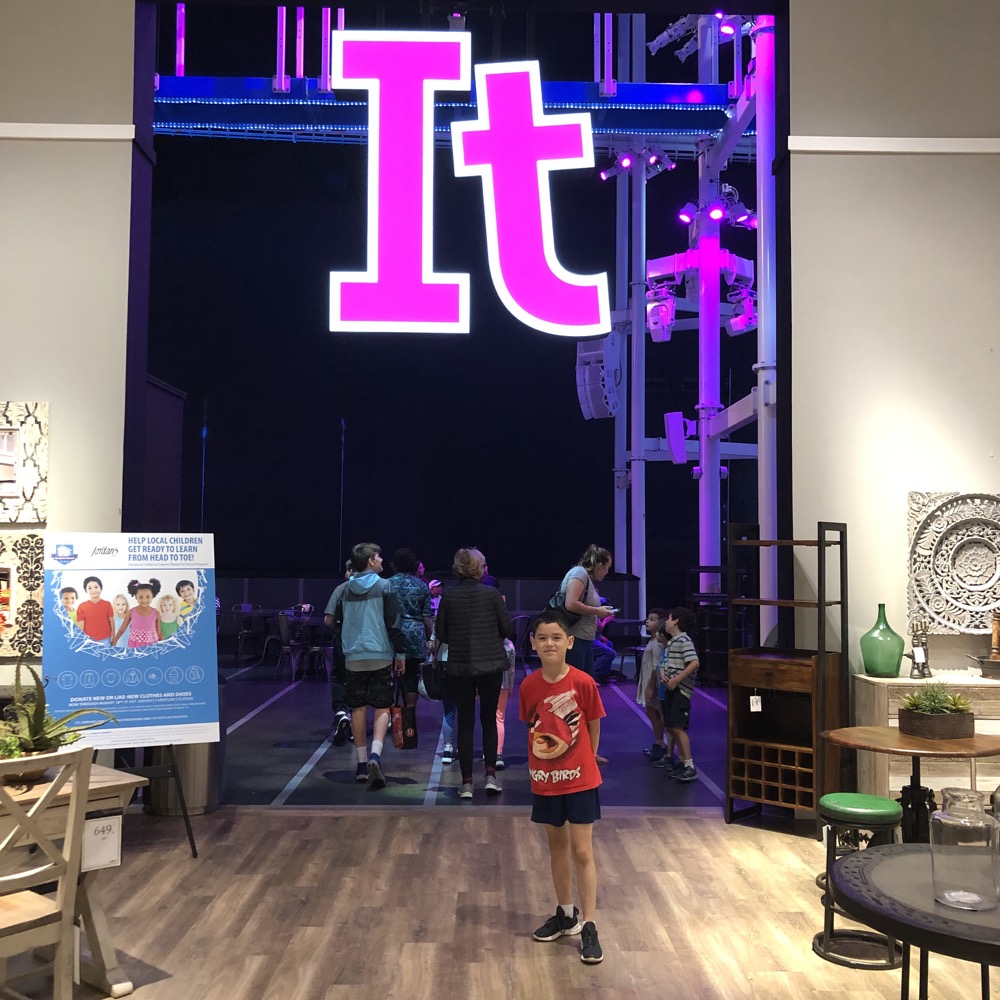 And he put a giant "ropes adventure course" in his furniture store in New Haven for some reason.
Experience the world's largest indoor ropes course, featuring four adrenaline-pumping levels of fun and adventure! Your full body harness and sling line will keep you connected at all times while you explore 100+ challenges, including crisscross angle rope ladders, zig-zag swinging beams, cargo nets, bridges, and more. Soar through the air on the zip rails over the liquid fireworks water show from one end of the course to the other.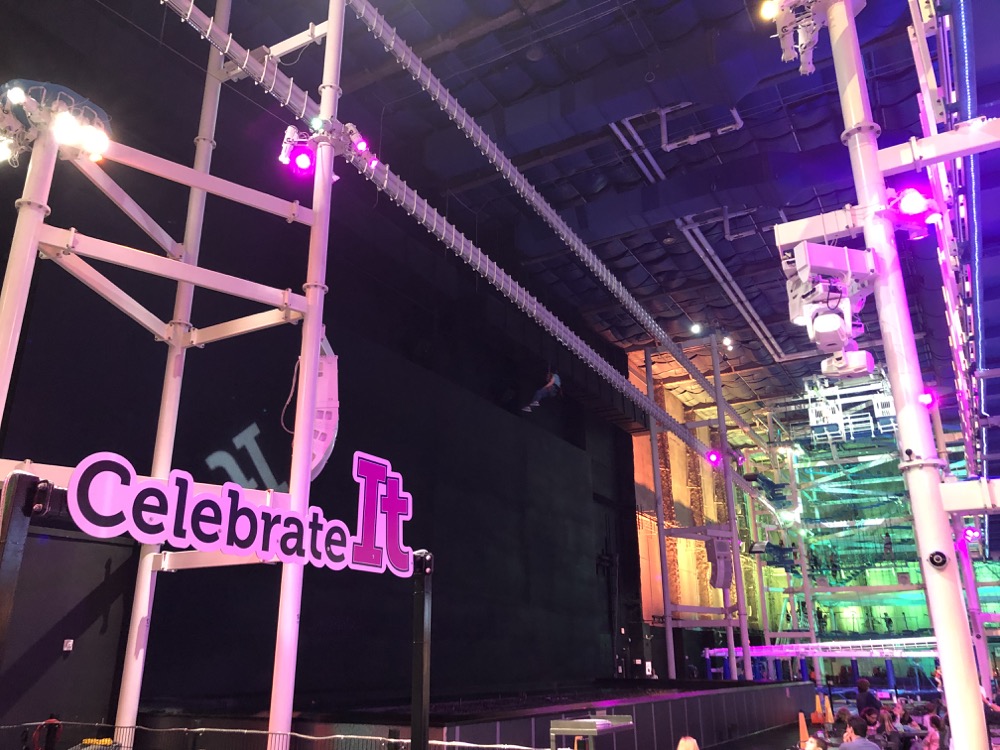 Whoa! A world's largest?! How can that possibly be remotely true? It's in a gawd dang furniture store! I dunno, man. Guy who advertises incessantly on local television, print, and radio makes wild, unverifiable claim?
I love it. Welcome to the World's Largest Indoor Ropes Course! Calvin and I dropped our 50 bucks (for one hour, more for two obviously), harnessed up, got a quick safety lesson, and then trudged around the thing behind a bunch of slower adventurers.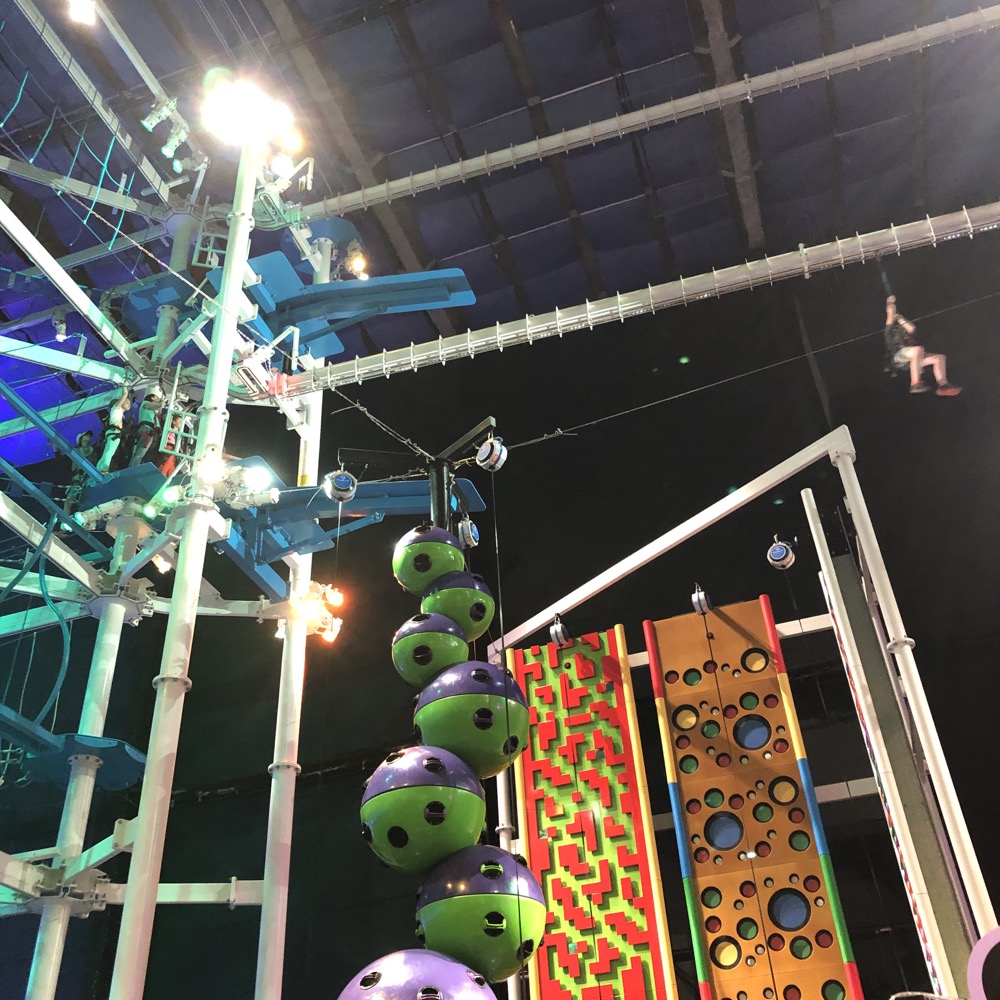 It was fun for a while, but even as the largest in the world, I wouldn't suggest going for the two-hour experience. Within the hour, we were able to do every challenge worth doing twice… twice. There was nothing all that challenging for Calvin, who had just turned eight at the time, and of course I just crushed the thing. Being a former Army Ranger Special Forces veteran and all.
I'm not really an Army Ranger. Or a veteran of any sort. Not even ROTC. But I still crushed it, thankyouverymuch.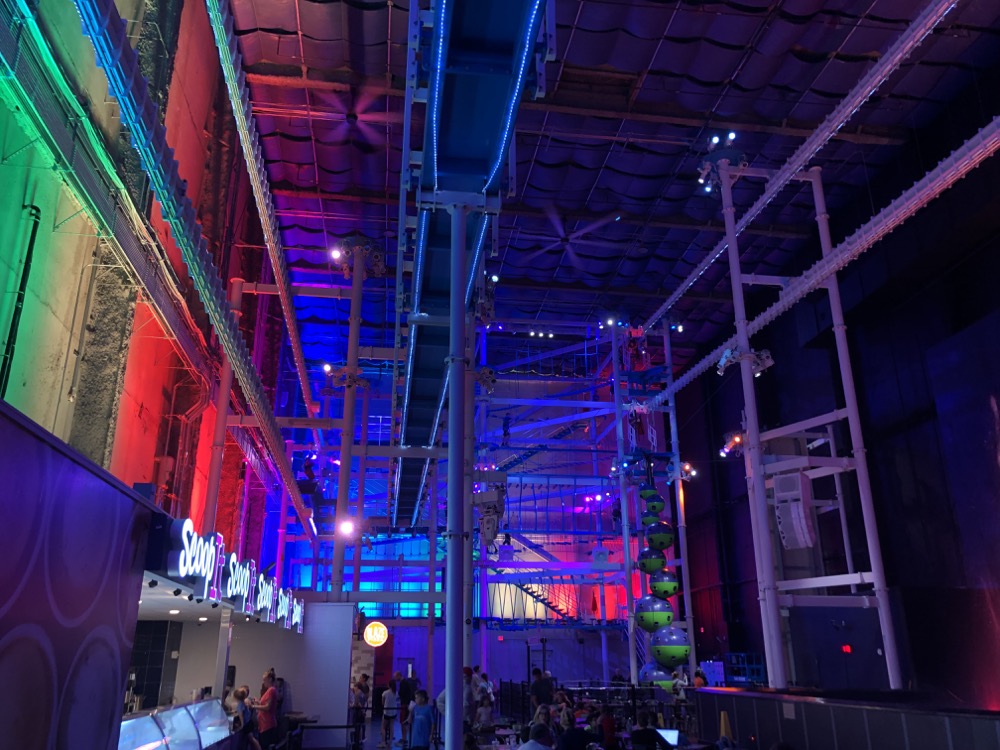 I think Calvin would rate Great Wolf Lodge's indoor water park above It, but It ranks above all the indoor Ninja, Adventure, Ropes, Zip-Line, Bounce, Trampoline, etc., courses he's been too around Connecticut. It is pretty cool, it looks really cool, and it's pretty fun. However, we'd both say the outdoor ropes and zip-line places are simply way more fun and challenging. (Shout out to Empower Adventure Park at Nomads in South Windsor, home of Calvin's 10th birthday party. That place is great.)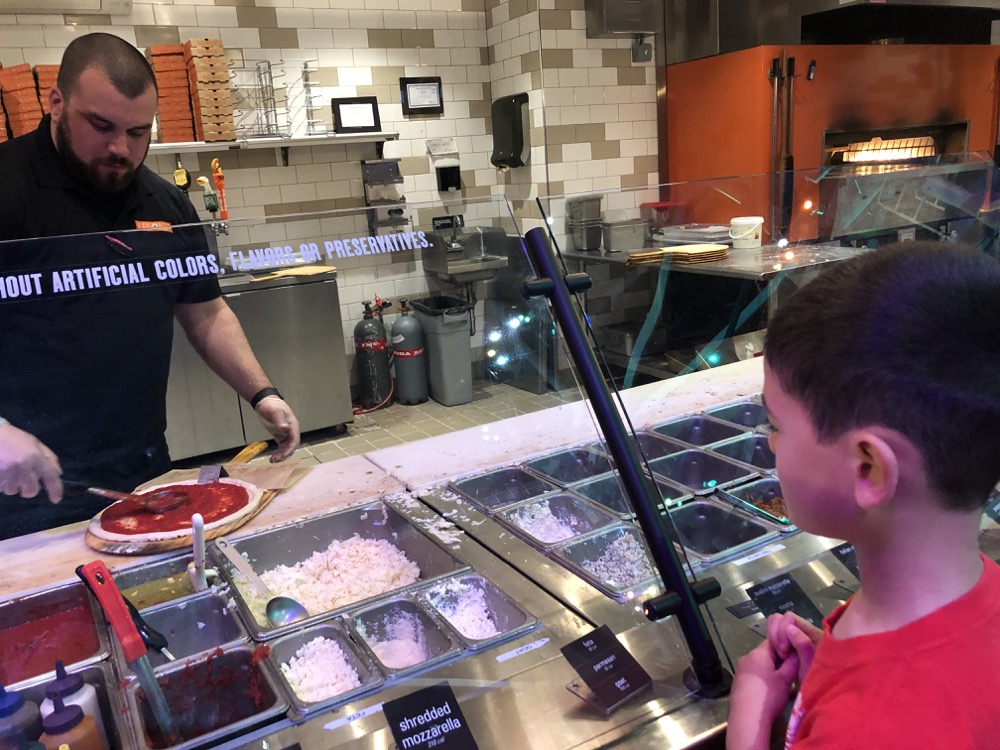 But yes, for an indoor attraction, It's fairly impressive. There's even a food stand serving made-to-order personal pizzas and whatnot, which Calvin enjoyed after his impossibly tiny bowl of mac and cheese from The Stack before we came here. We didn't do any furniture shopping (sorry Jordan), but instead went for a short hike in the rain out on along the Sound at Long Wharf Nature Preserve.
And that was our afternoon in New Haven. That's just how we roll… and climb and straddle and zip-line. That's "It!"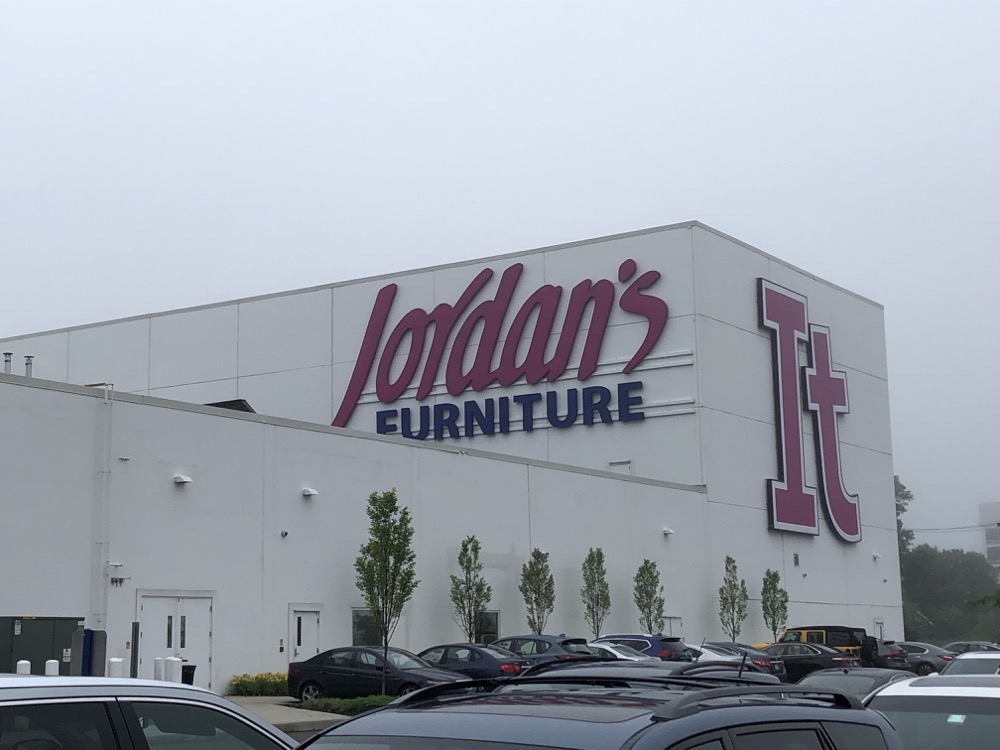 It Adventure Ropes Course
CTMQ's Firsts, Onlies, Oldests, Largests, Longests, Mosts, Smallests, & Bests
CTMQ's Theme Parks, Adventure Parks, and Carousels