For the Dog Days of Summer
Ashley's Ice Cream, New Haven (+ 4 other locations)
September 9, 2014
I'll readily admit that writing up visits to all of Connecticut's homemade ice cream joints is a bit of a slog. It's hard. Aside from a few standout stands, the rest just pretty much… exist.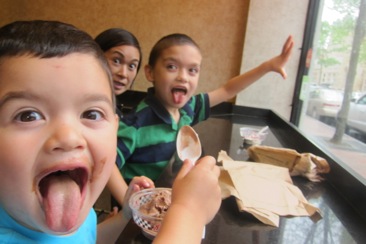 But I started this list as a new (fun and delicious) way to keep my wife and boys happily traversing the Nutmeg state, going to less fun and delicious places for the purposes of my little website. And I fully support the idea – and will continue to grow it.
So here I am, thinking about our late summer sojourn to New Haven's Ashley's and am at a bit of a loss. It was an ice cream shop. Near Yale. And the ice cream was pretty good.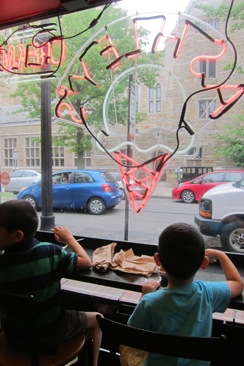 Not crazy good and not crazy wacky and not bad at all… just good. Despite the fact that Ashley's wins all sorts of local "best of" accolades, we were not bonkers for the place. (My guess is that it's location in the middle of a city rather helps with such online ballot-stuffing nonsense polls that do absolutely no sampling error calculations.)
We arrived to a completely empty store and were greeted by a fairly gruff – by ice cream shop standards – employee. We were an annoyance to him it seemed, but I didn't care. We weren't on some far-flung farm getting ice cream, we were on gosh-darn York Street in Gun-Wavin' New Haven.
For a city place, these guys make the ice cream the right way:
Seven days a week, five gallons at a time, we churn fresh cream with generous amounts of pure vanilla, real chocolate and fresh berries to produce the sinfully richest, creamiest ice cream you've ever tasted.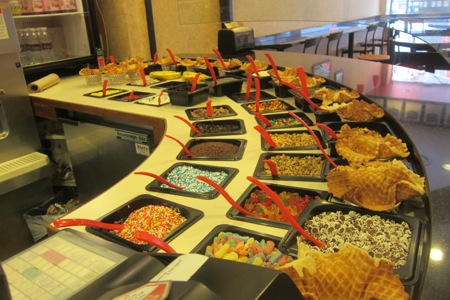 Many ingredients are locally grown and picked up at farms such as Bishop's Orchards in Guilford. Luckily, we even have family in Florida to send us the juiciest mangos for a special summer flavor. Ashley's adds no preservatives or artificial colors. You can taste the freshness. Natural flavors, natural coloring, it's naturally good!
Cool. And they must be doing it right, as they've been around as long as my wife has. (That would be 41 years, which I only publicize because she can pass for 29 on a bad day.)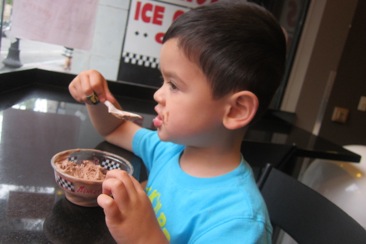 I went with the Lemon Pie, much to the consternation of my family. Do I get these unpopular flavors knowing they won't be grubbing off me? Or do I get them because I genuinely like them?
Perhaps a little bit of both.
Calvin went with his usual chocolate of some sort, Damian with the strawberry and Hoang with the espresso chip. We've fallen into a pattern I think. Ashley's offers all sorts of toppings, but we're classic ice cream eaters. Well, Calvin's not, but he doesn't really need the gummy worms and Oreos that he thinks he needs.
We enjoyed our treats whilst people watching out onto York Street. It wasn't very exciting, as Yale wasn't yet in session. At least the window allows for some pretty cool photography… if only I had the skills.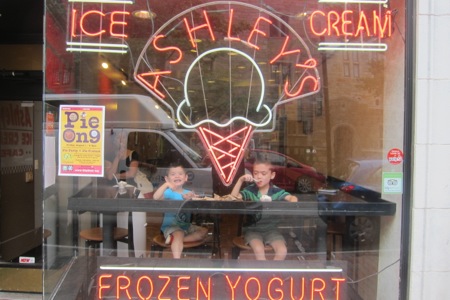 By now you're wondering, who's Ashley? Well, the website has your answer:
Ashley was a dog. Yes, that's right, a dog.

But no ordinary dog. Ashley Whippet was a very special, talented dog. Ashley first entered the public eye when his owner, Alex Stein, led him onto the field at Dodger Stadium in Los Angeles unannounced, and at first unwelcomed. Alex threw a frisbee across the field which Ashley chased and caught 6 feet in the air, demonstrating his ability before thousands of amazed fans. Ashley and Alex were seperated when Alex was arrested by the police.

When they were reunited, they made appearances on everything from TV talk shows to the White House. Ashley Whippet became a celebrity. Soon an annual tournament named The Ashley Whippet Invitational was started and remains today, a tribute to talented dogs. Ashley Whippet died in 1985 in his owners arms, a champion and a hero. We had the honor of hosting Ashley at our New Haven store; his favorite flavor was chocolate banana!
Okay, that's just totally weird to me. To name your store after a dog from who knows where who happened to come to eat your ice cream once.
But hey, I wanted something unique about this place and now I've found it.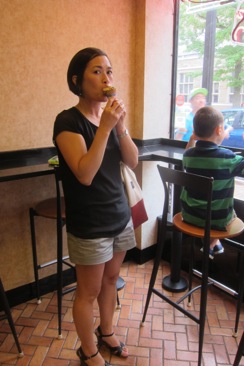 Ashley's Ice Cream
CTMQ's Homemade Ice Cream Trail