Hozier is the Worst
Church Farm Preserve, Ashford & Mansfield
April 2017
This is a Joshua's Trust property.
About that title just above… Sorry. I can't help it. Hozier's "Take Me to Church" is just awful. I hate that song with a seething passion. How in the world did that dirge become so popular? Seriously, can someone please explain that me?
Hozier IS the WORST.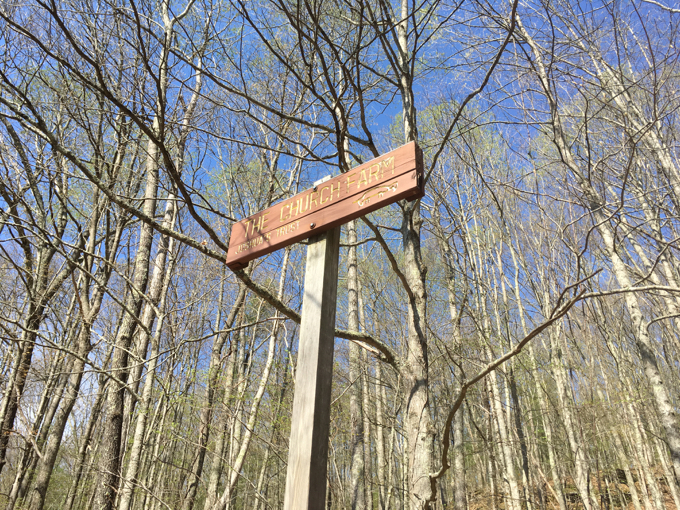 Just behind Hozier for being the worst thing is parking for the Church Farm Preserve.
Well, for the larger piece of it anyway.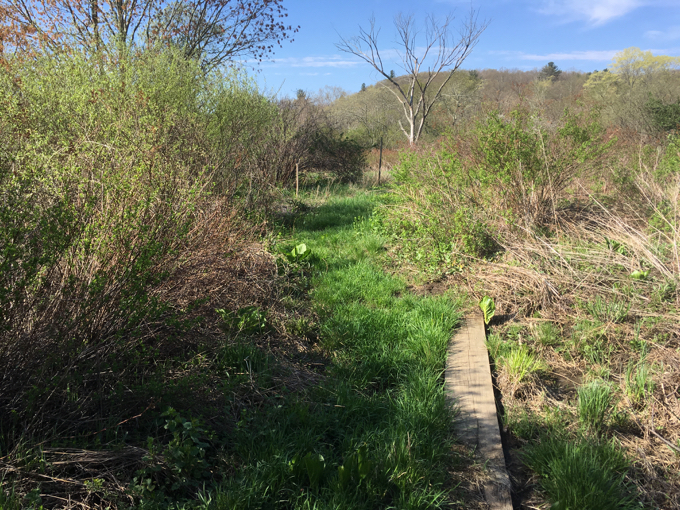 For the most part, Joshua's Trust has done a fantastic job of gaining easements and such to allow for safe parking. The fact that it is difficult for this one property in Ashford isn't an indictment of them at all. It's just an unfortunate fact.
But let's start with the easy bit: the eastern Varga Road trail. Officially the Meadows Trail (0.5 miles, except for the road walk back to your car.)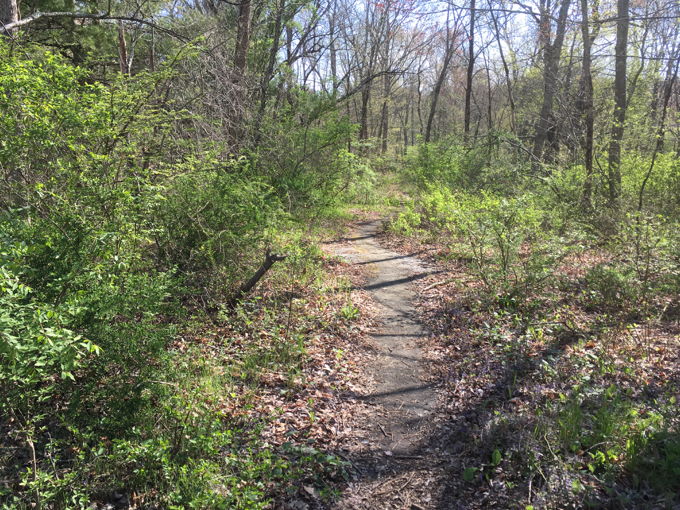 The trail loops east, across route 89 and then through some marshy meadows along the Mount Hope River back out to route 89. The first little bit before the road crossing is… a necessary evil.
It begins on old pavement and forces its way through a bunch of multiflora and other garbage before going up and over route 89. Fair enough.
After the road, the trail completely changes into a lovely little meadow walk. I imagine this trail is a bit wet after heavy rains. And when it's not? Ticks, ticks, and more ticks.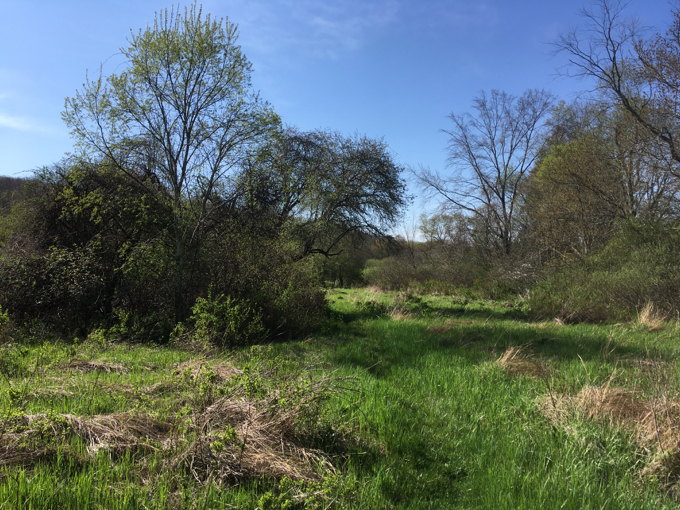 They are just a fact of hiking life when cruising through meadows. And heck, Joshua's Trust kindly informs you of the danger by naming this trail the Meadows Trail.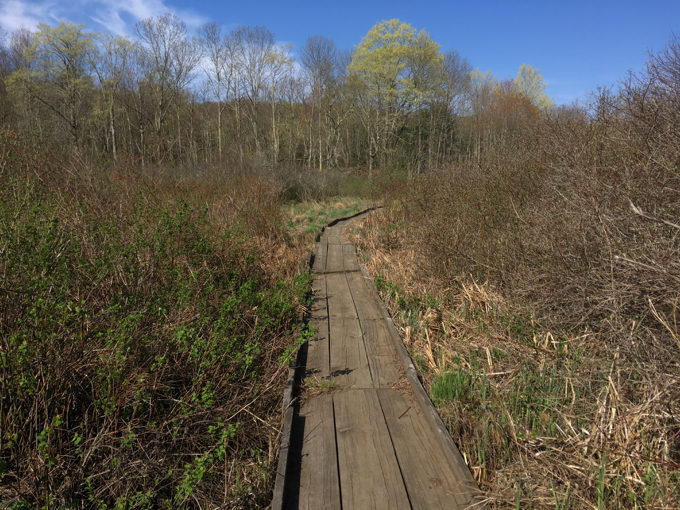 I pulled two off of my pants/leg after finishing, two more once home, and then two more from my car later that day! One was literally crawling up the inside of my windshield, which I had no idea ticks could do. What magnificent creatures.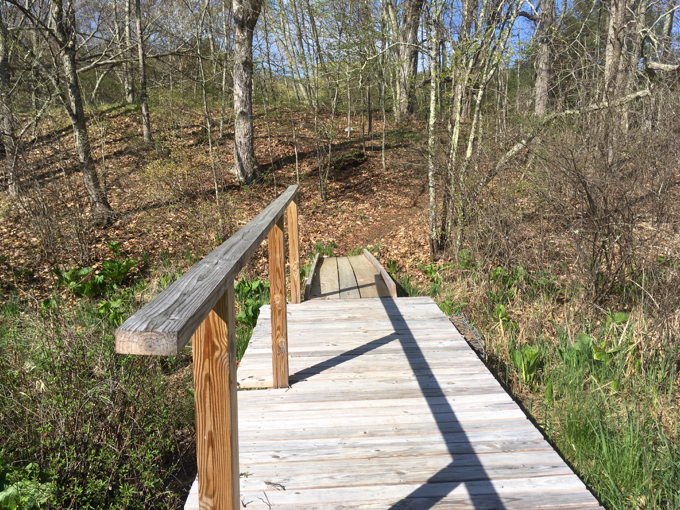 An ancient glacier provided a nice esker to hike along here. The Trust provides lots of boardwalks and wooden planks to navigate the wettest areas. It is impressive, especially for a little trail that I'd guess very few ever hike. Not because it's not nice – for it is! – but simply because it kind of goes nowhere.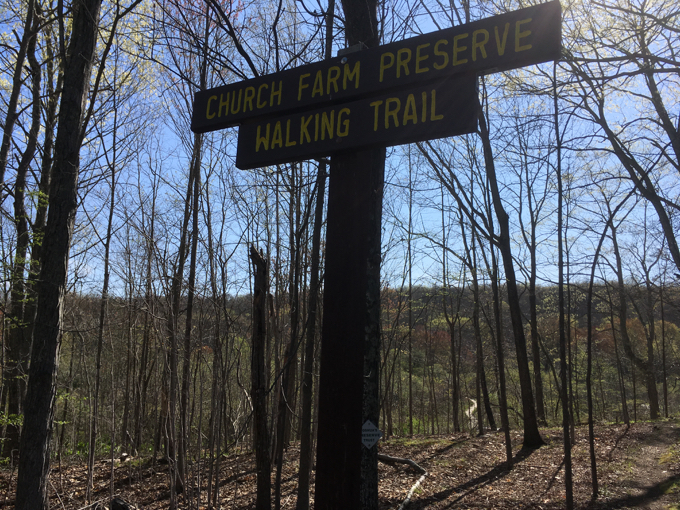 Unless… unless once across a nice bridge and out to route 89, you road walk south to the next trailhead, just south of ECSU's historic and beautiful Church Homestead. That would make the most sense, actually, as you could then wander all of the main property's trails up to Varga Road and then "enjoy" a fairly long road walk back to your car.
I didn't do that. Perhaps I should have.
Instead, I walked north back up to Varga Road, passing Church Farm:
The Church Farm, situated on over 250 acres of land on Route 89 in Ashford, Connecticut, was first purchased by the Church family in the 1840s. The land was farmed by the Churches until the mid to late 1870s when they moved to Hartford, Connecticut, beginning a long career of operating clothier companies in Hartford, Putnam, Danielson, and Willimantic. A farm ledger from 1907-1922 shows that although the clothing businesses kept the farm running, the farm did remain operational and productive during this time, selling livestock and animal products including butter and wool. Though not their primary residence, the Church Farm Homestead continued to be a beloved summer vacation home for the family until the 1960s.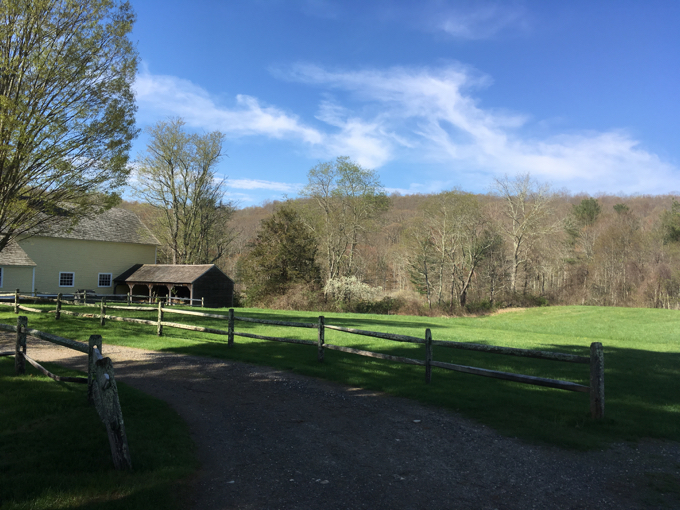 In 2008, the Church Farm and 110 acres were gifted to Eastern Connecticut State University, where it became the Church Farm Center for the Arts and Sciences – a convergence of interdisciplinary educational opportunities for ECSU students, from field studies to landscape art classes.
Nice. A goodly chunk of the Preserve's property is now owned by ECSU. I had read that the homestead included a sculpture garden… but if it did, it is no longer there. I poked around (aka, trespassed a smidge) to try to find it, but to no avail.
Nice building for the kids though.
After getting back to my car, I attempted to park at the western Varga Road trailhead. Theoretically, you can do this. Realistically, you shouldn't. Varga is a very skinny road and it is residential. The trailhead is right next to a private driveway and if you park anywhere near it, you are not being kind to other drivers.
Trust me. Because I did it.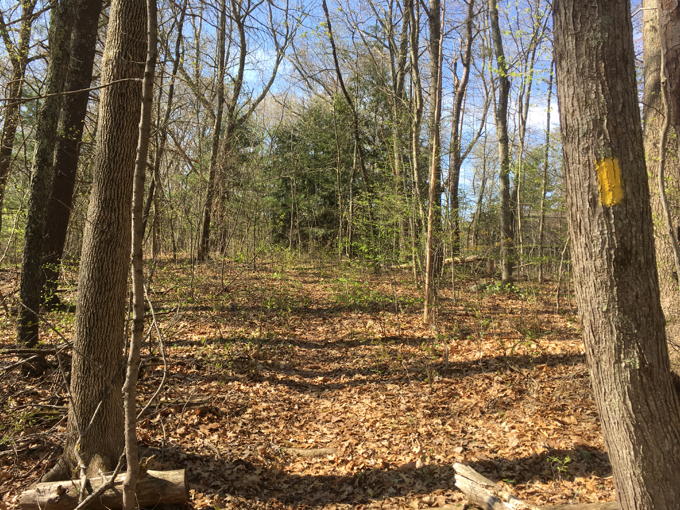 I hopped out of the car and ran up the hill into the woods.
After a few minutes of jogging and realizing it was "just woods" ahead, I turned around and went back to my car… aiming to try the southern approach. I was happy no one crashed into my car and the resident of the nearby home wasn't slashing my tires.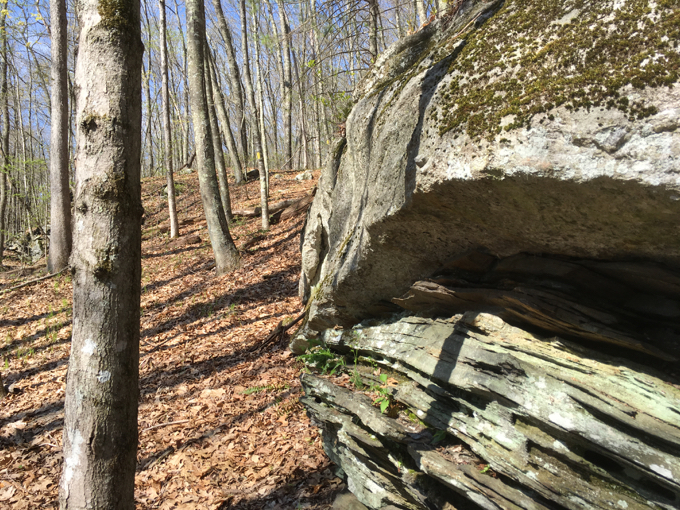 I got out of there and back down 89 to the fourth Church Farm trailhead. I drove past it, turned around, scouring the roadsides for parking. I drove past it again. And again.
Then I said "screw it" and found my best option just north of the trailhead to the "ledges" area.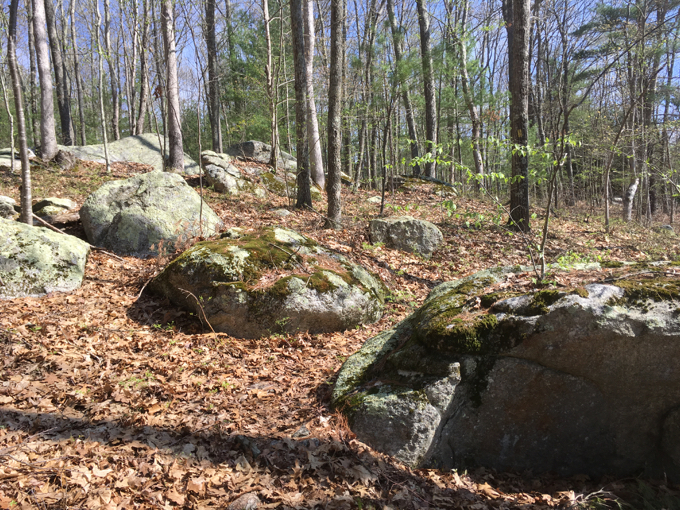 If I felt like a jerk on Varga Road 10 minutes prior, I felt like a complete *&%*% here. Route 89 is not a backcountry little cowpath like Varga. Oh well, I had a mission and I was going to complete it now matter what.
(Though really, someone plowing into the back of my car at 50 mph, actually, wouldn't be worth it. Don't park on route 89. Want to know the silliest part of this whole thing? I was in Mansfield. Half of the Church Farm Preserve is in Mansfield. Since I was technically hiking it to "complete" Ashford, I could have skipped this and… oh never mind.)
The trail here starts in earnest; up, up, up the side of a hill and then over to a series of ledges. The best (worst?) part of these first several minutes is that I could see my car far below. (Note: It was entirely off the road! But still, I didn't like it!)
I kept looking down on it and cringing when I heard a truck rumbling towards it. I poked around the ledges and made my way over to the viewpoint noted on the map.
From there, I bid my car adieu. And headed into the woods away from the road. The yellow trail here forms a two mile loop, northwest out to that Varga Road trailhead I mentioned above (the one with no parking).
It is at this point that Peter "I've Never Seen a Bear" Marteka wrote,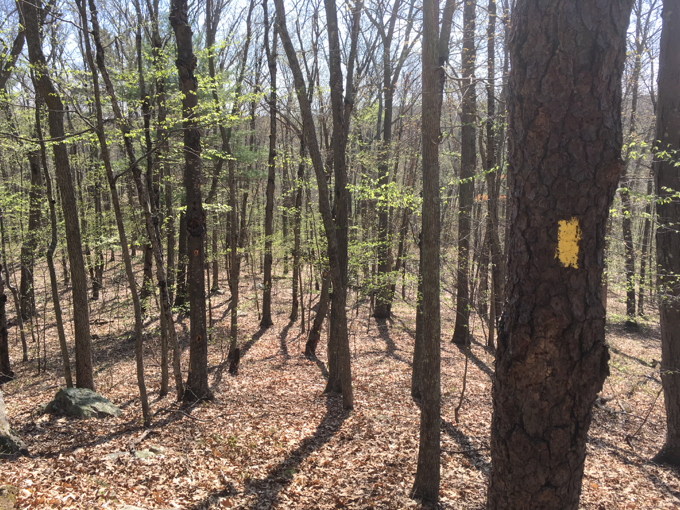 The trail branches off along the first stone wall I've seen that ends at an angle. The longer loop trail, about a mile long, takes visitors past long stone walls, across streams with waterfalls and through woods filled with princess pine. In the age of dinosaurs, these club mosses could grow 120 feet tall and 5 feet in circumference. Now the miniature pine tree look-a-likes grow 6 to 10 inches tall.
I ran the whole dang thing. I just wanted to get back to my car. I don't know if it was the fact that this was my 5th hike of the day, or my worry that I'd be late getting home, or my irrational fear about my car, but I didn't take many pictures.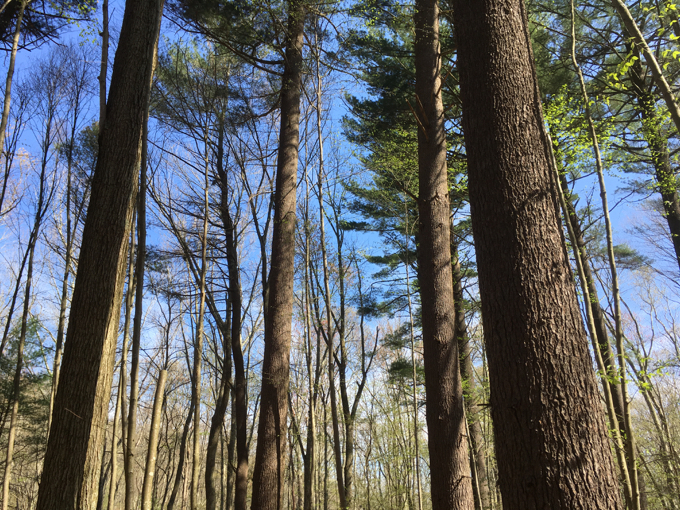 The whole property contains typical northeastern hardwoods with a few hemlocks surviving here and there.
There are also some rocks. And lots of stone walls.
I bumbled back to the steep descent back down to route 89 to find my car unscathed and rarin' to get goin'.
So that's what I did.

Joshua's Trust
CTMQ's Joshua's Trust Trails