Bad to the Bone
Bad Dog Brewing Company, Torrington
February 2022
There have been over 100 breweries in Connecticut for a few years as I write this in 2022. There had never been a brewery inside a museum – or a museum inside a brewery – in Connecticut before 2020. (I write that having no idea how true that statement is, but I'm going for it.)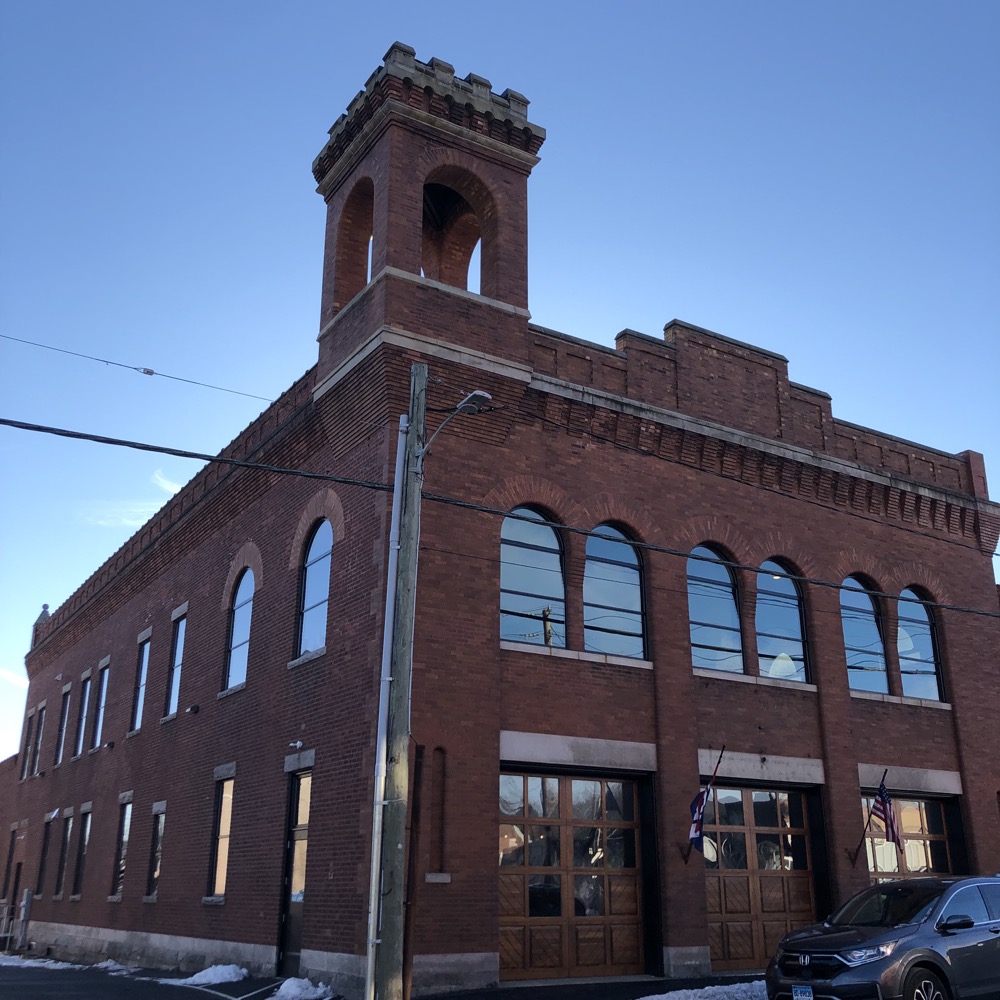 Then, all of the sudden, we had two. This one at The Northwest Fire Fighting Museum in Torrington, and the absurdly tiny Clocktown Museum at Thomaston's Clocktown Brewing just a short ride down Route 8. And it appears as though when New England Brewing completes its move to West Haven, they may have one as well. What is happening?!
I don't know, but I like it. The cynical part of me, which is an admittedly too large a part of me, thinks some of this is some clever non-profit tax avoidance tactic, but the nicer part of me knows that in all three cases, the breweries simply inhabit historically important buildings wherein artifacts remained to cherish and celebrate.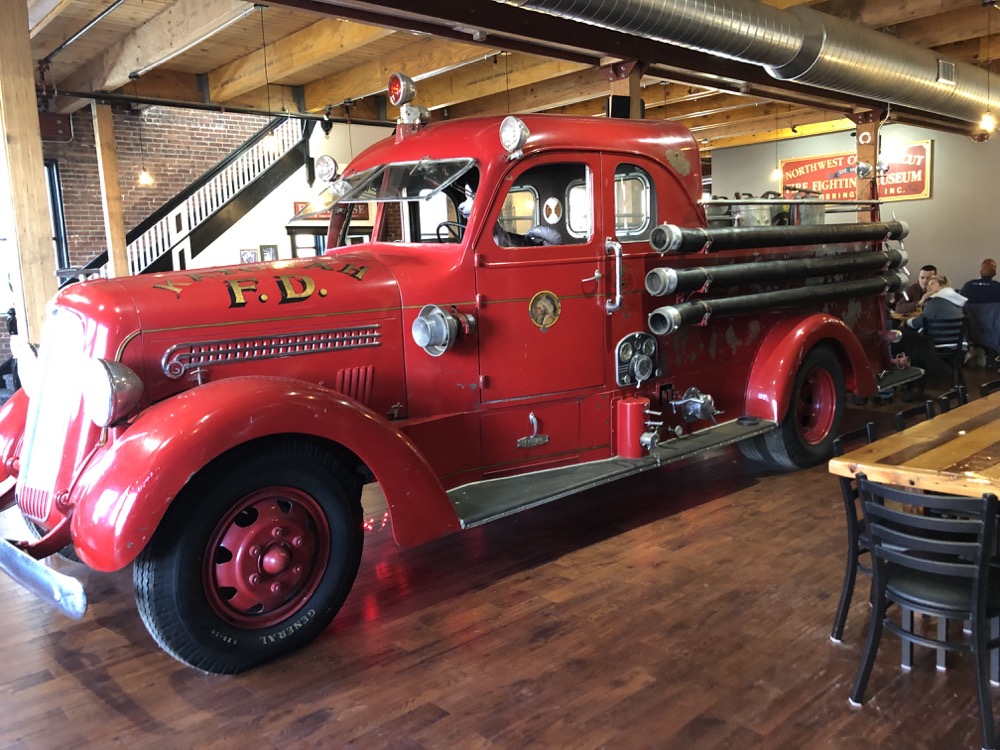 And it's great that the breweries have done (and hopefully will do, in NEBCO's case) just that. Displaying historic items from local history in breweries isn't a new concept at all… calling it a museum, however, seems to be.
The owners of Bad Dog knew what they were getting with the historic fire station from the get go. Their initial proposals to the town including plans to save, salvage, and repurpose as much of the building and its contents as possible. They wouldn't just save the building, they'd save as many bits and pieces of it in new and creative ways. And, they'd create some firefighting history exhibits, including an actual 1939 firetruck.
And oh yeah, Bad Dog's Matt Tkac, his wife, Michelle, and the couple's son, Chris would build out a brewery in there as well.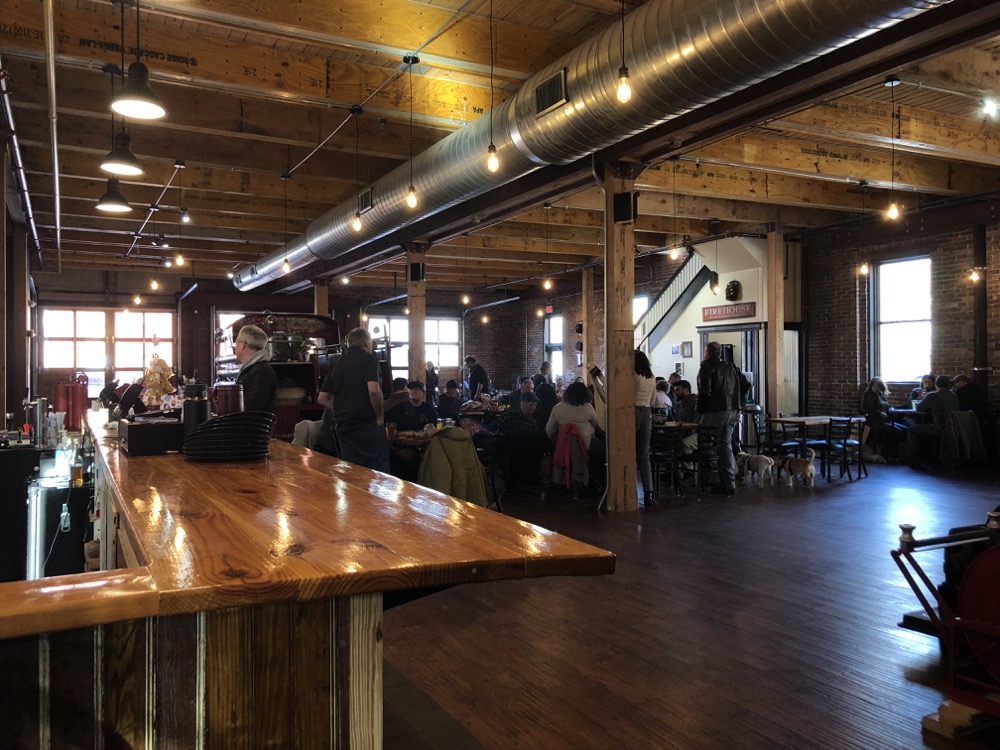 (You can read much more about the build out and the museum on my page about it here.)
Museum nerds gone? Good. Let's get to the brewery part of this place. It. Is. Huge. Massive. Two giant floors for, I dunno, 600 people? 800? Half of the Litchfield County beer drinking population? (In total, it's 10,000 square feet.) Wow. And it's quite attractive too. The massive old windows allow in plenty of natural light… it's so big, the giant antique firetruck plopped in the middle of the taproom isn't in the way of anything or anybody. Wow again.
The main bar on the first floor is long and handsome. The only problem with the sheer size of this joint is that even on a good day, it feels empty. There's no kitchen here, so that's not part of the draw like at Clocktown a couple exits down Route 8. Sorry, but an old fire engine isn't going to bring in the over 21 crowd on a regular basis.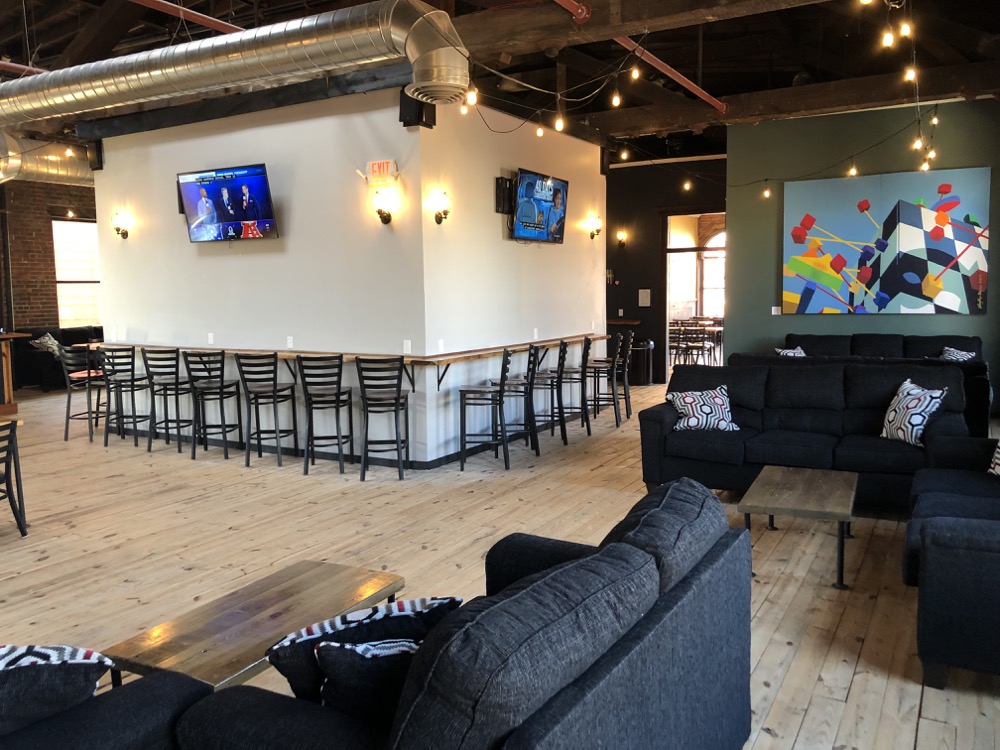 And if you include the word "Bad" in your brewery's name, you better have confidence that your product is good. I ordered a flight and looked around. They do take the "Dog" part of their name seriously, as I had come during what I assume was some special dog event. Everyone had their dogs with them. If there were 40 people there, there must have been 40 dogs. I never asked why, and they were all chill dogs, so… whatever.
I got a Pomegranate Blonde Ale, a Weissbier of some sort, a straight up oat stout, and their black IPA. As to the last choice, it's an odd style that was popular for a minute several years ago that I always liked. I hadn't had one in years and was looking forward to it.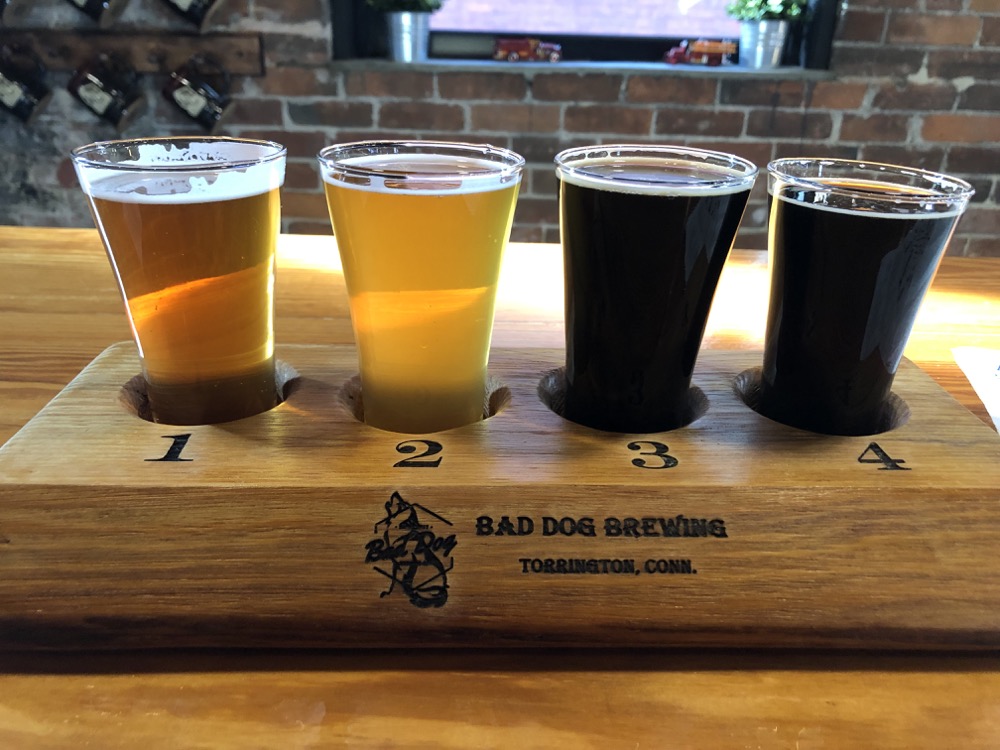 The flight pours here are large and came to less than 11 bucks – a veritable steal these days. I took my blonde ale and wandered the building.
The blonde was fine. I have no idea why they felt the need to dump pomegranate puree into it, making it far, far too sweet and fruity. I can't be mad – after all, it was called Pomegranate Blonde Ale, but I can be slightly annoyed. Brewers: Respect your patrons. This is Torrington fer Chrissake. Salt of the Earth. PBR and High Life drinkers. They don't need no fancy fruit, and neither do long time craft beer drinkers like me. Make a clean, crisp blonde and you'll be fine. Promise.
(True story from Matt Tkac himself: "We had so many people come in asking for 'something like a Bud Light' so we made a blonde ale called 'Looking for a Light' and it's one of our most popular, if not the most popular, beers." I heard this story after I wrote the preceding paragraph and have added it in after I finished this page. See? I know a few things.)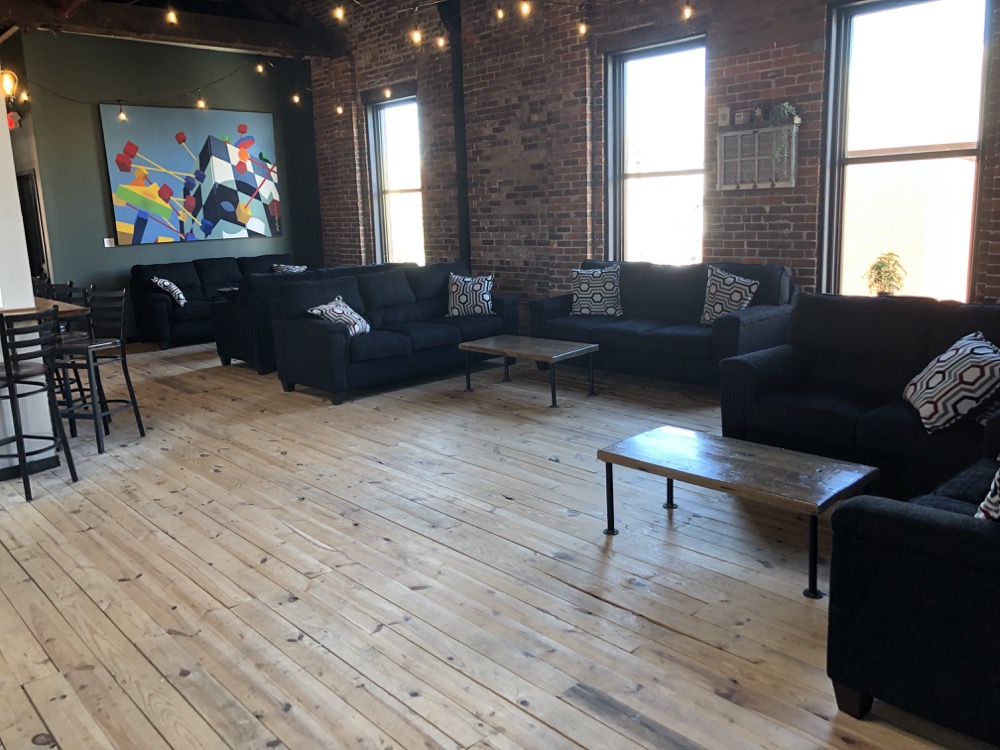 I went upstairs. Holy Crap. There are several large rooms up here! These were all the day rooms and stuff for the firemen back in the day, and now they're for you, the patron. There's even a game room with Playstations and a whole other large operational bar. Local art hangs on the walls. It's all very impressive.
The brewery's "thing" is "There are no bad dogs or bad beer!" Neither part of that statement is true. I have known many bad dogs and more bad beers. But the Tkac family love dogs and rescue dog and various dog charities and organizations. They run events in coordination with dog people all the time and if you love dogs, even bad dogs I guess, this is the brewery for you.
The Weiss was too fruity again. Yes, blondes and wheats beg for fruit additions, but chill out Bad Doggers. Subtlety is key.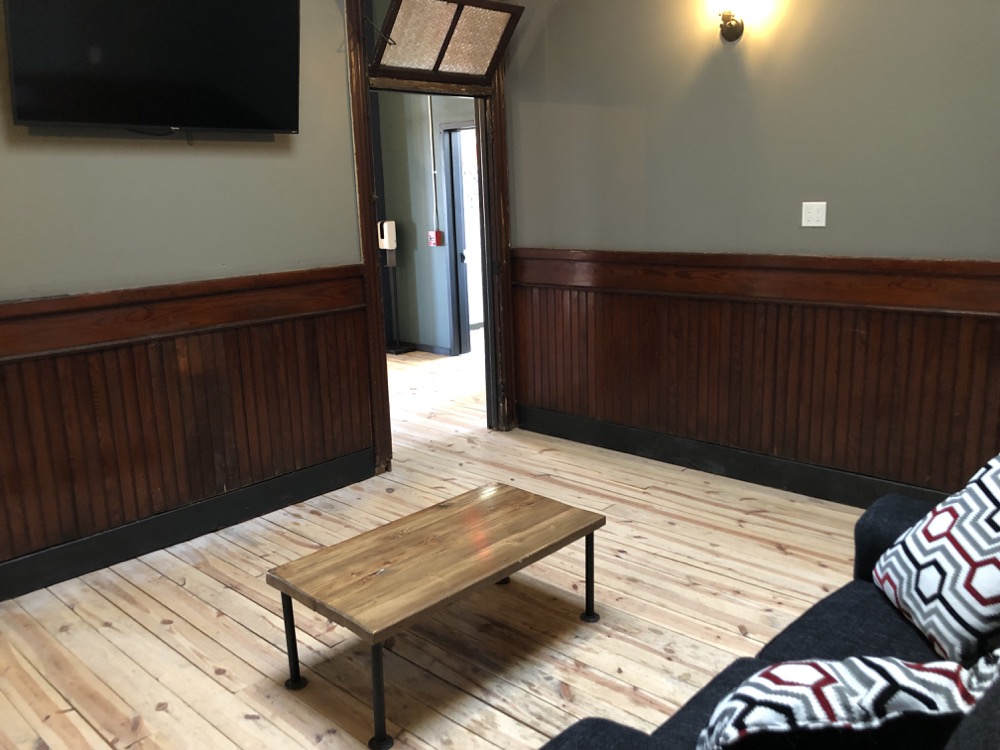 The father and son team behind Bad Dog seem like a pretty cool duo. Dad Matt got a homebrew kit five years ago and since he's a systems engineer (who owns his own company) he had to keep scaling up until the day they decided to scale all the way up. And here we are.
The oat stout was good enough. Can't really mess up a straight up oat stout. The solo guitarist belting out tunes was pretty good. The restrooms are rad – although I think if you've had one beer too many, this one would trip you out and melt your brain: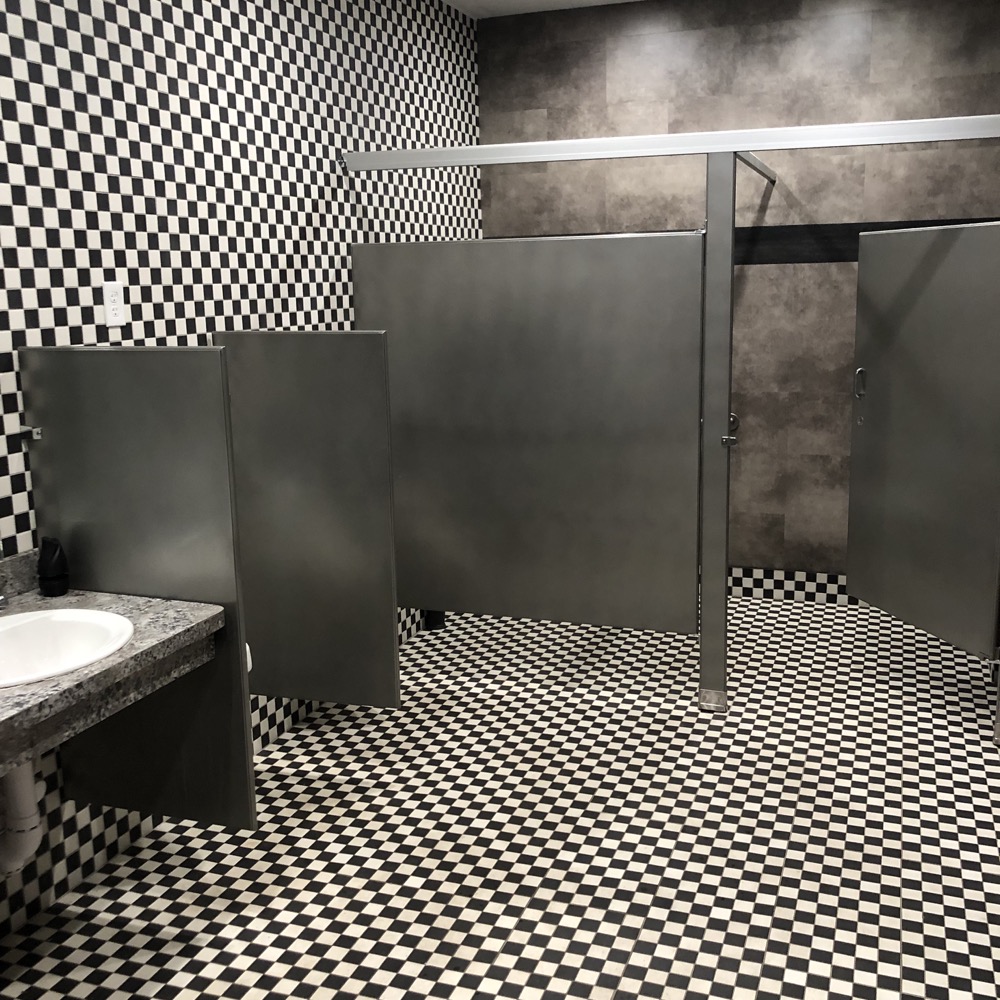 So far, I was underwhelmed with my beers, but Bad Dog's only a year old and Chris, the brewer, is only 25. Their business model is to brew tons of small batches and keep up a constant rotation of 10-14 beers. Variety. I think that's solid for the first year, especially if you really don't know your market and/or aren't a seasoned brewer.
The Black IPA: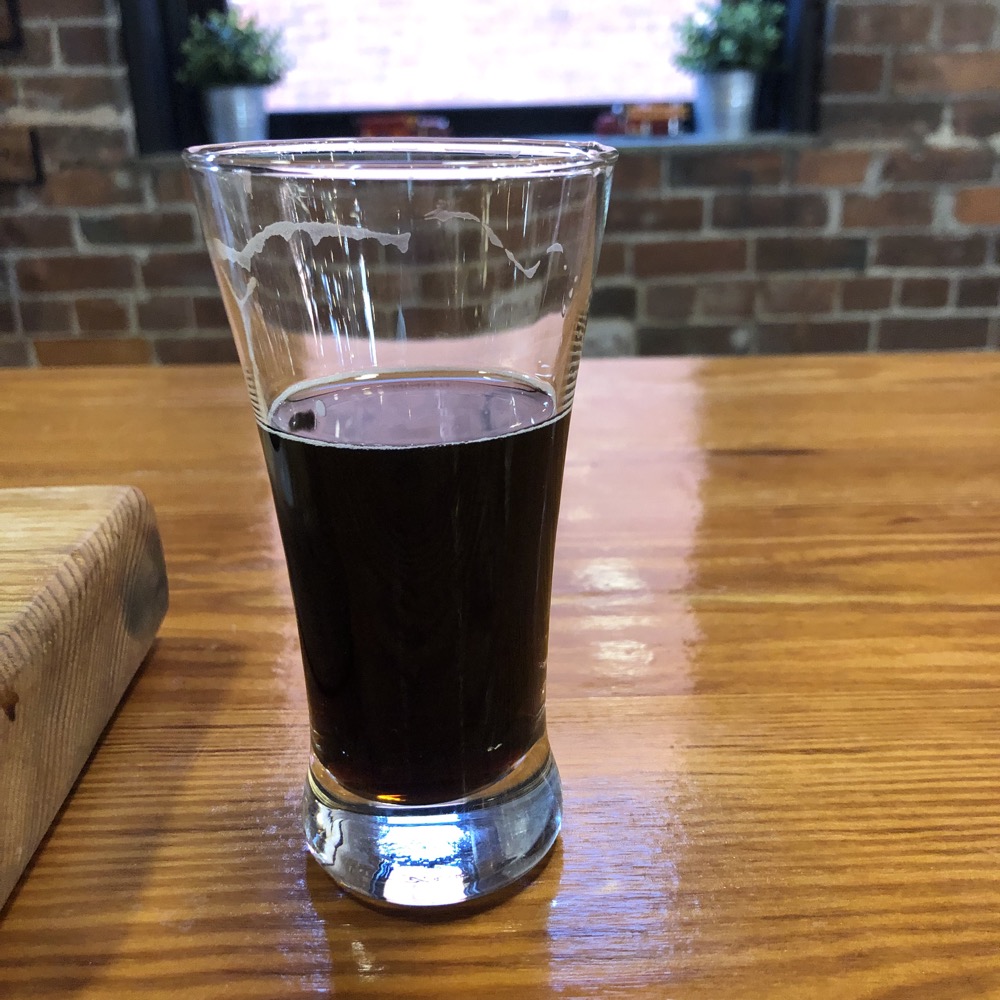 One of the worst beers I've ever tried to drink. I'm not sure what the idea here was, but if you told me, "Oh, that was some total screw up that had dark malts in it so we called it a black IPA because that's a style with no actual definition," I'd believe it. It was awful. Undrinkable.
And then a funny thing happened: An employee decided it was time to clean to bar. With industrial cleaner in a spray bottle. While I was sitting there with a beer. He did not seem to care too much about having some spray go into my beer. I did not care either, hell, it may have improved the taste.
I simply looked at him after a cloud of chemicals settled atop the flat, burnt, acidic, metallic, weird beer and said, "bro." Maybe he did it on purpose, knowing I was onto the so-called black IPA? Is Untappd still a thing? I just looked and came across this: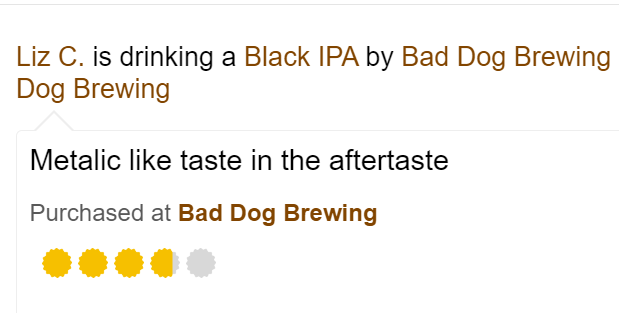 Good job, Liz C. It tasted like licking a flagpole caked in dirt but you gave it 4 caps. Makes sense. Untappd is useless.
I'm not as nice as Liz C. Bad Dog boys: Don't ever brew this beer again. Please. Focus on what you know and make them perfect. I didn't have any of your actual IPAs and I hope you are nailing them at least. I love what the Tkacs did with this old firehouse – it's super impressive – and I love that there's a museum here.
I am a huge champion of downtown revitalization and Torrington's slow comeback has been cool to watch. I want that to continue and I want Bad Dog to be a successful part of that. But yeah, maybe bring in a seasoned professional brewer and purchase a larger system. (Two costly things, I know, but those investments will likely pay off here – a city brewery with a ton of space.)
Good luck. Woof.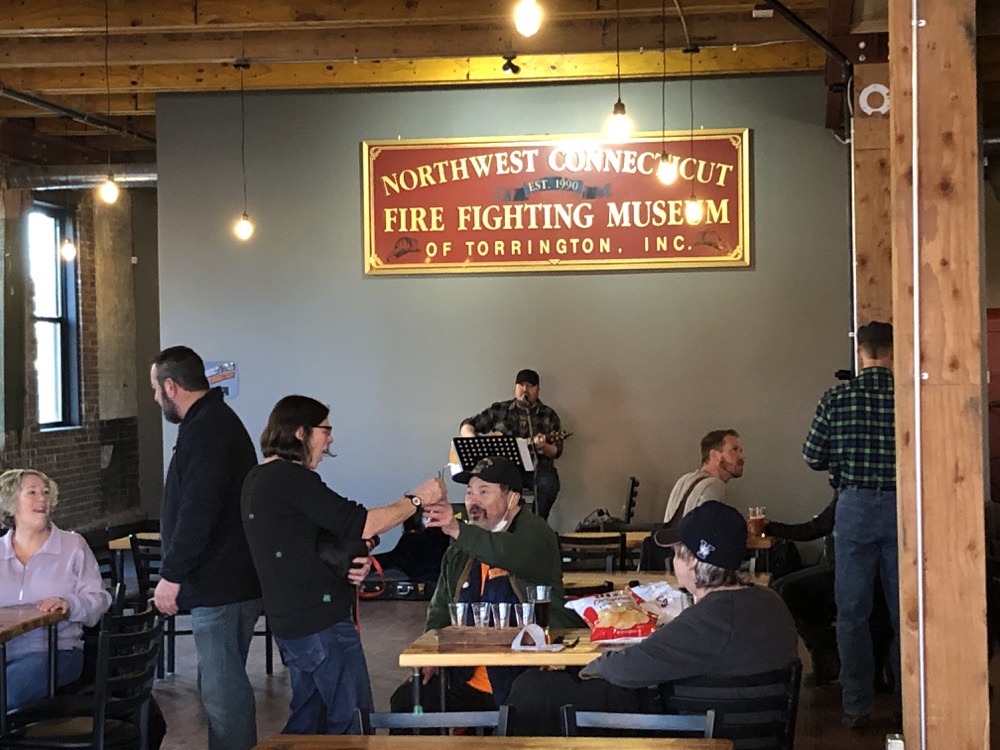 Bad Dog Brewing Company
Northwest Fire Fighting Museum
CTMQ's page on CT Breweries and Brewpubs