Countrytime in Thomaston
Clocktown Brewing Company, Thomaston
June 2021
Tick, tick, tick… the countdown to when I will say something terrible about Clocktown. It's surely a question on many of your minds. Because surely everyone reading this is aware that I've been friends with one of the owners, Ed Daigneault for many years.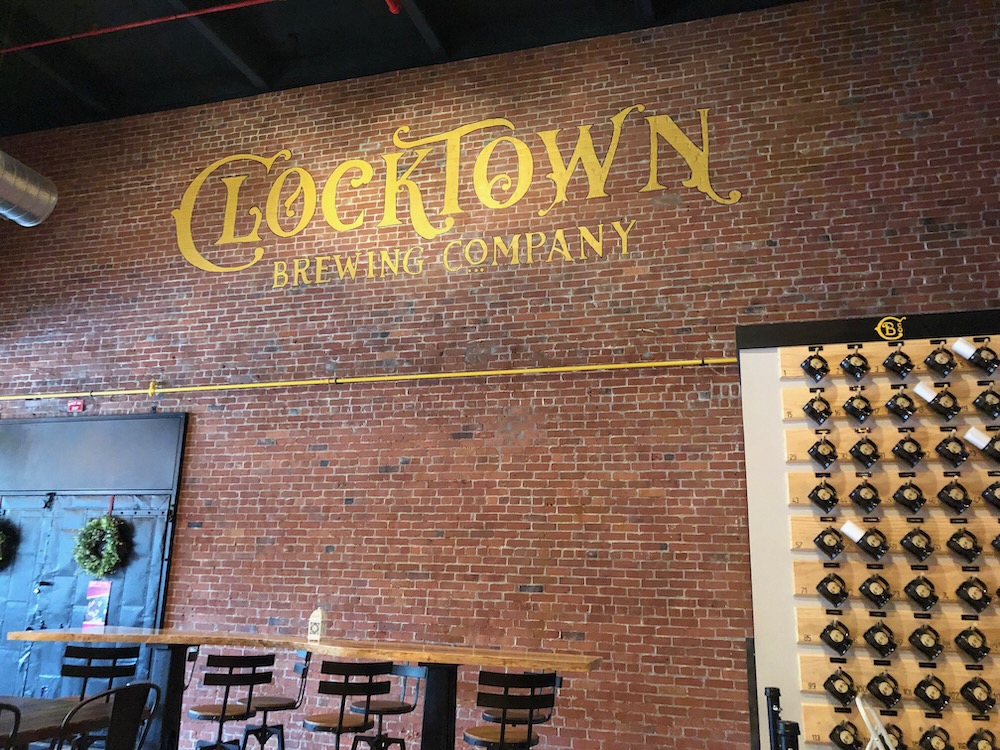 "Steve always has something negative to say! But he's soft and would never besmirch a friend's business!" I get that. I guess we'll have to see how this page plays out. Tick, tick, tick…
Clocktown opened in clOctober 2020. The pandemic was raging, but the investment couldn't wait. Owners George and Stacey LaCapra, along with Ed, had cleared out the space and turned it into a large full service brewpub. George owns a business housed in the same building, and pretty much made the whole thing happen.
George and Ed had known each other for years, watching their daughters play soccer. (Ed is a referee these days and one of the things we've bonded over is my son's path to the upper ranks of the state's club soccer insanity. In fact, during a subsequent visit, Ed arrived cold and wet from reffing a nearby game to say hello.)
Before that, Ed was a sportswriter for the Waterbury Rep-Am and covered UConn sports, back when being a newspaper reporter was an actual thing. I always enjoyed his Twitter takes and he often commented on my Connecticut beer takes back when that was an actual thing I used to do. As Ed's profession began to disappear, he privately told me he was thinking of becoming a professional brewer. And the next thing I knew, he was partnered with this George guy and building out a brewery in a forgotten storage space in a historic building in Thomaston.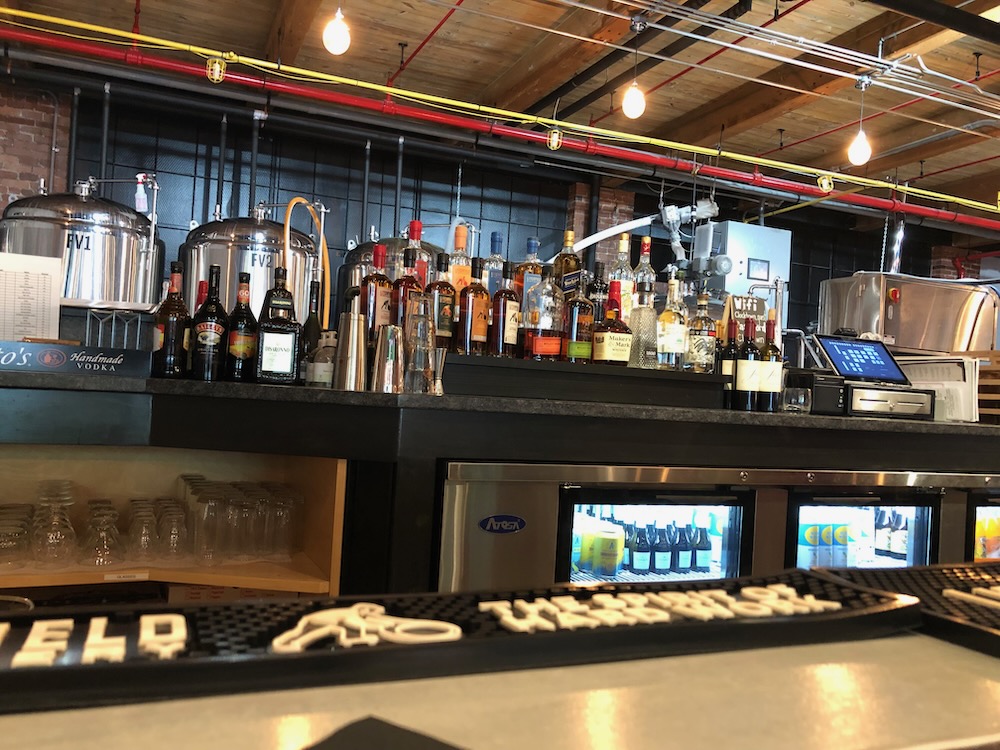 Yes. Historic. This was the former home of the Seth Thomas Clock Factory, one of the most successful clockmaking operations in history. Thomas's original factory was on this site along the Naugatuck River, and later his sons built this much larger factory that houses the brewery today. And yes, Thomaston is named for Seth Thomas.
Clocktown even has a museum inside the brewery. Granted, it's arguably the smallest museum in the state, but you can read all about it here.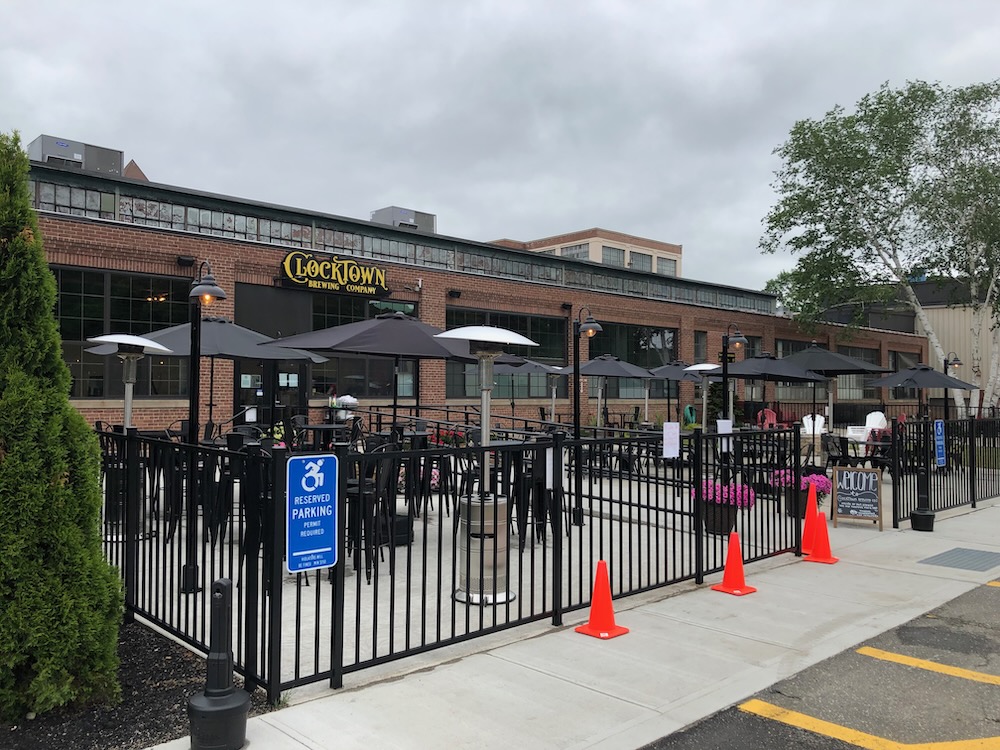 The brewery was an immediate success right out of the gate. Ironically, opening during the first year of the pandemic right after some of the more rigid restrictions were lifted, probably helped Clocktown. Everyone just wanted to GO. To DO SOMETHING. A new brewery with loads of space and a large outdoor area? The customers came in droves.
The full service kitchen was operational from day one and it pumps out a variety of typical pub fare: burgers, wings, pizzas and the like. The verdict from personal experience and friends: Burgers/sandwiches very good, pizzas good, chicken fingers could improve. Tick, tick, tick…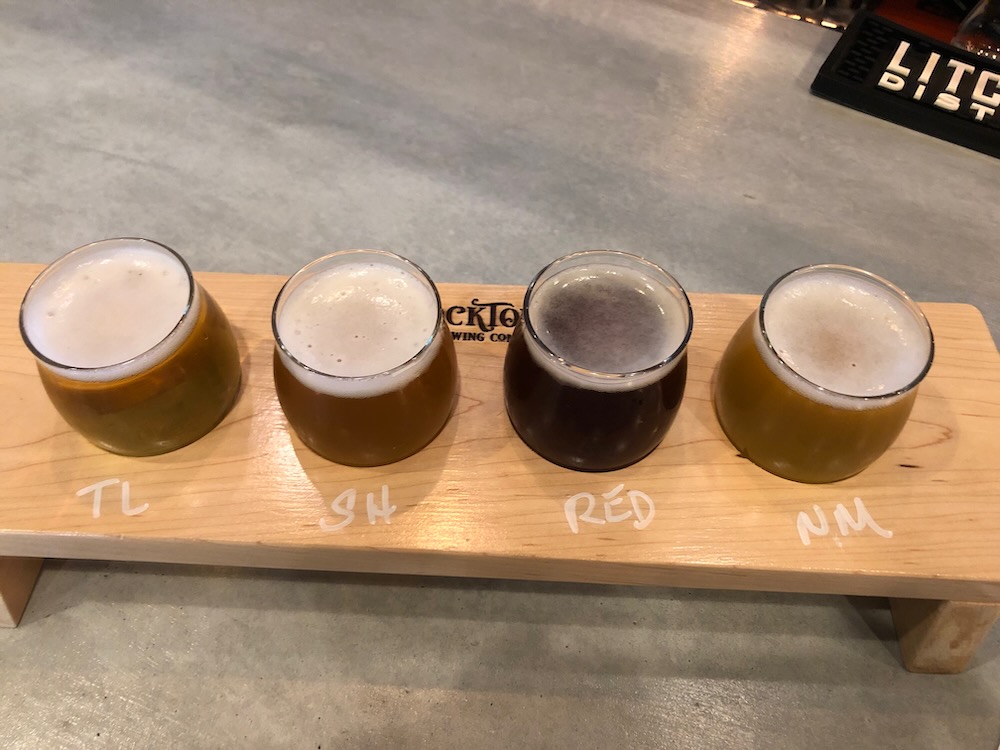 The transformation from old cavernous factory to atmospheric brewpub – a transformation attempted in probably thousands of 21st century breweries around the country – is impressive here. The ceiling is very high, and the massive brick walls are imposing and yet… and yet Clocktown "feels" nice. The bar area feels like a real bar area and since its been packed with people during both of my visits, that cavernous feeling simply didn't exist.
There's just the right amount of "clock stuff" here too. Yes, it's a theme and themes are good, but themes quickly become corny when overdone. When Clocktown opened, all their beers had clock- and time-related names. See? That was cool for a month or two, then it became corny and they moved on. Breweries, always be this self-aware.
Like how amateur brewer Ed Daigneault knew that he couldn't run a full brew system on his own. So Clocktown hired an experienced professional from Two Roads to help out. If only every homebrewer-helmed new brewery did the same.
I ordered a flight.
Now, Ed and I had discussed some pitfalls of beer over the years and even some mistakes that new breweries too often make. I think he valued my opinions about certain things and at the least, kept my criticisms in the back of his head while ramping up Clocktown. We had previously mutually agreed on a few things. These included:
Carbonation. Lack of it across newer breweries is epidemic.
Aroma. Newer brewers don't always realize the importance of aroma hops.
Singular focus on trendy styles. Ed promised to always have actual beer that adheres to standard styles.
Atmosphere. Ed shares a mutual hatred of country music. This might be tough in Thomaston.
The draught menu showed me Ed had held up his end of the bargain on one of these. German lager, Irish red, amber ale, classic roasty stout. Nice. There's plenty to appease the new generation too: NEIPAs, kettle sours, that sort of thing.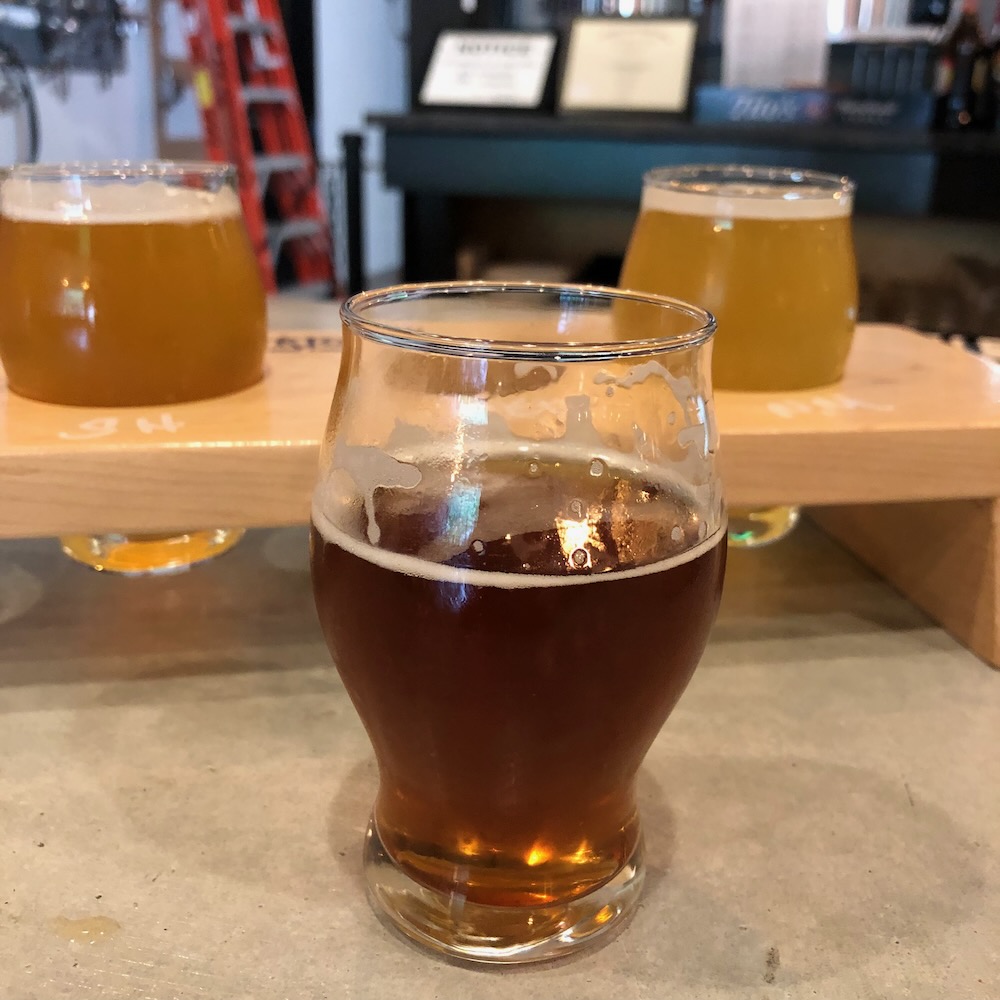 I had the Thomaston Lager, Ol' Red (an Irish red ale), and two NEIPAs. All four were properly carbonated. All four smelled right proper. I was impressed. The NEIPAs weren't stupid and over the top, so that's good. But anyone can brew one of those things.
The classics are always the true test. The lager was clean and bright; though it had none of the breadiness and wasn't as dry as I was expecting. It's almost as if Clocktown has tailored their lager to appeal more to today's palate. I thought it was pretty good. The Irish red was right in the Irish red lane. I'm sure it's not a hot seller, but I'd buy it again. I had an ESB(!) with lunch another time and it was also on point.
My verdict: Clocktown's beer is good. Ed (and others) have done well here. It's refreshing to get quality beer from a new brewery these days. And Clocktown is making waves in other ways. Imagine my surprise when my wife and I enjoyed a meal at one of the most expensive places in Connecticut to do such and thing and found that the only brand of beer on tap was from Clocktown!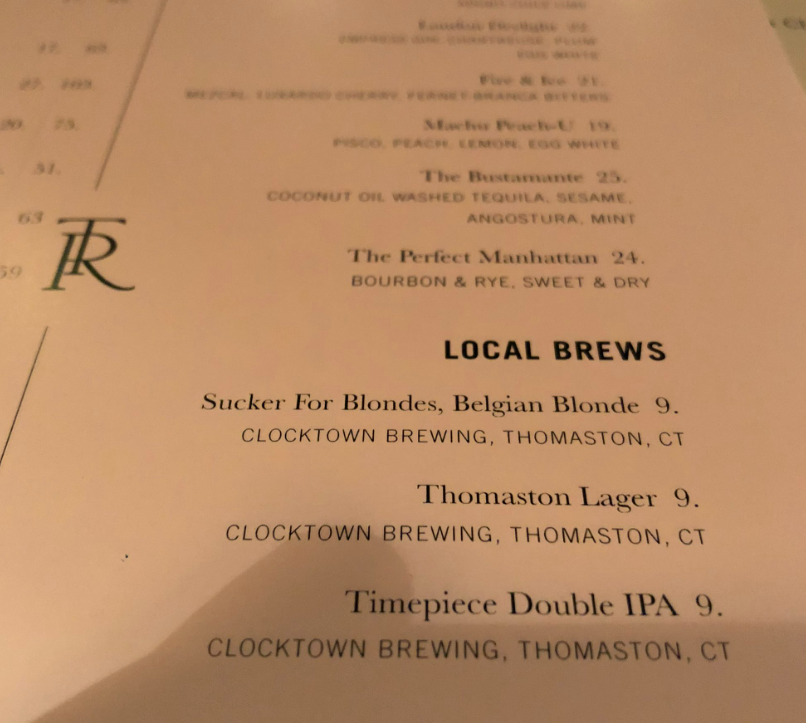 Yes, through some sort of magic, Clocktown has an account at The Mayflower Inn in Washington. That's fantastic. And probably a little weird.
So Ed and his brewery tick, tick, ticked all the boxes I was looking for so far, with just one to go. The music. I had visited a new brewery several months prior to Clocktown's opening and Ed and I were commiserating via text about some of its failings – to be clear, I was the one detailing failings, not Ed. The following conversation took place: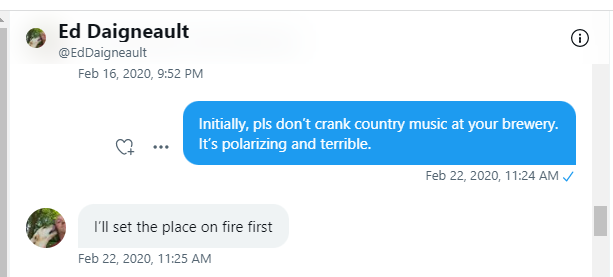 Bold stance.
And I'm happy to report that in this case, Ed is not a man of his word. For as I sipped on my properly carbonated and brewed beer, sitting at the handsome bar, enjoying my sandwich, watching soccer on the tv… country music was blaring across the taproom. I kid you not.
Ed wasn't there that day and frankly, any local schmoe working that day could have controlled the playlist. But as part owner, Ed has oversight of such things. I was terribly disappointed. Just kidding, I think I simply laughed and quickly made sure I still had that conversation saved on my phone for the sole purpose of publishing it here for all to see. Oh, I did one other important thing… I recorded it:
Sorry, buddy. Had to. It's just what I do. Tick, tick, tick… boom.
Unfortunately timed country music aside, Clocktown is a great addition to the Connecticut brewery scene. They opened with everything older legacy breweries have been trying to add for years: large space, outdoor seating, full service kitchen, televisions, canning, distribution, and a museum.
Okay, that last one is just for me, but I'll take it.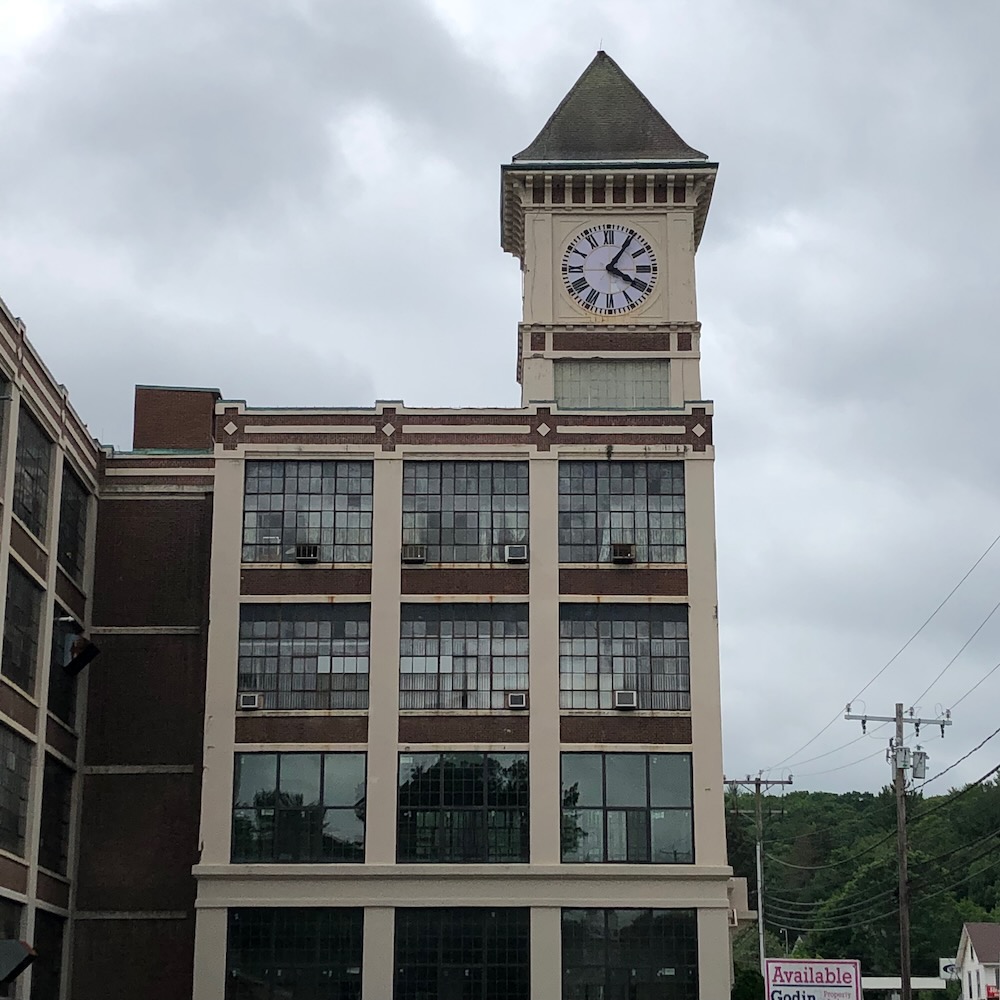 Clocktown Brewing Company
CTMQ's page on CT Breweries and Brewpubs