This Place is Money
The Mayflower Dining Room, Washington
November 2021
Alright look, I didn't stay a night at the Mayflower Inn. And I'm never going to. I live 45 minutes away and there's no reason for me to spend major coin to stay at a hotel. Even if it's arguably the nicest hotel in the state.
Rates are around $1,000 a night for the smaller rooms.
Which… is a lot of money. The Mayflower appears on CTMQ because it landed on the 1,000 Things to Do Before You Die list. And at some point I decided to complete that list of things to do and see in Connecticut. This happens to be a ridiculous one to actually do do, y'know?
So Hoang and I had a meal here. Brunch, to be more specific. Neither of us knew that we'd only be offered the brunch menu at 1 PM on a Saturday, so that was a bit of a surprise, but that's okay. After all, the "chef in residence" is none other than April Bloomfield (in 2021 anyway) and I've watched enough foodie TV to know that's a pretty big deal, no matter what meal we were offered.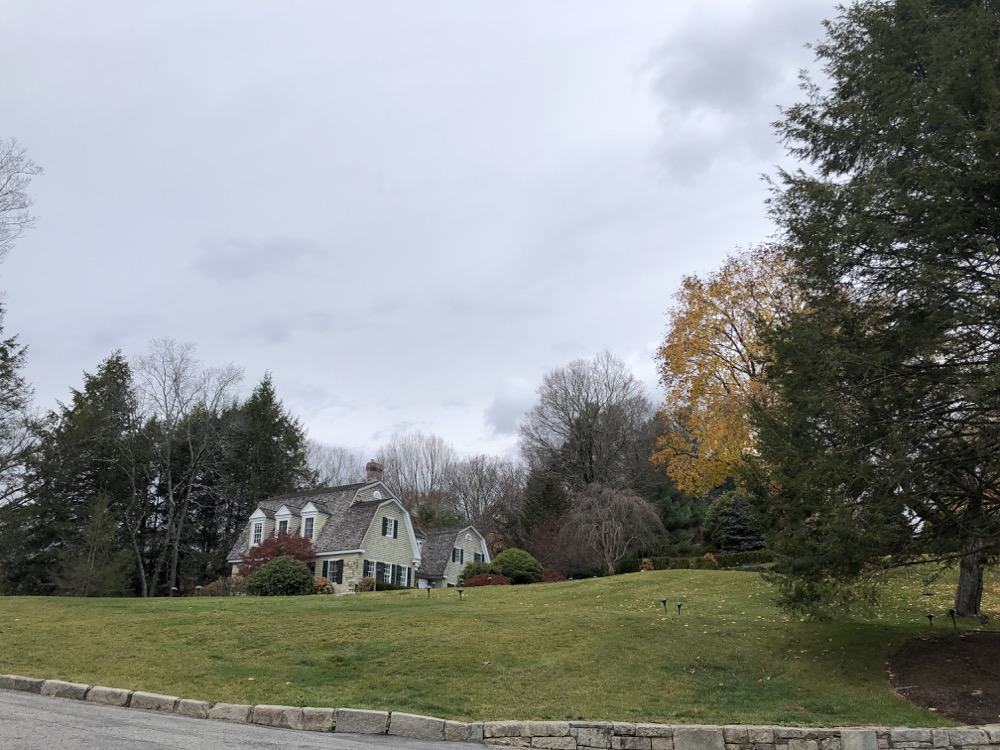 Chef Bloomfield is certainly the most renowned chef in Connecticut… whether she's actually in the kitchen here or not. Born in England, Bloomfield made a name for herself there before moving to New York City and opening The Spotted Pig and The Breslin. She earned Michelin stars at both places, the former being a "mere gastropub." She's won the James Beard Award for Best Chef and later destroyed everyone on Iron Chef. I enjoyed her on David Chang's The Mind of a Chef as well.
So you'll just have to accept our eating here and not getting the full hotel and spa experience. But I'll give you the full history. Comte de Rochambeau supposedly came through here on one of his marches during the Revolution. He was pleased to learn from his Indian guide that he was camped at a ritual healing ground of the Wyonokes tribe whose Chief Waramaug was known to frequent the pond to benefit his health.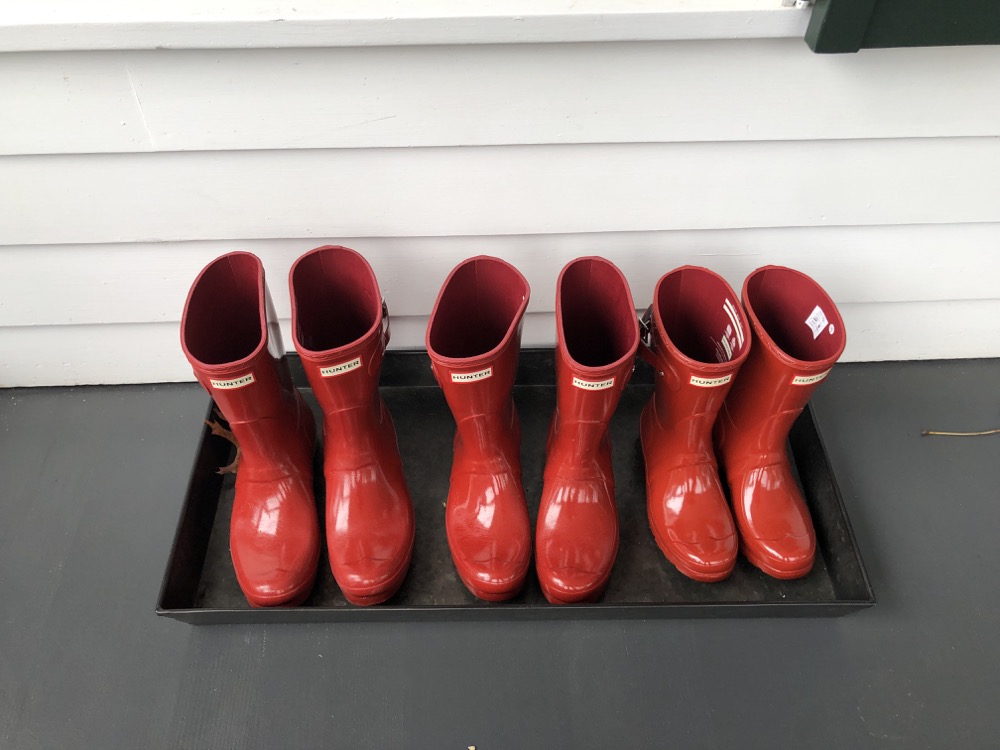 The site made an ideal location for the founding of an esteemed private school called the Ridge School. One Ridge School (and Yale) alumnus, Harry Van Sinderen, purchased the building and converted it into the Mayflower Inn. Harry tended to the inn with great devotion and its reputation grew. So much so, that in 1933 the First Lady, Eleanor Roosevelt, drove up the driveway in her blue Buick Roadster for a brief stay.
It passed between several owners in the 20th-century and fell into disrepair. Then Washington residents Robert and Adrianna Mnuchin bought the joint and fixed it up. They are credited with modernizing and reclaiming the Mayflower, making it into what it is today.
A retreat for wealthy investment bankers. Pretty much.
Because Robert Mnuchin was a Goldman Sachs executive as was his son, Steve Mnuchin, who was also Donald Trump's Secretary of the Treasury. Wow. The Mnuchins sold it in 2018 and the Mayflower has undergone another extensive interior renovation and is now owned and run by the high-end Auberge Resorts conglomerate.
It is regarded as one of the finest hotels in New England, if not the country. It is also the alleged inspiration for Gilmore Girls because the show's creator formed her idea while staying here I believe. I don't feel like checking.
The new ownership came with some changes, including the hiring of Chef April Bloomfield and a new focus on woo-woo stuff. (For example, the hotel formed a partnership with New York City's THE WELL, which offers "an integrated holistic experience with a suite of medical and health coaching services, along with custom spa treatments, a rotation of 'Visiting Masters' across eastern and western healing practices … daily movement and fitness classes and a calendar of seasonal retreats.")
There are all sorts of treatments (and "treatments") on the menu, but as an example, my wife prefers deep tissue massage. That's $240 bucks for an hour here. There are $1000 options where you and your partner get pampered for a few hours if you want. Hey, why not. I'm sure it's lovely.
There are all sorts of other things, like you can go for a hike at the nearby Hidden Valley Nature Preserve for $160 per guest. For a two-hour hike. I did that for free a few years ago.
As I mentioned, there was also an interior redesign that was completed in October 2020 by interior designer Celerie Kemble, who said she aimed to honor the property's "New England heritage." I don't know anyone named after root vegetables and I'm certainly no interior designer (and she has done a lot of high-end work), but I'm not really feeling the style.
Which makes sense, as I'm not prepared to drop four grand on a weekend stay in my home state. This place isn't really for people like me. So my judging the décor is just dumb. Like, I have no idea what this even means:
Drawing inspiration from storied English and Scandinavian country houses, we revived Mayflower's historic interiors with a palette of florals, complex patterns and color, Gustavian antiques and contemporary art. I wanted the Mayflower's redesign to feel like a gracious country house except you can be a guest again and again and never worry about overstaying your welcome… Our hope was that you might feel you were an esteemed guest in a guest room of a great house.
Our hour here was grand. Doors were opened and umbrellas were proffered. Everything was perfect without being overbearing. We took a seat in the taproom, which is just that. The main dining room is called the Garden Room and it's much brighter and whiter. But the menus were the same in both places and let's be honest – we felt much more comfortable in a darkened corner booth than we would have out there.
We ordered drinks; a mimosa for Hoang and a Bloody Mary for me. I watched the bartender make them and was impressed. Every movement was choreographed. Every squeeze of the fresh oranges, every addition of whatever it was to the Bloody Mary. I've had $16 drinks before, but this time I was intent on watching what I was paying for. It was art.
The brunch menu seemed fairly limited, but there was plenty from which to choose. I don't want to turn this into a whole thing gawking at prices, but some must be mentioned. A bowl of the soup of the day (butternut squash): $18. Fried egg (singular) with Crispy Tortilla: $19. Battered Flounder Sandwich: $32. Chef Bloomfield was known for her burgers at The Breslin and our chatty dining neighbor told us multiple times that we were fools for not having the burger here. (Perhaps because it was one of the more modestly priced items at $23?)
Hoang got the French toast with bananas and Bourbon Syrup ($18) and I got the Bacon Egg & Cheese Sandwich ($16). We threw in some extra turkey bacon and potato cakes. While we waited and enjoyed our drinks, we overheard our neighbors talk about their villas in Buda (or maybe Pest) and how the pandemic has affected their traveling between their Manhattan apartment, their Hungarian outpost, and their Connecticut country house. This is all true, by the way.
Hoang and I talked about the recent end of my son's fall soccer season and changing the oil in our old Impreza. I also noted that my friend Ed's Clocktown Brewing is on tap here, which is impressive to me. When I asked Ed about it, he merely said he's never eaten here because, well, you know, it's crazy expensive and he can drink his own beer for free.
The food came and I'll be blunt: This was the absolute best BEC sandwich I've ever had in my life. And it's not even close. Hoang? "This is the absolute best French toast I've ever had in my life."
I don't know how they did it, but the bacon was gossamer thin and perfectly crisped. The bread my sandwich was on looked a bit weighty, but it was light and held the moist BEC innards wonderfully. I could have eaten three of these things. The French toast was light and airy and the potato cake was, I don't know, perfect. And I don't even like potato cake type things.
Our neighbors wouldn't shut up about their burgers. Young wealthy couples were shuttled past us, touring the grounds for future heiress wedding parties. The bartender continued to shake drinks in a syncopated movement that clearly came from decades of practice. Our server was polite and perfunctory. Everything was just as it should be for a premium priced place.
In fact, it was so good that I could almost be convinced to go for the full experience here someday. Or, at the very least, to come back here for a full dinner someday. Yeah, definitely. We'll have to do that.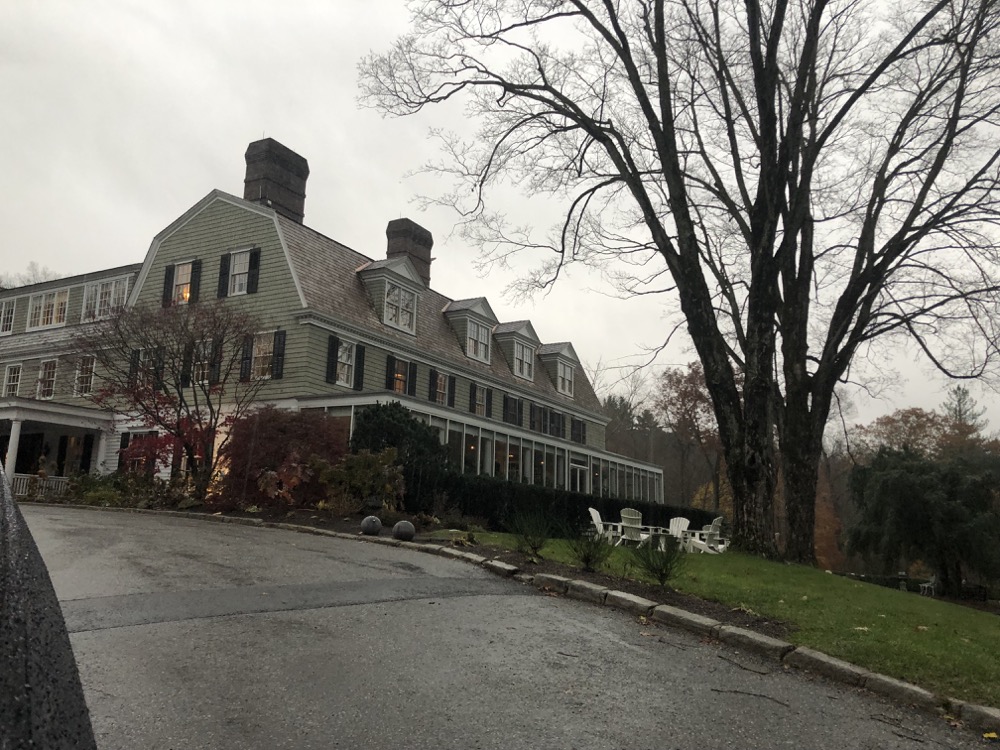 The Mayflower Inn
CTMQ visits US & World Bests
CTMQ's 1,000 places to eat in the United States Before You Die List