Yup, Another Pinnacle
Steep Rock Association's Hidden Valley Preserve
January 2013
The trails at Hidden Valley have changed since I first hiked them in 2013. Several were removed and others were improved. Also, the awesome new Thoreau Bridge was installed.
I'll return to Hidden Valley someday. Yes, to check out the Thoreau Bridge first and foremost, but also because it's a Steep Rock property and Steep Rock properties are always worth multiple visits in multiple seasons.
As you can see, I visited in winter. Imagine this place in October? C'mon now. Beautiful.
There are also a lot of trails at Hidden Valley. Back in the day, there were more. A lot more… mostly just a lot of cut-through trails and side trails, but they were all mapped. It was a bit of a mess.
So one day, in 2013 or so, someone said, "Hey, this is a mess. Let's make this better." So they effectively closed off a bunch of those extraneous trails and wiped them off the map. Literally. And Hidden Valley is much better for it… but there are still a lot of trails.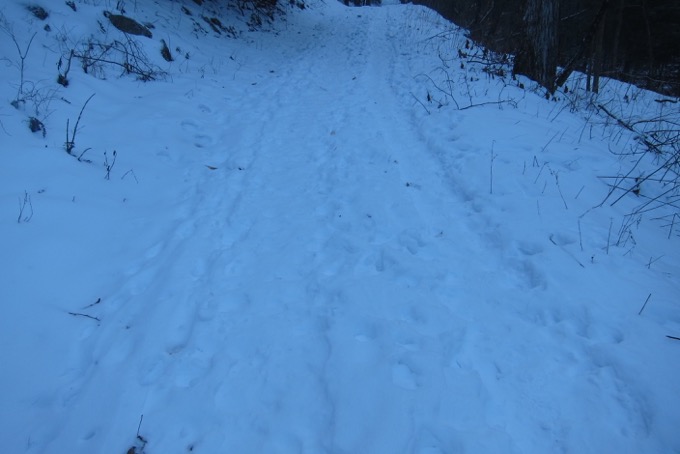 The main parking lot is along Bee Brook on route 47, one of Connecticut's best roads. I'd guess only one in five residents at most has driven 47. Go drive it next fall. (47, 37, 39, 45, 341… Just go get lost our in western Connecticut.)
Alright, this page will be a little different than perhaps what you've come to expect from my trail reports. While Hidden Valley has about 17 miles of trails in its 727 acres, I will be not be explaining each in detail. (I should mention that the Steep Rock Association does still run and maintain their "Hikers' Challenge" for which you must walk every inch of those 17 miles within the preserve's 727 acres. Go for it!)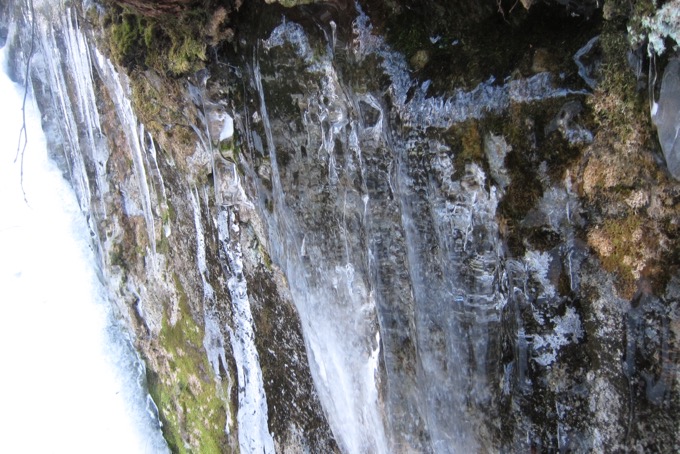 I began on the eastern side of the Shepaug along the orange-blazed Presidents Trail. The snow situation made my trek a little trickier and since the orange trail literally parallels the yellow-blazed Van Sinderen Loop, which is a nice, wide carriage road type of trail, I crossed over at some point.
Hidden Valley was donated by the Van Sinderen family back in the day. A lot of the trails and woods roads here now are from the Van Sinderen's equestrian and carriage-driving days over a century ago. By 1928, Adrian Van Sinderen had accumulated 650 acres and named the property "Hidden Valley" after a place in the mountains of Utah, which he had visited on a trip out West apparently. (While lovely, this preserve is not very Utah-like in my humble opinion.)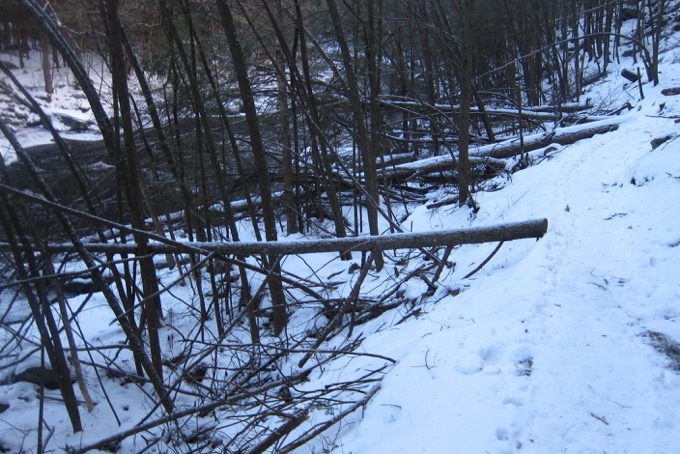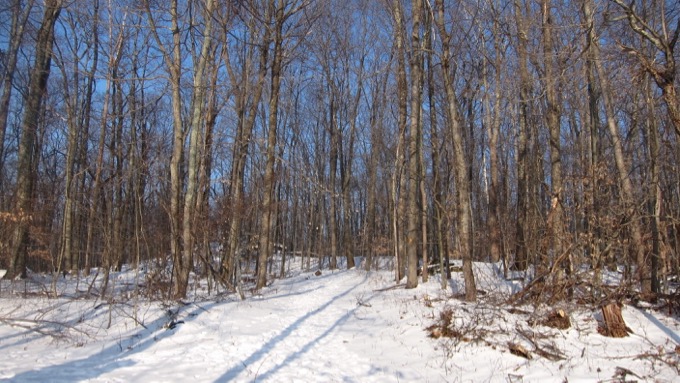 Back to my walk. The level trail lying alongside the eastern bank of the river runs along an old railroad bed. Passenger and freight trains once rumbled through the entire length of the reservation from 1872 to 1948… sort of makes Van Sinderen's ideal getaway retreat a bit messier, but he didn't complain, so I certainly can't.
I had the plan to walk the river, then hit the hills and circle back around. And I pretty much did just that, but ran into a few issues… like this: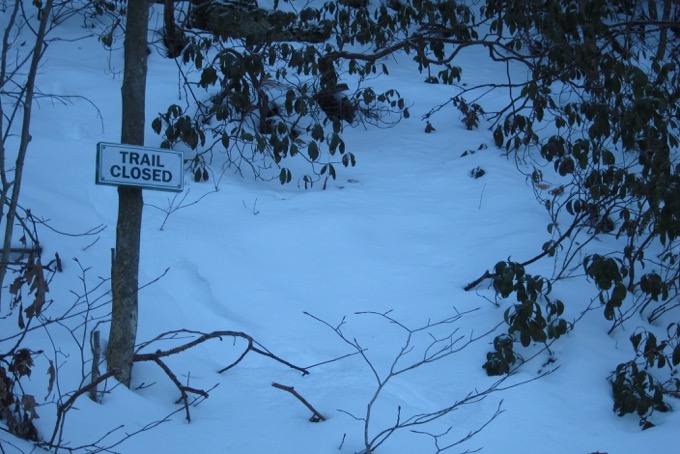 Steep Rock apparently closes certain trails seasonally. Okay, this particular one was pretty steep and as you can see, covered with snow. Or maybe it was one of those connector trails that they were shutting down at the time. It didn't really matter, as there's always an alternate route here at Hidden Valley.
However, I did get a little turned around at some point and wound up circling around the major hill here a bit more than I wanted to. Looking for the abandoned quartz mine and not knowing what to expect, I walked right past it.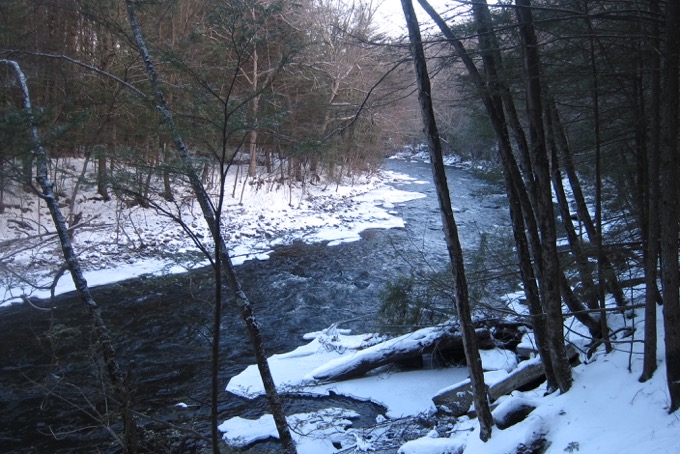 It's nothing more than a giant craggy rock and in deep snow, it simply looks like a giant craggy rock. But the mine once helped support a small mining industry in the 19th-century. This surface mine was active from the 1800s until it was abandoned in 1915. The quartz, used as a filler in paint and as an abrasive, was initially transported from here to the Hudson River by wagon and, later, by train. Quartz normally forms beautiful hexagonal crystals, but the mineral developed at Hidden Valley Preserve as a massive white vein.
The trails in the northern section took me behind some farmed fields and to a snow-covered and frozen pollinator meadow. Again, this place would be totally different in, say, I dunno, summer? Still, I love winter hiking and it's always peaceful to poke around these areas when no one else is around.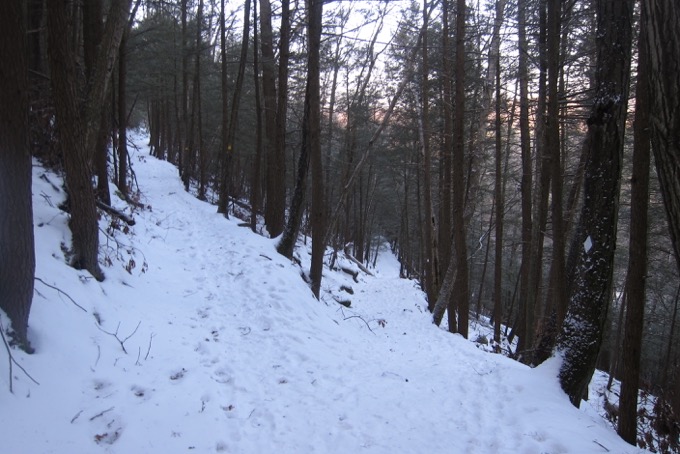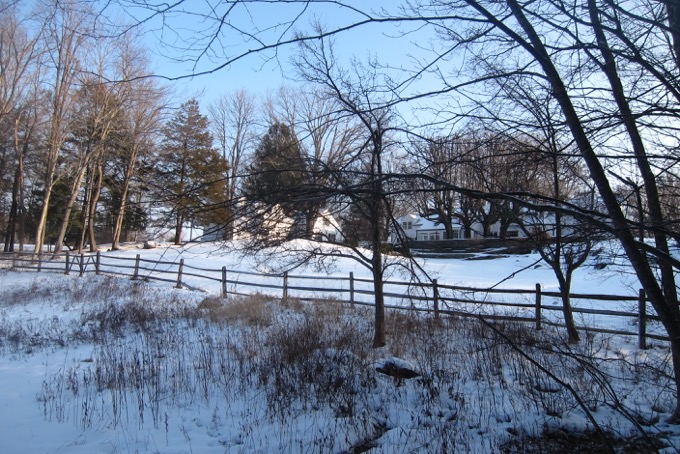 I circled back around and ascended the hill towards "The Hidden Valley Lookout." Kind of funny sounding on its own, right? A "valley lookout?"
The Lookout is a semi-circular terrace providing scenic views of the valley to the west. It was constructed as a lookout and rest spot along the carriage roads built by Adrian Van Sinderen. It's nice.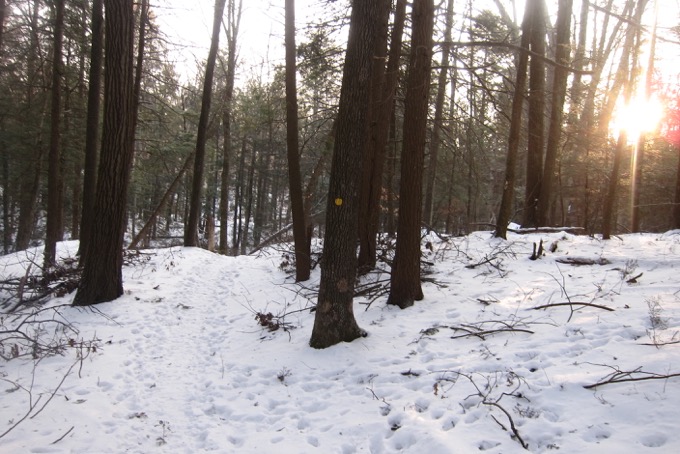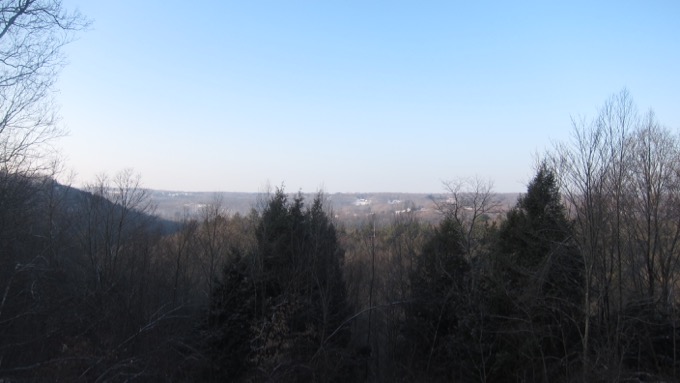 I continued along various trails to work my way down to "The Pinnacle." Rising to an elevation of 820 feet, the Pinnacle rewards visitors with a panorama of Washington. The view from the hill's weathered summit provides a 270-degree view of the valley, and to the north, the hills at the beautiful Macricostas Preserve.
I rested a bit before trekking to the southern reaches of the preserve. This took me down towards the Glenholme School and behind some houses. These southern trails provide a completely different feel from everywhere else in the preserve, as dogs barked at me, rusted school buses were in view, and, well, you can probably skip this chunk of trails if you're not a completist obsessive.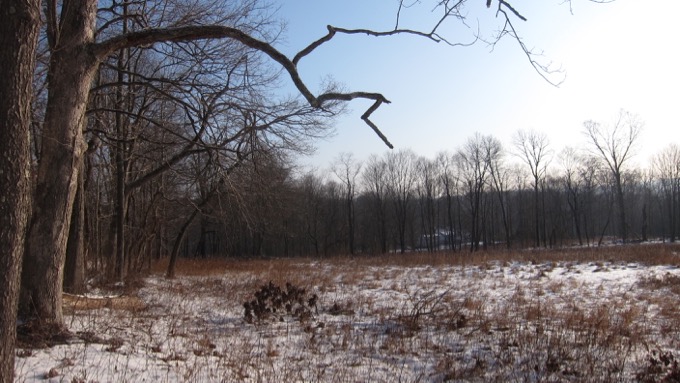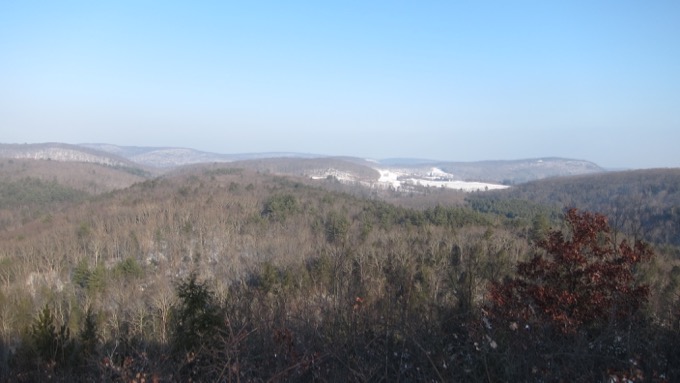 See? I told you this page would be different from what you're used to around here. So much less comprehensive! What's happening to me?
Nothing to worry about. I'll return someday and check out the Thoreau bridge and explore the western trails of Hidden Valley. As with all of the Steep Rock preserves, the trails here are impeccable and mapped well. The Shepaug is beautiful and the climbs always provide a beautiful payoff. I've always been impressed with the Association; their website, their organization, and their trails.

Steep Rock Association
Hidden Valley Map
CTMQ's Steep Rock Association Trails