Five Alive
Torrington (Google Maps location)
February 2022
"Downtown Torrington" isn't huge and it isn't a shopping or dining mecca these days. It's trying though, and it's doing a great job of it. New higher-end restaurants are popping up, new coffee shops and a hip used book store… a funky homemade fudge shop, a cool children's museum, a brewery… is Torrington on its way back?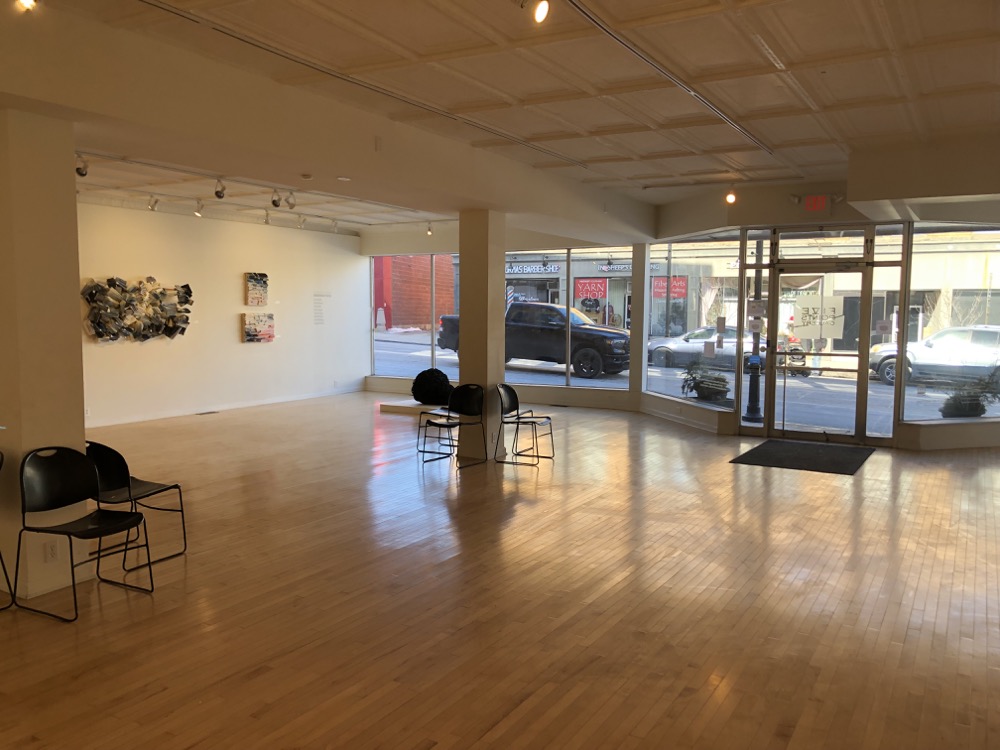 If it is, and I hope it is, the Five Points Art Gallery will be part of the revival. Situated on a prime corner downtown, Five Points grew out of the Torrington Arts and Culture Commission's 2012 initiative, Art Space Torrington. There was initially a sort of pop-up gallery that people seemed to enjoy and that led to the more permanent Five Points Gallery.
Not familiar with Torrington? Don't know why it's called Five Points? Here's your answer:
The gallery expanded quite a bit in 2013 to be what it is today: a lovely 3,800 square-foot three-gallery space. Five Points Gallery mounts new exhibits every six weeks showcasing professional regional, national and international visual artists. It's cool that it has such quick turnarounds, but I suppose to remain viable, it must.
I only visited the gallery proper, but Five Points is much, much more than that. There is the Five Points Annex which is right next door and is… essentially a 4th gallery with even quicker turnaround. Above the gallery is the Five Points Launchpad which is really cool. I'll let them explain:
In answer to the growing needs of art school graduates, and to encourage the cross pollination of ideas, The Launchpad, a strategic partnership with Hartford Art School, University of Hartford was formed in 2016. Emerging artists who have been severed from the umbilical connection of guidance, direction, community and art facilities found in a degree program, often face an uncertain future that, for the most part, has to be negotiated independently. Often working in their parents' basements or garages, many promising young artists find themselves isolated without intellectual and creative stimulation. The Launchpad program offers participants access to affordable shared studio spaces above Five Points Gallery, free access to the Art Center, a serious arts community, mentorship, exhibition and gallery management opportunities, as well as a biennial exhibition in Five Points Gallery.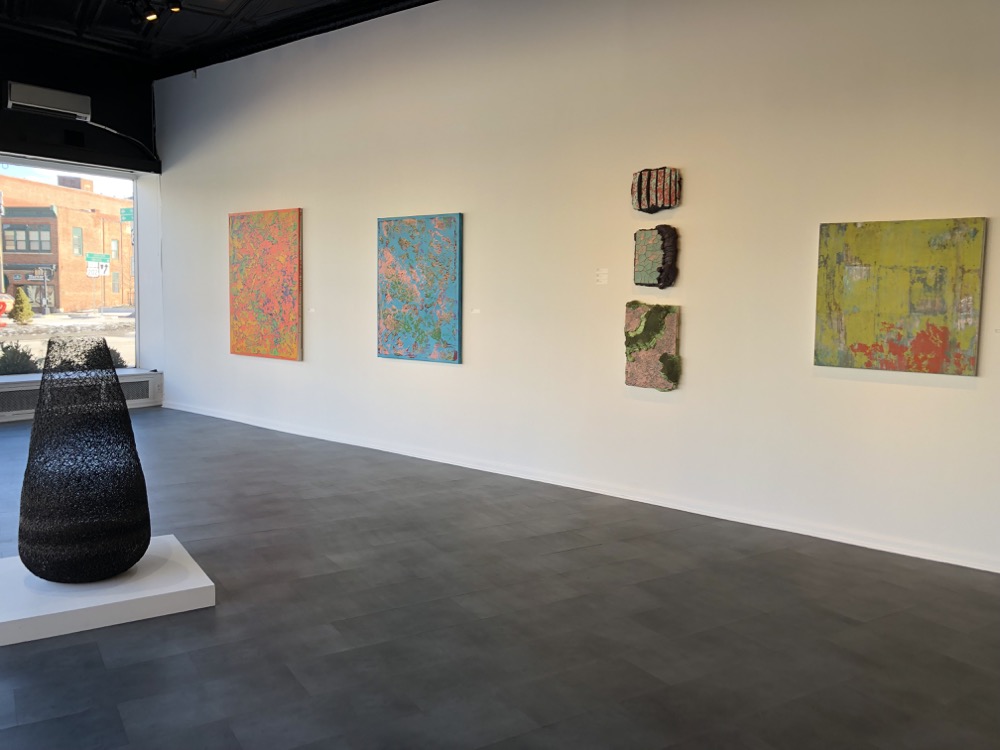 Neat. Neater? The Five Points Arts Center, also in Torrington at the old UConn campus here. (As opposed to the defunct West Hartford UConn campus, which has turned into a garbage dump in 2022. I wonder if someone reading this in 2030 can correct me here. I sure hope so.)
The Arts Center has drawing, painting, printmaking, children's and digital labs, and an "Alternative Photo Processing Lab." By the time you read this, there may be additional labs like contemporary ceramics, fine art textiles, and other technology labs.
When complete, the Art Center and 90-acre Art Park will be a vibrant educational facility designed for cutting edge artistic exploration and community driven arts activity. The Arts Center together with the FPCVA downtown exhibition spaces and emerging artist Launchpad, will become an arts destination, which will add significantly to the social fabric and economic health of our region and State.
I want to believe this. And the whole idea is pretty great. This is bringing Torrington along and away from its largely defunct manufacturing past. But let's get back to the main downtown gallery.
The exhibit during my visit was called "Wonderfully Tactile," taking up all three connected galleries. It is a bit disorienting, as Five Points has large glass windows along two of its sides that bring the busy downtown streets into view. That's just not a typical feature of an art gallery in my, admittedly fairly limited, experience.
The exhibition featured eight artists and the idea here is that the surfaces of each piece "allude to the human haptic and optic senses." Okay…? Sure.
I can't pretend the pieces on display were among my favorites I've ever seen. Hey man, that's art, right? It's all subjective. Each artist has an overlong and overwrought artist's statement. I'll spare you from them. You're welcome.
Becca Barolli's sculptures employ traditional crafting techniques such as weaving, braiding, and knotless netting to create intricate steel wire tapestries and vessel-like forms. I understand this and this is true.
Adam Bernard's process is as labor-intensive as it is physically and visually tactile. Bernard applies a dot matrix to his abstract paintings using a piping bag, in order to conflate a mechanical process with one of painterly intuition. His whole thing seems to be to create art in a very annoying way, to feel the anger and pain it causes. Or something.
Ann Finholt's observations of the natural world are translated into gestural abstract oil pastel landscapes. The paintings can be translucent and brilliant, but they are also capable of murkiness and mystery – producing both obscurity and luster. See example above. I reserve comment.
Mary Janacek is inspired by natural and unnatural disasters and how they affect the clouds in the atmosphere. Janacek, builds her surfaces with layers of folded paper and paints to create physical and illusionary spaces. Hm.
Stephen Maine tackles painting like he would relief-printmaking. Ruled by process, Maine creates large styrofoam "plates" which he uses to make his artwork; focusing on color relationships, surface, seriality, and the psychology of visual perception. Obvs.
John Ralston V's work accelerates and embellishes natural forms of accumulation and erosion. Ralston's jarring color and unique surfaces are used to convey an alien landscape, disrupting immediate associations to landscapes we collectively understand. I just thought they looked pretty cool.
For me, Maine and Janacek were the highlights, and Barolli's metal sculptures were the most interesting. I won't name names, but one of the painter's works were… not for me.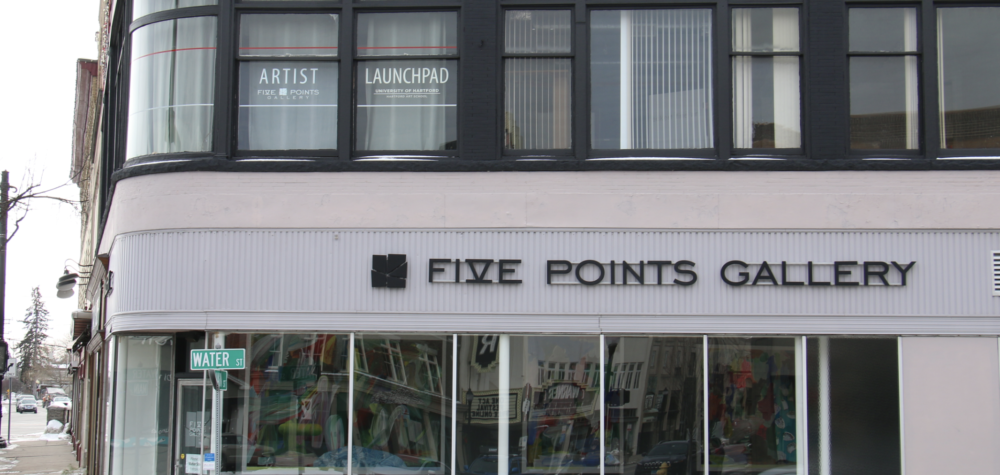 The woman manning the desk… womanning the desk? The woman working during my visit was all over me to join the Five Points mailing list and to come to opening receptions and to join the Arts Center and… I appreciated her enthusiasm. And what the heck, you should do all that stuff yourselves.
It's great that Torrington has this vibrant and fairly large gallery. It's super great that you can hit up the "five points" of what makes a small city's downtown cool: hipster coffee shop, hipster used book store, brewery, a river walk, and an art gallery.
Good stuff, T-Town, good stuff.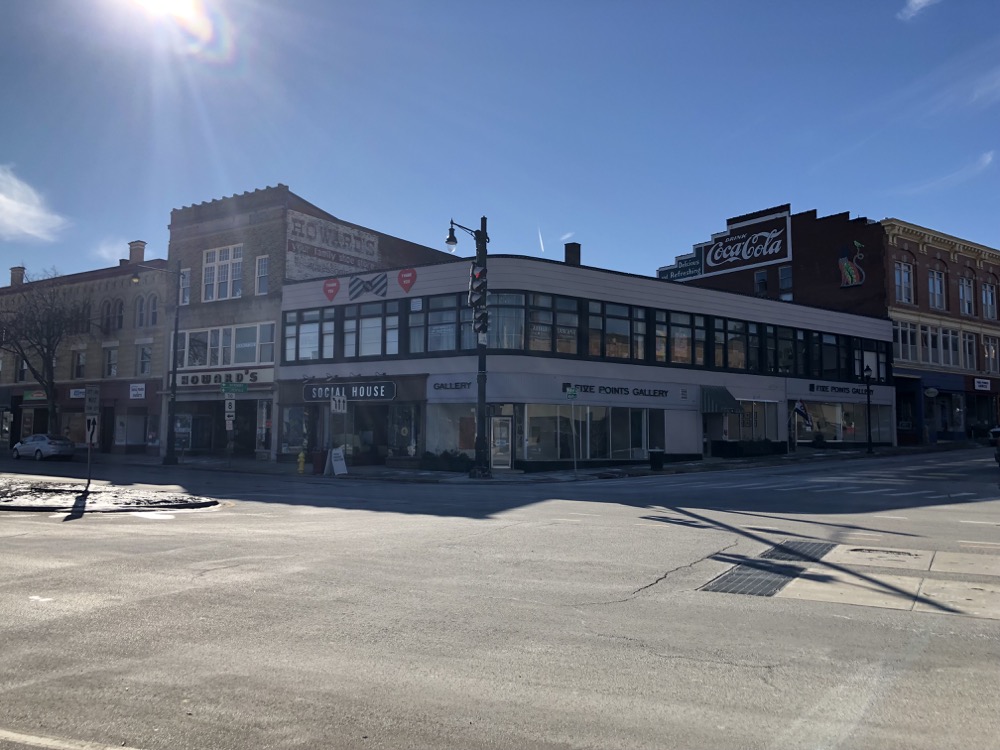 Five Points Arts
CTMQ's Museum Visits