And Play And Play And Play And Play…
Torrington (Google Maps location)
November 2014
As the only person who has ever even thought about visiting all of Connecticut's museums, I do often think about how lucky I am to have children. Not only do they provide great cover at many places I drag them to, they have also allowed me to visit all of the children's museums around the state without getting arrested.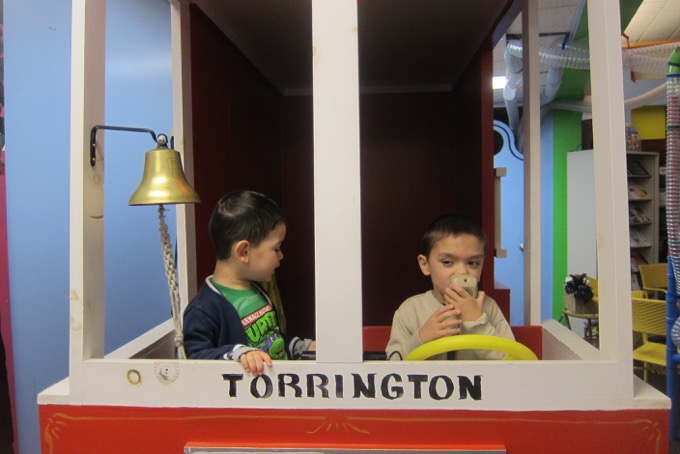 KidsPlay in Torrington is the first one I've seen with the following rule on their website:
At KidsPlay all children must be accompanied by an adult and all adults must be accompanied by a child.
Smart. And again, where would I be without children of my own? Borrowing yours to complete my mission? Yeah, probably. I'm sure you'd hypothetically understand.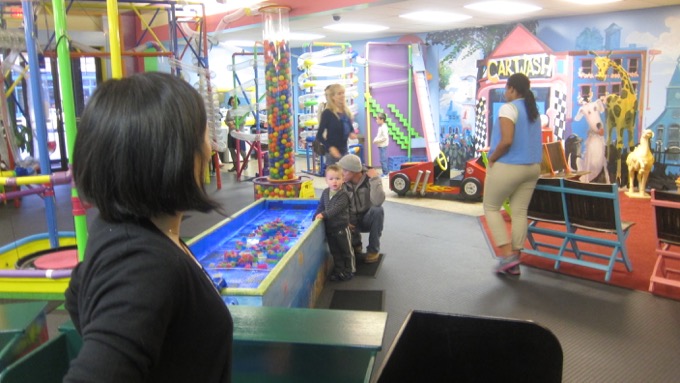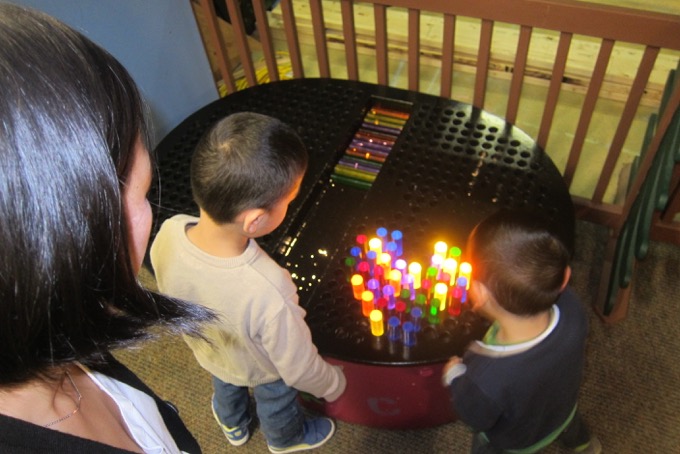 I don't know if it was the fact that my sons were the perfect ages to enjoy KidsPlay or if KidsPlay really is one of the best of this type of museum in the state, but boy oh boy did they love it. It's the kind of place that fosters imagination and creativity through interactive exhibits and play wherein they don't realize they're gaining positive learning experiences.
In other words, parents should love this place as well. Almost everything here is hands on and – all credit to the staff – everything was actually functional during our visit. I can't say that about any other children's museum I don't think. Something is always broken or barely working.
And when you have a special needs child like my son Damian, that's always a challenge. Also a challenge for Damian? Any sort of role-playing or imaginative play. He's incredibly literal and intellectually limited, so the mere fact that he was all-in with a lot of the stuff here is a massive credit to the way KidsPlay is laid out and set up.
From their website, KidsPlay is:
A setting where children can practice developmental skills such as role-playing, sharing, communicating and self-control.
Sounds simple enough, right? Well, for Damian role-playing, sharing, communicating, and self-control are four skills he has great difficulty with. And always will. But for nearly two hours in Torrington, at least, all was well.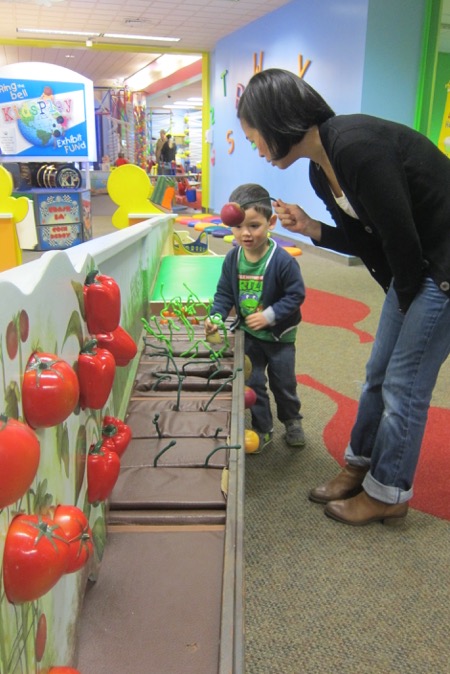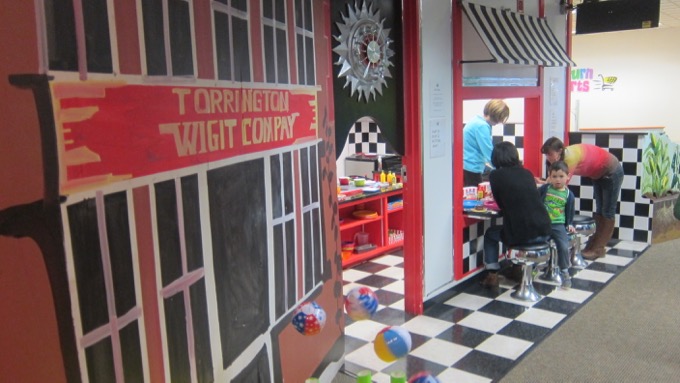 (Calvin has fun anywhere, but KidsPlay was a standout children's museum even for him.)
Founded in 2012, KidsPlay is all about the play. They say it's is designed for children ages 2-8 which I think is fairly accurate. Though I'd guess the sweet spot is more like 2-5. (Damian was 8, but trust me when I say he has never operated on the age-typical level.) Kids are allowed/encouraged to explore on their own with no need for direction from parents or staff.
Which is why it's so cool for kids. Okay, let's check out the exhibits. There's a toddler area for kids under 2 that we skipped, but it's great that it exists.
There's a Bernoulli table at which air blowers keep balls afloat in the air. A ball maze at which colorful balls race through the transparent tubular maze of loops and spirals. The balls then drop into a ball-filled silo, which feeds down into a circular retrieval pit. Man, you want to know the way to Damian's heart? This is it.
As for me, I rather like to see people in bubbles.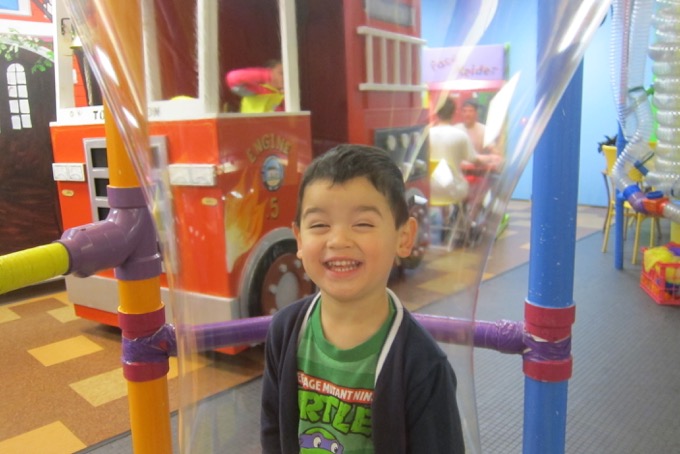 This exhibit allows the child to be encased in a bubble by using a chain to pull the solution up out of a tub surrounding the standing platform. I've seen this type of thing at other child-focused museums, but they never work. Here? It worked! Over and over again! Huzzah.
The machine most important to Damian also worked. (Actually, it's tough to make that call. Anything with Rube Goldberg qualities and tubes with things traveling within them would make the list.)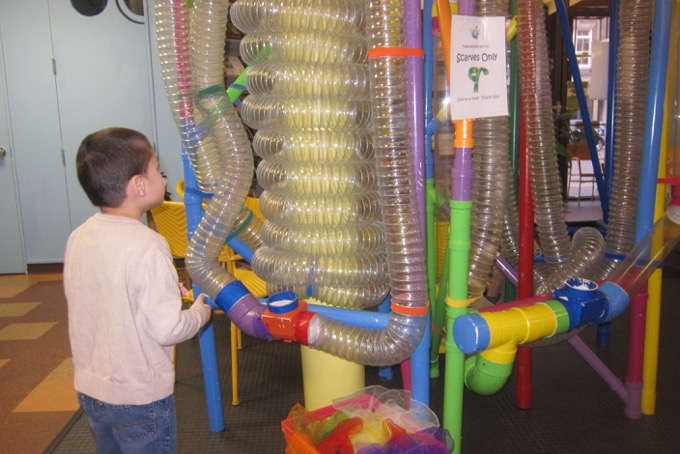 Stuff a silk scarf into the forced-air stream; follow it's travel through the transparent tube as it loops, ascends and descends; anticipate it's pathway as it closes in on the end of the tube where it shoots out into the air above Damian's head at which point I think he was encouraged to jump up and grab it.
Even better: there are two side-by-side Scarf Throwers. Damian was in heaven.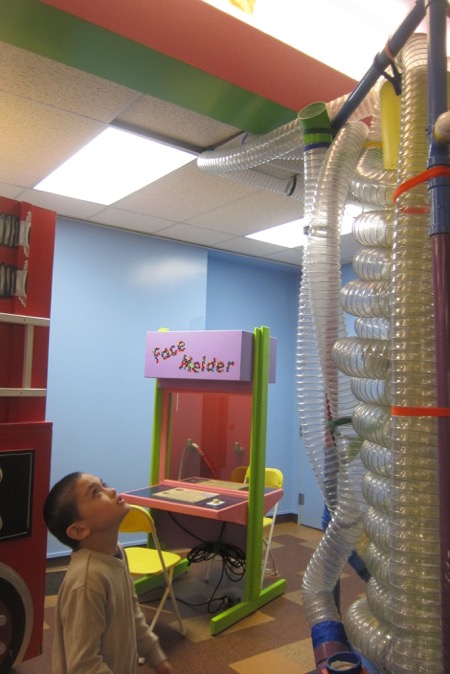 In fact, years later in early 2020, KidsPlay was mentioned and Damian said, "The children's museum? The one with the scarves in the tubes?" I kid you not. The boy can't tend to his personal hygiene at 14, but he remembers the name of the museum with the tubes for the scarves from six years ago.
There's a pretend Torrington firetruck that Calvin loved and a little car that children can work on; changing tires and whatnot. It's all very cute. Also cute? The well-stocked pretend kitchen set-up. KidsPlay is fun.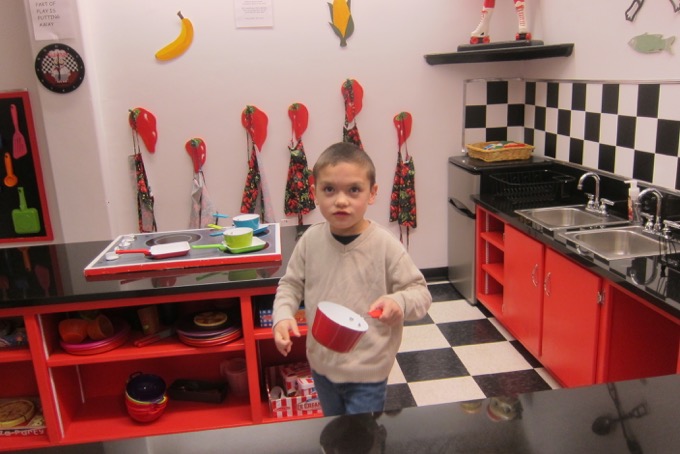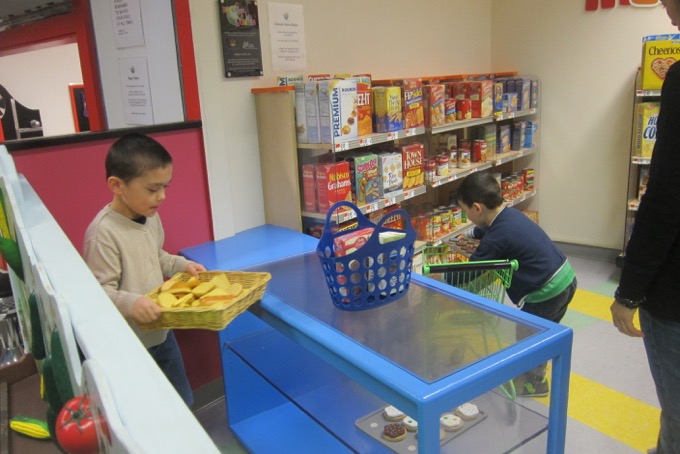 We spent a lot of time in the grocery store. They've done a great job replicating the grocery store experience here; with little carts and lots of foodstuffs and a whole check out experience. Of course there's nothing fun in real life about grocery shopping, but KidsPlay gave us a good half an hour of fake supermarket fun.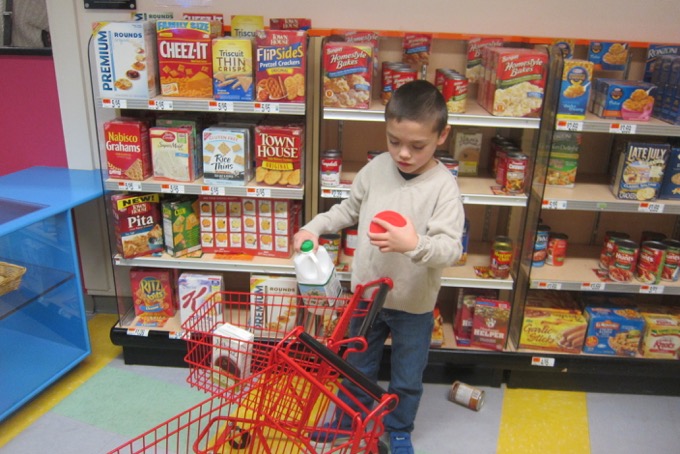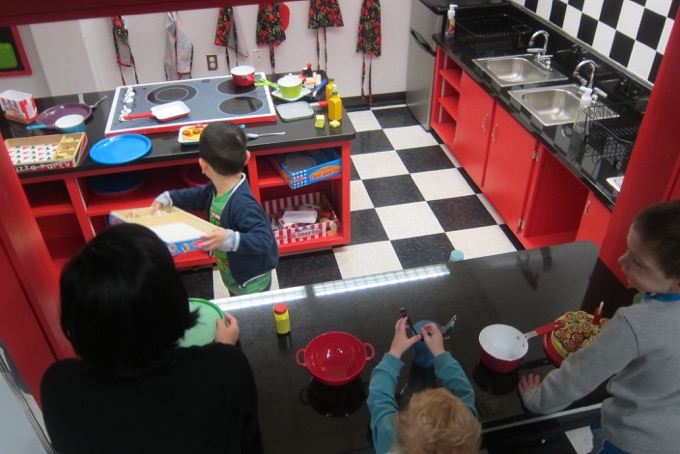 Remember that show Supermarket Sweep? My wife had no recollection of it when I mentioned it recently. I saw that Leslie Jones was going to host a reboot in 2020, which kind of made me sad for her. I have no idea why I used to watch it though, as it was ridiculously dumb.
Let's see, what else… the whole kitchen play area, there's a theater stage here with all sorts of costumes and props. Just a wonderful, simple, and fun idea. Especially when Damian didn't think twice about putting on a skirt.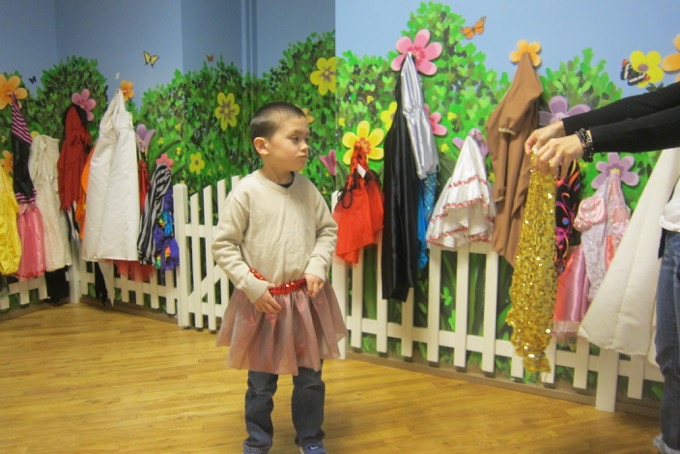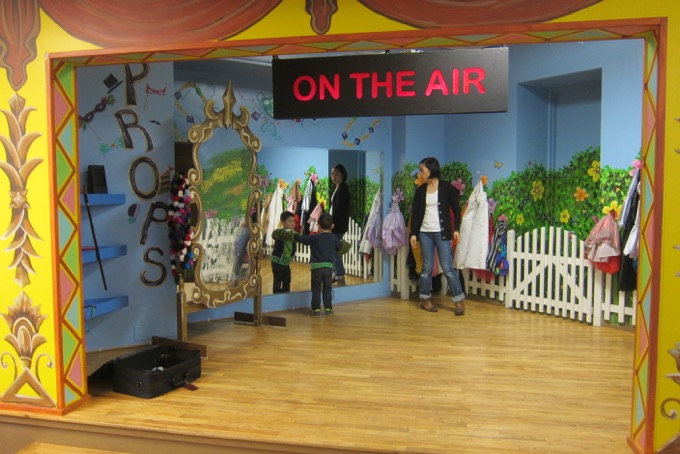 Live free, D! Let your freak flag fly! Unfortunately, Calvin was already embedded in "boy culture" and would only put on the Incredible Hulk fists. Down with the patriarchy! Yes, I agree, it appears I'm running out of steam writing this page.
In retrospect, KidsPlay could be considered the most basic of children's museums in the state. KidCity in Middletown is similarly themed and larger and more renowned. And while my sons very much enjoyed KidCity, there was just something about KidsPlay that appealed to them more. Perhaps because it was less crowded and less compartmentalized? Perhaps because ever doodad and doohickey was working perfectly?
I can't pretend to know the collective mind of children. But fortunately, whoever designed this place in an old bank in downtown Torrington did. Hats off to them.