Brave New World
Twin Colony Diner, Torrington
February 2022
Something just occurred to me. A lot of diners have the word "Colony" in their names. And I may just be obtuse, but I don't know why. There was White Colony Diner in Waterbury. The Blue Colony is going strong in Newtown. Colony Diner is slinging hash in Wallingford. And here we are at Twin Colony in Torrington.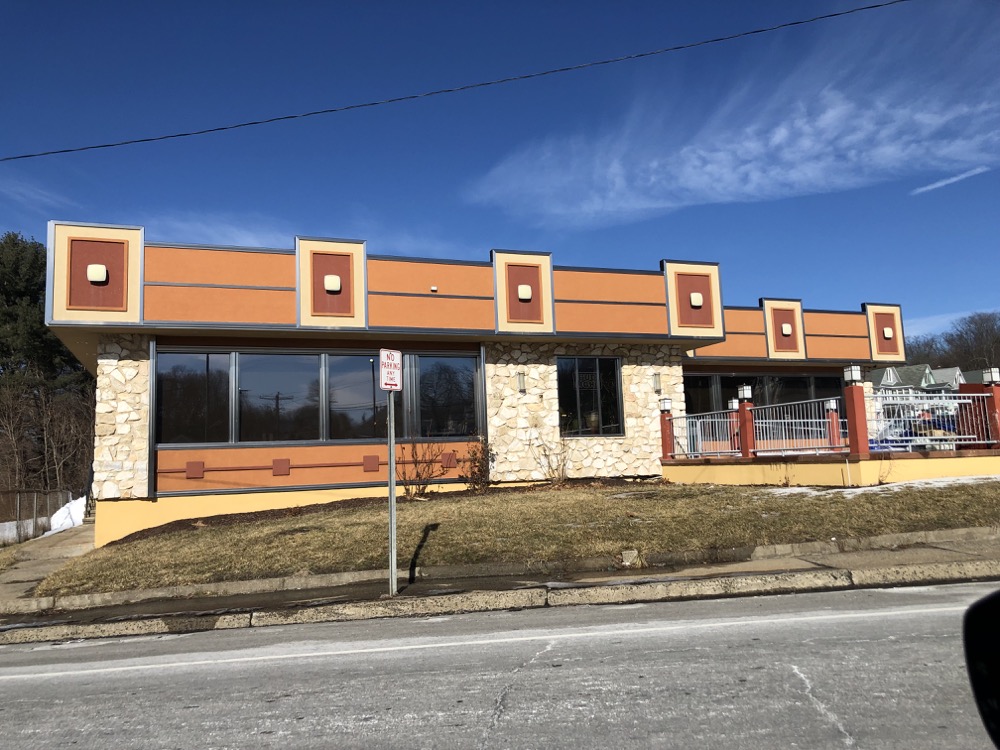 What am I missing? And am I the only one that thinks a "White Colony" sounds a bit too Aryan? And that a "Twin Colony" is a bit X-Files or Aldus Huxley?
I'm sure there's a perfectly reasonable explanation for the colonization of diners, and when one of you readers explains that me I'll feel like a ding-dong. But that's nothing new. I've been made to feel like a ding-dong since before 1984, which is when Twin Colony Diner, right at the messy confluence of Routes 202, 4, and 8 at the bottom of that long hill I'd never want to travel during a snow storm. You know what I'm talking about.
Twin Co., as its known to locals, is a classic Greek diner that was opened, owned, and operated by Gus (Kostandinos) and Lazaros Saltourides. (Gus passed away in 2015.) To the best of my knowledge they were not twins. The diner would like you to know the brothers' story:
Growing up in rural northern Greece back in the 1940s – 1950s wasn't a walk in the park. Suffering the aftermath of WW2 and the horrific civil war immediately after, devastated Greece. The only option to survive was subsistence farming. Gus and Lazaros were two brothers in a family of 12, living in a two room farm house. They grew up fast and tough working their family's tobacco fields without modern farm equipment. Gus was determined to fight for a better life. America wasn't a dream, it was a necessity. Gus immigrated to the US first and helped most of his family follow in his steps. He and his gracious wife Mary took most of his brothers and sisters (and their families!) into their home and helped them realize their American Dream. Lazaros became an entrepreneur, worked his way from dishwasher to owner of various successful diners within Connecticut. In 1983, the two brothers, were determined to bring a well rounded menu with a New York diner environment to Torrington. Before you could say Feta cheese and Spinach omelette, the doors were opened for business in September 1984.
Man, subsistence tobacco farming. Doesn't that mean they ate tobacco? I can see why they had to get out of there.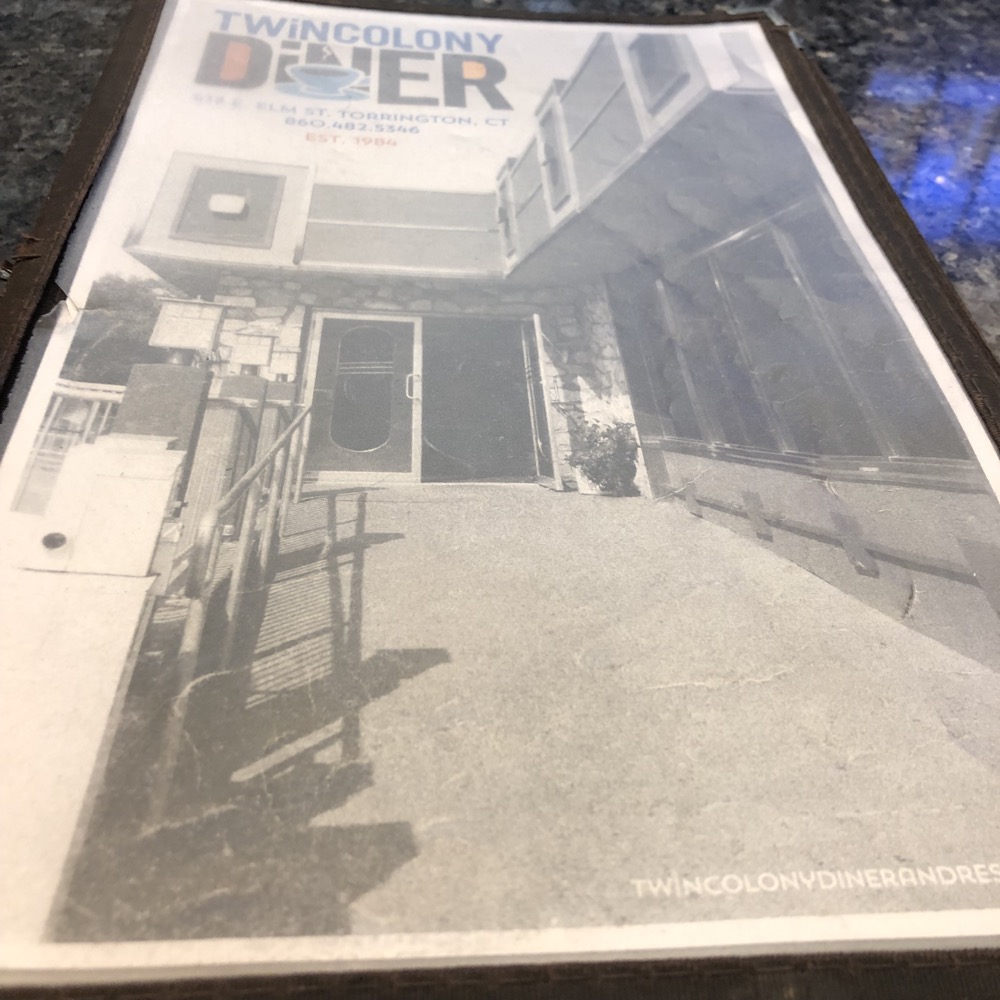 Immigrant stories are always humbling to me. I had it so much easier than so many and I never had the gumption to open up my own business. Hats off to the whole Saltourides family.
I took a seat at the diner bar and took stock of the joint. It is of a typical size with a "nicer" dining area and a more "dinery" area. Diner test 2: how quickly was I offered coffee? Within a minute of sitting down. Check.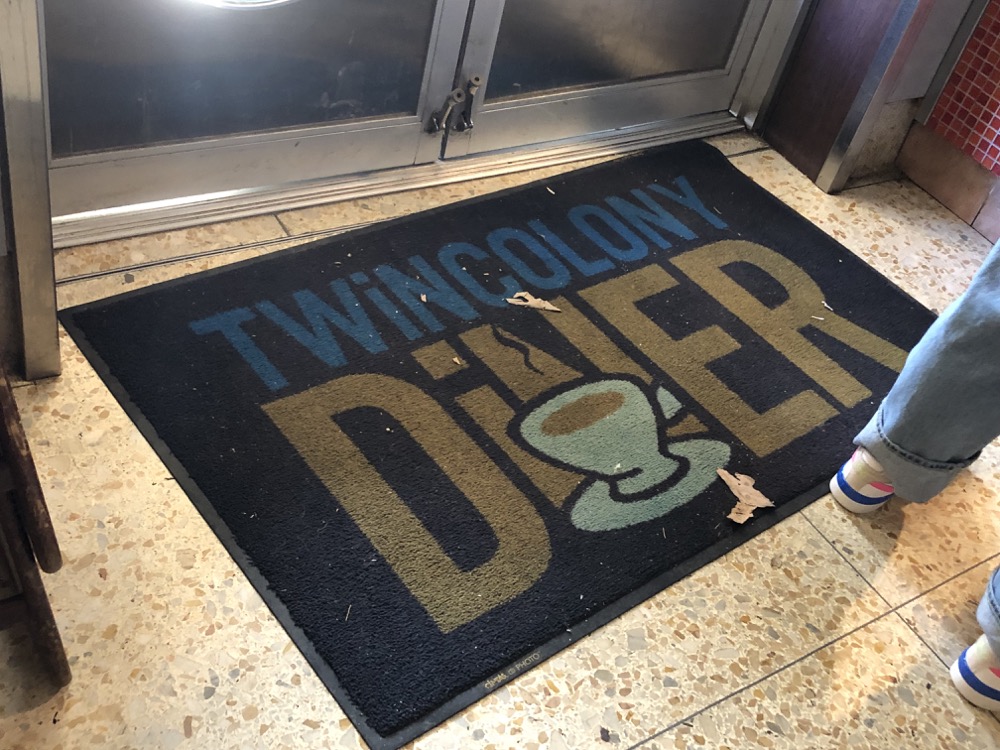 Diner test 3: was there a group of old guys grumbling about politics, kids these days, and engine repair? Check.
Things were going well at Twin Co. The menu is large and typical. I was asked what I wanted within a couple minutes and for me, there was only one choice: The TwinCo Deluxe:
Ten bucks! What a steal. I was asked if I wanted my scrambled eggs "hard, medium, or soft." That isn't a typical question, but I appreciated it.
Diner test 4: Bottomless decent coffee, check.
There seems to be a definite "Cheers" vibe here, at least on a late Sunday morning. Every other person or group that came in seemed to know someone working here or already seated somewhere. I was the lone single person, doing my crossword puzzle and furtively taking pictures. One bearded patron eyed me warily for the last ten minutes of my visit. I don't begrudge him for that at all.
In fact, more people should warily eye lone middle aged guys furtively taking picture of random diner scenes. They're weirdos. And, as we've established, they're ding-dongs as well.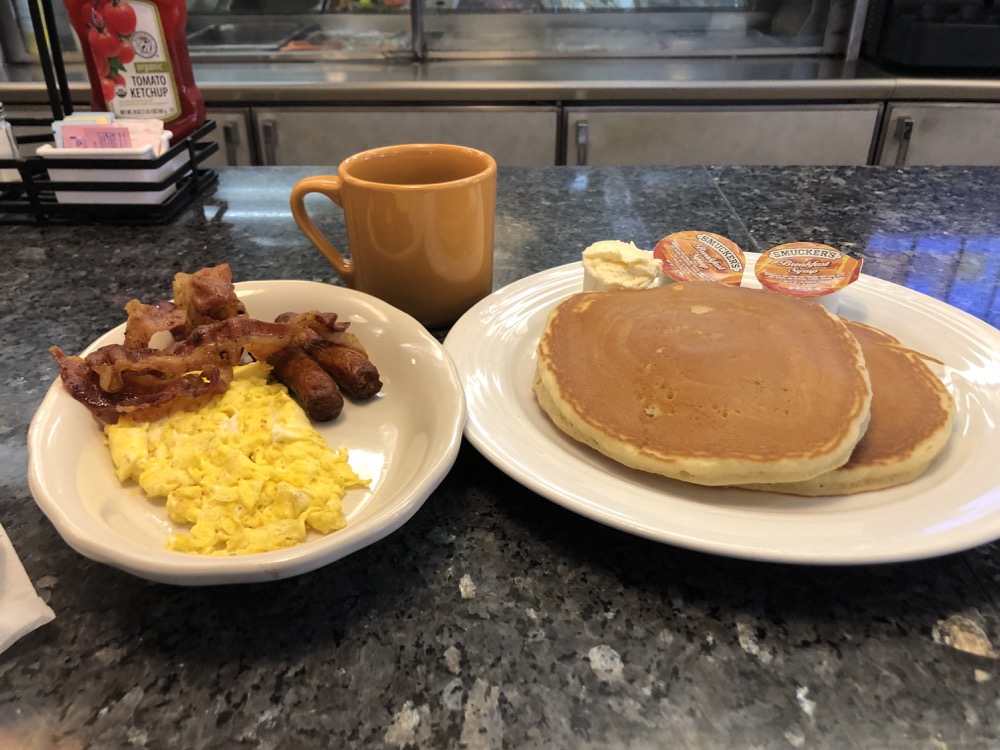 You get a lot of food for ten bucks with the TwinCo Deluxe. Two eggs, two sausages, two strips of (chewy and fatty) bacon, and two massive pancakes.
Diner test 5: massive pancakes that never get entirely eaten, check.
The food I had was good, especially for the price. The pancakes were probably too big, as halfway through they just felt like a lead weight in my belly. But that's also kind of the point, right? To "soak up the alcohol" of the late night inebriated patrons and to "soak up the alcohol" of the hungover late morning patrons. I was neither, and had nothing to soak up, so I guess that's on me.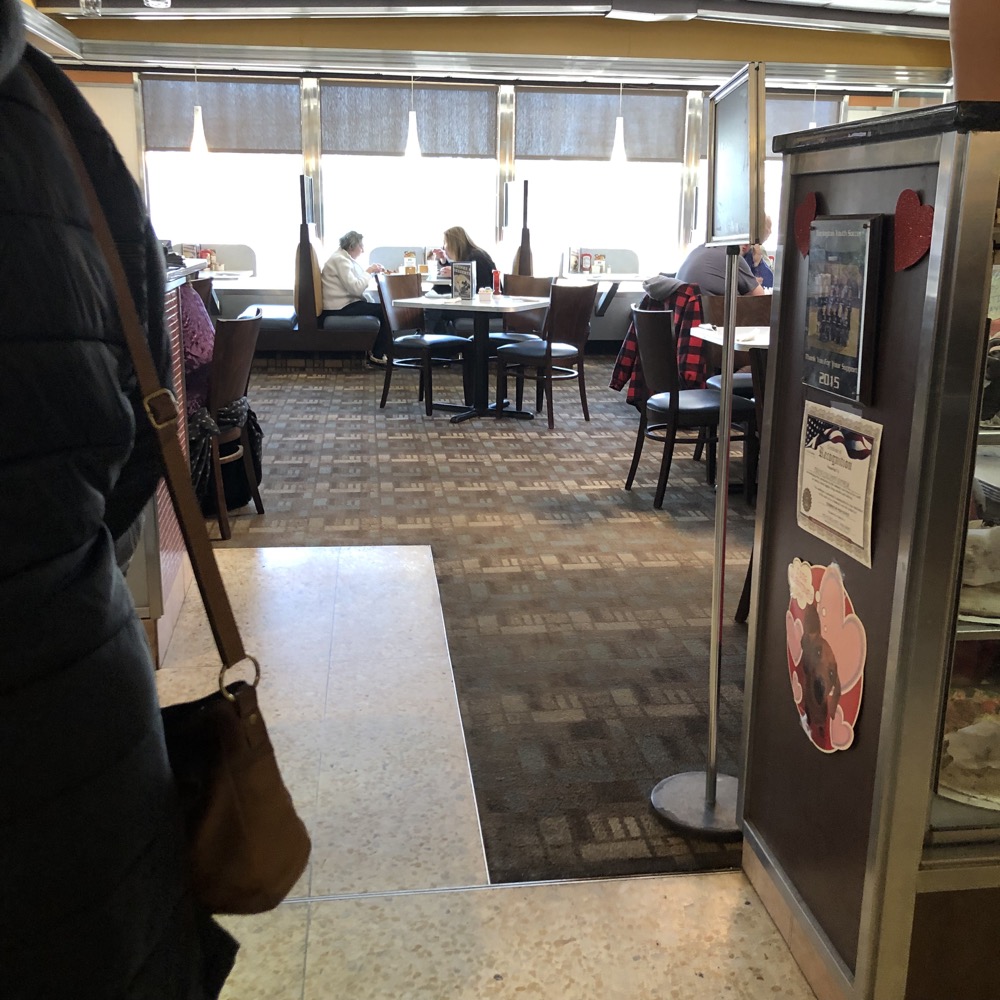 Diner test 6: Open 24 hours… nope, not here. Maybe they were at one time, but in 2022 their hours are 7-10 every day. Which is pretty limited, really. 7 AM? I demand much earlier hours from my diners!
Paltry morning hours aside, I very much enjoyed my Twin Co experience. Even though it's younger than I am, it has the veneer of being an older, "classic" diner. My servers were pleasant enough and the older woman at the register was properly gruff, yet polite. If I wind up being an old guy living in or near Torrington someday, I'll be taking my rightful spot at the end of the counter grumbling about the state of the world.
Or at least about the fact that I can't get in until 7 AM.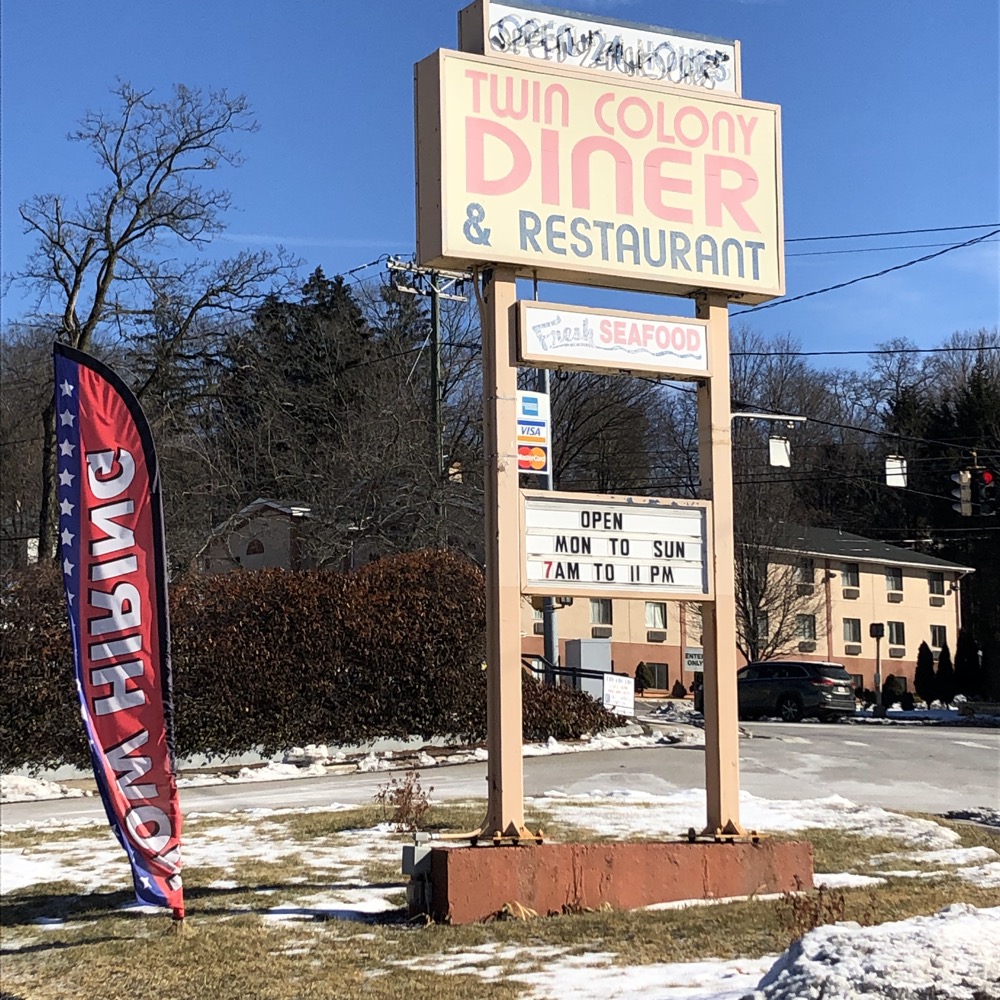 Twin Colony Diner
CTMQ's Classic Diners & True Taverns