Everything Wallingford
I've been exploring and writing about Connecticut since 2006. After a decade, I began compiling CTMQ guides for each town in the state. I plan on "completing" Wallingford CTMQ-style… as well as the other 168 towns, cities, and boroughs in Connecticut. That is the ultimate goal of CTMQ.
If I've missed anything in town or if anything has closed or changed, please let me know.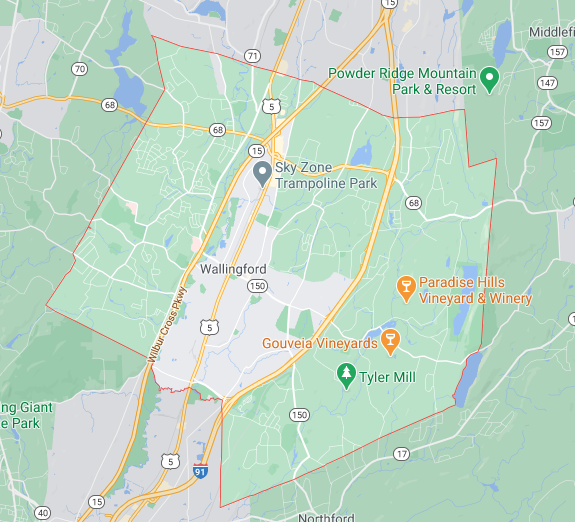 Museums
Johnson Mansion/Silver Museum
Nehemiah Royce House Museum
Paul Mellon Arts Center
The Peters Railroad Museum
Samuel Parsons House
Yalesville Historical Center (Potential future museum)
Hikes, Paddles & Bikes
Explore Connecticut's Wallingford Outdoor Guide
Tri-Mountain State Park
Wharton Brook State Park
CFPA's Mattabesett Trail – Intro
Wallingford Land Trust Trails – Intro
Wallingford's Town Trails – Intro
Multi-Use/Rail Trails
Kayak/Canoe Trails
Quinnipiac River Water Trail
Food & Drink
Roadfood List: Neil's Donut & Bake Shop
CT Chocolate Trail: Aruna Chocolates
CT Chocolate Trail: Sweet Cioccolata
CT Wine Trail: Gouveia Vineyard
CT Wine Trail: Paradise Hills Vineyard
CT Beer Trail: Center Street Brewing Company
CT Beer Trail: Cliffside Brewing (Closed)
CT Beer Trail: Front Porch Brewing (Closed)
CT Cider Trail: New England Cider Company
CT Spirits Trail: Polly & Joan's Cordial Company (Closed)
Looking for your favorite restaurant? Here is an explanation as to why it's not here.
Everything Else
US Oldest: Yalesville Underpass
US Only: George Washington in his Masonic garb statue
Spruce Glen Falls
Harry O. Haakonsen Fishway at Wallace Dam
Spring Brook Covered Bridge
John Barker House
Old Gungywamp & The Octagon House
Redscroll Records
Goofy Giant Lobster Thing
Masonicare Train layout
CT Movie: The Preppie Connection
Wallingford Wrap-Up
Completion Celebration TBD