DJ MacaDamian Nut
Redscroll Records, Wallingford
I know there are a few vinyl record shops that still exist around the state. Heck, I've already (sort of) profiled one in Vernon. And no, I think we agree that it is not part of this website's mission to visit and chronicle them all. In fact, this will be the last one I think.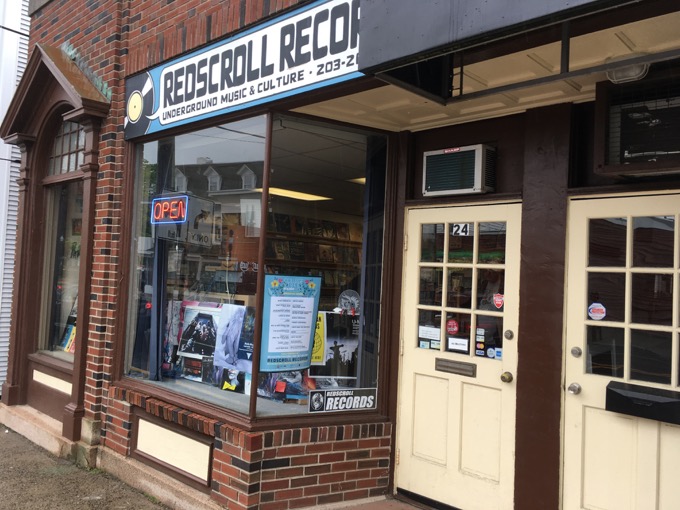 I could argue that vinyl record shops are museums of a sort. But that's not the angle I'm going for here. After all, it's just a record shop in downtown Wallingford. A downtown which will have not one, but two breweries within walking distance of this place. Which is a dangerous formula for some… drink a few beers, buy a few dozen records you don't need… Unless you do need them of course.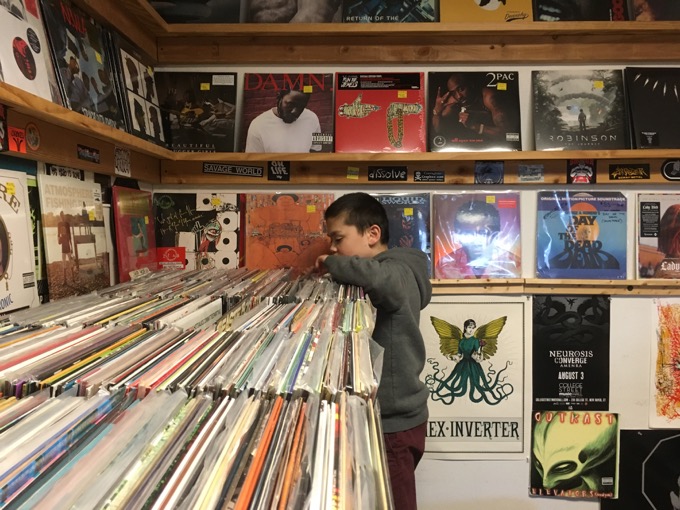 And if you (or I) do need a record or ten, Redscroll likely has it. I was overwhelmed by their selection. This place is downright awesome.
Damian and I visited during one of our random "let's just get out of the house and give Mama a break from both of us" days. For those of you who don't know, Damian has Smith-Magenis Syndrome which is not a fun thing. It's rather awful, actually. But we try to separate Damian from his syndrome. Damian Damian is cool SMS Damian is not cool. Damian Damian loves music and has a rather incredible ear for it.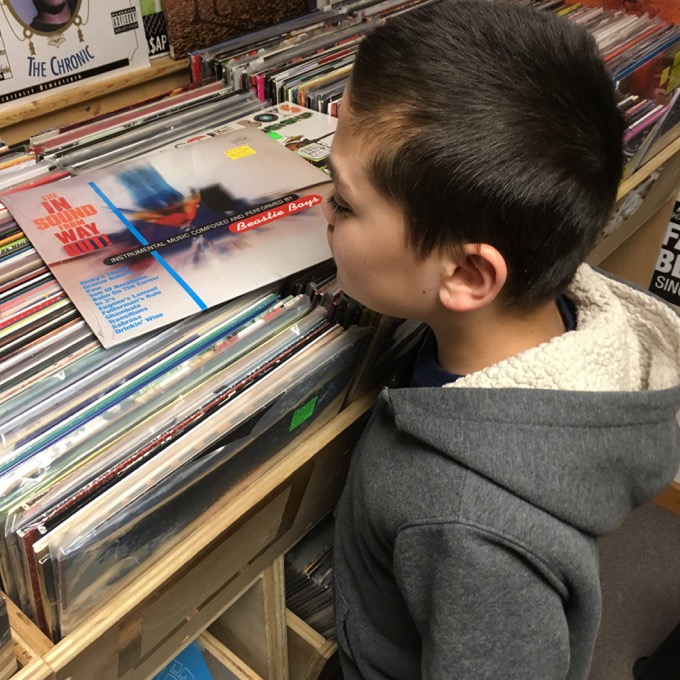 Part of that is the fact that he listens to it all day long through various channels. He gets his pop music from his bedroom clock radio. He gets his good music from his iPod in my car. He gets his mom's music from her car. He gets his random music from YouTube's algorithm. But importantly, he remembers it all. Not just the song titles and artists, but the drumbeats, basslines, lyrics, and general pacing of each song. It's borderline savant-like at times. The bottom line is that Damian loves music.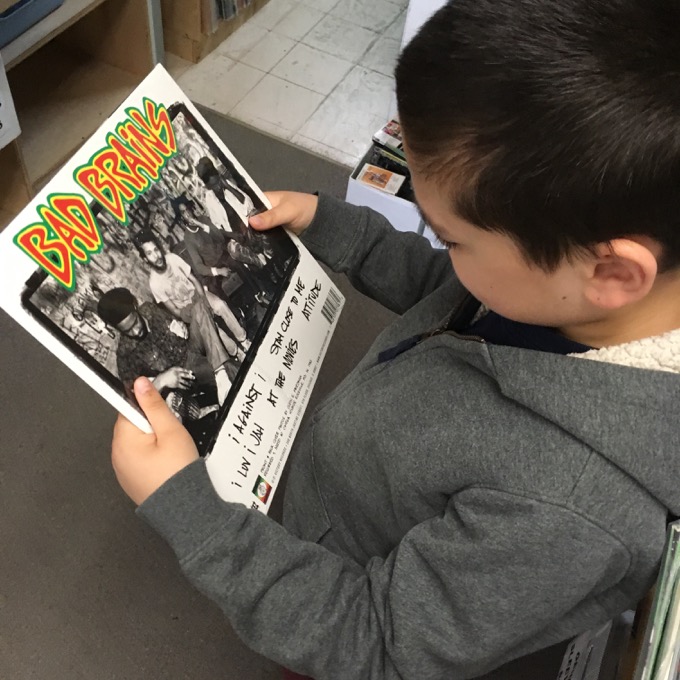 I have countless examples of his skills… Listening to the Beastie Boys' "Pass the Mic" once, he interrupted, "Hey. That's 'The Big Takeover' by The Bad Brains," referring to a quick sample in the song as if everyone knew that. That's become my normal, and it's freaky. "Hey, Papa! This sounds like 'The Gloaming' by Radiohead." On and on. There are times he'll say something like, "That drum sounds like such and such song" and I'll have no idea what he's talking about.
Then I'll go home, look it up and goshdarnit, he's nailed it. This is especially crazy when it's a, say, Taylor Swift song that he's picked up on the beat from a, say, Jesus and the Mary Chain song. If he's done this 50 times, he's been right 49 of them. I remember when he first heard that Tay-Tay song where she talks in the middle saying "Never ever EVER" or whatever. The song did nothing for me and no way was it going anywhere, but he was totally into it – this was before it was released as a single and shot to number one. The kid can pick 'em.
He can also crush you on that Alexa (pop) song trivia game. If only Alexa could understand his unique way of speaking… if only he didn't have SMS and all the crushing difficulty that comes with it.
Sigh.
Not that you'd know that from these pictures though. He was positively joyous to be at Redscroll. So many records! So much he recognized! Man, was there a prouder moment for me in 2018 then when my clearly disabled child was stimming (jump-spinning, face slapping, yelping) and pulling out Bad Brains records to excitedly show me.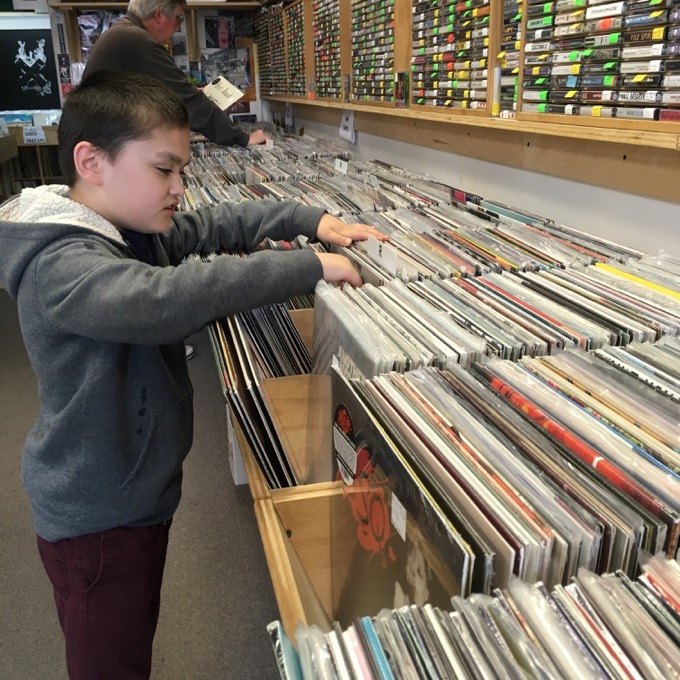 Or when he tapped an employee to ask, regarding the death metal that was playing, "Is this Slayer? Or Lamb of God?" (It was neither, but the worker was like, "What the heck is happening?" I was beaming.)
Or when he found some White Stripes records and then kept asking me if they had other Jack White efforts like "solo Jack White? The Raconteurs? The Dead Weather?" I would just tell him to go look himself and he would. He was in his element. He just told me the other day that he wants to be a DJ when he grows up. We already have his name – DJ MacaDamian Nut.
The kid is a nut, but he's also good. It just makes sense.
And if it sounds like I'm exaggerating with any of this stuff, I swear I'm not. Unfortunately, there is only one other person who can back me up on this – his teacher. Who may or may not ever read this. If Ernie does, he'll verify in the comments below.
Maybe.
As for me, I also very much enjoyed the shop. I keep saying I want to treat myself to a new turntable with a nice receiver and speakers… perhaps finally shopping at Redscroll will be the prompt I need to get on that. (On second thought, Damian would destroy my records and break the turntable within a week. Ernie can verify that as well.)
There are a few artists that I'll buy anything from. Radiohead is one, DJ Shadow is another. So imagine my glee that I caught a picture of Damian looking positively DJ Shadow-y at Redscroll: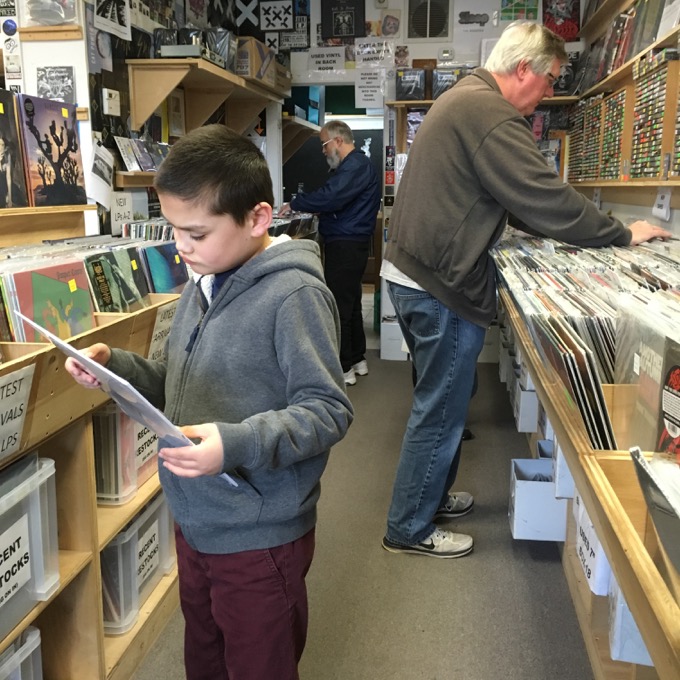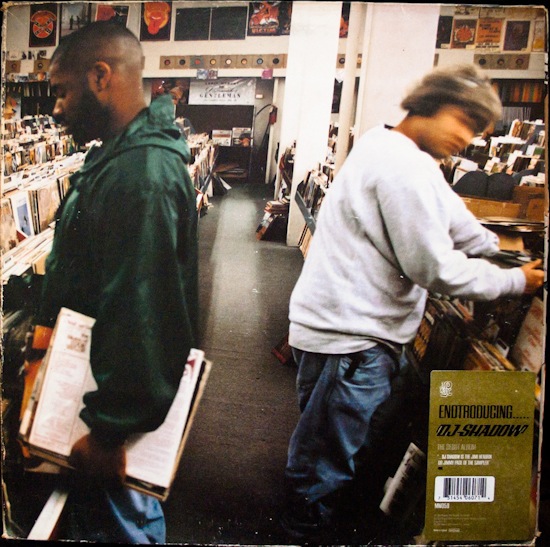 Damian is fully aware of that record – Endtroducing – and has identified some samples in it in my car. I made my purchases and we hit the road.
I realize that this page is mostly about my son and not the record store. I realize you realize that the reason I wrote this page was wholly because of that. And I realize you realize that I realize that doesn't matter.
This store is dope and we'll be returning often.