It's a Brewery. On a Street. Not a Cliff.
Cliffside Brewing Company, Wallingford
May 2018
What you're about to read is a sort of turning point for myself and for CTMQ. Without getting all philosophical about things, I've written much about Connecticut's beer industry since 2008 or so. I've been fortunate enough to follow its rise from 4 breweries to 70 or so today. It's been fun!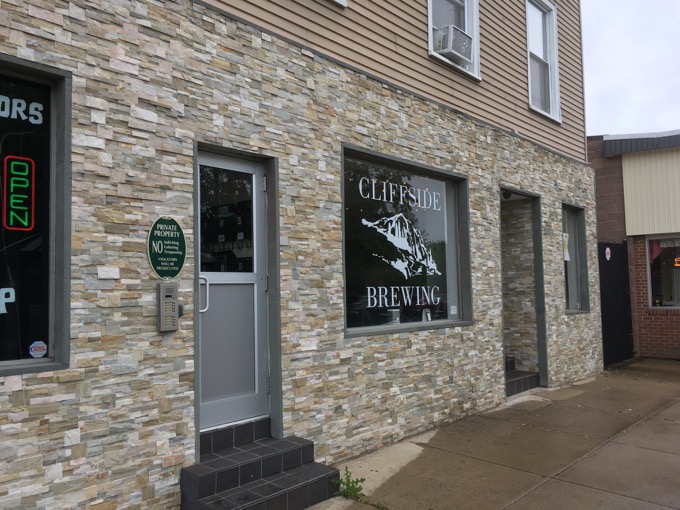 And just a bit crazy. The industry has defied nay-sayers and continues to thrive for the most part, in the face of several difficult realities. Breweries of different sizes and business plans have filled several different little micro-niches across the state. Some distribute to bars, some distribute to bars and stores, some don't distribute at all, some pretend they have no need to distribute at all and their taprooms will pay the bills on their own.
We've reached the point where brewery openings are no longer remotely exciting to anyone other than friends and family. And I don't see that as a bad thing at all! In fact, it shows that brewing in Connecticut is now a fairly mature industry that has and will survive the many bumps and bruises it has and will see.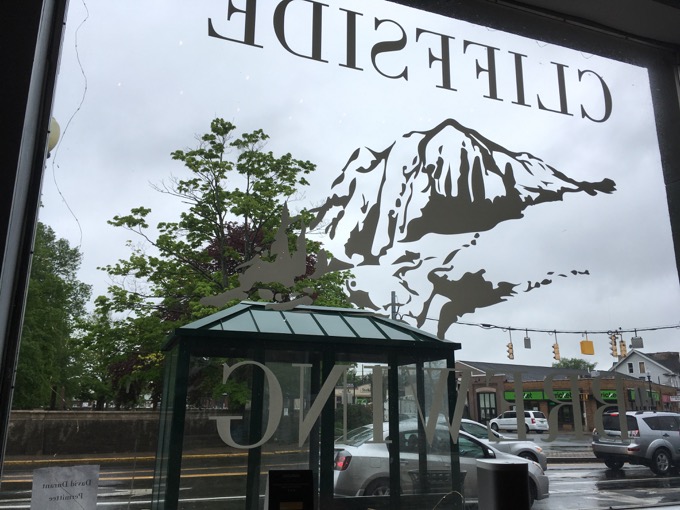 And as such, we now have a bunch of breweries that simply exist. Cliffside in Wallingford might be the exemplar of a Connecticut brewery that "just exists." And again, that's not really a knock on the brewery, it's employees, Wallingford, the beer, or the industry. It's merely an inevitability. And we've reached it here in the Nutmeg State.
Think about it – when was the last time you got excited about a restaurant opening? A fro-yo store or a cupcake shop? Breweries are now the same! (Granted, most of you never got excited about brewery openings, but I did. So there.) They are established and popping up in more and more towns every month.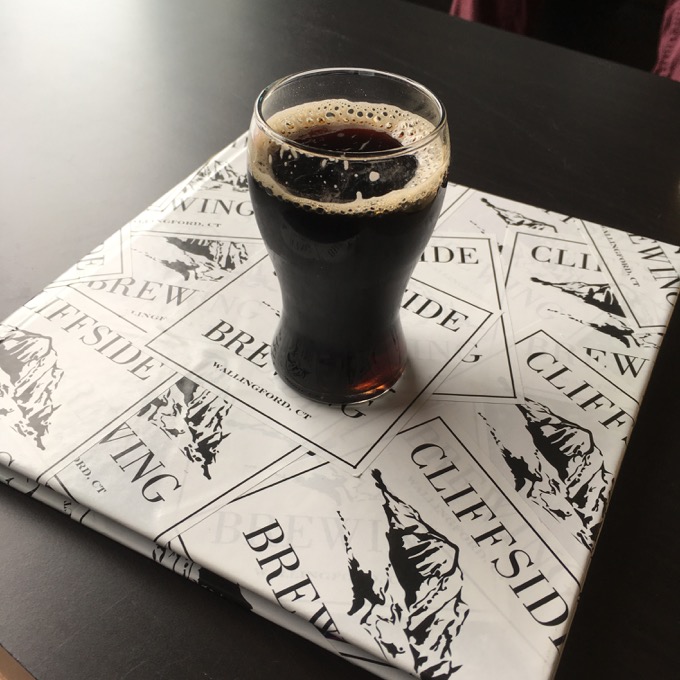 Heck, in early 2018, Wallingford has two! And a cidery! And two wineries! And a distillery! All of that and a million dive bars downtown and don't forget one of the best tap lists in the state over at Westbrook Lobster and… sheesh, Walli-World might be THE drinking destination in Connecticut.
Oh yeah, Cliffside. As I've said, it just… is. It just is… a storefront downtown. It blends in with the vape shop next door. You would have no clue you are passing a brewery if you didn't know you were passing a brewery.
Cliffside is not a destination brewery and isn't trying to be.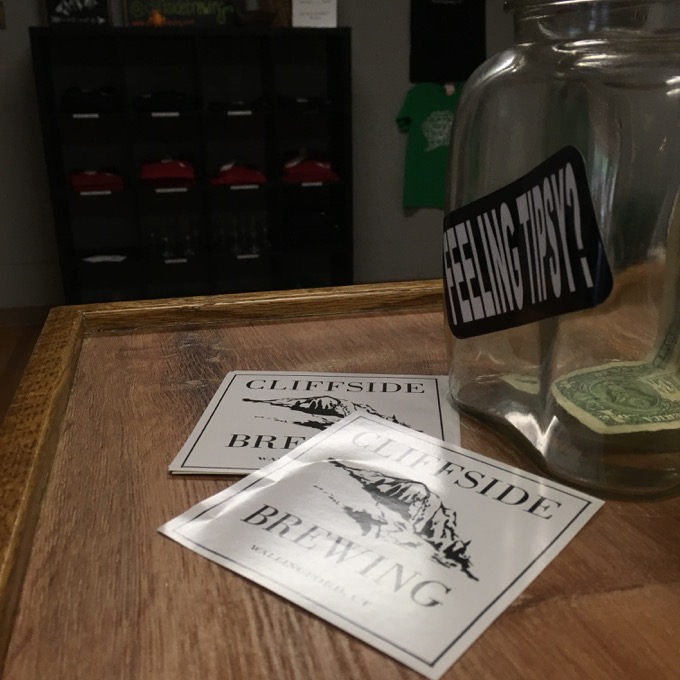 You go in and it is laid out like a pizza restaurant. Tables up front, some random clip art and stock photos of mountains on the walls, with the kitchen brewery in the back, behind a wall which is behind the counter where you place your order.
Some great music was playing during my visit. I liked that.
The dude working the bar appeared a bit distracted but dealt with me fine. Four other customers quietly fiddled their phones as I approached the counter. I was greeted with a friendly "what can I get you" but nothing more. I stared at the beer menu.
Red.
Brown.
Fruit beer.
Porter.
Stout.
Pale.
IPA.
NEIPA.
Okay then. This place is like a "micro-brewery" from 1997 except for the "modern" NEIPA. Which is fine as long as it's well executed. Probably. I was told that Cliffside didn't even name their beers for the first several months; so your choices really were red, brown, stout, etc. Eesh.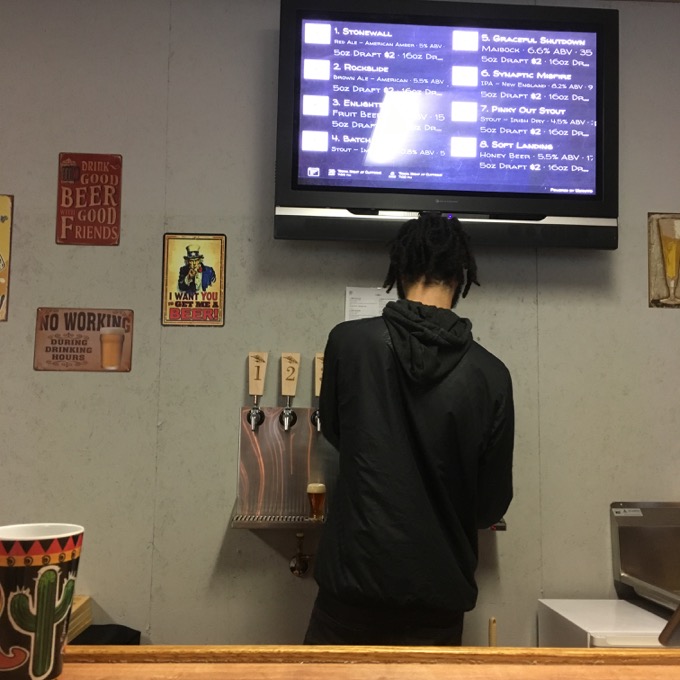 As the prime "just is" brewery, there is nothing remotely imaginative or exciting about Cliffside. Can the Cliffside model survive with ever-increasing competition? It's not like it's the only drinking game in town; again, there are several bars within walking distance of the brewery. Time will tell. (They did just expand their hours though.)
I had samples of Batch 72 (Imperial stout), Enlightenment (Fruit beer), Soft Landing (honey beer), and Synaptic Misfire (NEIPA).
The stout was thin and watery – what's up with this, Connecticut non-top tier breweries? This has been the case for all of your stouts recently. Saving all your oat malts for your NEIPAs or something?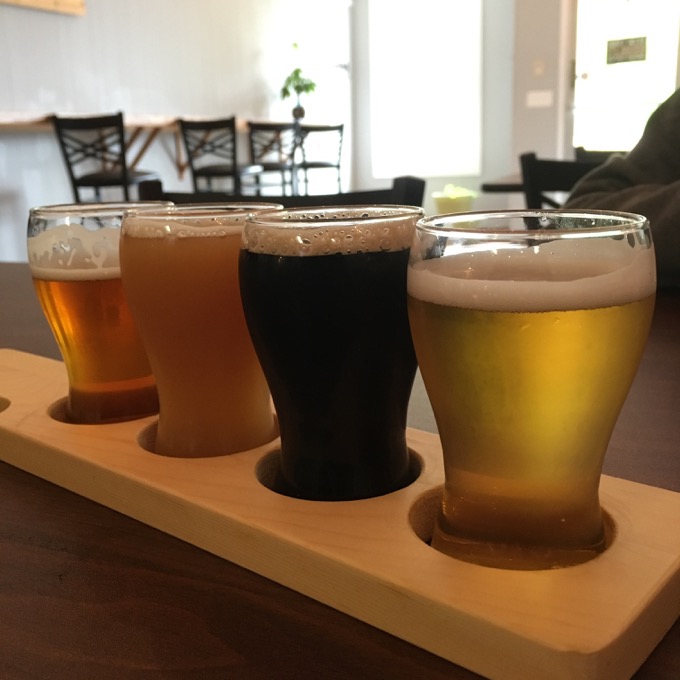 The Fruit beer was pretty awful. It tasted like back-sweetened plum wine. Way too heavy on the apricot puree or whatever was used here. Of course, this appeals to many people who are not me.
The honey beer was actually pretty good. Perhaps because I had it after the overly sweet zang of the apricot stuff, it came off as a smooth, muted honey beer.
The NEIPA was also pretty good, as far as these things go. It's the same beer as the other 40,000 NEIPAs found all over the state now, so even though it's the darling style it… just is.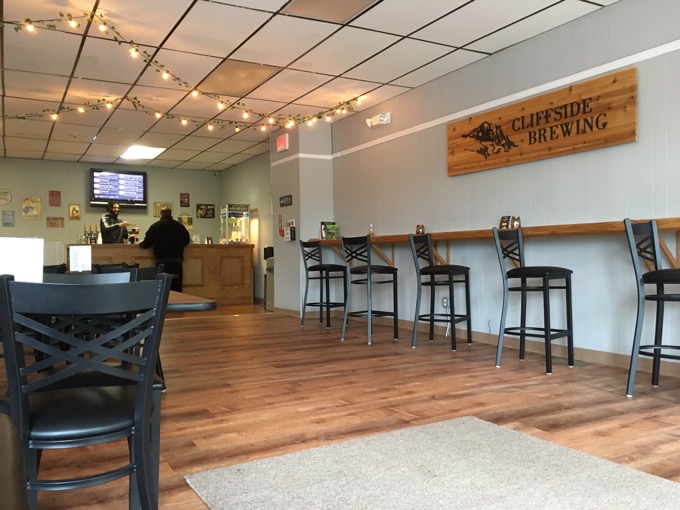 The customer in the picture above said, "Hope you guys get busier" and the employee responded. "Me too." And, for the record, me too! I think that they may need to get their name out there a bit more though. Who knows.
The Cliffside story just… is:
David Durant, the founder of Cliffside Brewing, has been a passionate home brewer since 2012. Starting in small batches he brewed in his own basement, Dave grew his hobby, experimenting with different recipes and flavors, always searching for the next best creation.

After years of home brewing for his own enjoyment, David has taken the leap into business ownership with Cliffside Brewing, the first nano brewery in Wallingford, CT. Located in the heart of Wallingford on Center Street, Dave and his team look forward to sharing their passion for small-batch beer brewing in the town that they call home.
The Cliffside blog (for a full year now) about all the cool stuff they've done and are planning to do is…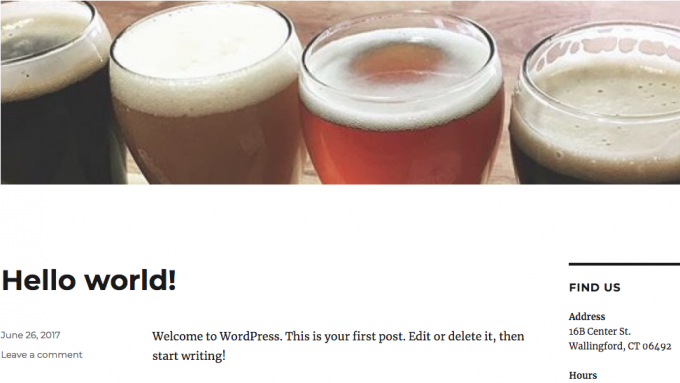 Yeah. That's Cliffside.
A brewery that makes beers for Wallingford people to drink.
A brewery that… just is.


Cliffside Brewing Company
CTMQ's page on CT Breweries and Brewpubs