Wallace Avenue Brewing Company
Center Street Brewing Company, Wallingford
April 2019
The slogan of Center Street Brewing Company is "Welcome to the Center of the Brewniverse." Tortured as that may be, it is apt. I've written before about how Connecticut has so many breweries now that there's this massive bell curve which represents to 60 or 70 breweries that are perfectly fine "middle" breweries.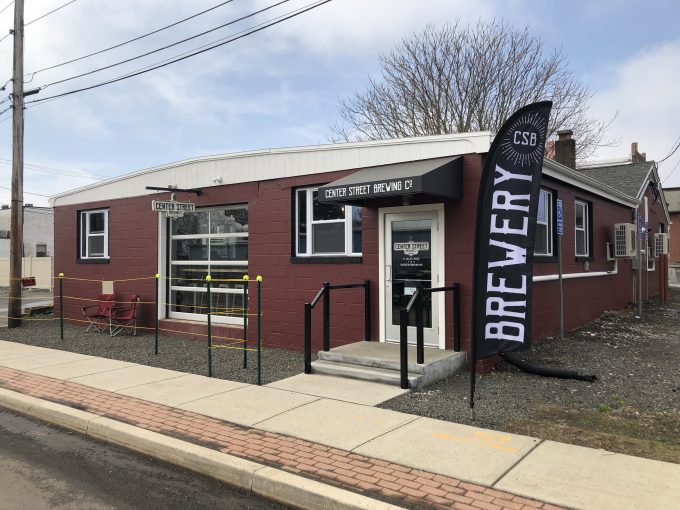 They aren't bad. They just are. Connecticut now has a huge "center" of breweries with regards to quality. And Center Street Brewery, located on – checks notes – Wallace Avenue – in the very average town of Wallingford might very well be smack dab in the – checks notes – "Center of the Connecticut Brewniverse."
Which is fine! The beer here is good, the tap room is nice, and the proprietors are friendly, if a bit eager. (To be fair, I visited early in CSB's existence, so that over-eagerness can be excused. They've probably chilled a bit since.)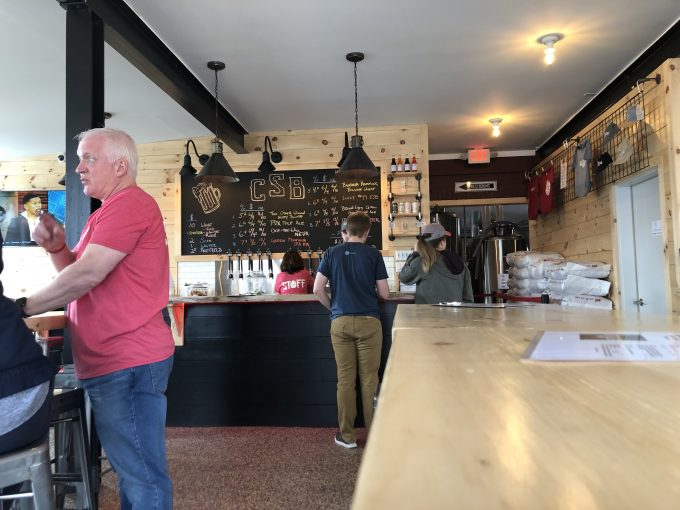 "They" are the Ford family. Brothers Tim and Pete own the joint, and Pete's family (Lynn, John, and Nick) help out as well. As if to drive the point home about its "centerness," Lynn's bio contains the following:
Wife of Pete and the inspiration for the name of our popular Brown-Eyed Girl American Brown Ale.
Which is a super cute story, but… about as original as a cover band playing "Brown Eyed Girl". I should note that I spent some time speaking with Pete and I very much enjoyed the conversation. It had nothing in the world to do with beer, but rather about his life as a nurse (I think) and Lynn's as a special education teacher. She works at the Gengras Center in my hometown, which isn't special needsy enough for my rather challenging son, but still worth conversing about.
Anyway, I enjoy not talking about brown ales at a brewery, so shout out to Pete for his accommodating nature. Our conversation was made easier because none of the beer I was drinking was bad. 'Cause man, I hate when that happens – Drinking a brewery's beer with the guy responsible and it's terrible. And goshdarnit, it happens.
The mission of Center Street Brewing Company has and always will be to provide quality craft beer to the local community in a welcoming atmosphere. We are passionate about our work and strive to create the best craft beer experience for all. Our tap list consists of a variety of beers that can be appreciated by anyone from a beer connoisseur to those new to the craft beer world and everyone in between.
You see? That's straight up boilerplate stuff right there! I love the "centerness" of Center Street Brewing Company! Perhaps they've nudged out of the center of their comfort zone with a splashy logo. Some color, perhaps a unique identifying picture or font…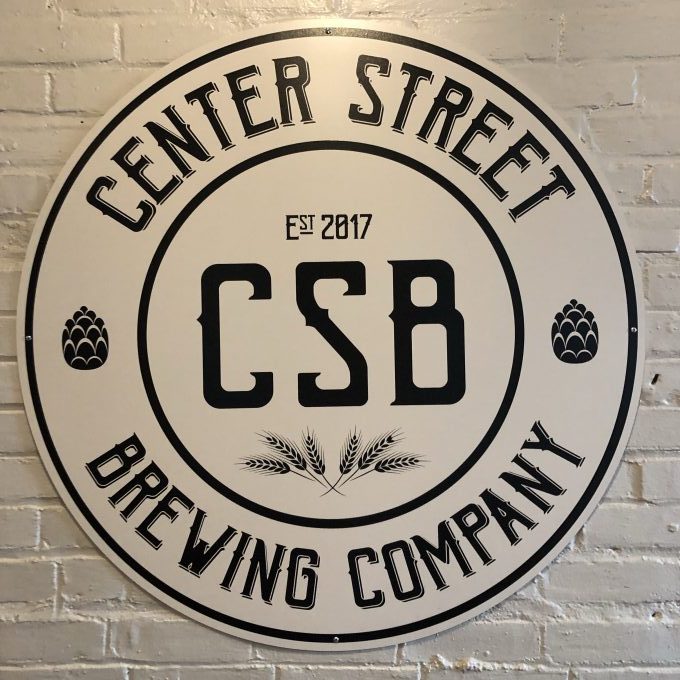 Nope. The Centeriest! And speaking of all things Centery… Wallingford is arguably the center of the Connecticut alcohol world. There are three breweries, two wineries, and a cidery. There used to be a distillery, of sorts, with Polly & Joan's Cordial Company, but they've closed up operations. There are a disproportionate number of bars in the downtowny area as well.
So you could spend a full day getting hammered in Walli-World if that's your thing. And CSB isn't the worst in town and it's not the best. In fact, it's right in the, you guessed it, center of the bunch. On to the beer!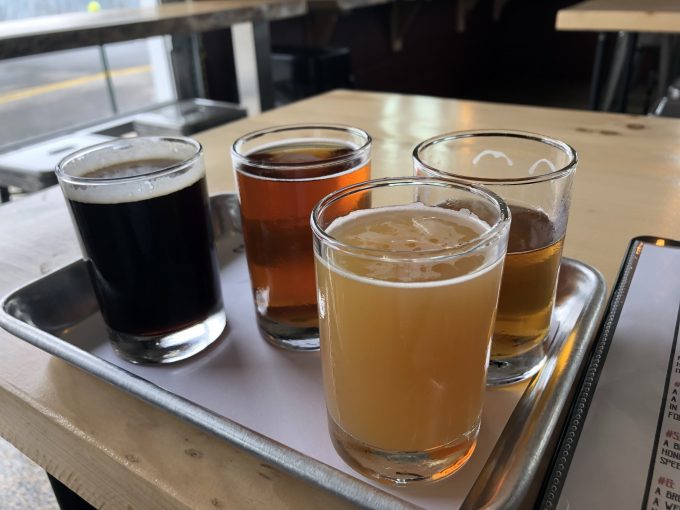 I had a flight of five beers. A pale, an old school IPA, an ESB, a NEIPA, and of course the signature Brown-Eyed Girl brown.
The pale was a pale and the ESB was an ESB. The IPA was piney and slightly bitter and very good. I'm so happy to see more and more of these "centrist" breweries brewing normal IPA's. They are infinitely better than any of the nu-skool garbage beers with added milk sugar and who knows what else.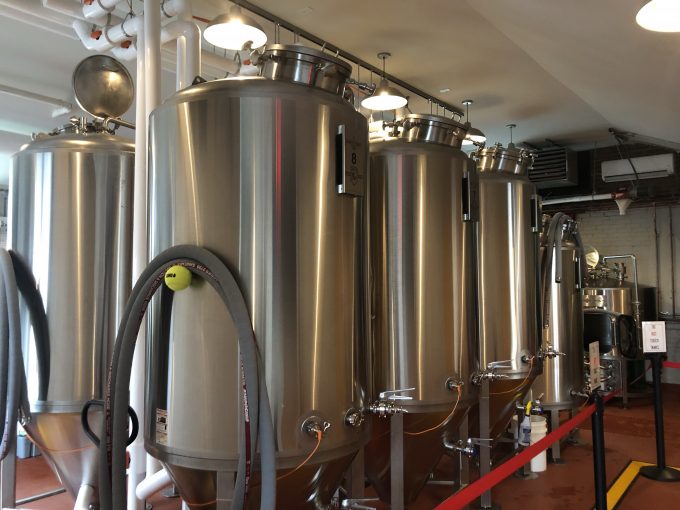 CBS's NEIPA was pretty terrible, which isn't really a bad thing. The Ford family didn't open a brewery to brew trendy styles. They don't care about them and it shows. The beer was an opaque disaster and I honestly was happy about it. It appeared to me like they tried the "just throw in ten times the hops late in the boil and see what happens" version of a NEIPA. Note to CSB: Save your popular and expensive hops and use them in proper amounts in your pale and regular IPA line-up. You're a salt-of-the-earth median brewery in Wallingford, no need to go all crazy, dipping your toes into a world you're not familiar with.
The Brown-Eyed girl brown was a classic brown ale. Of course, it was more or less equivalent to the 37 other "Brown-Eyed Girl" brown ales I've had over the last decade. I wonder if Van Morrison knows that his classic song is known more as a brown ale now than a classic song.
When I'm in Wallingford and want a beer, I'll go to Westbrook Lobster. But if I want to go to a brewery, I think CSB is where I'd end up over the other two in town. Speaking of which, owner Pete was effusively kind about his Wallingford brewing brethren. And that's always good to see.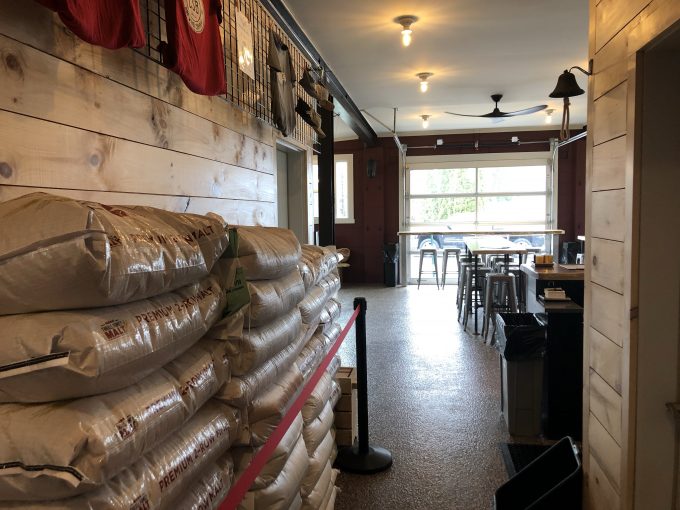 Center Street Brewing Company
CTMQ's page on CT Breweries and Brewpubs