Cooke'n With Gas
Marcus E. Cooke Memorial Park, Wallingford
March 2023
You never know what you're going to get with trails in Wallingford. Sometimes you'll expect a lovely graded path through pristine woods and end up being turned back by an overgrown trail through invasive junk. Other times you'll wonder how the town maintains a trail there and wind up enjoying an hour over fun scrambles and decent views.
Ah, the mysteries of Wally World.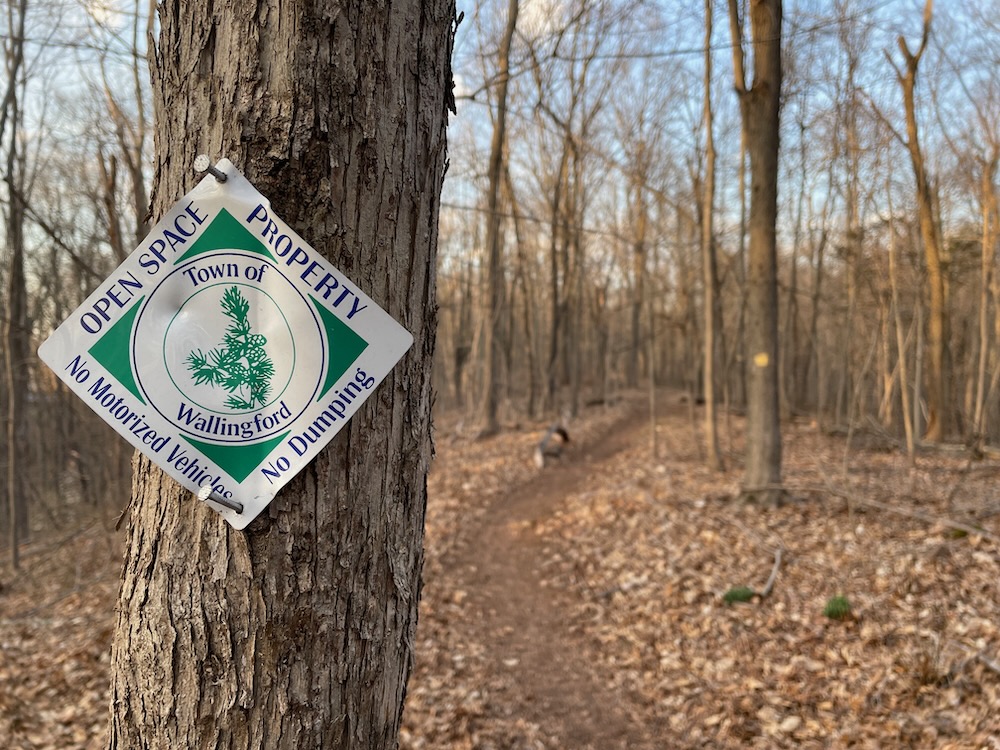 I had some time and some daylight so it was off to Marcus E. Cooke Memorial Park I went, with vague rumors of a trail.
Little did I know that trails have existed here since the early 1950's. Blazed trails. Well-maintained trails. Fairly nice trails!
After parking in the lot, I started to read the sign giving me the history of this park. It is a long an detailed explanation of its founding. I'm going to guess that very, very few people read the whole thing – and now that I've hiked the whole place, I'm going to say that the sign omits what I wanted to know the most: what was this place like before I-91 was built?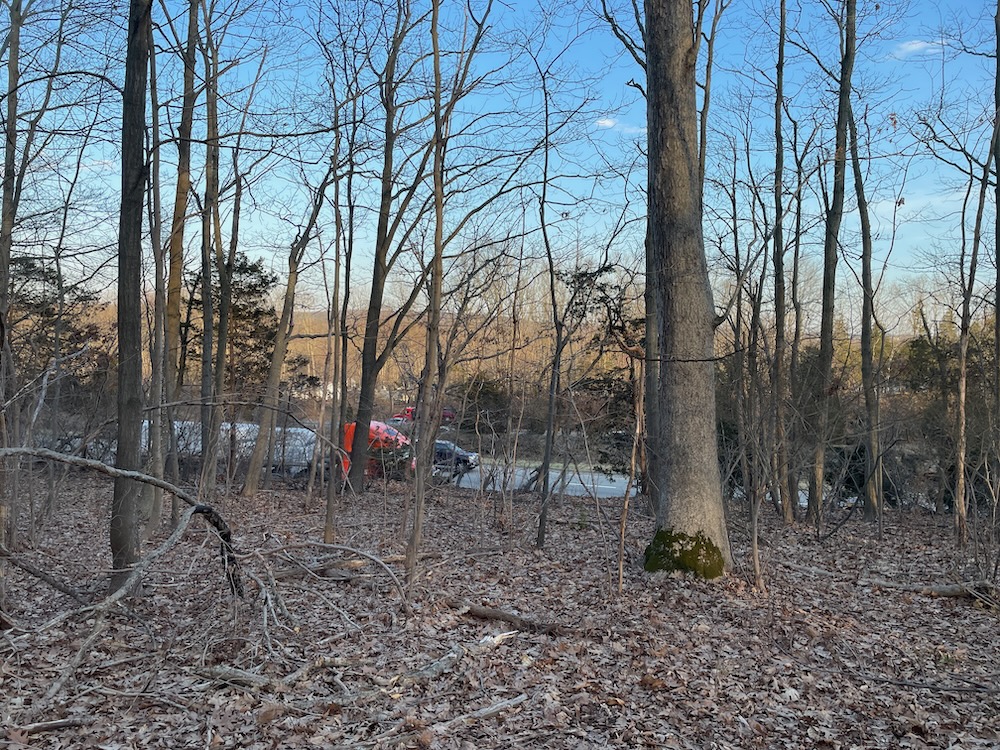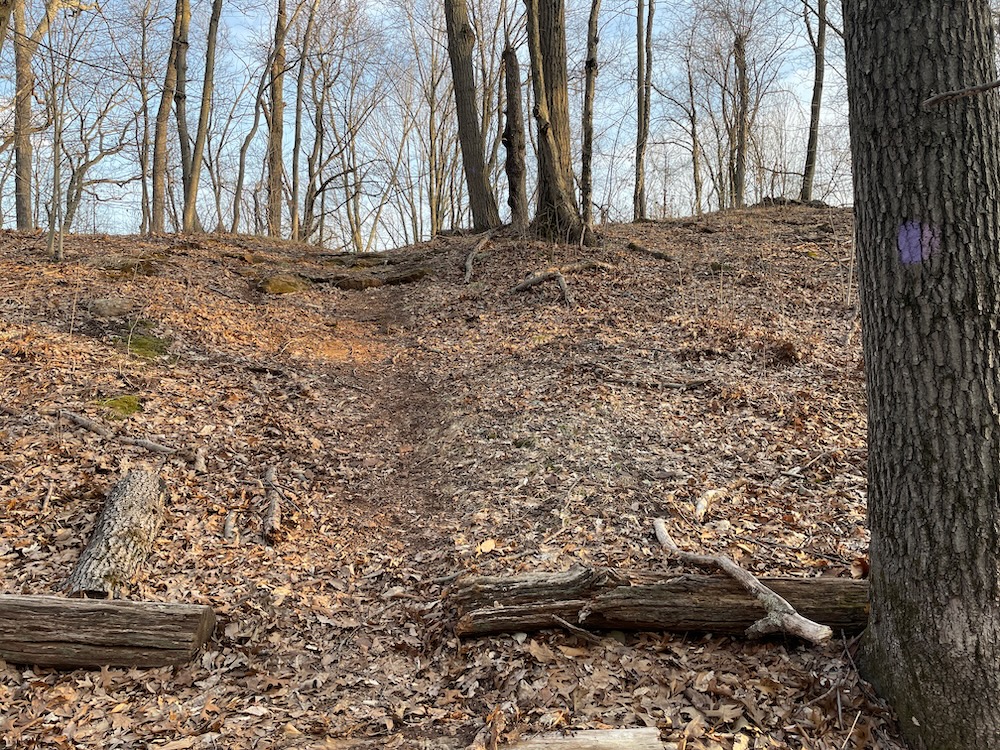 The park was conceived by the Wallingford Grange in early 1952 as part of a national Grange service effort. It was initially a tiny pocket park, but Chester Cooke ultimately donated a much larger chunk of his land in memory of his father, Marcus.
The Grange men built firepits and picnic tables and cleared trails. They wound up winning 6th prize in the National Grange Whatever It Was Outdoor Service Project Contest and that was pretty much that. The land was given to the town in the 1960's and various service organizations have helped maintain it ever since. Most recently, I believe, the local Girl Scout Troop has done thing like create the historical sign with all of this information.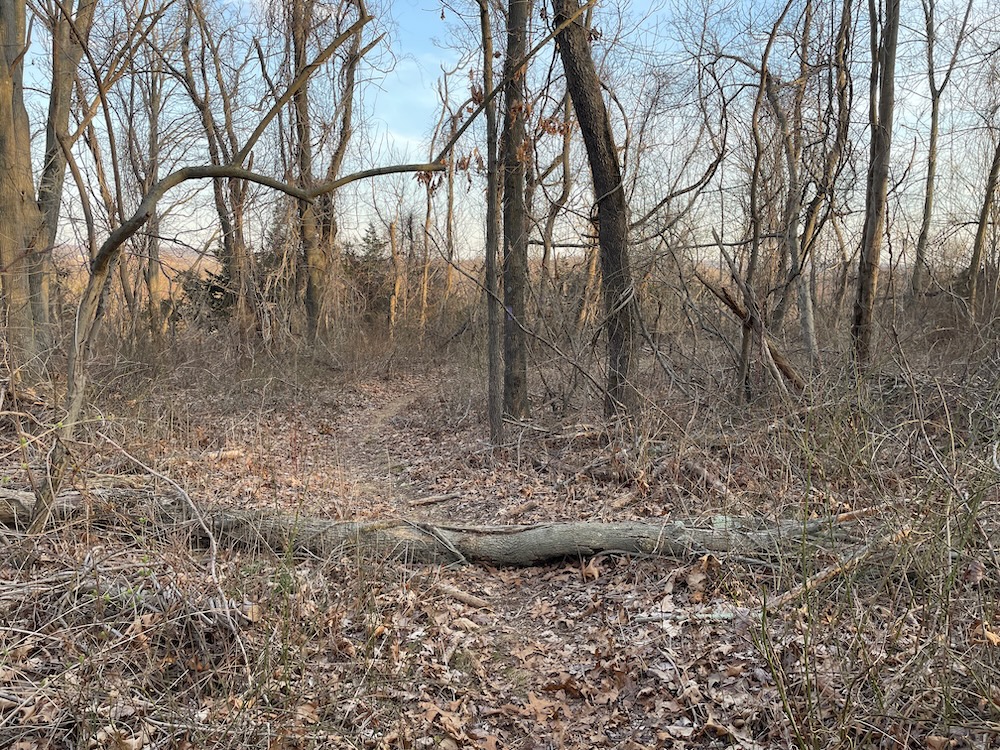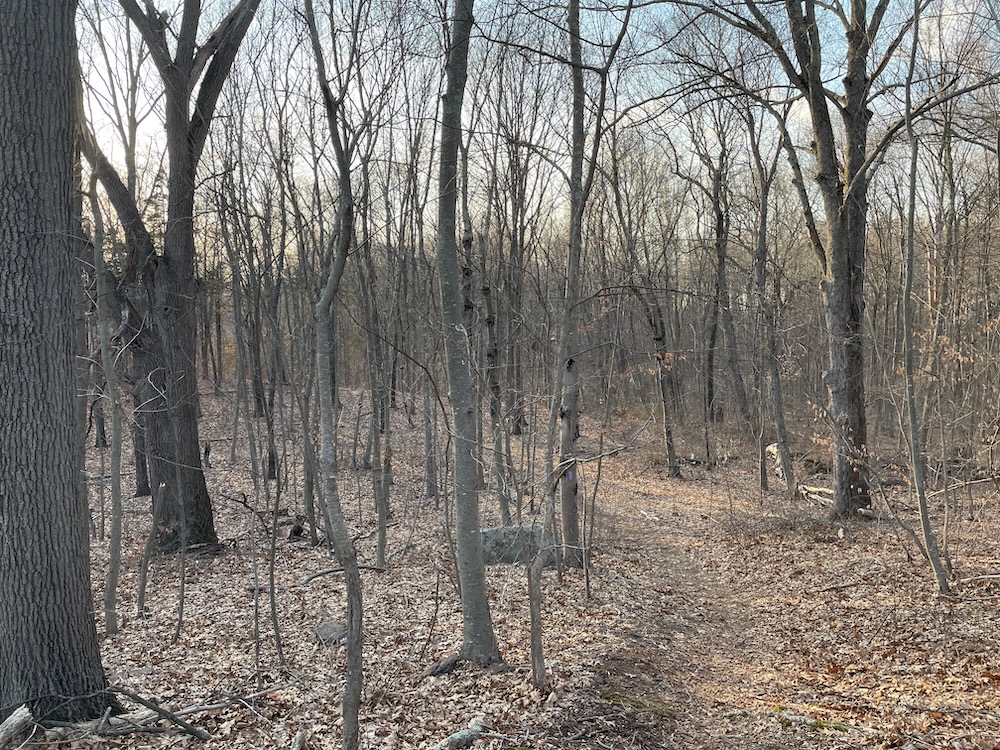 There are options to hike here, but ultimately you will do a loop, or a series of loops. I chose to hike the largest loop clockwise, taking me to the far reaches of the park. This meant hiking the yellow trail with two purple polyp-like loops off of it.
It also meant walking very near Interstate 91… not once, not twice, but three times. No, not, like, dangerously close. But certainly close enough to throw a snowball at cars. (I don't know why I used that measurement. Don't ever throw snowballs at cars going 80 mph.)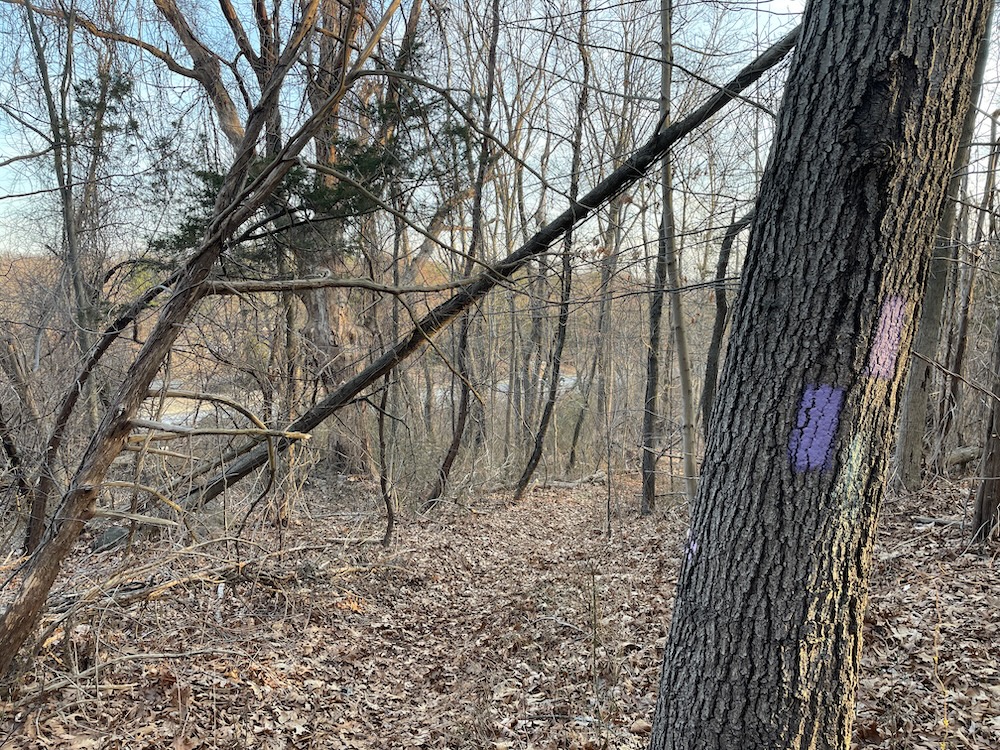 This section of 91 was completed in 1966, so I'm guessing that it wasn't even an idea when Chester Cooke donated his land to the Grange. I'm curious if the trails used to extend a bit more to the east originally. Yes, I'm talking 70 years ago… so I guess I'm not really all that curious.
In addition to the highway, my most memorable takeaway from this place is how well-maintained it was in very early spring 2023. It is clear that this is a challenge in some places here, but goshdarnit, someone has put in some effort. As ever, I appreciate that effort.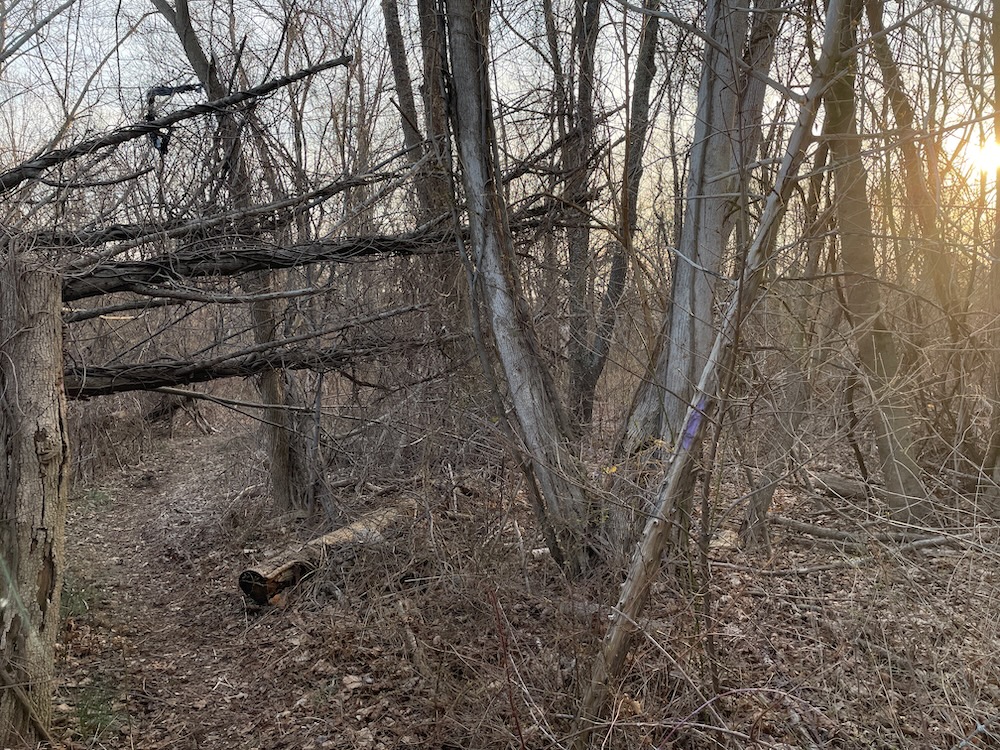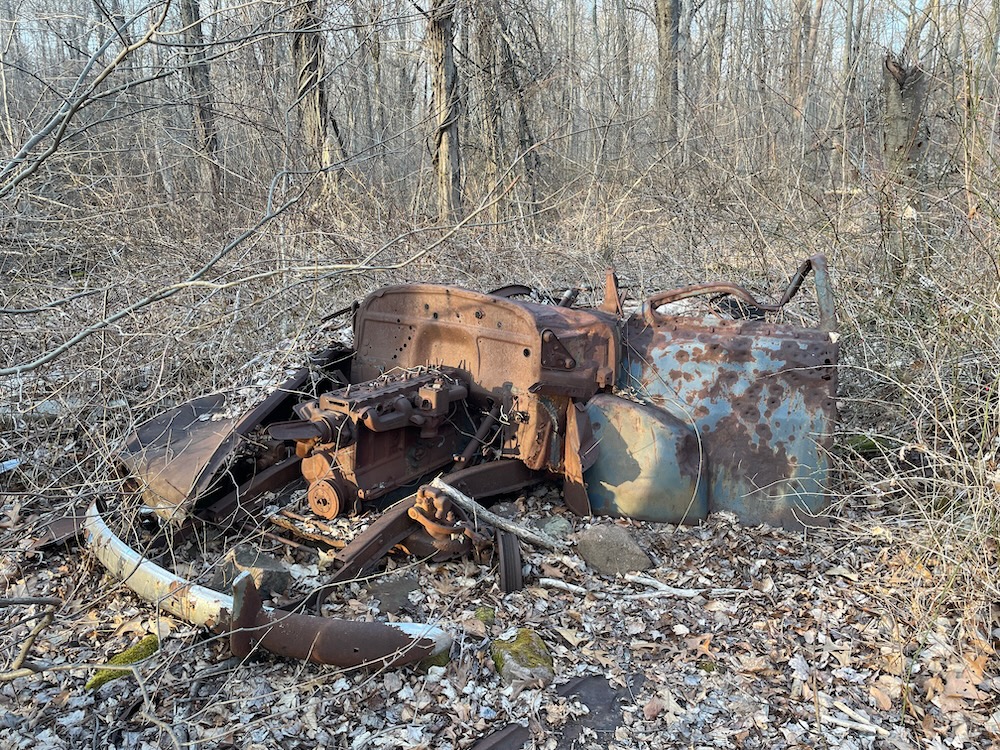 I also appreciate the map at the parking lot which shows things like a firepit at a trail intersection (symbolized by a flame) and a car along a trail (symbolized by a… um… car.)
Yes, there is an old car here that has probably been here since the 1950's when this land became public land.
At least one of the red-blazed cut-off trails on the map no longer exists, but everything else seemed in order. There are a couple short and steep ups and downs, but nothing that will wreck you. Some of the topography seems artificial; perhaps earth that was moved to build the interstate. At one point on my return to my car I walked along what was surely noise buffering berm, shielding some house from the highway.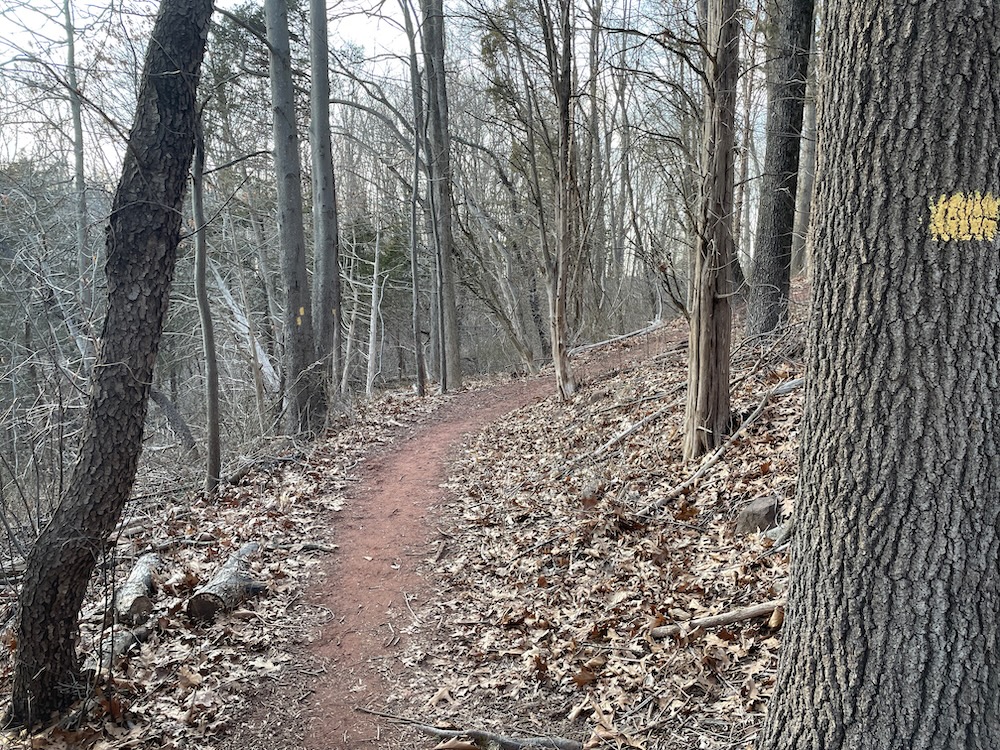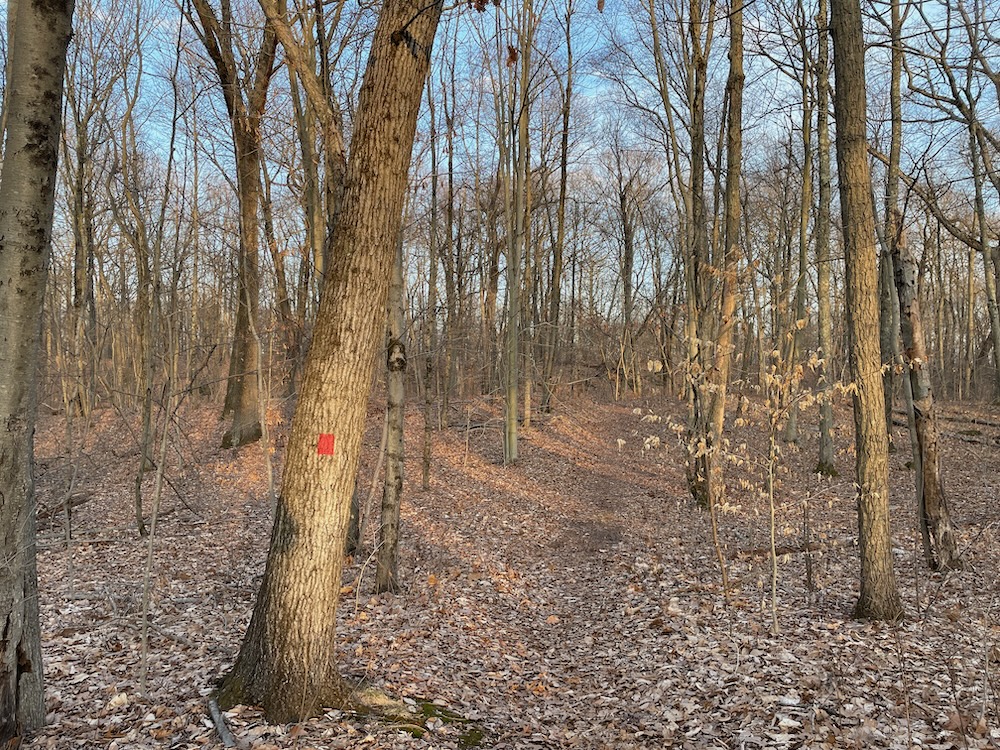 All in all, Marcus E. Cooke Park was a pleasant surprise. I had no expectations when I arrived and came away thinking this would be a nice little spot for the kids from the nearby school to picnic and take a walk in the woods.
Well done Mr. Cooke and the old Wallingford Grange… and the Girl Scouts and the trail maintainer(s). Well done.