Take Me Down to Paradise Hillin', Where the Grass is Green and the Girls are Swillin'
Paradise Hills Vineyards
August 6, 2011
When I was cleaning up my Connecticut winery entries recently, as I'm coming to the end of the trail so to speak – 2 final visits in 2013 will bring me up to having visited every single one in the state (that existed in 2013) – I got stuck on my page about Wallingford's Gouveia Vineyards, a short drive away from Paradise Hills. I had written how Gouveia was the most un-Wallingford thing about Wallingford.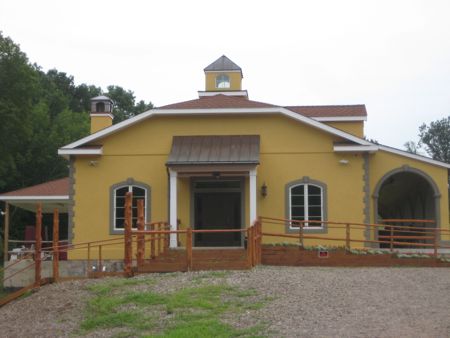 And that's still true. It is. The much newer Paradise Hills, perhaps, tries to capture some of that title from Gouveia but… nope. It's not happening. First of all, calling yourselves "Paradise Hills" does not take away from the fact that you are located, quite literally, in the middle of suburban sprawl. To get there, you drive through suburbs, then down a leafy cul-du-sac dead-end and then up a dirt road to the Macaroni Grille.
Oops. I mean the winery.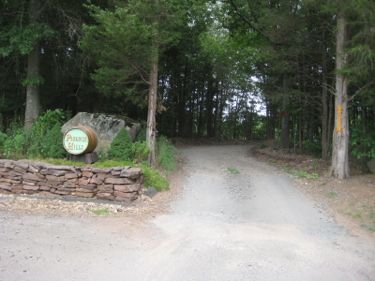 It's sort of a weird location, but I credit the owners for building their Macaroni Grille in such a way as to attempt to transport visitors to some Tuscan region. They did a great job with that, no doubt about it.
But I'd guess their neighbors would disagree, especially on Saturday afternoons.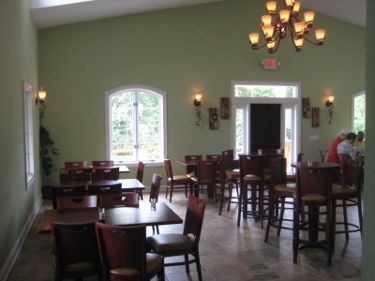 On my first visit, during which I took these pictures, Damian was being a bit difficult. Fancy that. There were other folks at the bar doing the full tasting, but I just couldn't deal with that with Damian under foot, so I opted to get a glass of wine and chug it down.
I went with their Washington Trail White – a "fruit forward medium bodied wine with apple and citrus flavors to the taste, followed by nice soft fruit nuances on the palate, coupled with a lingering finish."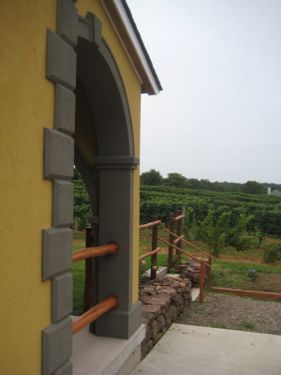 They were sold out of two of their six wines during my visit. Granted, they were brand new and that, to me, speaks to early success. Or poor planning. Or both.
Paradise Hills opened in May 2011 and I visited a few months later. I'm sure they've since improved their volume and selections.
The wine I had was not good. It tasted like I could have made it in my garage. But I really like the name, since it pays homage to the nearby spot where General George Washington led the troops through on his way to fight the Brits back in the day. Props for that.
That was pretty much that for my first visit.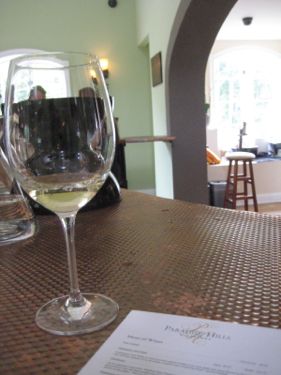 On the printed wine menu I have from 2 years ago, they do clearly state where the grapes they use are from. Well, they clearly state which wines are made from their own estate grown grapes and simply don't say where for the others – including what was then their "premier red wine." That's the way the wine cracker crumbles here in Connecticut.
(To be fair, one of our best wineries – Jonathan Edwards – uses Napa Valley grapes for their oft-acclaimed reds.)
I do notice that they have a strong presence on social media and are always hosting events and bands and parties and such. I imagine they provide free wine to the people who live in that cul-du-sac, because they moved there for a quiet little dead-end street and ended up with a busyish road with undoubtedly tipsy drivers on occasion.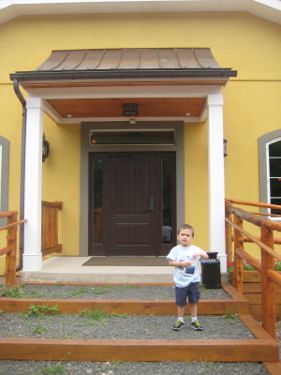 That upsets me for them for some irrational reason.
I doubt I'll ever end up at Paradise Hills again, unless Hoang decides one day she simply must go to every single CT winery as well. Which would be pretty cool, but would also sort of freak me out because that would be so unlike her.
Sorry Paradise Hills, wish I had more and better stuff to report. I'm sure you're actually quite lovely. Blame me for bringing my ornery son.

Paradise Hills Vineyards
CTMQ's Visits to Connecticut Wineries