Just Stick to the S'nip
Shenipsit State Forest & Bald Mountain Trails, Stafford
December 23, 2016
I've been struggling a little bit on how to deal with presenting our state forests… of if I should even bother. Many state forests are parceled and are spread out all over the place. Shenipsit State Forest contains 11 parcels spread over 7,000 acres in northeastern Connecticut. But that's not your problem.
If you decide to go exploring these woods up in Stafford, your problem is going to be simply not getting lost.
The best (and probably only) resource for the trails here is the DEEP. The trails are split between Somers and Stafford and, oh, they are labeled horse trails. This page is only about those trails in Stafford and you'd be nuts to think I hiked every mile here.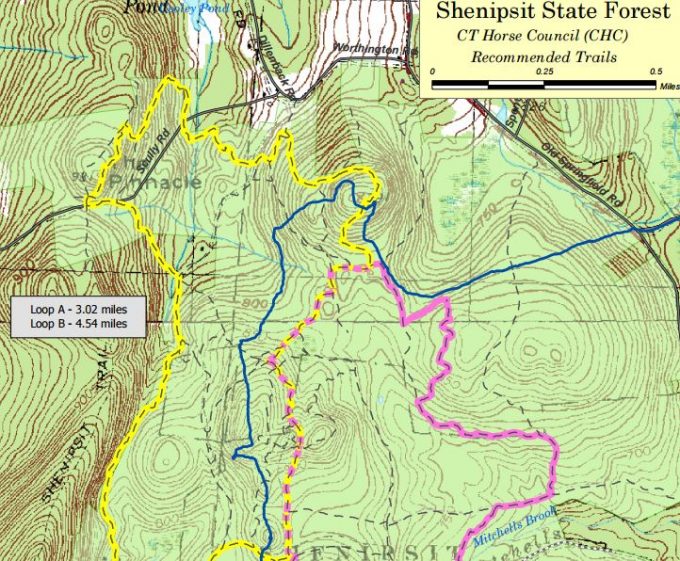 Looking at this map, the blue trail is the Shenipsit. If you look at the left hand side, you'll see a trail labeled "Shenipsit Trail." This is the old route of the S'nip, which went up and over Bald Mountain back in the day. (Bald Mountain is at the bottom left of the map.)
You see the yellow and pink trails, sure, but look closer. There are a bunch of other trails here – and this map doesn't account for them all. Trust me. (My best guess is that the yellow and pink are actually the old woods roads I walked along – and they are pretty crappy to hike on.)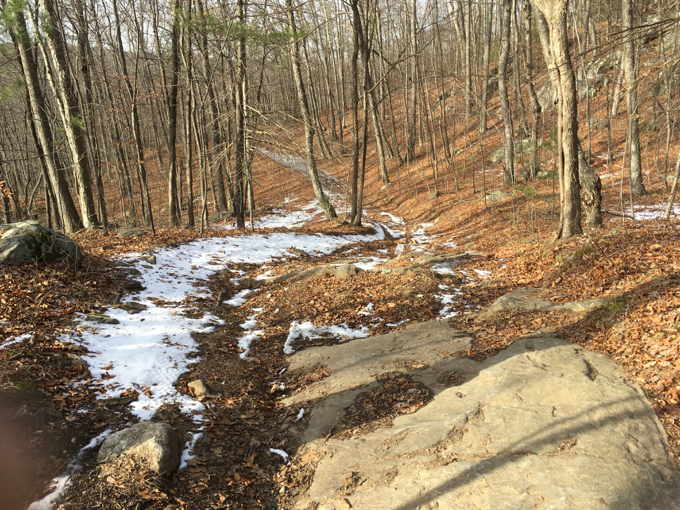 I'll be back here at some point when I'm exploring Somers. There is access to Bald Mountain west from Scully Road. I'm sure it's not much better, but I'll let you know.
When I sought to complete the Shenipsit's new northern extension (read all about it here!), I parked on Greaves Road and made my way south via a variety of these Bald Mountain/State Forest trails.
I consider myself an expert navigator, but even I got screwed up a couple times here. This map isn't all that accurate and when you have roads that can be ATV'd, you end with with many more ATV/motorcycle trails all over the place. And that's what has happened up here.
Furthermore, and more importantly, there's really no reason for you to try to hike these trails. They're garbage. Stick to the Shenipsit and every time you cross or pass near a rutted and torn up woods road say to yourself, "Ah, that's some of that junk Steve was talking about."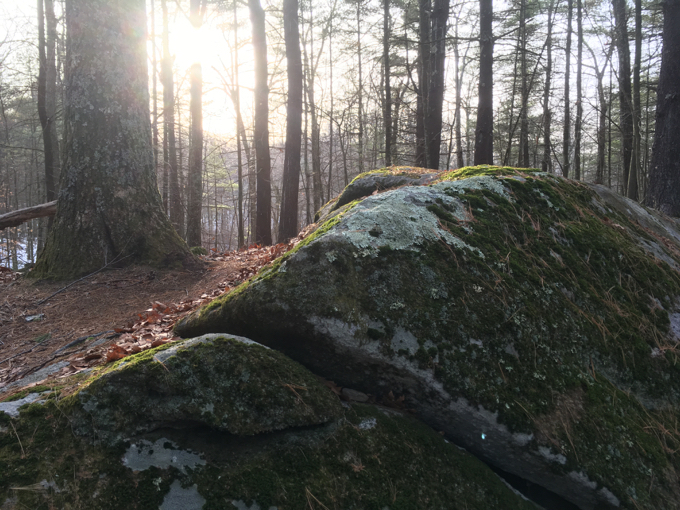 Let's read a bit about this place before we tackle some more of it.
Shenipsit State Forest began in 1927 with the purchase of land at the summit of Soapstone Mountain in Somers to erect a fire tower to keep a lookout over the forests of the eastern woodlands. Over time, additional acreage was purchased to form the sprawling 7,078 acres state forest we have today in Ellington, Somers and Stafford.
Here's my 2010 hike through the other Stafford section of the Shenipsit Trail.
Shenipsit is dominated by nearly pure stands of oak, particularly red oak, as a result of repeated clear-cutting for charcoal production and as a result of fire. All of this occurred prior to State ownership.
…

There is an abundance of recreation opportunities at Shenipsit State Forest. The two primary attractions are the wonderful hiking along the Blue-Blazed Shenipsit Trail which passes over Soapstone Mountain and the amazing views from the Soapstone Mountain observation tower. While the original fire tower is long gone, today's tower stands specifically for the public's recreational viewing. As one of only two observation towers in Eastern Connecticut (the other being the monument at Fort Griswold State Park in Groton), the vistas afforded from this vantage point are spectacular as visitors can take in scenes from the Connecticut River Valley to the Springfield skyline.
Even though the tower was inaccessible until late 2018 (and in Somers, not Stafford) here's my 2015 visit to it with my two sons.
After completing the northern extension of the Shenipsit, I drove down to Avery Road to check it out.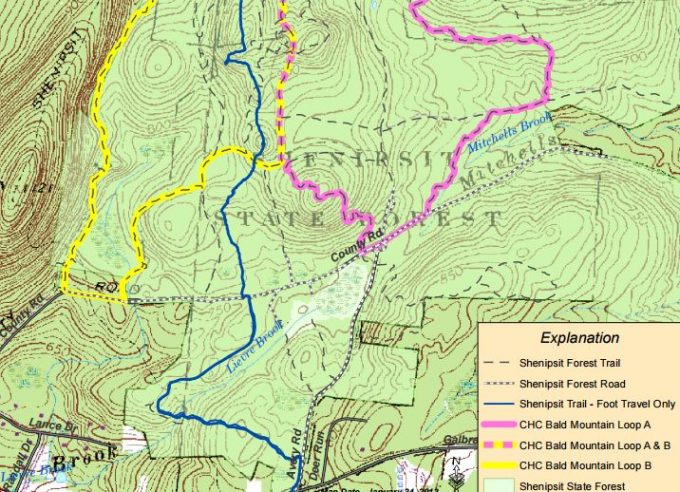 It's drivable, but was a bit rough in the snow. There are a few parking pull-outs so I stopped and began cutting the corner from Avery to Old Country. Much to my surprise, there were a bunch of kids down on the dammed pond ice skating and carrying-on.
Who were these kids? Where did they come from? How did they get here? (And props to them for not being at home on the couch Snap Chatting their friends.) This trail is quite nice and well-cleared.
I passed an old man smoking pot while walking his dog. Keep it real, Stafford. We chatted about the kids on the pond and he was very nice, as was his dog. He referred to the little bump south of the pond off of Avery Road as "Heart Attack Ridge." I found that to be a bit of an exaggeration.
South of route 190 are some more trails to the east of the Shenipsit.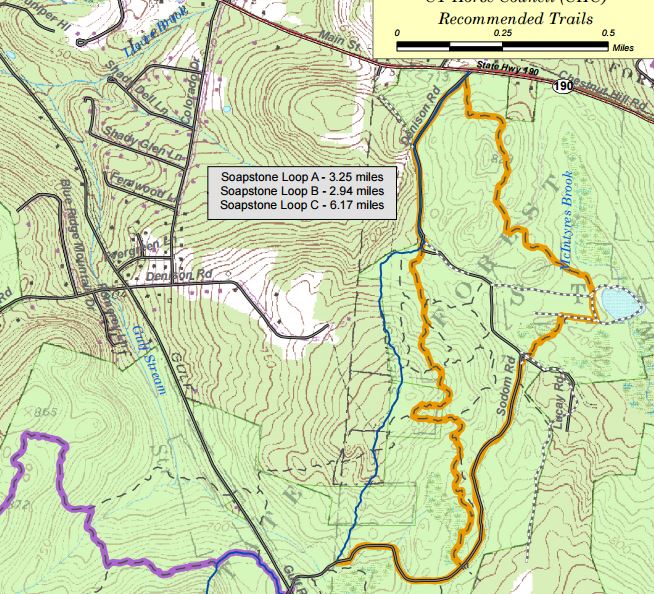 I parked in the little lot at the entrance and began to make my way around the orange loop on the map. After a few minutes of crunching my way through the ice and snow I said to myself, "Self, this is stupid. No one needs to know that this trail walks past trees and rocks."
The only things worth noting here are Sodom Road and the Northeast Civilian Conservation Corps Museum a little ways east on 190. And I'd already hiked/visited both. (My CCC Museum visit.)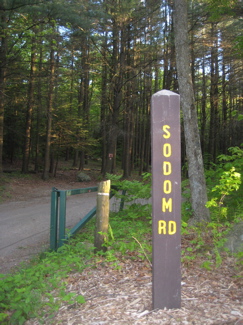 So I went back to my car and called it a day. I'm sure you don't mind.