For the Hard Corps Museum Fan
Stafford (Google Maps location)
June 20, 2015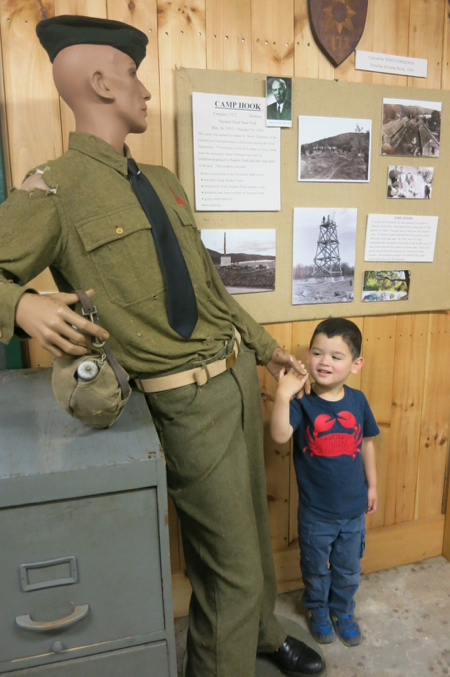 As I begin writing about this place, I can't get the thought out of my head that it's probably on the state budget chopping block. The state runs fewer museums than you'd think and this one would be my guess for the lowest visitor count of them all.
I could be wrong. I could be very wrong. I have no idea… but really, a small CCC museum in the hinterlands of Stafford can't compete with Dinosaur State Park or the Henry Whitfield Museum in Guilford, can it?
I wish (and hope) it matters that the history it tells is important enough to keep it going. For an avid hiker like myself, the story of the Civilian Conservation Corps is an important and interesting one.
Hikers see their work, dating back to the 1930's, all over the state. Be they stone steps, bridges, walls, roads, tree stands, fire towers, fire roads, or remnants of their camps, once you know what it is that you're seeing in the woods from Barkhamsted to Killingworth, you will come to appreciate the breadth and depth of what the CCC did not just for Connecticut, but for all of America.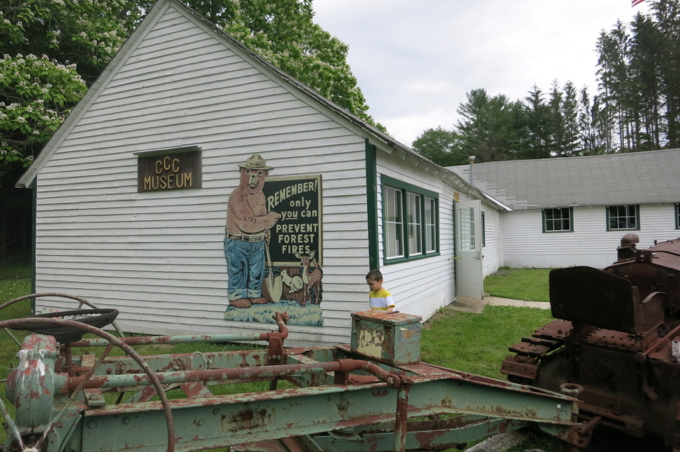 This site has a large and interesting collection of the history of the CCC. Briefly,
The 1932 Presidential election was more a desperate cry for help than it was an election. Accepting the Presidential nomination on July 1, 1932, New York Governor Franklin D. Roosevelt planned to fight against soil erosion and declining timber resources by utilizing unemployed young men from large urban areas.

In what would later be called "The Hundred Days," President Roosevelt revitalized the faith of the nation by setting motion a "New Deal" for America. One of these New Deal programs was the Emergency Conservation Work (EWC) Act, more commonly known as the Civilian Conservation Corps. With this action, he brought together two wasted resources: young men and land.

The President wasted no time. He called the 73rd Congress into Emergency Session on March 9, 1933, to hear and authorize the program. He proposed to recruit thousands of unemployed young men, enroll them in a peacetime army, and send them into battle against destruction and erosion of our natural resources. Before the CCC ended, over three million young men engaged in a massive salvage operation described as the most popular experiment of the New Deal.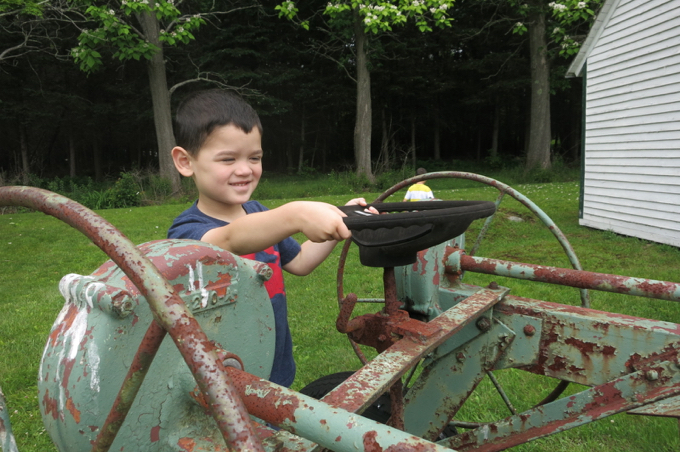 Ah yes, The New Deal. It was HUGE. It was so huge, it could have actually built Donald Trump's stupid wall along the southern border. Although, FDR did a bit more than Mr. Trump will ever do:
The program educated 40,000 illiterate young men and taught them to read and write. It employed 80,000 destitute Native Americans to help and helped them reclaim their land. It gave an opportunity to 25,000 veterans of the Spanish-American War to get back to work and normalcy.
It was huge.
The museum in Stafford celebrates the shared history of Connecticut's former CCC camps and their work. It is housed in the former headquarters building of Company 1192, Camp Conner. Connecticut had 21 camps around the state over the course of the program. Here's a list of them.
In Connecticut, the main activity was building trails and "truck trails." Since CCC funds were not allowed to be used for road building, they built "truck trails" instead. Much of this work was done with hand tools, which is pretty bonkers.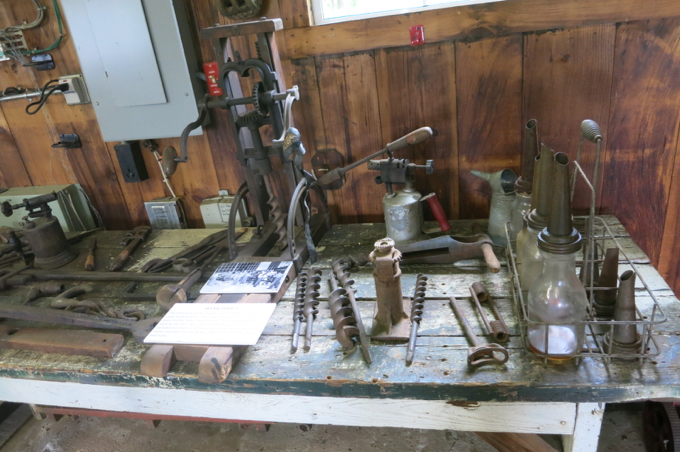 Some great examples of these truck trails are the road up to the top of Mohawk Mountain in Cornwall and the road up Soapstone Mountain in Stafford/Somers just a minute away from this museum. The stonework on display in the roadside walls is incredible. I'd guess that most of those state park entranceways with all the stone work are CCC remnants.
They also built a bunch of fire towers around Connecticut, but most are now gone. But the museum taught me what an alidade is! So that's cool. It also taught me that fire buckets always have a round bottom because that way they must be hung – and thieves would be far less inclined to steal them.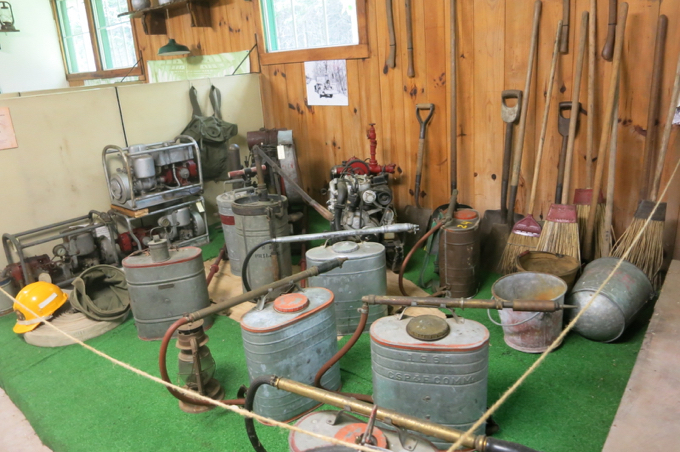 Not cool was the CCC's stance making segregation official in 1935. The hicks in the south, of course, didn't want integrated camps. This was a problem since 300,000 blacks and other minorities service their country in the CCC. These Jim Crow policies stayed in place for the duration of the program.
The government trolled the rednecks and placed some all-black camps in places like Gettysburg, Shiloh, and Shenandoah National Parks. Of course, they did great work and everyone forgot they were black, but then went on being racist for the rest of their lives.
As you'd imagine, the museum itself contains a bunch of artifacts; hundreds of photographs of CCC camps, camp personnel, CCC uniforms, documents, awards, personal letters and copies of individual service discharges.
I believe the museum (or other CCC museums) have asked CCC veterans to submit their remembrances of their work with the program to have a written history of those who were involved. I like that.
In 1935, CCC Camp Conner was established at the present site of what has become the Shenipsit State Forest Headquarters and the 2,000 square foot CCC Museum. The Museum is located in the only remaining CCC barracks building in the State and pays homage to the dedicated men who worked in Connecticut camps. The museum displays more than 900 artifacts from its collection of tools, equipment, photographs, and memorabilia from the 21 camps in the State. In Connecticut the legacy of the CCC's work continues through our continued use of the buildings, forest roads, recreation areas, and forest areas they constructed.
Other exhibits are of a blacksmith forge and blacksmith tools which were used at Camp Conner, a collection of small handtools, ice harvesting tools, telephone linemen's equipment, tree planting information, logging tools, and road, bridge and dam construction equipment.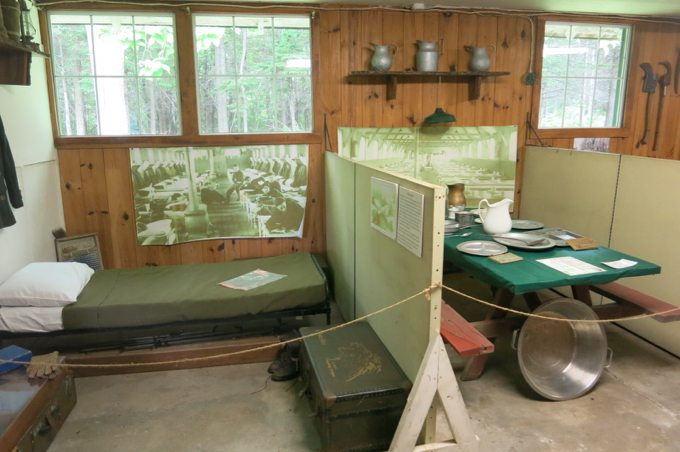 There was a looping video of CCC stuff and a little area set up like a CCC barracks with a cot and bedroll. This is next to a "mess hall" which, really, was just a table and utensils.
I took a picture of a sign that explained that an artist named Harry Leith-Ross was commissioned to paint a bunch of our forests and CCC camps. This was done as part of FDR's Civil Works Administration which was part of the New Deal. I wish I could see them… because I kind of like Leith-Ross's style.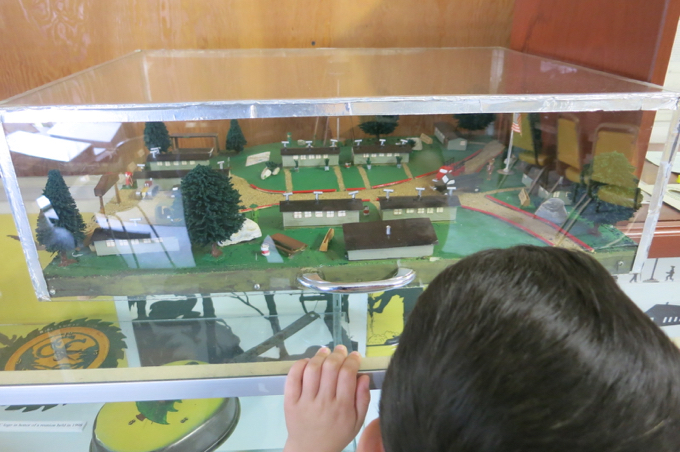 The CCC Museum is open pretty rarely; a few hours on Saturday afternoons in the summer at last check. But if you are up that way hiking around Soapstone Mountain or along the Shenipsit Trail, you should make it a point to pop in to check it out.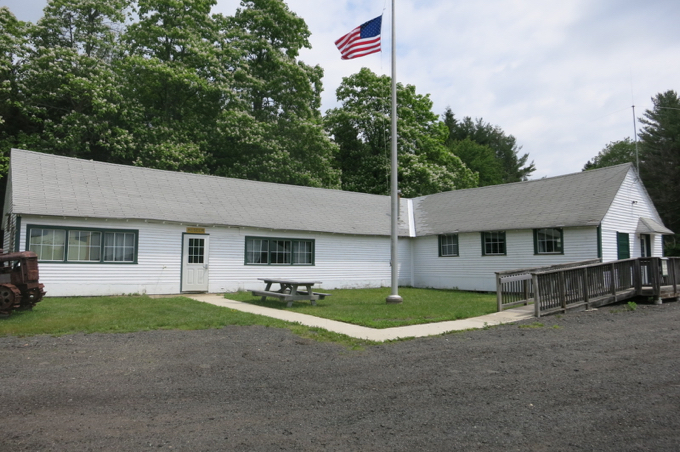 Northeast Civilian Conservation Corps Museum
CTMQ's Shenipsit State Forest