Everything Newtown
I've been exploring and writing about Connecticut since 2006. After a decade, I began compiling CTMQ guides for each town in the state. I plan on "completing" Newtown CTMQ-style… as well as the other 168 towns, cities, and boroughs in Connecticut. That is the ultimate goal of CTMQ.
If I've missed anything in town or if anything has closed or changed, please let me know.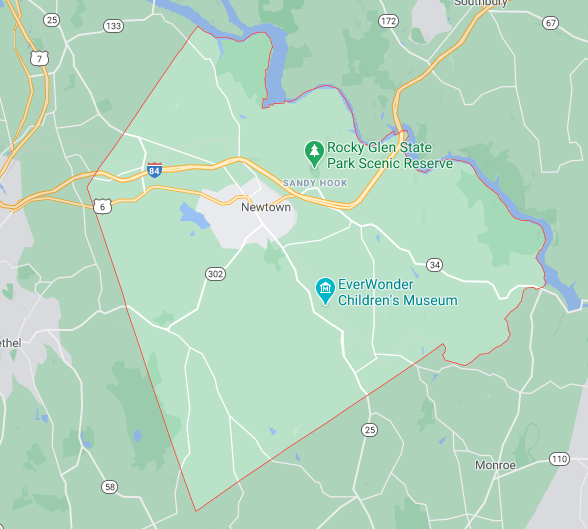 Museums
Cyrenius H. Booth Library & Museum
EverWonder Children's Museum
Matthew Curtiss House Museum
Middle Gate One Room Schoolhouse
Hikes
Collis P. Huntington State Park – Intro
Rocky Glen State Park
Paugussett State Forest – Intro
Other Upper Block Trails
Other Lower Block Trails
CFPA's Aspetuck Valley Trail
CFPA's Lillinonah Trail
CFPA's Zoar Trail
Newtown Forest Association Trails – Intro
196 Hattertown Preserve
Bloom Preserve
Brunot Preserve
Cavanaugh Pond
Fosdick Preserve
Greenleaf Preserve
Hattertown Pond Preserve
Holcombe Hill Wildlife Preserve
Holcombe Preserve Memorial Trail
Jay Preserve
Knotts Preserve
Nettleton Preserve
Newtown Town Forest
Wasserman Preserve
Eversource Land Trust Trails – Intro
Northwest Connecticut Land Conservancy Trails – Intro
Henry Pond Brook Preserve
Newtown's Town Trails – Intro
Al's Trail
Arrowhead Development (Potential future trails)
Deep Brook Preserve
Fairfield Hills Walk
Halfway River Preserve
High Meadow Preserve
Orchard Hill Nature Center
Pole Bridge Preserve
Sticks and Stones Farm Trails
Stone Bridge Preserve
Food & Drink
Roadfood List: Pizza at Carminuccio's
CT Chocolate Trail: Castle Hill Chocolate
CT Ice Cream Trail: Ferris Acres Creamery
CT Ice Cream Trail: Holy Cow Ice Cream Shop
CT Classic Diner Trail: Sandy Hook Diner
CT Classic Diner Trail: Blue Colony Diner
CT Wine Trail: Aquila's Nest Vineyards
CT Wine Trail: McLaughlin Vineyards (Closed)
CT Beer Trail: NewSylum Brewing Company
CT Beer Trail: Reverie Brewing Company
Looking for your favorite restaurant? Here is an explanation as to why it's not here.
Everything Else
US First: Town Forest
W3R Campsite & Caleb Baldwin's Tavern
Rowanwood Farm Llama Hike
Orchard Hill Falls
Prydden Brook Falls
Key Rock
The Newtown Flagpole
Fairfield Hills
Scrabble Barn
Newtown's Abandoned Railroad Tunnels
Second Company Governor's Horse Guard
National Shooting Sports Foundation
GMT Racing
Newtown: An American Tragedy, Matthew Lysiak
Sleepers (1995)
Town Essay: Newtown
Newtown Wrap-Up
Completion Celebration TBD