(Pleading Look To Sky, Fist Shaking), "zzzzZZZOOOAAARRR!"
Newtown, 6.5 miles
April 2009
Update: The section of the Zoar Trail that used to be on Great Quarter Road has been moved into the woods.
Having the luxury of being able to choose which days to hike (sort of, not really) allows me to hit the trail on absolutely perfect weather days. My Zoar Trail hike was one such day. People always whine here about our winters but usually fail to remember how nice it can be in April and May. I'm an autumn guy, but a perfect spring day is not something to be brushed aside.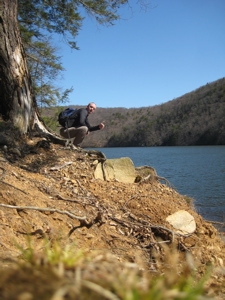 I drove out to Newtown, a rather nice town otherwise known as "Exit 10 off of I-84." There are a couple approach trails one could take to the Zoar Trail, but why? You can park right on the trail in Paugussett State Forest and do the loop just as easily.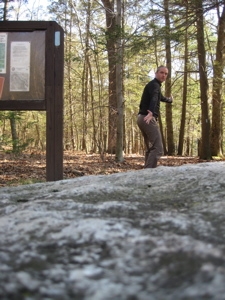 I parked in the little lot at the end of the exceedingly windy Great Quarter Road. The trail here, for the first 2.4 mlies is a DEEP-designated scenic trail. I have no idea what else is on that list, but I don't get it. I suppose they are all on state land, but to pick and choose a few miles here and there is kind of weird. I think the only other time I saw this designation was a few miles north on the Lillinonah Trail.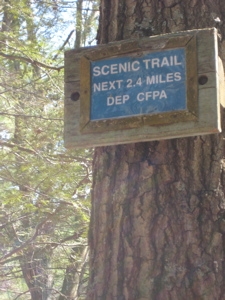 And there are definite parallels between the two trails. Both skirt the Housatonic River just above dams at places someone decided could be called "lakes." Even though they are not lakes. And both have closed sections for a few months during the year to protect nesting birds. (The Lillinonah section is closed December 15-March 15 for the bald eagles while Zoar's portion is closed April 15 through August 15 to protect nesting hawks. More on this below.)
I can see why the DEEP calls the first couple miles "scenic." The most certainly are; the trail is beautiful here, hugging the shore of the Housatonic. (I just looked and it appears to me that the "lake" area is just south of where the trail hikes along the river. But really, how can that be defined at all? With all the white pine and hemlock here, it had a definite "Maine feel." And I like the way Maine feels.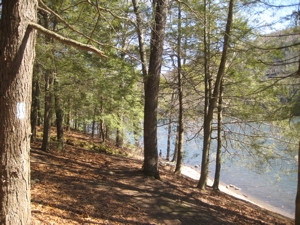 I kept trying to take at least one decent picture of the area, but it was hard to capture in its entirety. Looking out across the river, I noticed a few massive new mansions up on the bluff over in Oxford. I only mention this because the Pomperaug Trail is up there over there and I'm curious how close it comes to those houses. Time will tell.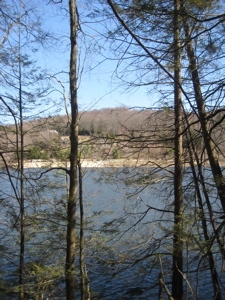 A little further along I eyed the Jackson Cove Recreation Area. Just an empty beach now, but it looked like it would be hopping come summer. Suddenly, the soft wide trail became very rocky. Nothing to worry about, it just came as a bit of a surprise. Apparently, it upset some idiot who felt the need to make his feelings known on a tree:
It's not, in case you were wondering. Okay, maybe it is if you lived in Zoar, Connecticut – a small town that was once here, to my right. Under the water. Sorry Zoarsters, the state built the Stevenson Dam (creating the Lake Zoar area) in 1919 and is so doing, submerged your town. The old woods roads the Zoar Trail crosses used to lead down to the village. Some adventurous folks like to SCUBA dive here and check out the old foundations and such. I saw a couple on my hike, but didn't think much of it.
Over on the other side of the river, the Zoar Bridge Methodist Episcopal Church was also flooded under. The state paid the fine Methodist Episcopalians (is that even possible?) $1.00 for their church in order to destroy it. In fairness, they then sold the church a parcel of higher land for $1.00 and even exhumed and moved all the dead people who would have ended up floating down to the dam if left be. Aww, thanks Connecticut!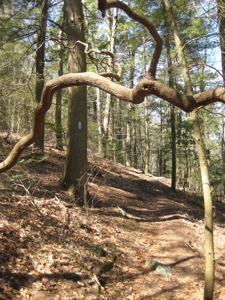 The fine folks of Zoar had a nice waterfall to enjoy, which thankfully is still there today. Prydden Brook Falls is a fairly large falls that takes Prydden Brook down to the Housatonic. There is a steep but short side trail to the bottom which has an awesome picnic/break spot. If your loved one(s) can treak a couple miles, this is a great spot for an excited woodland lunch.
Back on the trail, I came upon the sign advising me of the seasonal trail closure. My handy dandy Walk Book clearly tells me of the April 15th closure date. It was April 13. The sign has a typo on it because they left out a 5, advising hikers the trail is closed on April 1st. Hm, that's funny… I'd think they'd fix that typo by now. That's what I was thinking as I walked onward past the sign.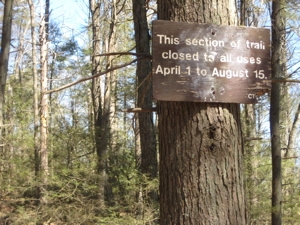 All joking aside, hikers should always follow the rules. No, no one is going to hunt you down for breaking this rule by 13 days. And I was hiking for JOURNALISM (cough*silly website*cough). I can be forgiven. YOU, however, can not. My Walk Book was published in 2006 and that sign looks pretty ragged. I honestly don't know which is correct, and I did feel funny about the situation. I was extremely careful not to bother any nesting hawks that I didn't see.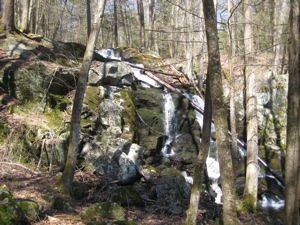 The funny thing about all this is that the section that I should have avoided (there's a nice yellow/blue blazed trail to do so) is the least exciting of the Zoar Trail. It just sort of goes straight along the hillside for a while, gets within spitting distance of some very large houses, makes a near 180 degree turn to the left and climbs straight up the hill (it could use a couple switchbacks), offers no views, and then travels back south to the intersection with that yellow/blue blazed cut-off trail again. So trust me, you're not really missing much by skipping over this northernmost section. So let's enjoy another picture of Prydden Falls.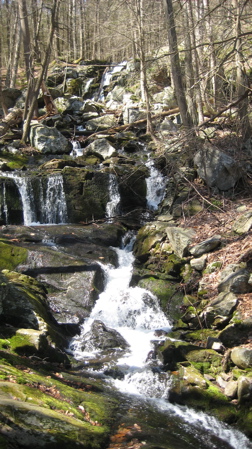 A commenter below notes that some steps have been added to the climb since my hike.
Just past the intersection (which has another sign with that 5 missing), the trail crosses Prydden Brook again at another pretty spot. I actually did stop here to enjoy a snack before moving along. The last couple miles of the Zoar Trail are not nearly as exciting as the first few. Here, up on the hill, the views of the river are limited.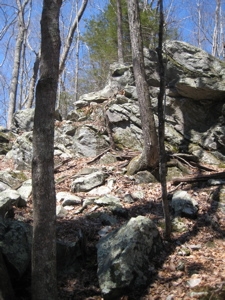 There is the required nonsensical trudge up to the top of a high knoll for no real reason. The woods here are certainly pretty and I did see more songbirds than I usually do for some reason. Once past the two side access trails, the Zoar swings back east towards Great Quarter Road.
I skirted a nice house's property and popped out onto the road for the final third of a mile or so. There are a bunch of blind curves over small rises on this road, so be careful. Once again I'm reminded that the most dangerous part of these hikes is not the cliffs or river crossings, it's the road walks. This is a rather remote dead-end road, so it's not that bad… Then again, maybe that makes it worse in a way?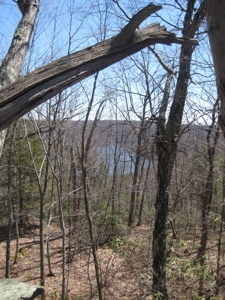 Regardless, I survived unscathed and had completed the western two trails of the Lake Zoar Area Trails. (The Paugussett was the previous one, which was hiked on a perfect fall day.)

CFPA Trails Map
CFPA Trails & The Blue Trails Challenge