You're Gonna Pry This One Outta Me
Prydden Brook Falls, Newtown
April 13, 2009
This is a really pretty waterfall. Definitely lands in the top 20% of Connecticut's tumblers. The picture in the guidebook is great. My pictures? Not great. I mean, c'mon. Look at this nonsense: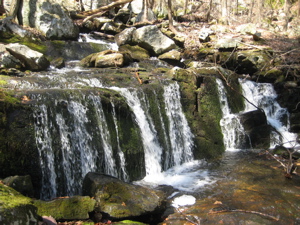 I found these falls while hiking the Zoar Trail which is part of the Lake Zoar Area Trails which is part of the CFPA trail network. I've completed all of these Lake Zoar trails although I have heard that there will be a lengthening of the Paugussett Trail of about 5 more miles.
2020 Update: I heard correctly.
My "work" is never done.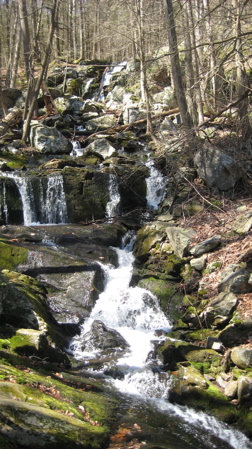 Your first question, "why Prydden?" Sayeth the guidebook, "Prydden is an old English name, originating from Priding in the Wheatenhurst rural district of Gloucestershire County in England."
Your second question, "How far do I have to hike to find this?" About 1.5 miles in and 1.5 miles out from the trailhead on Great Quarter Road.
Your third question: "Ok, what else you got?" Really? That's how you're going to phrase that question? It's "What else HAVE you got?" and even that sounds terrible.
There's all sorts of cool Zoar history, right around these falls. Like, Zoar used to be a town. A real, actual town named Zoar. But what did they do? They buried it underwater with the building of the Stevenson Dam. What are the chances? The coolest town name in Connecticut gets buried underwater.
Fortuntately for all of us, my friend Justin Coleman has allowed me to show you his work – and how pretty Prydden Falls can be. Enjoy: