Canterbury Trails
Robert Manship Park & Kinne Preserve
Canterbury, June 2019
I had to find trails to hike in Canterbury. I just had to. Why? So that I could write the title "Canterbury Trails". I would have cleared, blazed, and walked my own darn trail if I had to.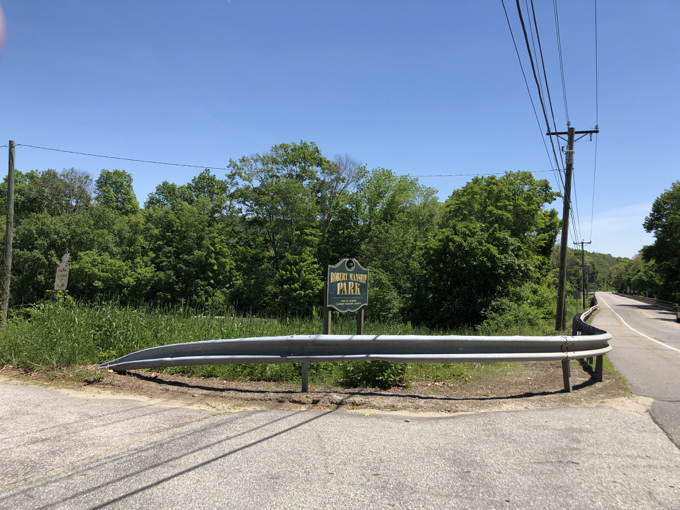 Which was almost the case, but fortunately I was able to make some sense out of the town's two trailed properties. It's fairly amazing to me when such a rural town has so few trails. And the ones that they do have, well…

Robert Manship Park
I can't front on the town too much for the lack of cleared trail here. Including Robert Manship Park in the first place was a stretch on my part. I think I read somewhere that the town park includes trails.
But they are never mentioned as a main feature here. There is a volleyball court and a soccer field and a baseball field and another field and a canoe/kayak launch into the Quinebaug River. Those are the activities people do here. And the fields seemed to be in decent condition for such things.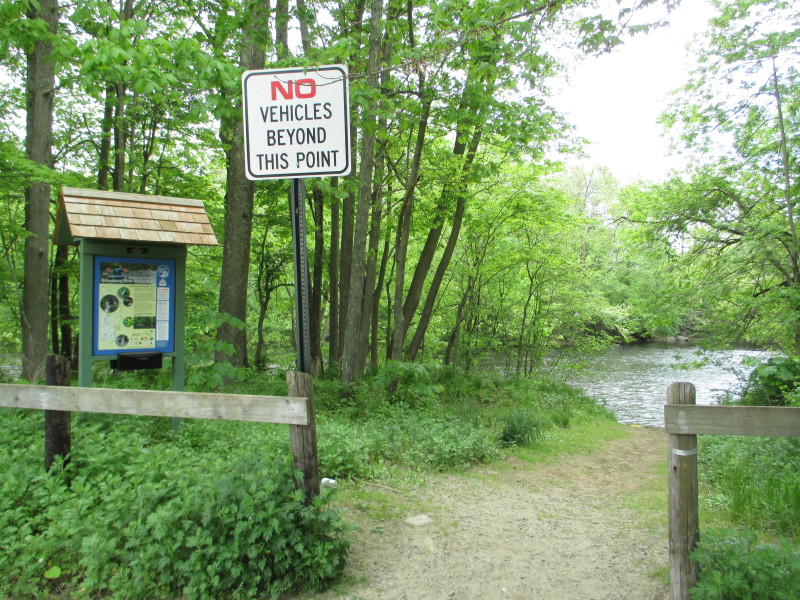 They don't hike. This became obvious to me when I tried to do so and fifteen feet down the riverside trail I came upon some teens sneaking a stolen cigarette. They looked terrified mostly because they probably never thought for a second that the real reason I was walking towards them was my feeble attempt to hike a trail. Ten feet beyond the teens – and only maybe 30 feet into the woods, the trail disappears.
So I turned around, passed by the terrified kids again, and poked around elsewhere.
Finding nothing, I hit the road. Robert Manship park hiking everyone!

Kinne Preserve
I had higher hopes for the Kinne Preserve, billed as the only true trail system in Canterbury. Getting to the trailhead is an adventure in and of itself; twisting backroads, a winding dirt road, and a small hiker's lot next to a bunch of "No Trespassing" signs.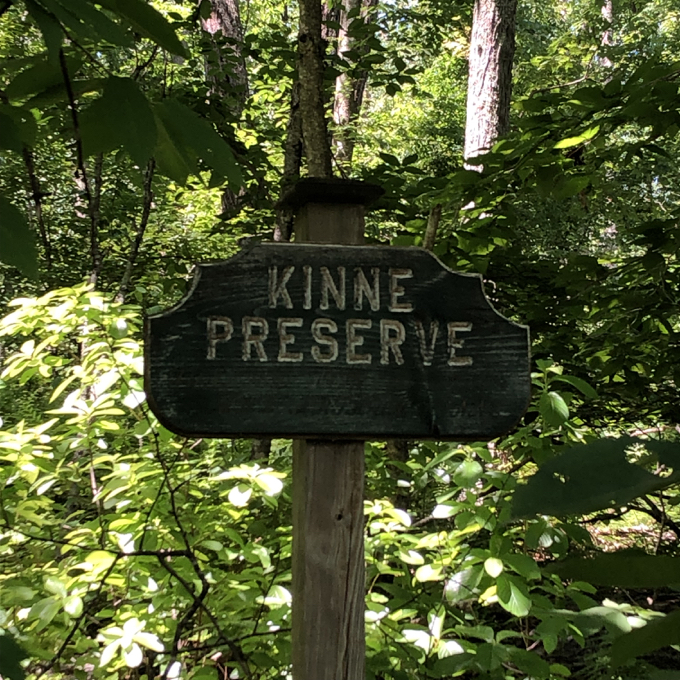 The signs told me that the house at the end of the winding and twisting dirt road was not very welcoming – or more likely, just didn't appreciate groups of hikers looking for water or something. Who knows. Their barking dogs did a good job of keeping me away regardless of any signage.
There's a trail map at the start and a clearly cut trail into the woods, so off I went in an attempt to circumnavigate the joint. Everything started off fine. Sure, the trail needed some work, but it wasn't too bad. I decided to make the biggest loop possible, following each brach to the right.
Into a pine plantation along a stone wall and down, down, down a hill.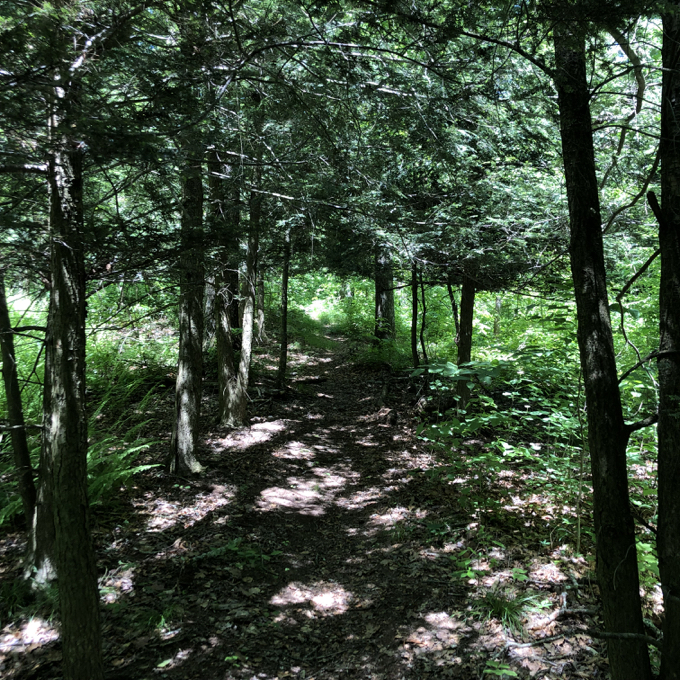 … All the way to the bottom and… then nothing. No trail. No evidence of a trail. Up, up, up the hill along the stone wall through the rows of pines and back to the previous trail split. I wandered around, noticing an old blaze every now and then.
The map at the trailhead showed a picnic area and a camping area. These were things to look for. This preserve was a gift to Canterbury from Arthur and Dorothy Kinne in 1975. Owing to the country's age at the time this was originally called Bicentennial Park. I found the camping area, which contained a picnic table.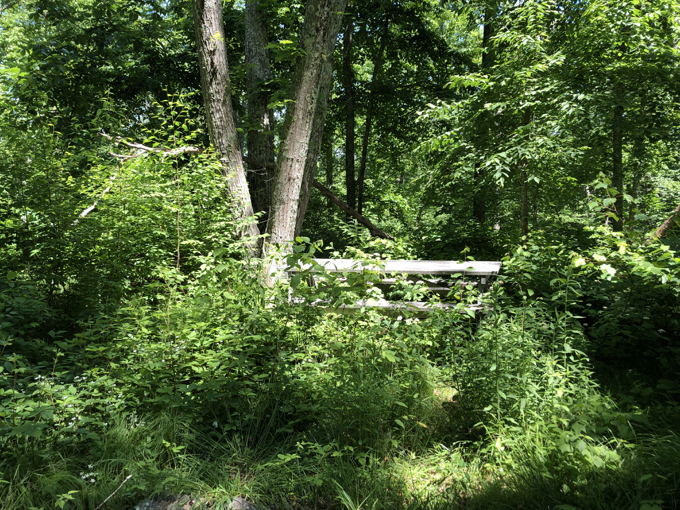 Not too inviting. I never found the picnic area, but I'm sure it's been overtaken by ferns. Get a load of these ferns! So many ferns! I happen to love ferns, and I could follow what was once a trail through them all. Tromping through fern groves is far more pleasant than almost any other overgrowth.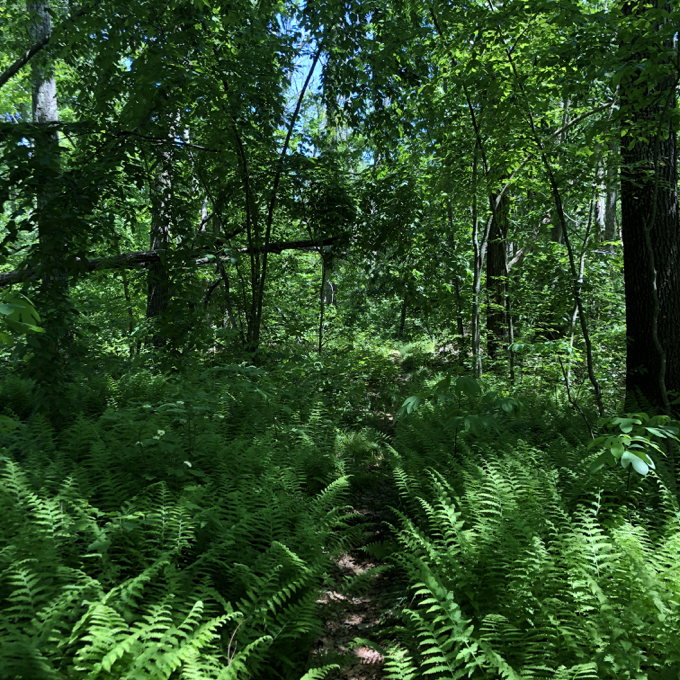 I would my way around the parcel, mostly through ferns. Lots of ferns. I knew I was at the northern reaches of the park when I skirted some private property and began heading south back towards my car.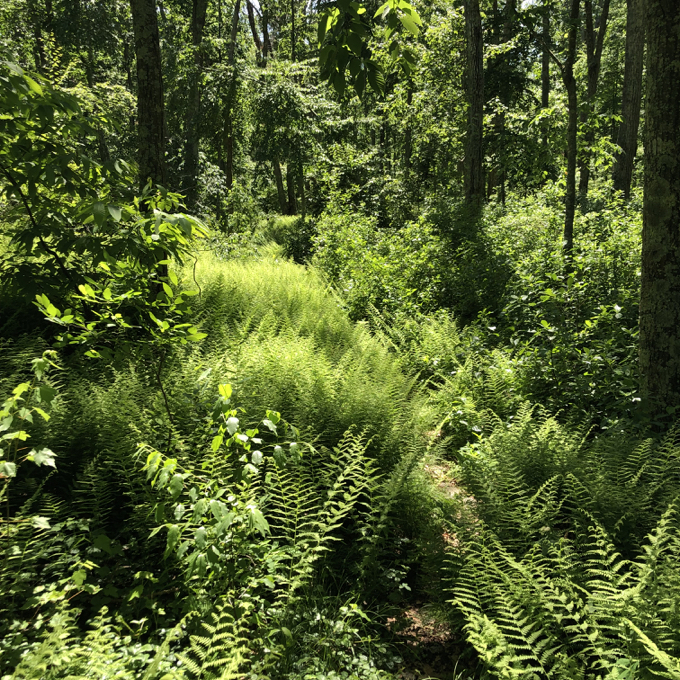 I should note that there are tons of blueberry bushes here too. I'm guessing that at the right time of year, this is a pretty cool place to walk around with a blueberry-collecting container. After a few minutes, I reached the main trail split near the preserve entrance and my car.
Thus ends my Canterbury Trails.