Everything Canterbury
I've been exploring and writing about Connecticut since 2006. After a decade, I began compiling CTMQ guides for each town in the state. I plan on "completing" Canterbury CTMQ-style… as well as the other 168 towns, cities, and boroughs in Connecticut. That is the ultimate goal of CTMQ.
If I've missed anything in town or if anything has closed or changed, please let me know.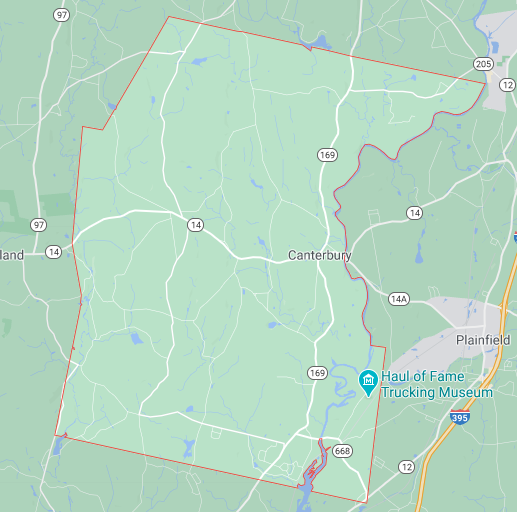 Museums
Finnish-American Historical Society Museum
Green District Schoolhouse
Haul of Fame Trucking Museum
Prudence Crandall Museum
Hikes & Paddles
Explore Connecticut's Canterbury Outdoor Guide
Sugarbrook Field Trial Area/Quinebaug WMA
Canterbury Town Trails – Intro
Food & Drink
Sadly, nothing of note. Here is an explanation as to why this is so.
Everything Else
National Historic Landmark: Prudence Crandall House
WR3 National Historic Trail Site: Campsite
National Scenic Byway: Connecticut State Route 169
CT Freedom Trail: Prudence Crandall House
CT Women's Heritage Trail: Prudence Crandall House Museum
Baldwin Brook Dairy Bridge
Moses Cleaveland Gravesite & Story
Canterbury: Complete!
I "completed" Canterbury in 2021 but new and/or previously unknown-to-me CTMQ-worthy places and things open all the time, so a town is never really "complete." I will, of course, continue to visit and write about these new places and things.
Wrap-Up and Completion Celebration Meal at D & G Pizza and Pub