Canterbury: Complete!
D&G Pizza and Pub
Here is my list of everything I've done in Canterbury!
I'm very excited to write this page. This is the 15th of what may ultimately be 169 town completion celebration pages! Yes, of course I am fully aware of how absurd that is. But I love it.
For those of you who are new here… In late 2016, after a decade of writing CTMQ, I decided to try to "complete" towns. In that decade of traveling and writing, I had already done a lot of stuff in most of our towns already. However, I have been continually surprised by how much more there often is to do. This page you're reading includes my "town completion celebration meal." These will sometimes be at the best restaurant in town. Or the most historic. Or the most iconic. Or the most unique. Or the only one. Or at a gas station. Every town is different!
Let's get to it.

Canterbury, Windham County
Population: 5,148 as of the 2010 census. (130th in Connecticut)
Founded: 1703 (38th)
Size: 39.9 sq. miles (30th)
Here's the Wikipedia page and the town page
Canterbury was my: 15th town completed
First CTMQ Visit: Haul of Fame Trucking Museum, February 2008

The Celebration Meal
When I first put together my Canterbury Town Guide, someone yelled at me for not having D&G Pizza and Pub as my place to celebrate my ultimate completion of the town. I hope she's happy now – and upon heeding her comment, I am too.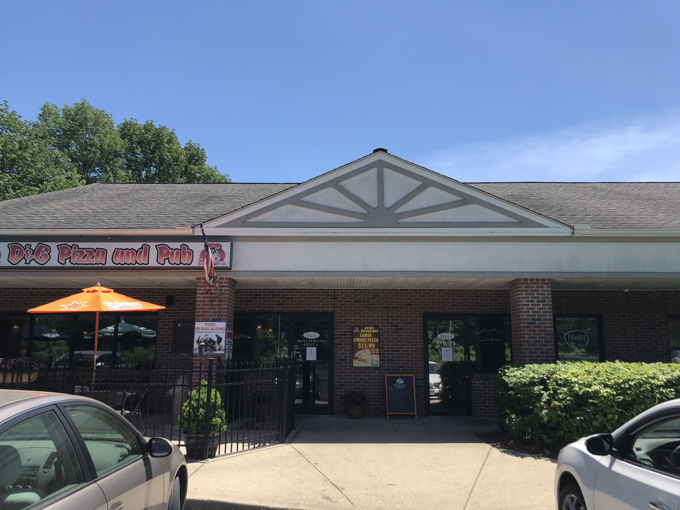 Canterbury isn't exactly on anyone's bucket list or travel itinerary, so D&G's isn't a place that anyone ever mentions. It's a small town eatery with a sprawling menu. The type of place you just know can't do everything well. And while I can't tell you if they do or don't, I can report that the few items I had were perfectly fine.
Where D&G's stands out, especially relative to its hinterland location, is its tap list. Someone here knows someone and certainly knows good beer. I've no idea when you're reading this, but as of today their beer menu is as good as almost anywhere. Certainly the best in all of Windham County.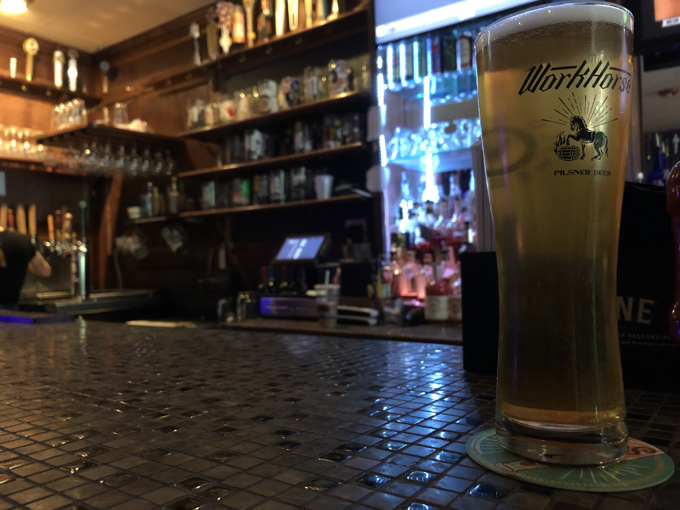 And the best part? Classic styles from great breweries. A doppelbock from Fox Farm! Three from Counterweight! A von Trapp lager! Pivo Pils! All this in Canterbury. I was hugely impressed.
Even more impressive? Their ability to break the space-time continuum through beer:
Not sure how that's possible, but Canterbury is a weird, time-warpey place. As I enjoyed my clam chowder and buffalo chicken wrap, I listened to the people next to me at the bar. The guy was mansplaining to the inebriated woman about beer. They clearly had known each other for a while, and she was receptive to his boasts of acquiring Sip of Sunshine – once a holy grail beer, now easily obtainable… but maybe not in Windham County? Who knows.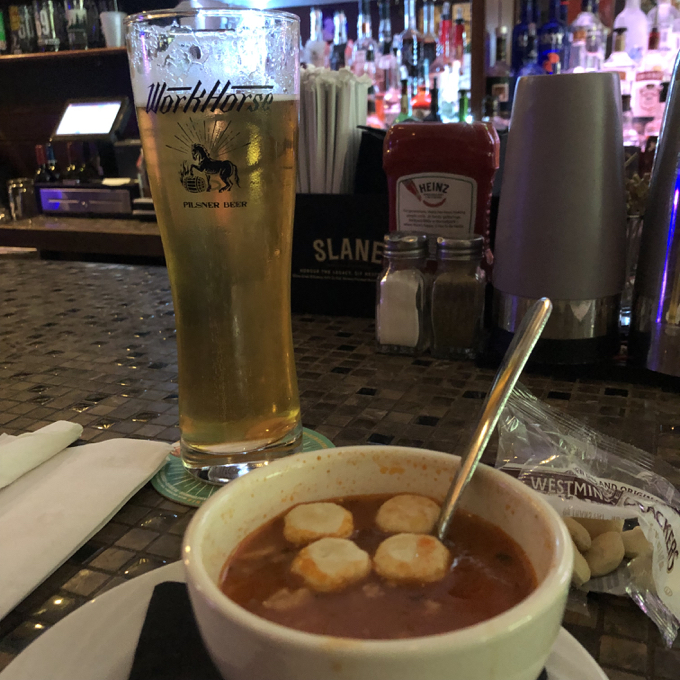 How does this place have so much Counter Weight and Fox Farm – Connecticut's best two breweries? Simple: Matt, the owner of Counter Weight is tight with a guy named John Brisson who owns Canterbury's Booze Barn and probably has a relationship with D&G's. Matt tells me that John is one of Connecticut's pioneers of beer back when Matt first started working at NEBCO. There's been a secret "CT Beer People In-The-Know" bocce tournament for years out here and Zack from Fox Farm has been playing for a while and… long story short, those relationships are the reason this place has a tap list that rivals almost anywhere in the state.
Not to harp on this beer stuff too much, because very few of you care, but I LOL'd at the ABV and price of the Doom City from Counter Weight: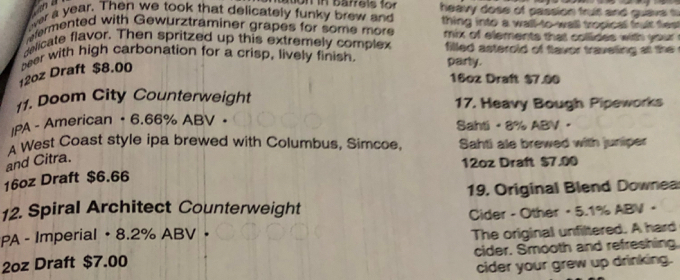 Anyway, back to my man at the bar who I learned has worked for Lowe's for 14 years and assured his friend that he does good work, but has only received $6 in raises all his time there. Hey, if I had to hear his lament, you do too. Apparently whatever his wages, it's enough to buy expensive Sips of Sunshine.
I enjoyed my Workhorse Pilsner from Counter Weight but didn't hang around too long. I had much more to do and one perfect pils was all I needed to celebrate the town of Canterbury. If you're ever in the area, I fully endorse popping in to this place.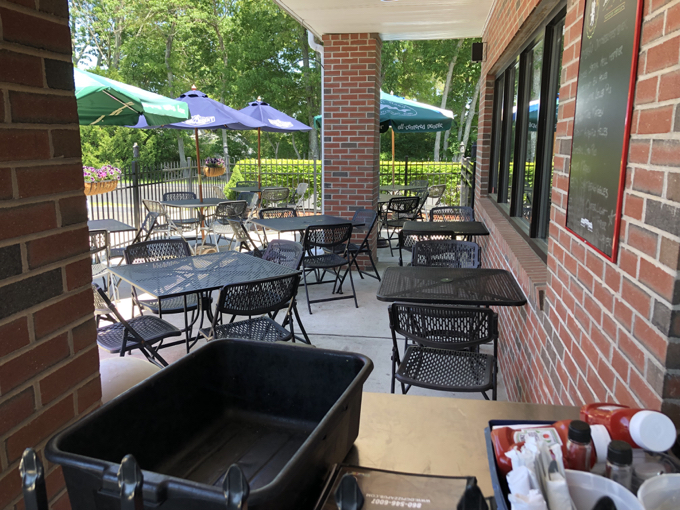 Canterbury Wrap-Up
I can't sit here and pretend there's a lot to do in Canterbury, but there are a few places that are really cool in their own way. It was in Canterbury that I had one of my first Twilight Zone museum experiences way back in early 2008 at the Haul of Fame Trucking Museum.
One of those, "what am I doing this CTMQ thing for, how did I wind up in this junkyard in gosh darn Canterbury, Connecticut, who comes to this place…" one hour later, "holy cow, that was awesome and I'm so glad I found it and I love my hobby" experiences.
It happened again a few years later with my young sons at the Finnish-American Heritage Society during their Laskiainen Paiva, the annual traditional Finnish Sledding Day. We ate pea soup and rye bread… and checked out their tiny museum in what is essentially a walk-in closet. Canterbury is awesome.
As awesome as those two places are in their own ways, far and away the main attraction in town is the Prudence Crandall Museum. In fact, if you're a regular reader of CTMQ, you've likely been there. Connecticut's official state heroine, Crandall was a hugely important figure in the long march for racial and women's equality. She stood up to the racist thugs in town and educated young black women.
Well, until the racists turned violent anyway. So yeah, Canterbury: Home of the founder of Cleveland, Ohio whose name was actually Cleaveland but the town itself refers to him as Cleveland… Canterbury: the town that drove out our state's heroine with a violent racist mob.
There are many tales in Canterbury, some wackier than even Chaucer could have dreamt up.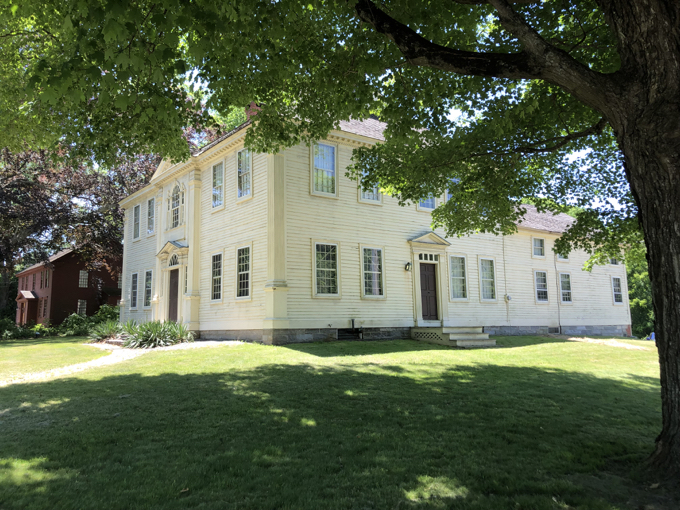 Thought exercise: If I had to send someone to Canterbury for a day, it would have to be on Laskiainen Paiva at the Finnish-American Society, followed by lunch and a great local beer at D&G's, before heading over to the Prudence Crandall Museum. And if important historical museums aren't your thing, have no fear… learn a few things and then you can go back to D&G's for another top notch beer.
Surprise: The town misspelling Cleaveland's name
Favorite facts: Lots of Finnish people live here for some reason.
Disappointment: The lack of any good hiking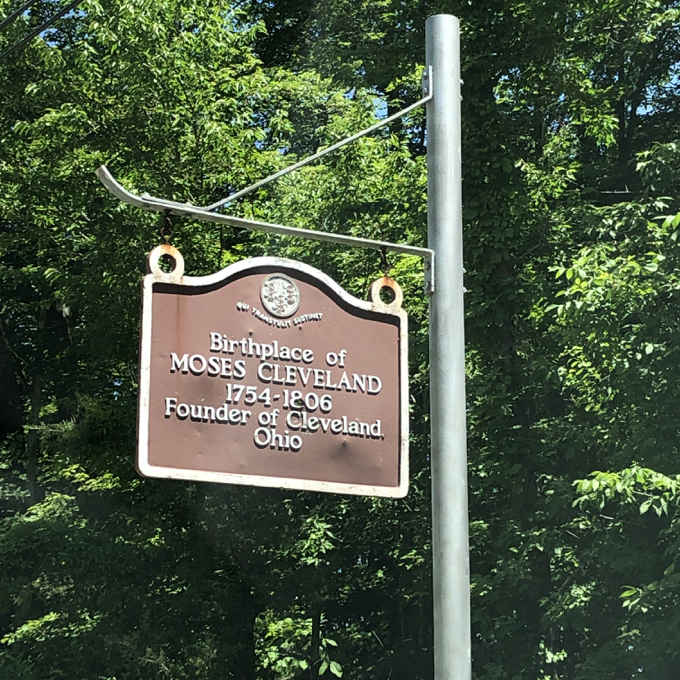 Canterbury: Done
Previous completed town: Ellington!
Next completed town: East Hartford!