Cleaved
Moses Cleaveland's Birth and Grave Sites
Canterbury
Cleveland. The "Mistake by the Lake." Always the butt of jokes. So much so that Connecticut makes fun of it. That's when you know you have an identity problem. It goes beyond the Cuyahoga River being on fire and the perennial ineptitude of the Browns and Indians. I'm now reminded that the team is still called the Indians and had Chief Wahoo as their mascot until the end of the 2018 MLB season.
But why would anyone in Connecticut make fun of Cleveland? After all, we're responsible for the city's existence. In fact, Cleveland, and much of Ohio, was Connecticut a scant 200 years ago.
Yet, I still make fun of Cleveland for one reason in particular: the dang city's name is misspelled. And no matter how much I dig into the reason why, no one seems to know. But let's back up for a minute.
Moses Cleaveland was born in Canterbury, Connecticut and later served in the Revolutionary War and graduated from Yale. A smart go-getter, he practiced law in Canterbury, got married, and fathered four children with his wife.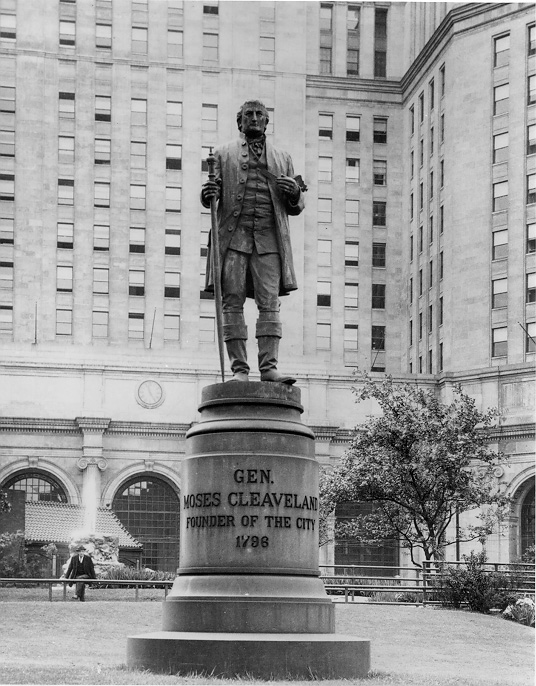 Back then, Connecticut was all about grabbing land. And back then, there was plenty of land to be grabbed. As one of 36 founders of the Connecticut Land Company, and one of 7 directors, Cleaveland was sent to survey and map the company's holdings in 1796. Off he went to what was called The Western Reserve. It was a heady time.
At Buffalo, a delegation of Mohawk and Seneca Indians opposed their entrance into the Western Reserve, claiming it as their territory, but waived their rights on the receipt of goods valued at $1,200. The expedition then coasted along the shore of Lake Erie, and landed, on July 4, 1796, at the mouth of Conneaut Creek, which they named Port Independence.
I'll forgive late 18th-century Americans for these "freedom" and "independence" things back when they actually meant something.
As you'd imagine, the native Americans there were upset at the encroachment on their land. No biggie, Cleaveland and his boys came prepared and the locals were appeased with gifts of beads and whiskey; allowing the surveys to proceed. A couple weeks later, the Connecticut crew landed at the mouth of the Cuyahoga River, ascended the bank, and declared the land to be favorable site for a city.
The land was surveyed into lots – a very New England thing to do – and the employees named the place Cleaveland, in honor of their leader. Never mind that no white people actually wanted to live there. Moses Cleaveland went home to Connecticut after the 1796 expedition and never returned to Ohio.
Today there's a giant statue of Cleaveland in Public Square in downtown Cleveland. Of course, this being Cleveland, there were problems.
The statue shows Cleaveland dressed as a surveyor, with Jacob's staff in his right hand and a compass in his left. The monument is 7'10" high(!) Before casting the statue in bronze, the artist presented a plaster representation to the city council that was rejected because it was too dang tall. So the sculpture played God and removed Cleaveland's midriff and reattached it. The statue has withstood Public Square renovations, attempts to move it, generations of rats in the base, remaining a proud symbol of Cleveland throughout its history.
Cleaveland remained in Connecticut and eventually died and was buried in Canterbury. Who knew there was so much lawyer work to be done in Canterbury back then? I can't imagine there's too much even today. Anyway, there's a nice marker at a small cemetery off of route 169, denoting his contribution to this world. (His birthplace is also noted, about a mile north on the same road.) I visited both because that's what I do.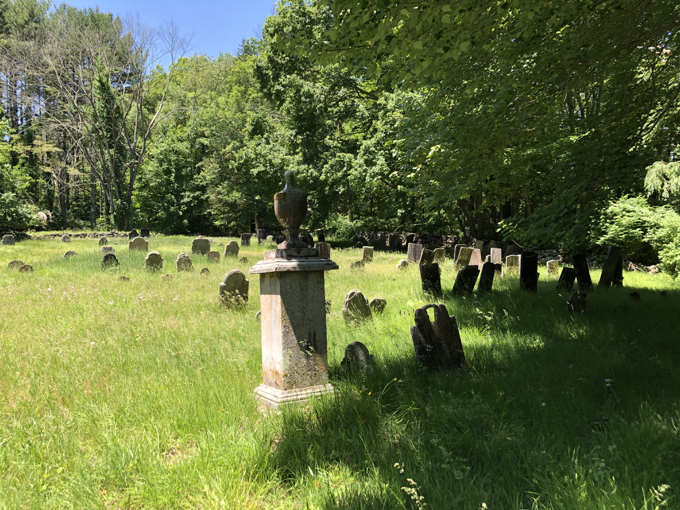 But what's up with the misspelling? Apparently Cleaveland didn't become Cleveland until 1830 or so. One apocryphal story says that when the first newspaper, the Cleveland Advertiser, was established, the editor discovered that the head-line was too long for the form, and accordingly left out the letter "a" in the first syllable of "Cleaveland". That sounds too ridiculous to me… although this is Cleveland we're talking about.
An alternative explanation is that Cleaveland's surveying party misspelled the name of the future town on their original map. This is probably more likely but again, the dude's name was Moses CleAveland. The whole thing is ridiculous.
But the misspelling of his name at his birthplace and his cemetery in Canterbury, Connecticut is unconscionable. I really hate it more than you'd think.

Info from various Case Western University pages
CTMQ's Gravesites & Cemeteries