Canterbury Tales
Canterbury (Google Maps location)
June 2019
There's a good chance that you are not familiar with Canterbury, Connecticut. And that's fine. I mean, it's not like it's home to one of the most important abolitionist educators that ever lived. Or was the birth – and final resting – place of the founder of the 32nd largest city in America. Or that there's a bar & restaurant there with one of the most secret/best taplists in the state.
Or that Canterbury's one room schoolhouse-now-museum is one of the biggest, well maintained, and fantastically interpreted in the state. Nah, it's no big deal that you're not well-versed on Canterbury, Connecticut.
Sigh.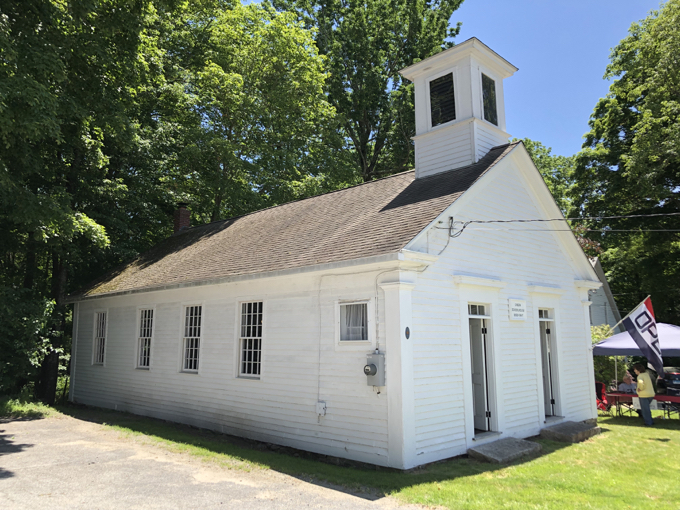 I'm kidding, of course. Heck, I imagine half the state doesn't know Canterbury is a Connecticut town. Not only is it, but all that stuff in the first paragraph is true. (Prudence Crandall, Cleveland, D&G Pizza & Pub if you're curious.) And the second paragraph is true as well.
The Green District School is rarely open for visitors; probably just a few times per year. This is because according to the Canterbury Historical Society website in 2019, "The society does not have a street address, museum, or phone number." If that weren't enough, they throw this in on the bottom of that same "About Us" page: "Please note the Canterbury Historical Society does not offer genealogical research services." Please don't hassle them, okay?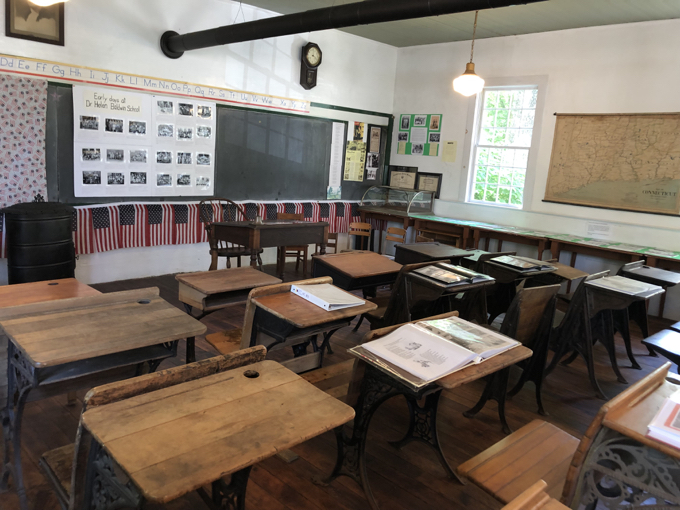 Hey, it's a small organization in a small town. As such, no one there knows me or what I do so I can say anything I want about Canterbury because hoo-boy, do I have things to say, and – what's that? Come again? Who-zee whazzit now?
Stephen Wood on His Avocation and Passion—Connecticut Museum Quest and All Things Connecticut
05/09/2014 – 7:00 pm
Community Room of the Canterbury, CT Town Hall
1 Municipal Drive – Canterbury, CT 06331
There will be a brief business session at 7:00 pm, followed by program & refreshments.
Oh snap, that's right! I met with this wonderful organization several years ago and probably confused them. Like, why is this guy from West Hartford eager to visit our one room schoolhouse someday? And, why did this weird man bring his two small children to our town's Finnish-American Society to eat rye bread and pea soup?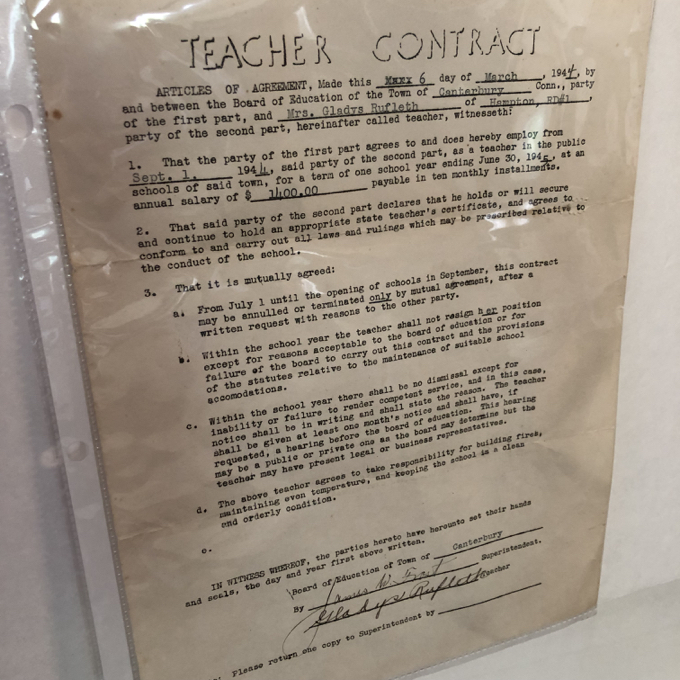 Ah, yes, that's me. A real crowd-pleaser.
Let's check out the darn school already. It was built around 1850, and…
The Green District Schoolhouse on Canterbury green is the last one-room district school in town that is open to the public. After the Dr. Helen Baldwin School opened in 1947, most of the town's remaining one-room schools passed to other uses or were lost. However, to alleviate baby boom overcrowding at the Dr. Helen Baldwin School, the Green School was used for some kindergarten classes into the mid 1950s.

The building later housed the town's library, until in 2001 the library moved to the new municipal building off Route 14. The Green School has never had indoor plumbing, and by 2001, the Canterbury Public Library was one of the last in the state without bathroom facilities. The short road off Route 169 leading to the Green School is still named Library Road.
WHOA! Canterbury's library had no indoor plumbing in the 21st century. This might be my favorite Canterbury fact… ever. Wow.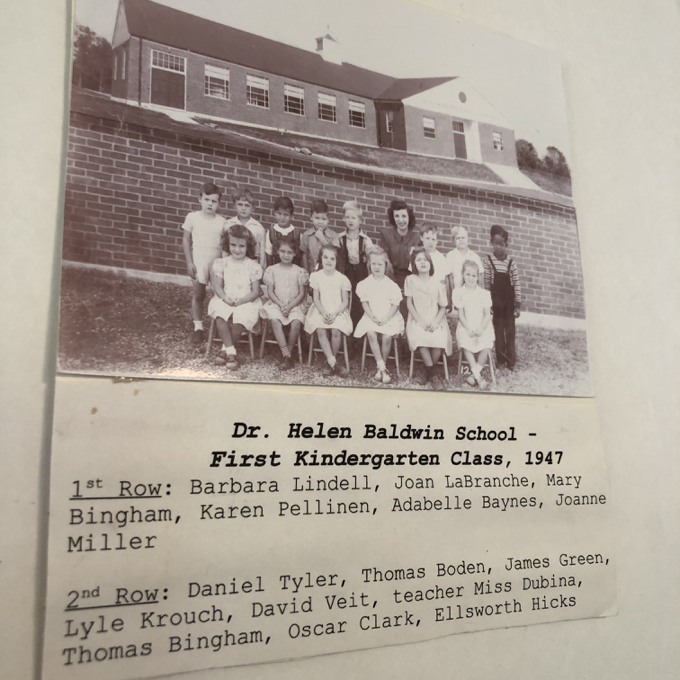 After that, the schoolhouse itself won't be as exciting. A lovely woman met me inside and just jumped right in. She grew up in Canterbury and never left. She attended this school! Her father attended this school! Her brother, who happened to be across the room speaking with others, used to come and light the stove for the day's fire… And he lives in one of the other converted one-room schoolhouses in town!
And that's the thing about town's like Canterbury. If you visit places like this, it is immersive. Having been to hundreds of museums, including many one-room schoolhouses, I can assure you that it's a unique experience to be guided around by a former student.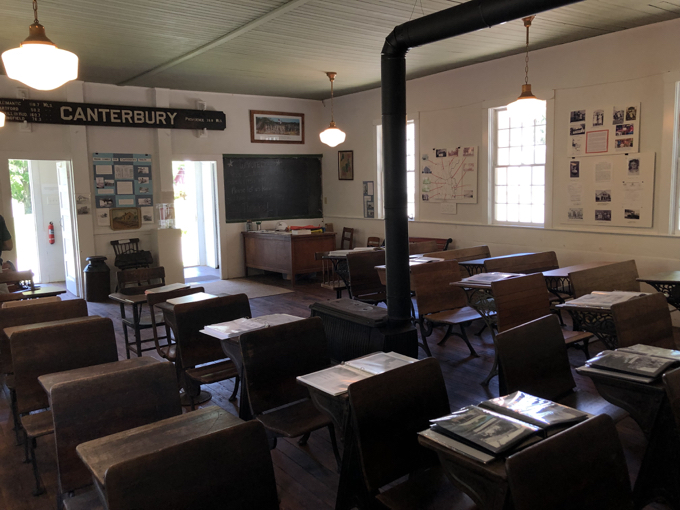 The set-up during my visit was typical. Old desks, old books, old teacher contracts. What was different here were the dozens and dozens of binders full of pictures and artifacts from the school. Quite simply, Canterbury can ask current residents for stuff to add to the collection. Whether its from themselves or their parents or grandparents, they've got a lots of Green District school stuff.
Canterbury kids these days don't even have a high school of their own. (Which, as a proponent of regionalization, is fine). But you darn well know every time they roll through the center of town, such as it is, they get an earful of "back in my days" from people who attended this little schoolhouse.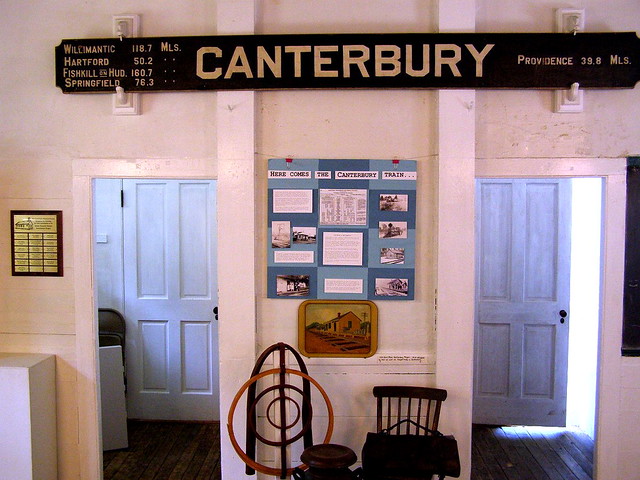 Canterbury Historical Society
CTMQ's Museum Visits