Harry Caray's Fave
Holy Cow Ice Cream Shop, Newtown
May 2019
Something happens to me far more infrequently than you'd believe: I visit a place for this website and wonder if I'd been there before. That has happened to me exactly once in 13 years so far and it was here, at The Holy Cow Ice Cream Shop in Newtown.
Holy Cow indeed.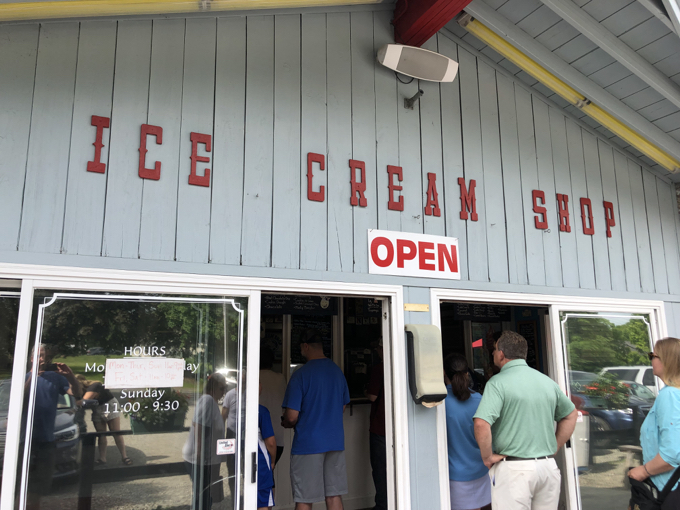 As I write this, I'm still not sure if this May 2019 visit was a revisit or not – and I'm not about to scroll through 10 years' worth of pictures to find out. If I ever do, you'll see a note to that effect below this sentence…
And if not, you'll continue to read this sentence. And then you'll move on to this one and then the next. And the next. Holy cow, this is getting weird.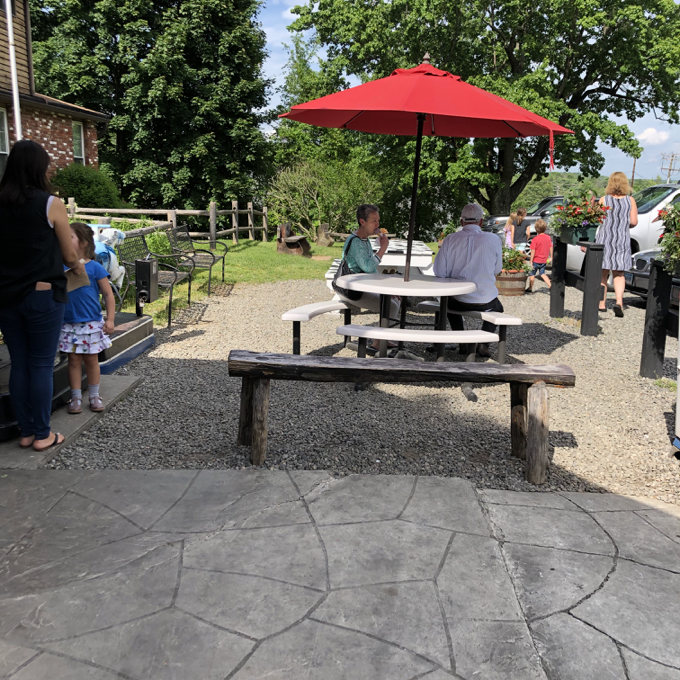 But not as weird as the original name of this joint. Founded in 1969 as "Ice Cream Shop," the signage on the front of the building remains. But in 2009, the shop was bought by two guys who renamed it "The Holy Cow Ice Cream Shop." The new name was originally based on its location on Church Hill Road, but apocryphally because customers exclaim "holy cow!" upon eating their goods.
What hasn't changed is the fact that the ice cream is still made the same way, in house, with locally sourced dairy from Connecticut farms. And that, my friends, secures Holy Cow a hallowed spot on CTMQ. An almost religious experience for ice cream shop owners to be sure.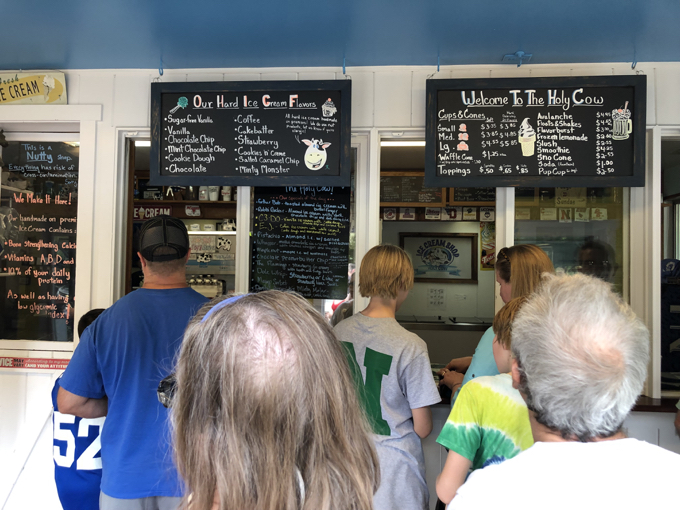 While there are a couple tiny indoor tables at Holy Cow, this is mainly another "make your choice, grab your selection, and find a picnic table" type spot. There was a small line upon arrival, but it moved quickly. As you may know, Newtown has another homemade ice cream joint; the more rustic and difficult to find Ferris Acres Creamery. The lines are longer there, the cachet off the charts, and… I'm not really sure why. Well, maybe the ice cream here is terrible. Let's find out.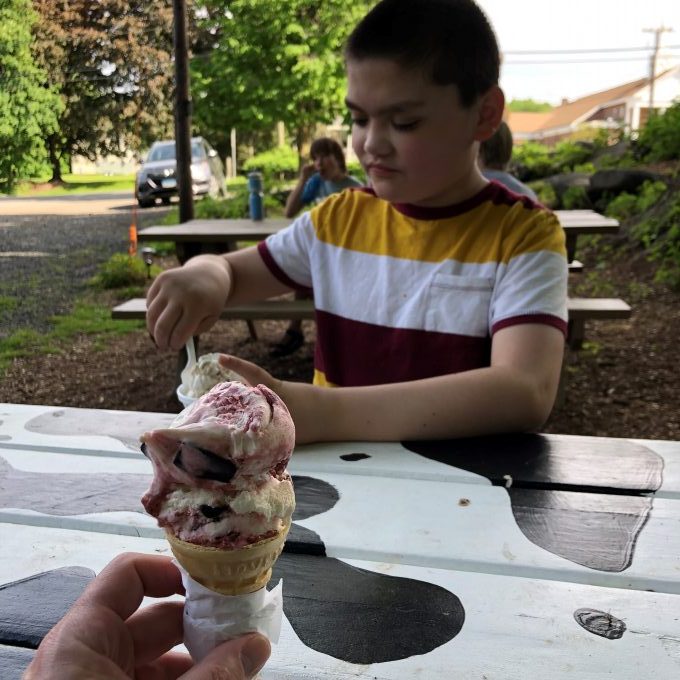 My first impression of Holy Cow was hugely positive. They thoroughly describe all of their ice cream flavors that have wacky names. I have two major pet peeves with local ice cream joints: one, flimsy spoons that can't handle the hard ice creams, and two, listing flavors like "John's Jammin' Jammies" or whatever without telling us what the [holy cow! Expletive deleted] is in the [holy cow! Expletive deleted] ice cream. That makes me sore.
Several of the rotating flavors here are named for local religious folks. It's their "thing," and it's cute enough I suppose. The "Father Bob" was the first, I think, which is toasted almond ice cream with Butterfingers. That sounds pretty terrible to me which I only mention because my wife would be all over that. Who likes Butterfingers?
I went with the Rabbi Rocker, which was almond ice cream with dark chocolate chips and dark cherry swirl, after thinking hard about the "Dental Associates Minty Molar" which was mint ice cream with Oreo, cookie dough, and human teeth.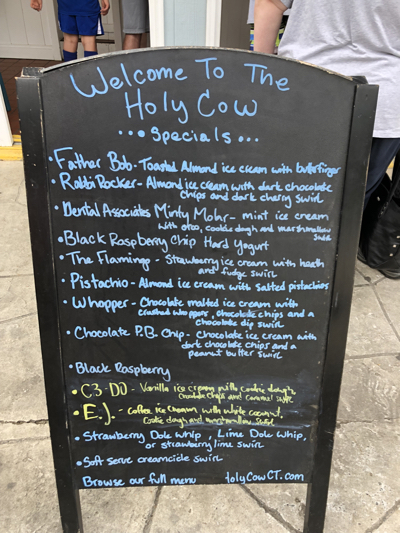 Oh, sorry, I misread the sign. Marshmallow swirl, not human teeth, marshmallow swirl. I got Damian a cup of cookie dough and found a picnic table outside. Many of you know that Damian struggles mightily with Smith-Magenis Syndrome. I won't bog down this page with what we go through on a daily basis, but merely highlight one tiny little bit of what SMS brings: OCD.
Not a big deal… except when it is. Often, he can't verbalize what his issue is at the moment and if he's expecting the situation to magically change, that can result in self-injury and all-around insanity. Anyway, this stack of milk crates got him a bit riled up: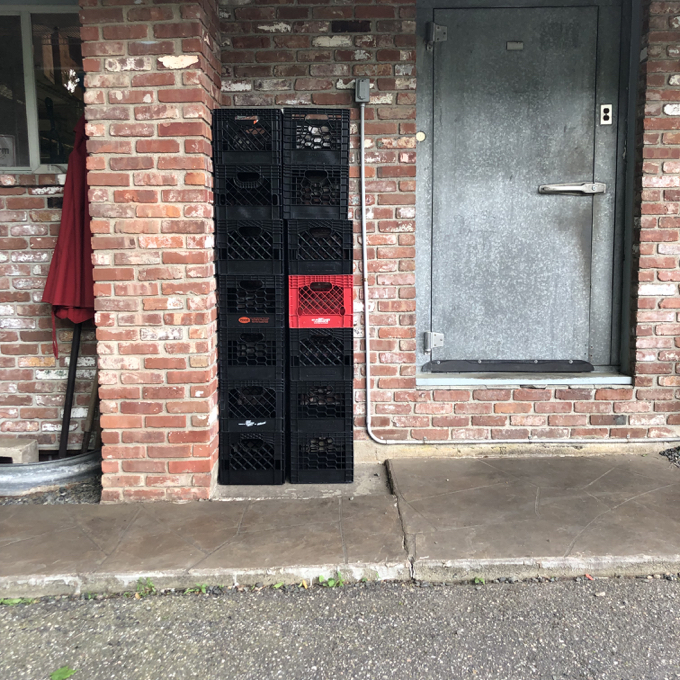 Fortunately for me, he was able to tell me that the red crate was bothering him. Unfortunately, he demanded that I go fix it. Fortunately, we were about done when he noticed and I was able to distract him. Unfortunately, I had to make him use the port-a-potty before we hit the road. Fortunately, he didn't have a full meltdown and once again I quietly diffused what could have been quite a scene for my fellow ice cream eaters. SMS requires constant vigilance on all fronts.
I hate it. I also hate this: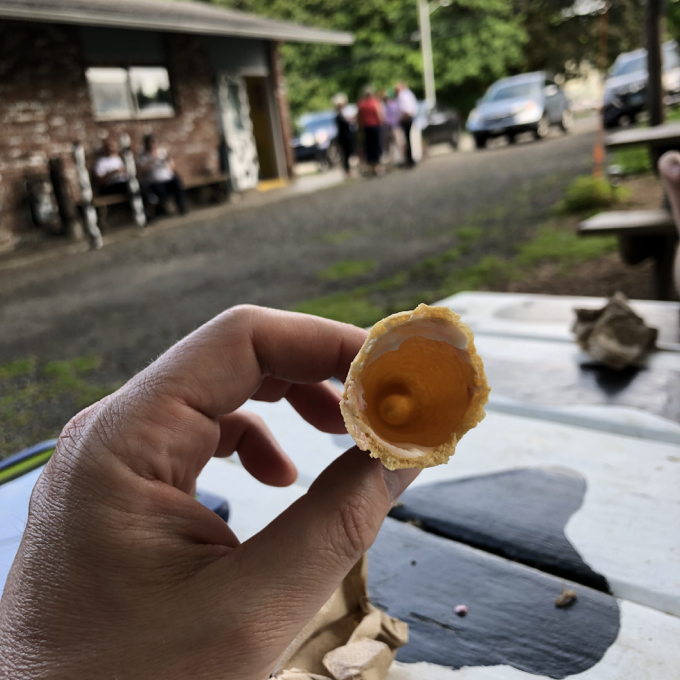 Regardless, I loved my Rabbi Rocker! It was, should I say it? I have to say it… it was divine. Damian seemed to rather enjoy his cup of cookie dough as well. Now I'm all discombobulated after that SMS diversion. And I really just meant it to be a funny story about the milk crates. Sigh.
I enjoyed the vibe at Holy Cow. They have a bunch of cheeky signs and the young women scrambling around scooping scoops and toppings there appeared to love their jobs. Damian's spoon held up to his treat and I knew what I was getting in my Rabbi Rocker.
So why does Ferris Acres get all the press? Is it because it's at a farm? Because the lines are longer and slower? I honestly can't say that it's demonstrably better than Holy Cow. Sure, I guess a pastoral farm setting is… better than Holy Cow's built-up location near I-84 and let's assume Ferris is sure not to leave the last inch of cone empty, but still. I very much enjoyed my Holy Cow experience.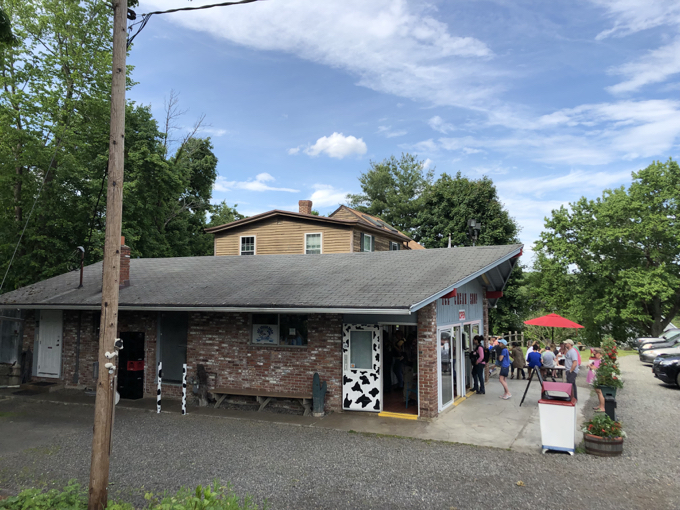 Holy Cow Ice Cream Shop
CTMQ's Homemade Ice Cream Trail