Daydream Believer
Reverie Brewing Company, Newtown
June 2019
There is nothing wrong with Reverie Brewing. It is located right off of I-84 in an big, rectangular industrial warehouse space. Not exactly the beauty one often associates with Newtown, but typical of a brewery in early 21st century America.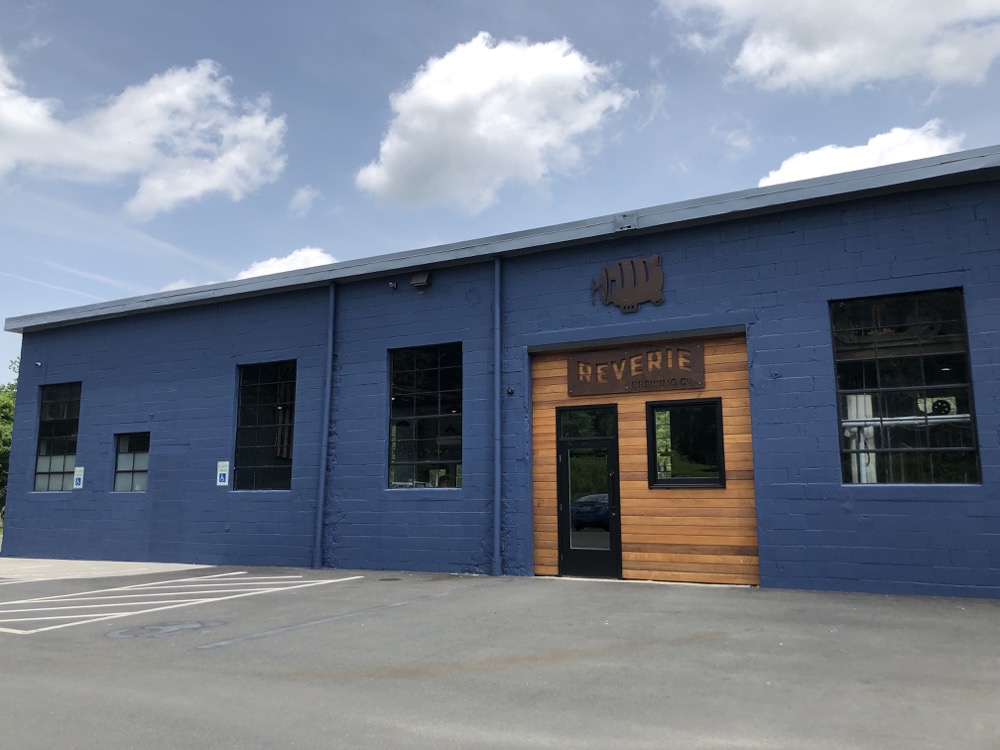 As Connecticut reached that point – you know, that "Your town gets a brewery! and YOUR town gets a brewery! AND YOUR TOWN GETS A BREWERY!" point – in 2018, Reverie opened without much hullabaloo. And that was fine. That was where we were as a state and where we were with the brewing industry.
That's more than fine. That's really cool, actually. Congratulations to us. Just five years prior, no one would have thought that daydream was possible. But loosened laws and eased regulations and a huge increase in "local craft beer" and we made it. The daydream became reality.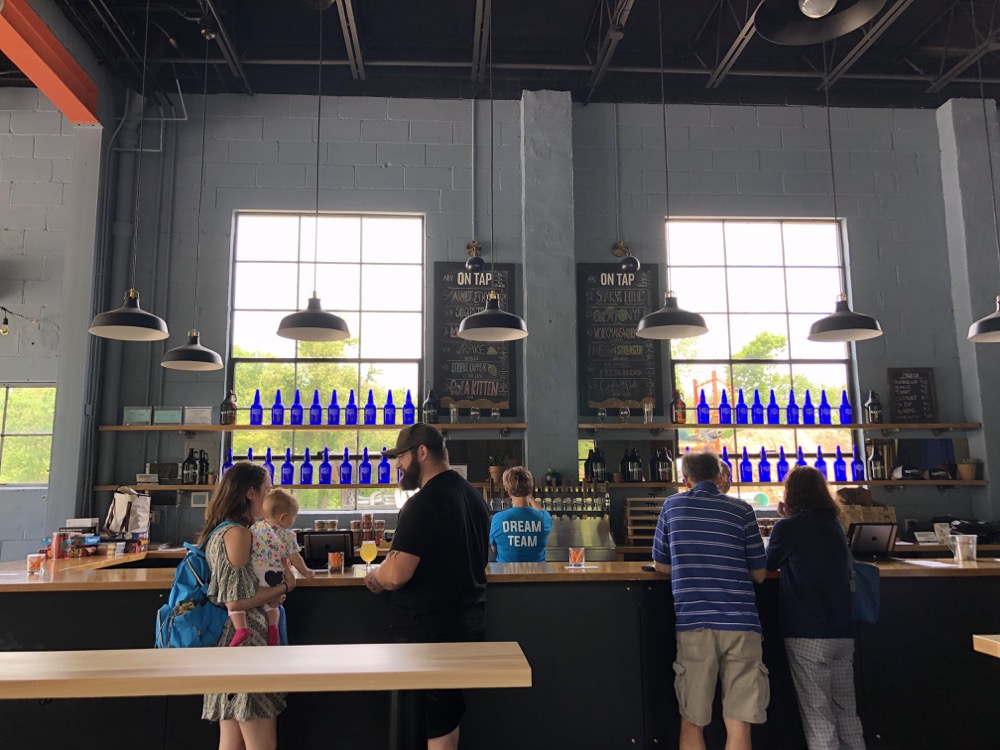 Reverie, noun, a state of being pleasantly lost in one's thoughts; a daydream.
Of all 100+ (I wonder if I'll ever have to change that to "200+") breweries in our small state, Reverie has one of the better names… and better "why'd you name your brewery what you named it? stories."
They've taken the typical founding stories – guys bored with boring jobs dreamt of opening a brewery – and made it lyrical. One of the founders and owners worked in finance and would daydream about a brewery. His reverie. But they've continued that idea and tied it into what it is to just enjoy a good beer and getting lost in one's thoughts. A reverie became reality providing reverie for others.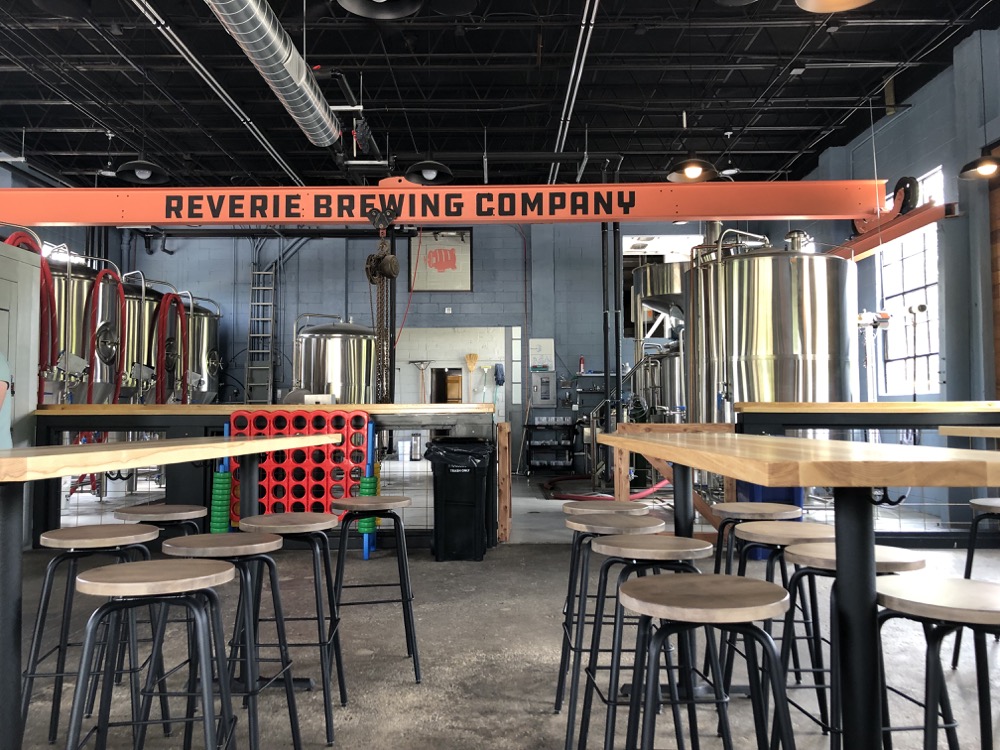 I really like that and like that they've carried that through.
And I like that their mission statement (of sorts) is straightforward and wholesome.
What started as quietly thinking about relaxing at the end of the day with an IPA quickly flourished from pining over the success of other craft breweries to the reality of creating floor plans and refining beer recipes.

Reverie Brewing Company's vision is to create and promote high-quality great tasting beer for beer-lovers to enjoy. We strive to be a positive and honest partner to the community and to brew craft beers with integrity while focusing on sustainability.
The team behind Reverie just seems like a nice, decent crew.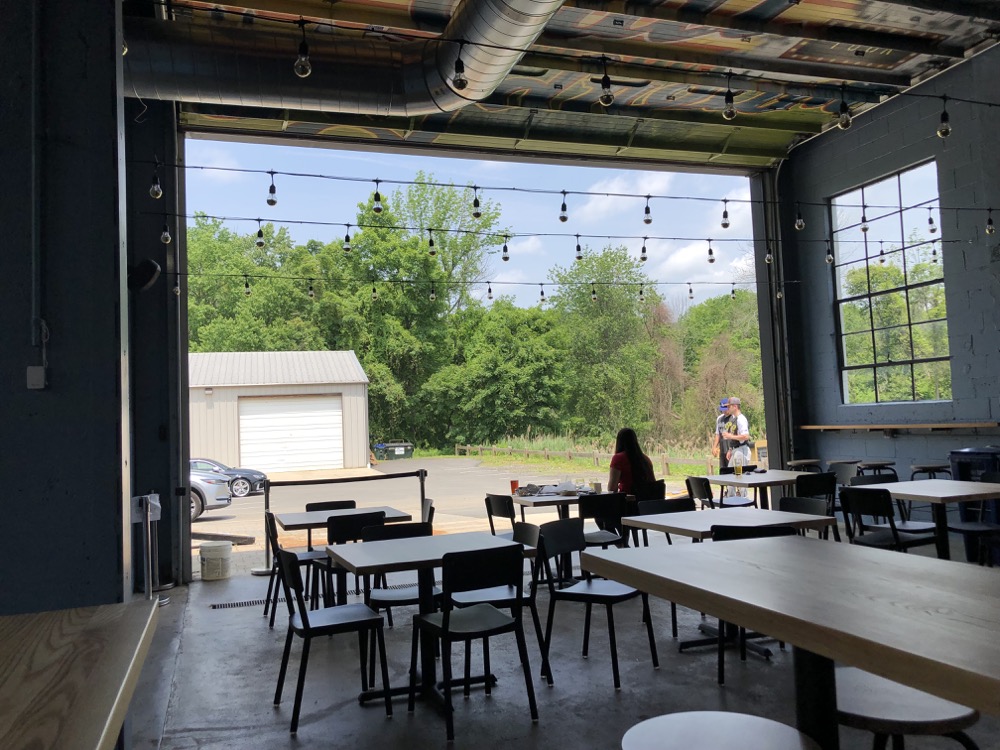 When I visited, I was served by an older gentleman who couldn't have been more kind. I love that no one knows who I am anymore so I get the normal random patron experience. I was asked if I was familiar with craft beer. If I liked anything in particular. Where I was from. If I was interested in learning about different styles of beer. It was wholesome.
I played along as I always do and selected a flight of four beers. I tipped the server an extra buck or two and he acted as though I just paid off his mortgage. (Which is odd, considering Newtown is in Fairfield County and you'd think he gets plenty of far more generous tippers.)
My visit was maybe eight months after they opened, so any kinks should have been ironed out. I'm sure the "taproom" space is a bit more homey now than it was in 2019, but who knows. It was cavernous and devoid of any warmth or personality when i visited. Perhaps that's why the employees were so kind – to sort of make up for the lack of personality of the building itself.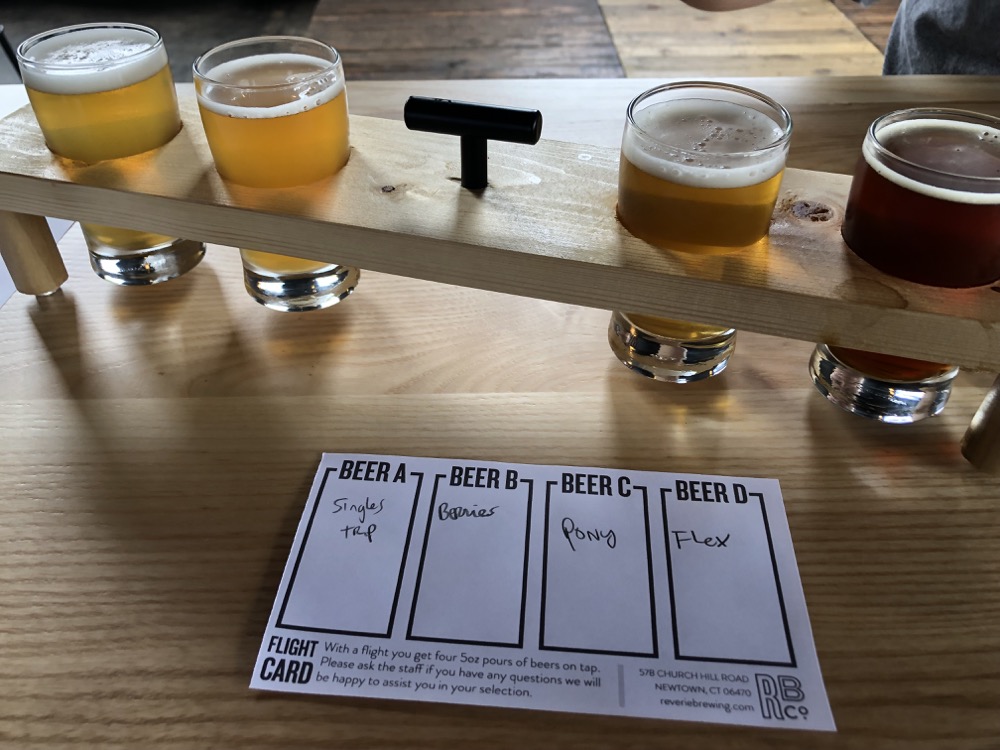 There were a bunch of bros playing some serious cornhole just outside the full wall-sized garage door. They were wearing matching uniforms – softball I assume – but I had a reverie that they were some sort of traveling cornhole bro crew who bought cornholing uniforms for themselves. This daydream gave me great joy.
Then I broke my reading glasses, which was only fair after silently mocking a bunch of guys simply having fun throwing sacks into holes before their company softball game or whatever.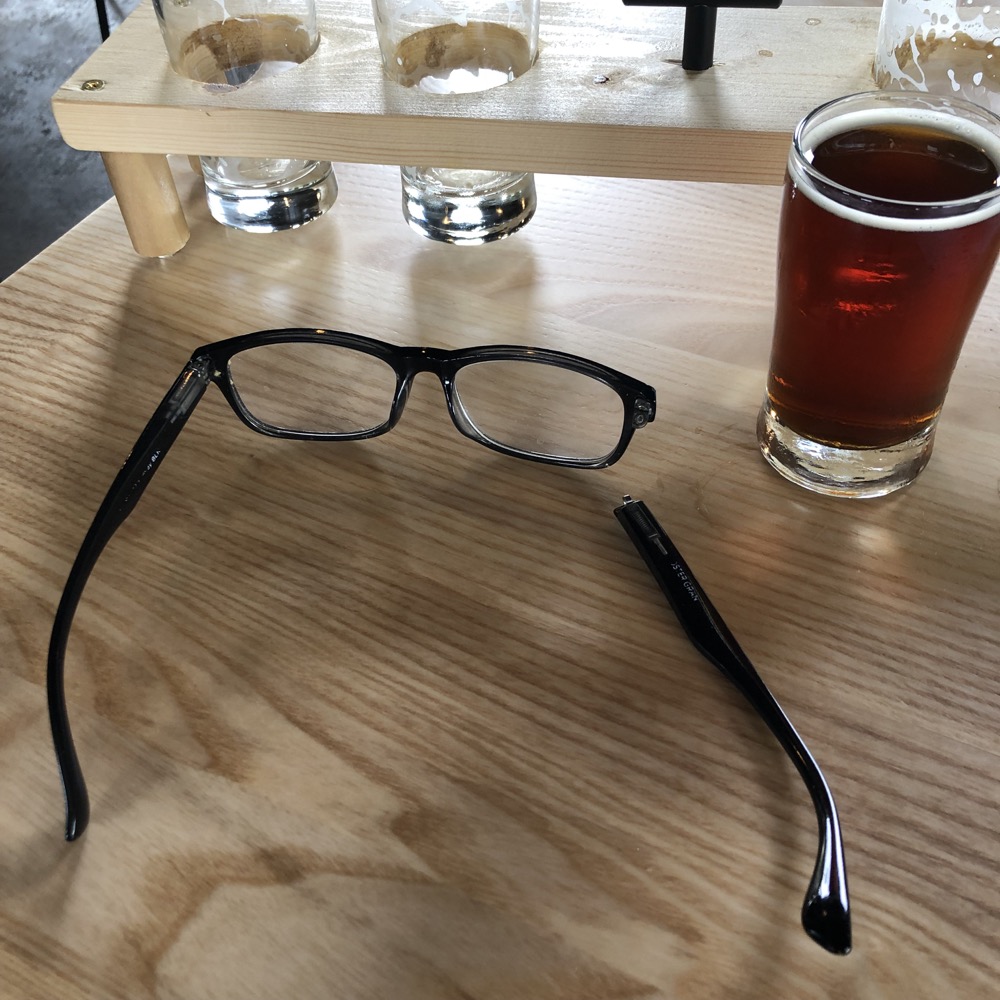 As I look back on my visit, I barely remember the beer. One could take that as a positive. Like, "Hey, they were pretty new to the scene and nothing was terrible! Good for Reverie!" Or, of course, somewhat negative. "Hey, these guys poured their hearts, souls, and finances into this new brewery and that jerk Steve couldn't even remember anything about their beer."
I'll say it's somewhere in between. Reverie just… is. Their beer is fine. Their SMaSH pale ale was standard, which is to say it was good. Golden Promise malt and Centennial Hops. I would guess you won't see a Centennial single hop beer again anytime soon. Too traditional, too "boring." Me? I daydream for the days of normal beer again.
Like the Pony IPA, which had Amarillo and CTZ hops. You know, a normal IPA. It was okay. Here's the thing – and this isn't a dig at Reverie at all. I've felt that all these breweries that feature "IPAs" and "beers" with mountains of lactose and fruit puree and donuts and crap in the pandemic era are often masking the fact that they struggle to make a straight up actual IPA.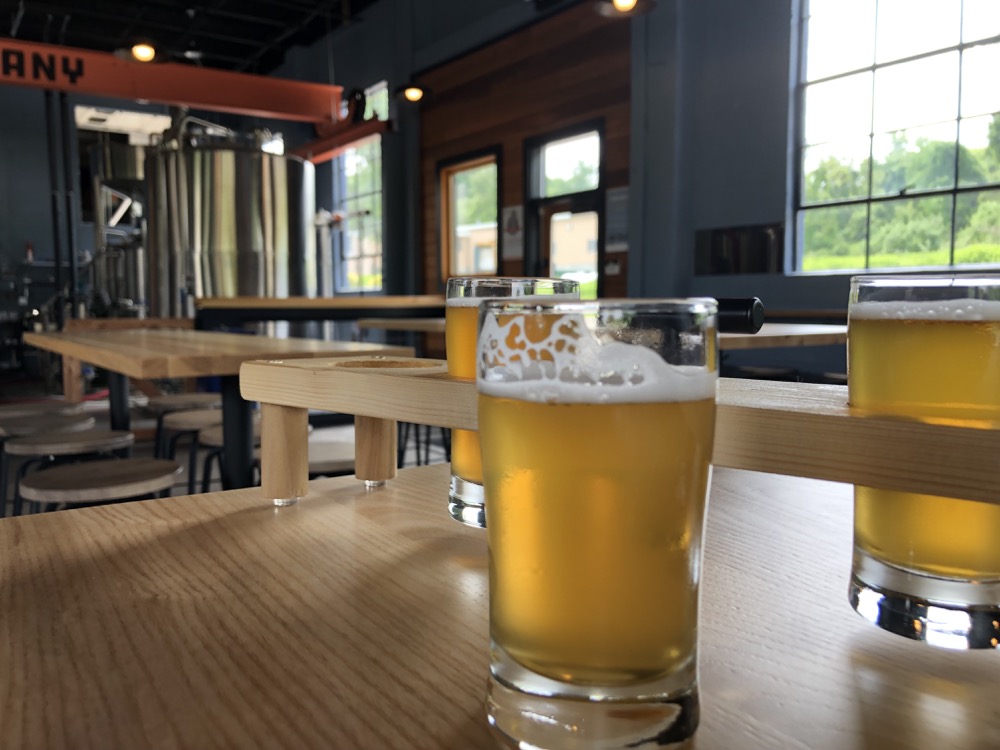 Again, I had no such diabetes beer at Reverie and I don't think they're even making them post-pandemic. I'm talking about all those breweries that are. Just an angry reverie of mine, sorry.
I also had some blonde ale with some sort of berry addition that was just not good. It felt like the berries were added to mask what was a poorly made beer and that didn't work for me – which is still very different from the above. Then I had their wee heavy… with peanut butter… that I was skeptical of while ordering.
I see they've kept this beer in rotation for years, so people obviously like it. Peanut butter porters and peanut butter stouts are okay, but peanut butter wee heavies are a wee ridiculous. In my opinion. Which is wee.
And there you have it. Reverie Brewing in Newtown. I see that post pandemic they are making hard seltzers and and even a hard cider which is rather uncommon. I can't speak to if they're any good, but good for them for branching out.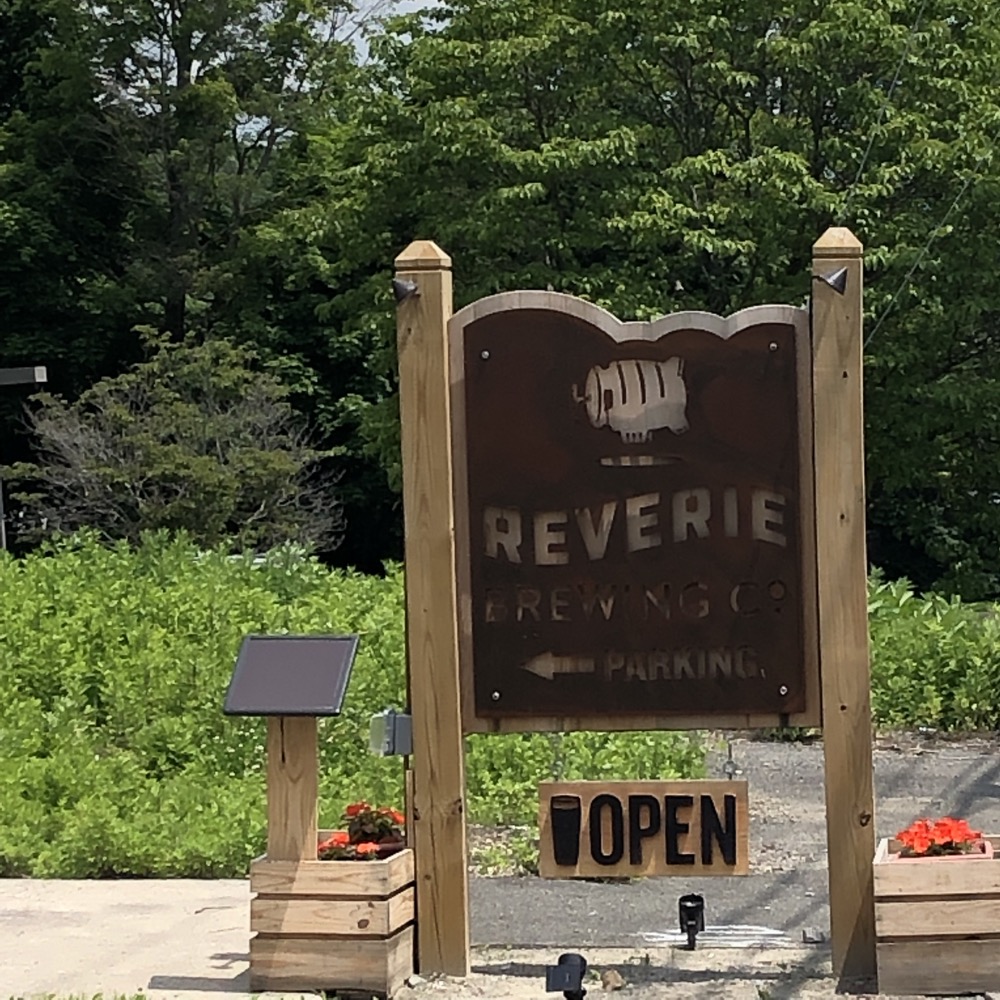 Reverie Brewing Company
CTMQ's Breweries and Brewpubs