The Hills Are Alive
NewSylum Brewing Company, Newtown
November 2020
NewSylum is such a doofy name for a brewery… or any business for that matter. It wasn't the founders' original choice, but they were sort of forced into it. But we'll get to that in a bit.
NewSylum was Newtown's second brewery and it opened just before the pandemic, give or take. You'd have to be crazy to open a brewery during the pandemic. With over 100 of them in Connecticut now, some would say you'd have to be crazy to open a brewery these days, period. (Of course, the people who say that are wholly unaware of the incredibly high success rate of breweries in Connecticut – in spite of the dang pandemic!)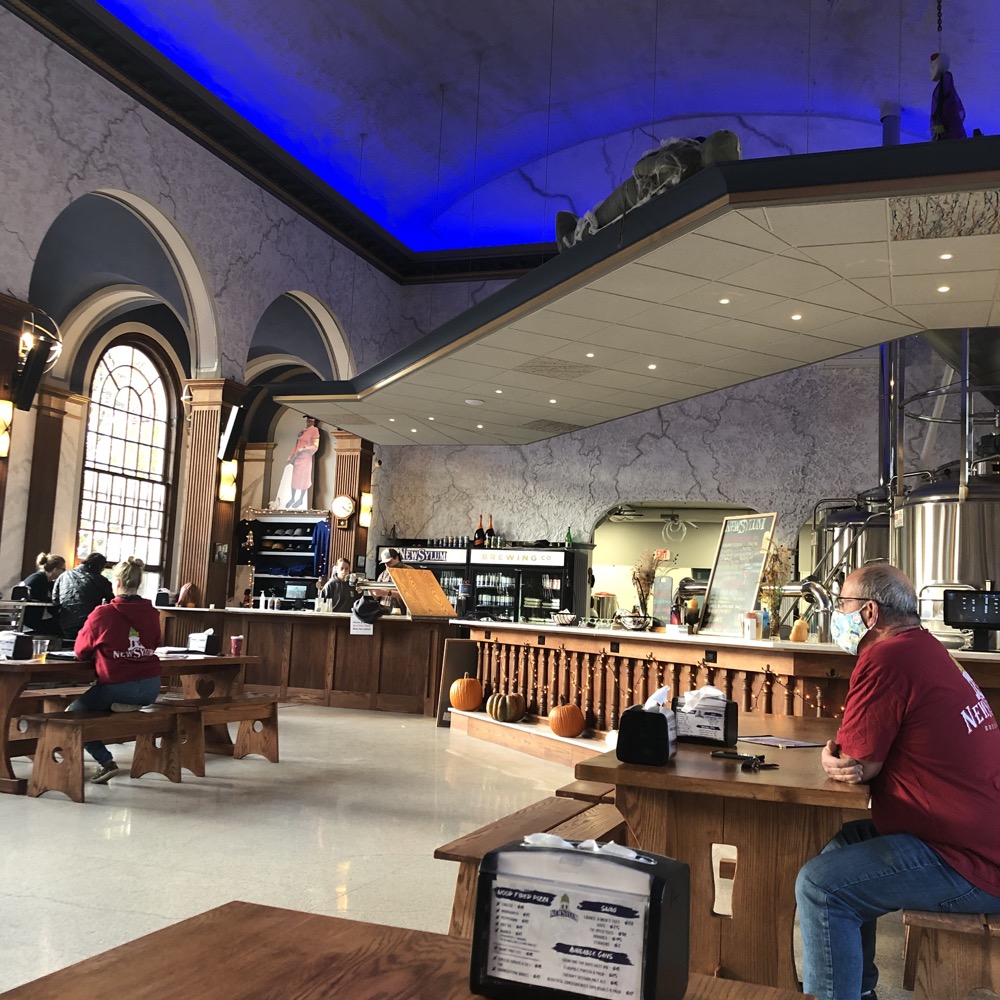 NewSylum's location is, let's be honest, one hundred times cooler than Reverie Brewing's location a couple miles away. I need to choose my words carefully here though, and "cooler" might not be the best. For this brewery is located in the 9,000 square foot Stratford Hall at Fairfield Hills, the former library and executive dining hall at the institution/hospital/asylum.
Fairfield Hills was shut down as a hospital in the 1990s and purchased by the town of Newtown in 2004. Despite recent renovations of several buildings, old and crumbling shells remain. Fairfield Hills is one of those throwback places; brick buildings dotting a bucolic hillside in a beautiful town… where they locked up mentally ill and intellectually disabled people and, ahem, treated them.
There are many stories from Fairfield Hills and similar "asylums" and "mental institutions" around the state and country. As I have a son who would have wound up in a place like Fairfield Hills, I have thoughts about the place.
It terrifies me. Buried beneath the grounds here is a system of deep tunnels, leading to confinement rooms, psychosurgery laboratories, operating rooms, and even a morgue. The tunnels have been sealed shut and the lobotomies have ceased. Now the campus has since become home to recreational and administrative buildings… amidst the crumbling reminders. The movie "Sleepers" filmed location shots here, by the way.
NewSylum was the first commercial venture at the campus and is a great addition to the campus and it can only continue to improve.
Now about that name… the original idea was actually M&D Brewery which was (smartly) scrapped in favor of Asylum Brewing. As you can imagine, that was either already taken or some brewery had some beer called Asylum Juice or something. Thus "NewSylum" was born. Newtown + Asylum of course. They have a whole spiel about how the asylum is turning over a "new" leaf or whatever, but they were forced to change the name out of legal compliance and no other reason.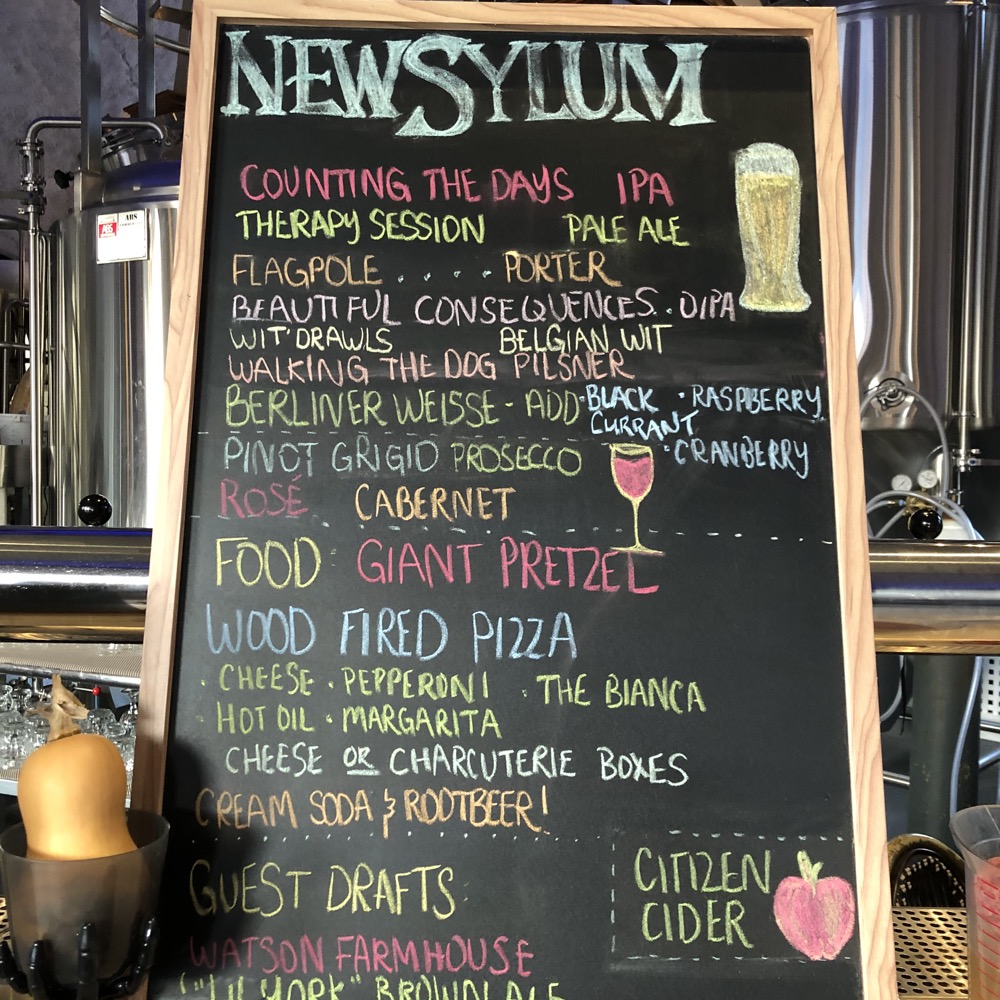 Enough about that. The owners have done an incredible job here; transforming the building's interior into a cool, unique taproom. And since it's located on a sprawling campus, there are plenty of walking paths and lawns on which to stretch one's legs.
Co-owner Mark Tambascio is a food and beverage veteran in Newtown and his partner Mark Lennon has run the beer bar My Place for years. They recruited John Watson to be their head brewer and apparently allow him to also own and distribute beers under his Watson Farmhouse Brewery brand out of neighboring Southbury. (Watson beers were on tap at NewSylum when I visited.)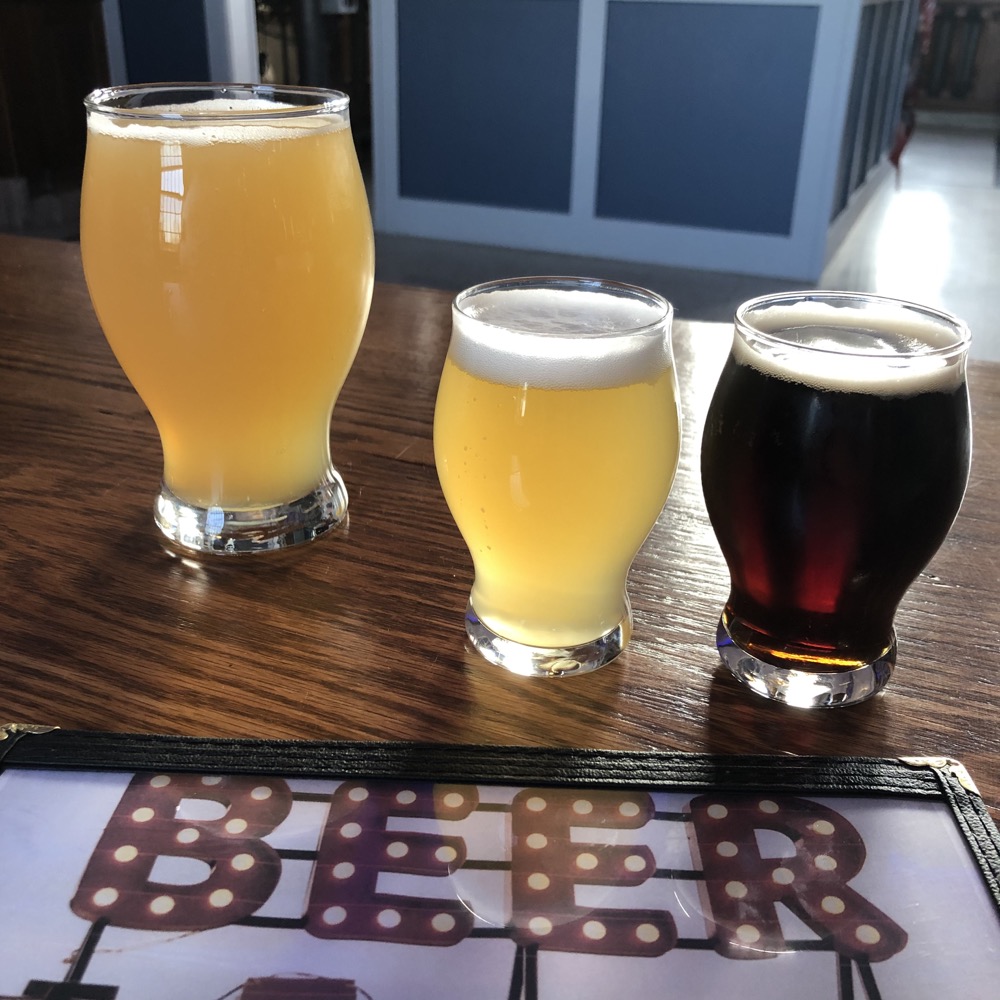 The brewery has a pizza oven and offers some other snacks as well. But I was here for the beer.
I first had a small flight of three beers: Watson's brown ale, a wit, and the pilsner. By late 2020 I was just so over and done with NEIPAs and DIPAs and heavy stouts. In fact, I was getting pretty sick of all beer to be honest. But being an intrepid reporter, I soldiered forth.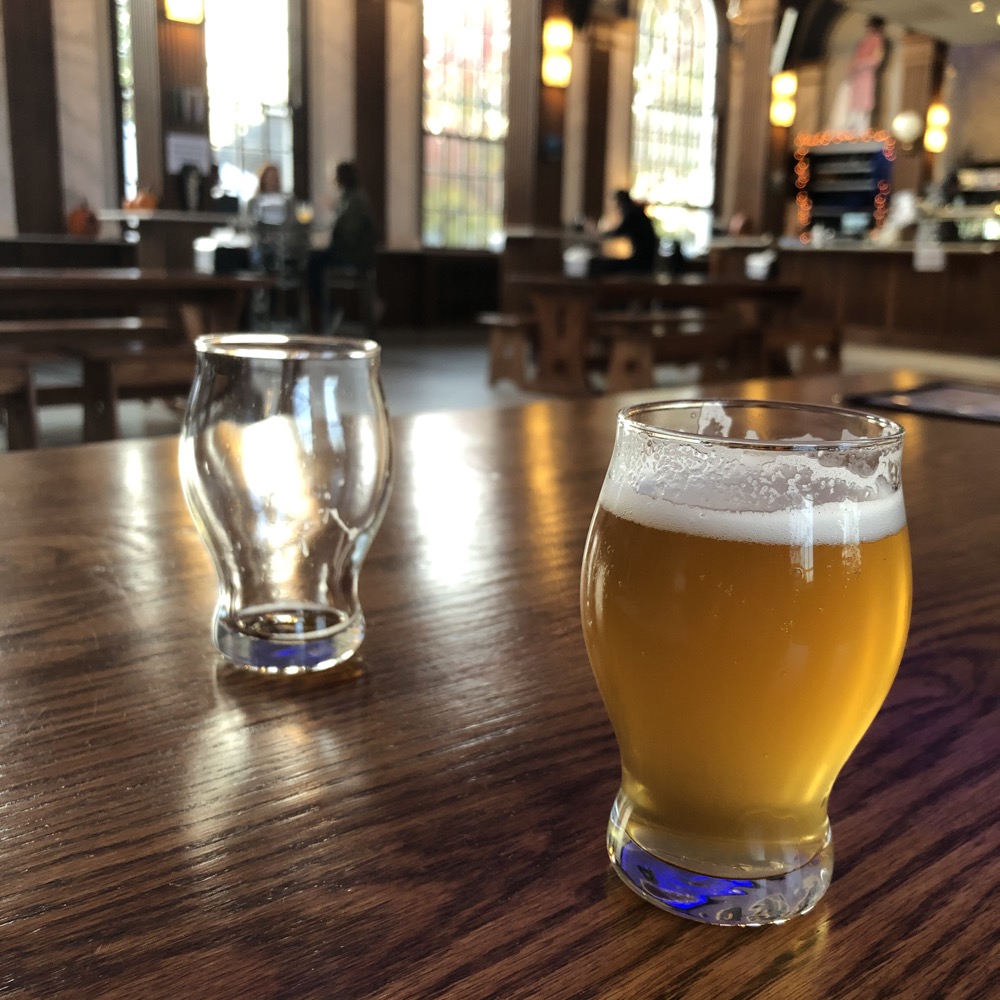 (I think I only went to one more brewery in 2020 and then didn't have another beer until June 2021. Seriously.)
The pils was clean and I really enjoyed the wit. This alone tells me that brewer Watson knows what he's doing. These two beers led me to believe that his IPA and IPA variants are probably fine. His brown ale, under his own imprint however, was entirely underwhelming. It lacked body and that certain chewiness I look for in a good brown ale.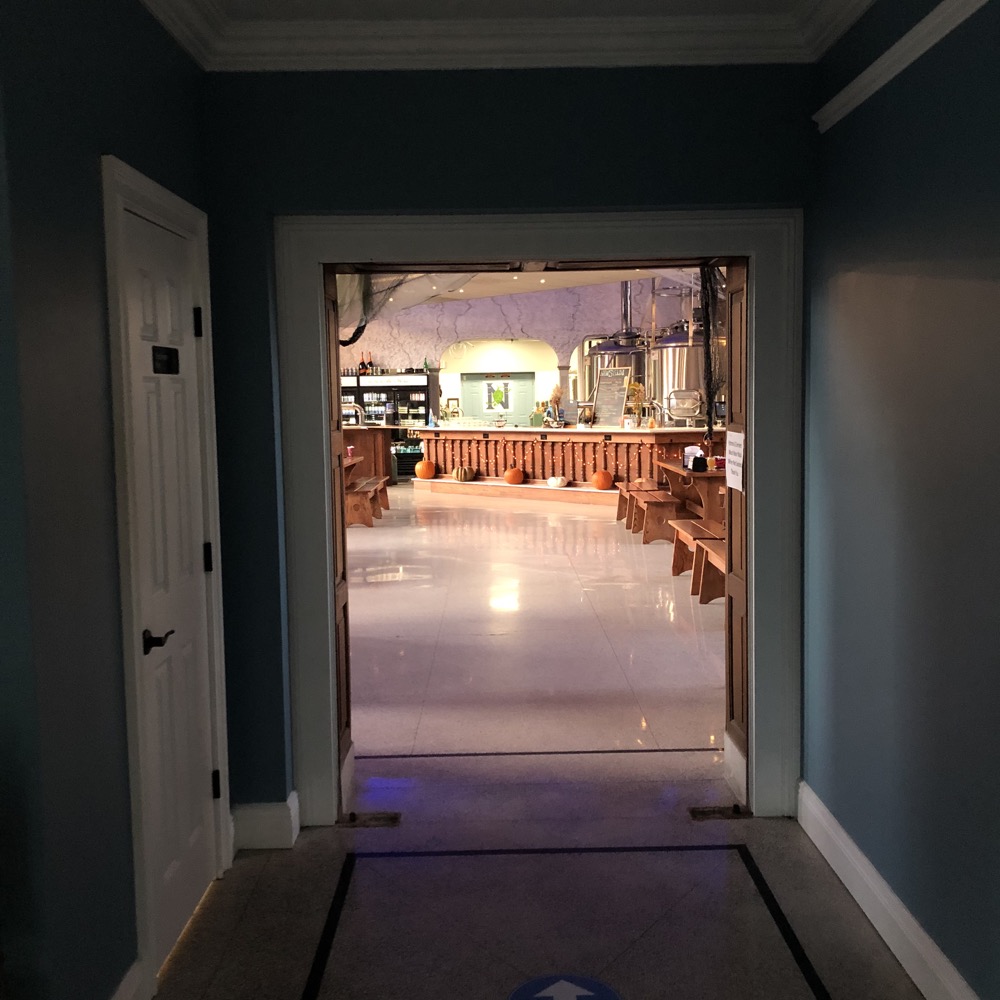 I had some time so I ordered a full pour of the pale ale and I stopped believing the NE/D/IPAs are fine here. (Though I have no idea.) The pale was trying way too hard to be a citrus heavy NEIPA or whatever. Brewers: Chill. Some of us like beer to taste like beer and not blow out our palates with "juiciness." Please? I beg you. Go drink Sierra Nevada Pale Ale and do that again. Remember? The beer you fell in love with 20 years ago? The one you strove to clone in your garage over and over?
Do that again. Trust me. It will be appreciated. A lot.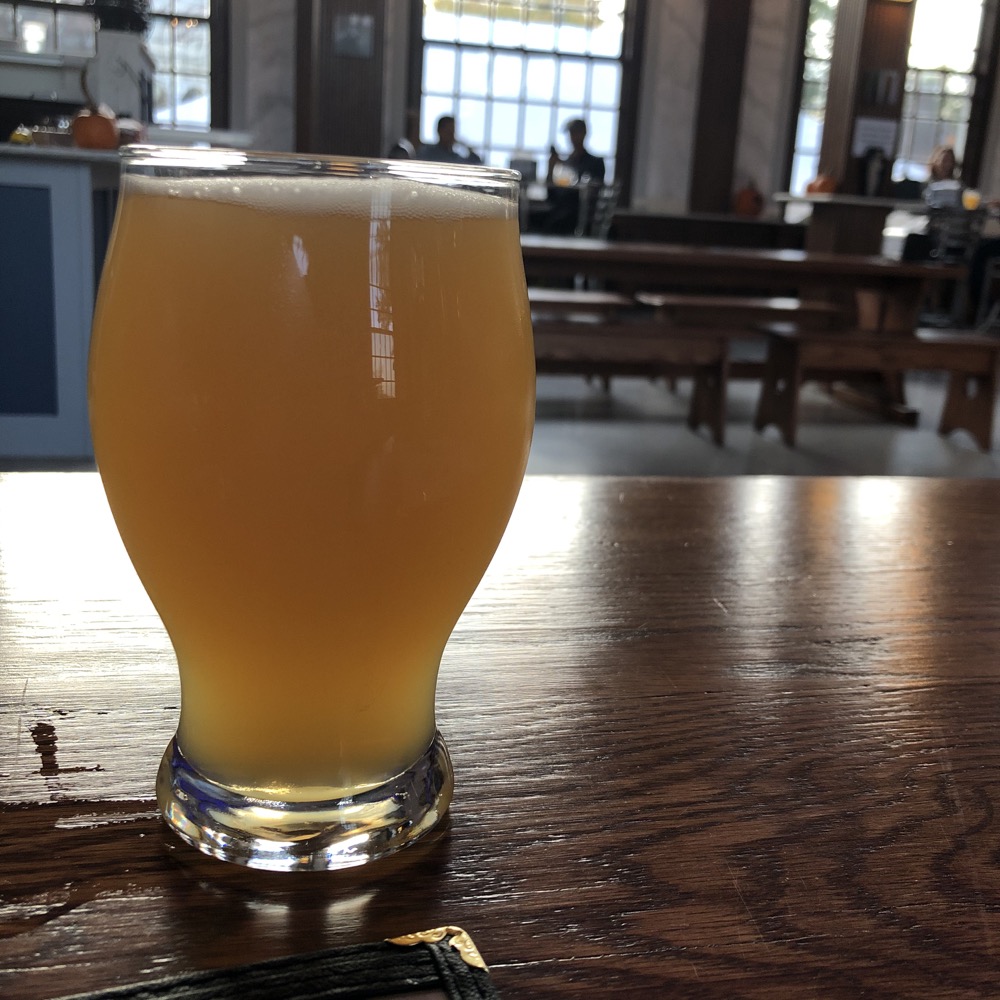 Regardless of my quibbles, the beers were pretty well made and simple tweaks will make them even better. Or maybe they're exactly what the people like? I don't know anymore. For me, the wit was the winner of the day.
Although, Fairfield Hills is the true winner of the day, as what the rehabbed NewSylum has done here is hugely impressive and will hopefully spur more private enterprises to open up shop on the creepy old campus.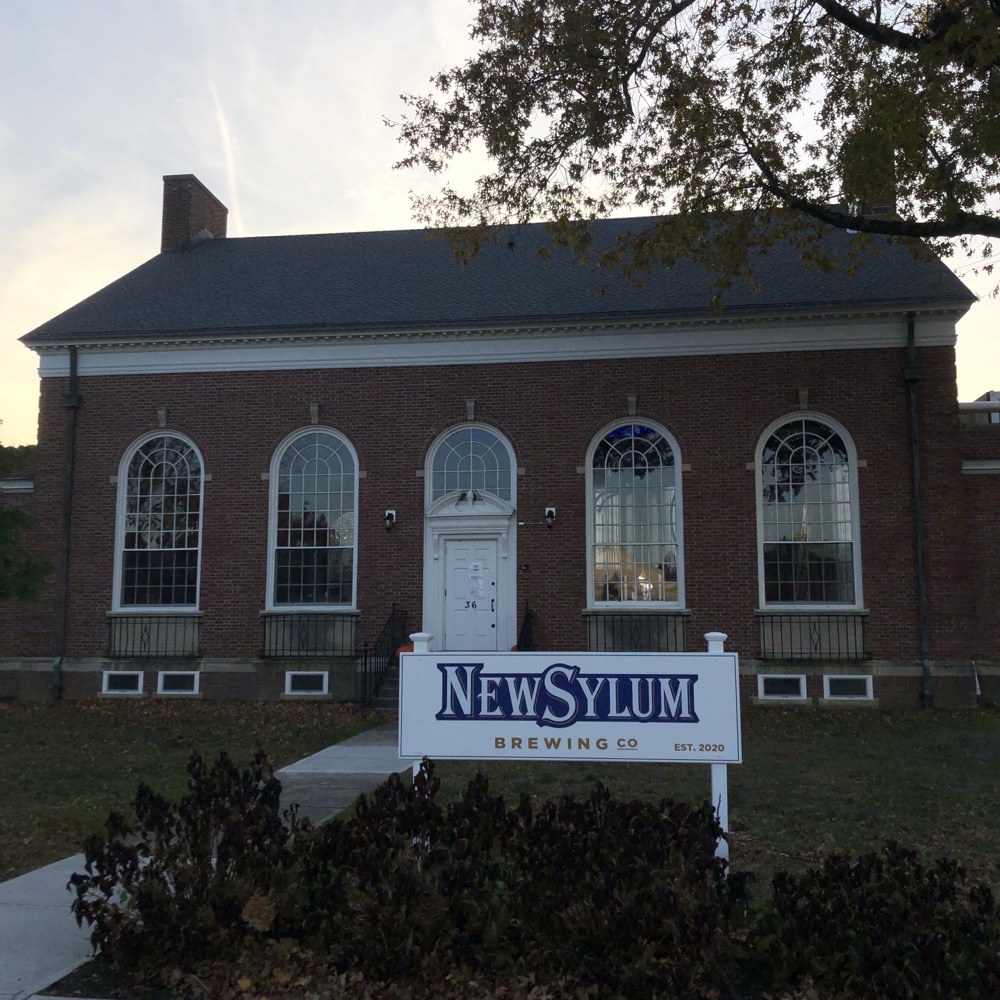 NewSylum Brewing Company
CTMQ's Breweries and Brewpubs