Just Plain Crackers
Torrington (Google Maps location)
November 1, 2014
The Ritz Crystal Room and Ritz Cafe have permanently closed, but everything on this page remains open as as January 2021.
This place confuses me. It confused me when I visited and it confuses me now as I write. The confusion stems from the fact that this one building in downtown Torrington right on Main Street houses a dozen disparate things.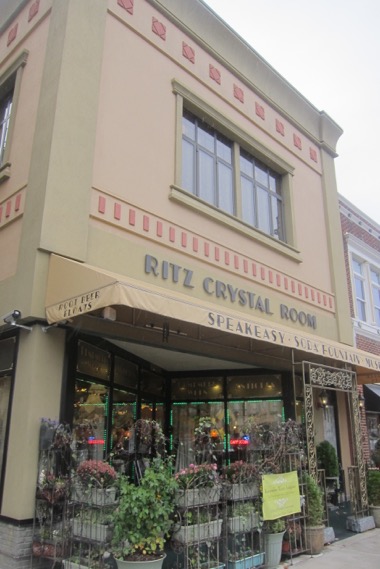 Those things are:
A Vintage/Antiques shop called Remember When
The Ritz Ice Cream Parlor
The Ritz Café
The Ritz Crystal Room restaurant
A consignment shop
A lamp repair business
Apparently a garden center (see above), and…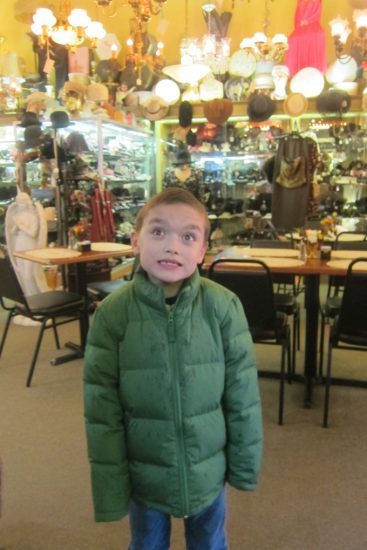 And two museums. Of course, it's those two museums that brought me and my family here on a cold, rainy November day. The two museums are called The Lighting Museum and the Style Museum. Now, normally two museums would merit two separate pages on CTMQ, but…
…But here's the thing: There's not really any tangible Lighting Museum or Style Museum here. As best as I could tell, they were just… names added to everything else that's here. Like, the Lighting Museum is the lamp repair shop, the antique light fixtures for sale, and probably some of the Ritz food businesses that have lighting.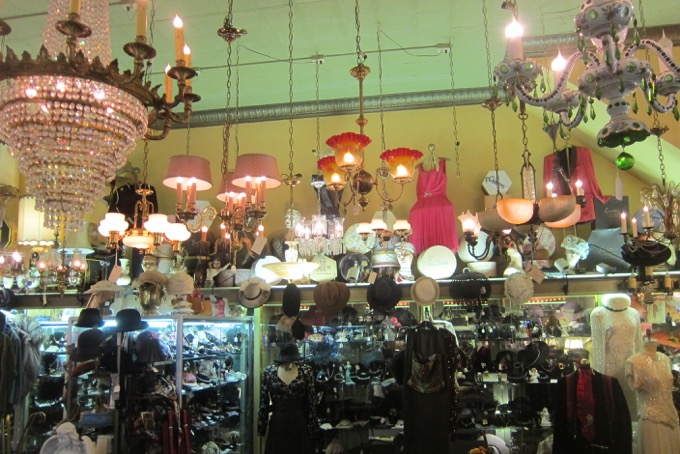 And the Style Museum is, um, let's say it's the section of the shop that contains hats and dresses and jewelry. Yeah, that sounds plausible.
Of course, no one loves the fact that the quirky proprietors of this mish-mash of a business have decided they run two separate museums more than I do! There's nothing quite like the feeling of having lunch with my family in Torrington at the now-closed Backstage Restaurant, where memories like this were created:
Anyway, there we were, eating our food, saying hello to our square plates, when I looked out across the street, through the miserable cold gloom and my gaze fell upon The Ritz Crystal Ballroom. (Which, remember, is also Remember When.) I was drawn to the old timey font and then I read the awning: Speak Easy… Soda Fountain… the rain kicked up and a truck was stopped at the light blocking the rest of my view.
The truck moved on and I could continue: Soda Fountain… Museum. Museum?! What the? "Eat up boys! Pay the bill beautiful wife! Do I have a surprise for you!"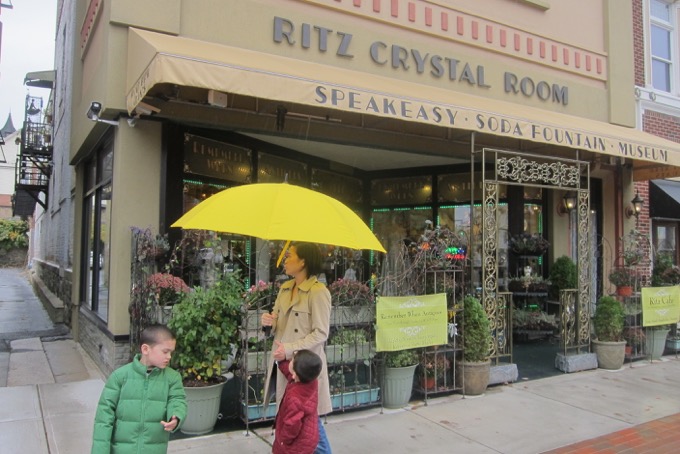 Going in to this place blind, with small children to fret about, certainly added to my confusion. It was just a store! With old stuff! And a café! I did discern that the "ballroom" with the "speak easy" bar was upstairs and not open in the middle of a Saturday afternoon. No worries, as there was no museum up there anyway.
I focused on the lamps and lighting. There are a lot of lamps here. Old lamps of various quality. Ugly lamps, really ugly lamps, moderately ugly lamps. They run the gamut. A Yelper had this to say:
Lamp repair seems to be a major thing here, and they'll also do appraisals (I don't know if that's just for jewelry or what.)

Fun to browse, but I haven't been tempted to buy. The guy repairing a lamp in the back said hi but didn't offer any help. And I think this is the kind of place where you need help.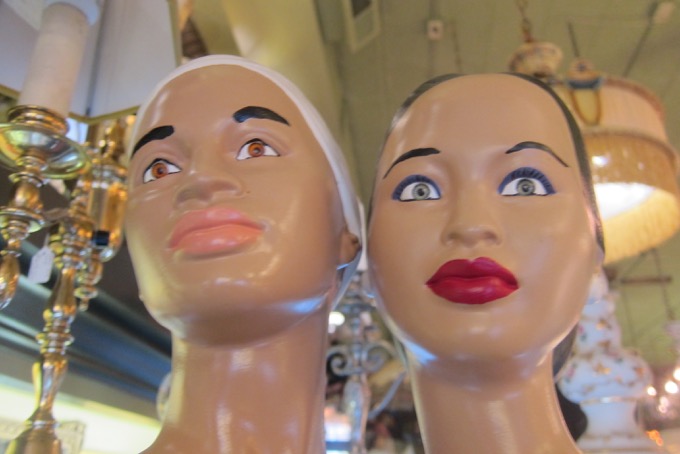 For what it's worth, Remember When The Ritz Garden Shoppe has the following explanation on their website at the time of this writing:
Step back in time to authentic items artfully displayed. Extensive selection of restored antique chandeliers, wall sconces, and lamps. Victorian era through the 1950's.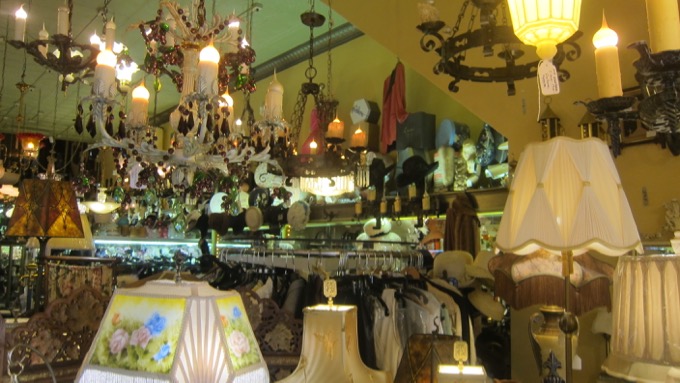 And that, my friends, is the Lighting Museum! Let's move on to the Style Museum!
Actually, before we do that, I still want to know what the heck The Ritzy Remembrances of Crystal Ballroom Past is. It really is everything I've said above, and it appears this business model is something like, "Confused? Good! Come in and try to figure us out!"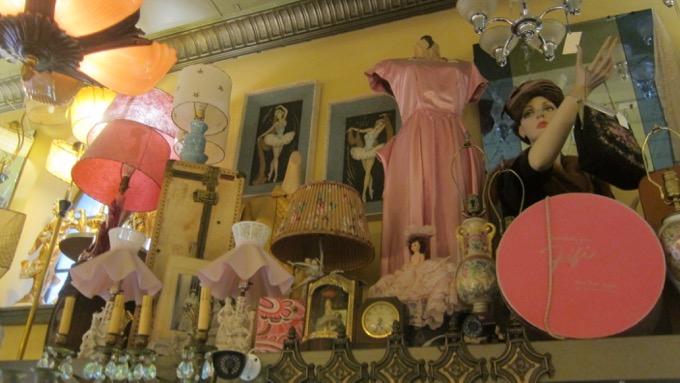 Their website's landing page states:
Welcome to the glamorous decades of the 1920's and 30's in Torrington's most beautiful, romantic and exclusive spot. The RITZ CRYSTAL ROOM at REMEMBER WHEN is Connecticut's first legal speakeasy lounge & event room. The 1919 Volstead Act almost destroyed the craft of the American bartender by outlawing the production and enjoyment of alcoholic beverages. However, in hidden rooms and basements, thirsty patrons still sought spirits. And so the Speakeasy was born, booming until the repeal of Prohibition in 1933. Patrons would be given a password to enter and imbibe. The term "speakeasy" came from a patron's manner of ordering alcohol without raising suspicion, as the bartender would ask the patron to "speak easy" when ordering.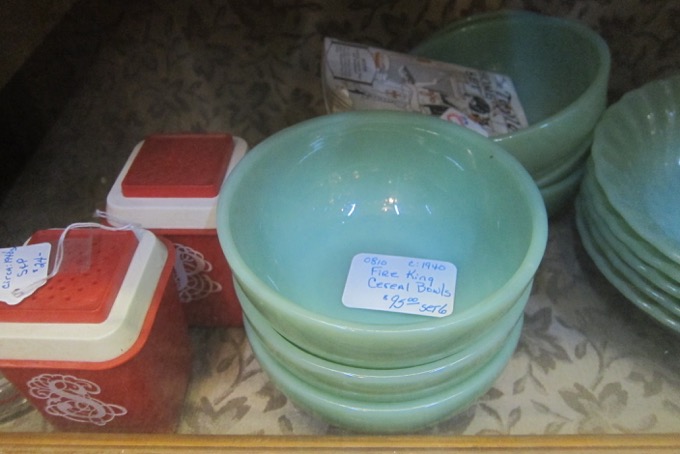 That… doesn't make sense. Okay, so their main thrust is the bar and dining room? That's fine, but let's get back to the Style Museum. Ah, yes, the Style Museum which is just… over… here? Over there? I'm here? Okay.
It's… the consignment shop. Which is also a vintage clothing shop with lots of jewelry and housewares and hats and stuff. The Crystal Ice Cream Speak East Parlor Lamp Repair business describes the museum as a "large selection of antique jewlery (sic), hats, handbags & accessiories (sic) victorian (sic) through the 1960s." Cool.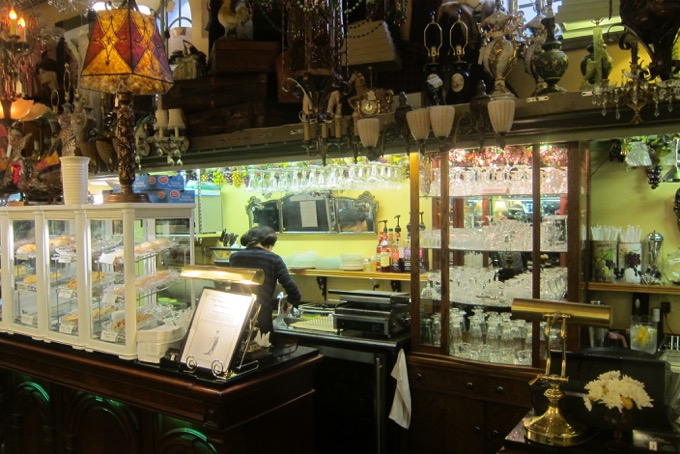 Sooooo, I think that's that for us? I'm sure people that are into $95 cereal bowls and $900 Deco milk glass pendants and lampshades get more out of this place than I did. And if you want to dress like Audrey Hepburn in "Breakfast at Tiffany's," I'm thinking that The Ritz Style Museum Café When Remembering Old Lamps is the place to go.
Which I'll keep in mind for next time I'm in that situation.