You Say Potato, I Say Delicious
Willington Pizza House, Willington
Multiple visits
Way back in the 1990's, some college or college-age students used to do a thing called "dating." This was before online social media and smartphone apps made such a quaint practice obsolete among that demographic. And if you went to UConn, as I did, your options for a "real" date were limited to pretty much three places: Bidwell Tavern, Willington Pizza, or Kathy John's. (There was that fancy schmance Italian place down 195, the Altnaveigh Inn too I guess.)
All three required a short drive and both felt like you were away from the 16,000 other yahoos on campus. Yours truly actually did go on a date to Willington Pizza one time though my memory is fuzzy. Hoang, on the other hand, was too busy studying for such nonsense and had never been.
Since then, they've opened a second location and have expanded their pizza menu. After attaining national acclaim for their red potato pizza, they've gone a bit nuts with some inventive options. There's a Big Mak pizza which sounds truly horrid (Plain crust with Thousand Island dressing, ground beef, onions, pickles, cheddar cheese. Topped with shredded Romaine after baking), a special St. Patrick's Day pizza that will never touch my lips (A plain crust with whole grain mustard aioli, corned beef, cabbage, red potatoes, onions, cheddar cheese and roasted garlic), and the pickle pizza… which I dropped 13 bucks on… for your reading pleasure. Enjoy.
Skip down to Skip down to the pickle pizza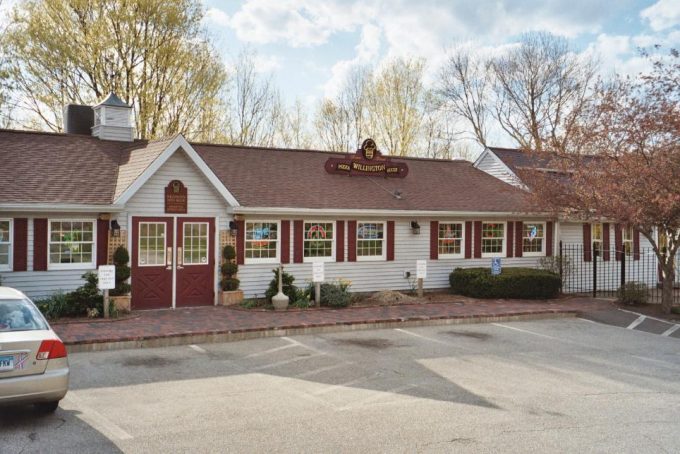 Red Potato Pizza
May 2009
Every so often over the course of the nine years I've known Hoang, the question of whether we'd ever had the red potato pizza from Willington has come up. I always said yes and Hoang shamefully had to admit she hadn't.
And so, on a random Sunday drive out Route 44 to Pomfret, having seen the sign for Willington whiz by, Hoang suggested we find the pizza place and she could finally join the ranks of the potato pie initiated.
I couldn't remember where the restaurant was, exactly, but I did drive straight to it as if I'd been there yesterday. (My powers of geographical memory are unparalleled.) Damian was getting tired at this point, so I ran in and asked how long it would take to make a small pie to go. Only "8 to 10 minutes!" Sold!
At this point, if you've never had it, you're saying, "Gross!" or, "Are you kidding me? That's not pizza!" Here's the thing – I am a thin crust devotee and pretty much just like minimal toppings. Heck, I'm not even a huge potato fan. But this pizza is phenomenal; a national award-winning pizza, first place for the most exotic pizza of the year. They've won a million awards.
Simply, it has a plain crust with sour cream, sliced red potatoes, sharp cheddar cheese, chives and your choice of bacon, broccoli or both. Since we don't eat bacon, we lost out on that flavor component but no matter. It looks like a regular pizza but obviously it's not.
It's not greasy or sloppy and holds together far better than you'd think. It tastes like it sounds like it would… but better somehow. Take CBS's Harry Smith, who upon reading the exotic pizza winners, blanched at the broccoli, made faces at the red potatoes and basically said "yuck" about the pizzas.
So the owner wrote Smith a letter and before he knew it, he was on CBS This Morning serving Harry the potato pie. Yes, Harry Smith loved it. Hoang loved it. Damian chowed down two pieces. And best of all, Hoang can say that she's finally had the dang red potato pizza from Willington.
In the many years since the above was written, we've had the red potato pizza several times now. And then in 2021, I saw another one of Willington's offerings…
The Pickle Pizza
March 2022
As noted in the intro, I will not be trying the "Big Mak" pizza or the one with cabbage and corned beef on it. I simply cannot go down a path of eating "weird" menu items around the state. Not to mention I absolutely hate Thousand Island dressing and corned beef. But I do like pickles, and Willington's pickle pizza has remained on the menu for a few years now. Let's do this.
I actually tried to "do this" twice prior to actually doing it. Once when I was near the restaurant their ovens were not working. Another time it simply wasn't available for whatever reason. Third time's a charm.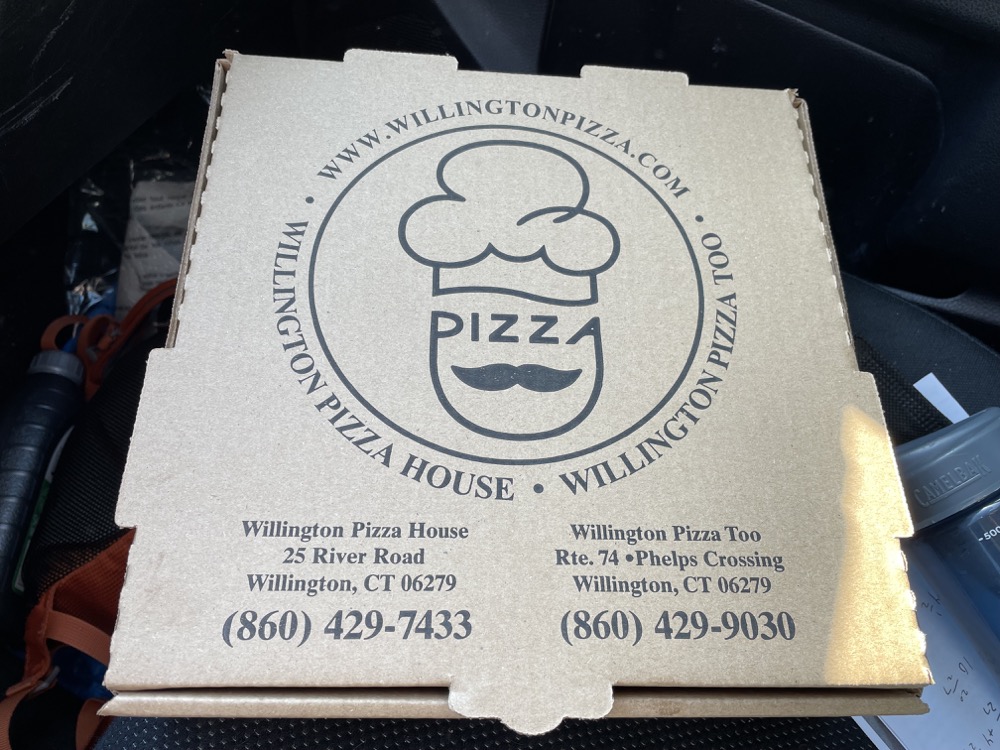 Now, the idea of a pickle pizza is somewhat revolting:
A plain crust with a zesty garlic Parmesan sauce with mozzarella cheese and lots of pickle slices. Topped with a light dusting of pickling spice
Like, why?
I don't know. But I ordered it, paid for it ($13), and picked it up.
A friend of mine mentioned that he's aware of a pizza available in eastern Connecticut with pickles – and I just found it. New York Pizza Company in Danielson offers the "Shirls Ya Girl" pie with "fresh pickles, fried pickles, and Boom Boom Sauce." That sounds stupider than Willington's offering, if only because I have no idea what Boom Boom Sauce is.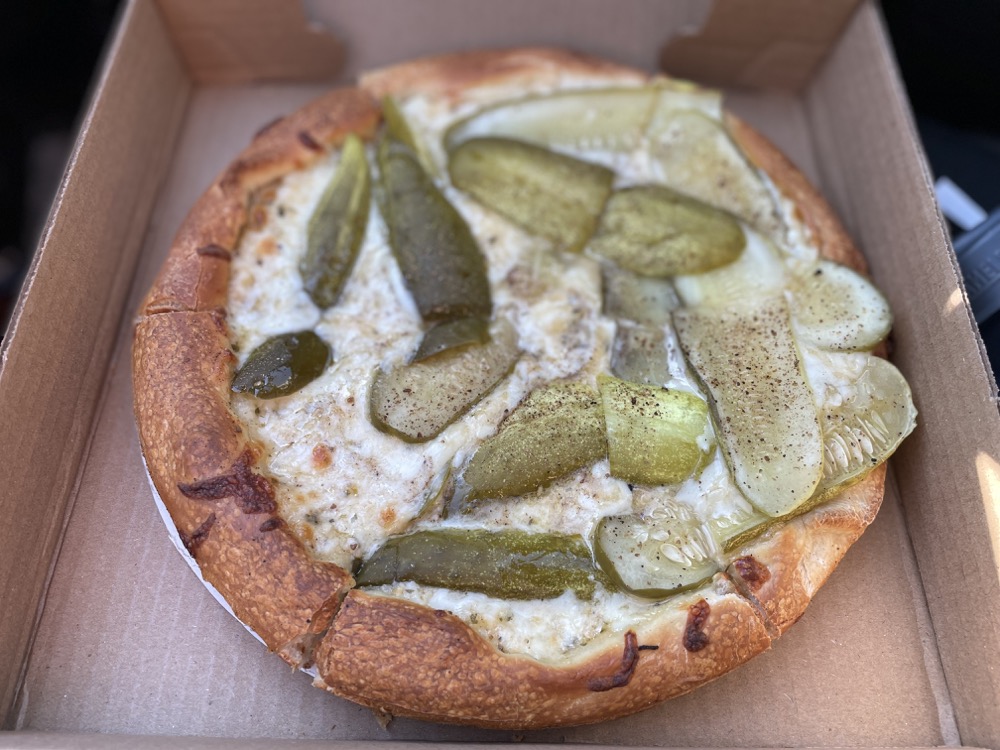 I just looked it up and it's apparently a thing: mayonnaise, sriracha, sweet chili sauce, yellow mustard, and tomato ketchup, garlic powder, onion powder, salt, and pepper. Sounds a lot better than Thousand Island I guess.
Willington's pickle pizza is… a pizza with a bunch of thinly sliced dill pickles on it. I grabbed a slice, lifted it to my mouth, and all the pickles slid right off with a glop of cheese. Okay, it's a messy pickle pizza.
I can't really describe it beyond it being a mozzarella cheese pizza with a bunch of pickles on it. You really need to like pickles to like this pie. And massive amounts of cheese. I was very hungry, so I ate several slices, but kind of hated the whole experience and even tweeted it may be the dumbest 13 dollars I've spent for this website.
It's heavy. And pickley. And didn't need to be invented at all. The construction of it is dumb; you can't bite through the pickles so you either get none, or find yourself slurping up a whole pickle length slice. That's no fun.
I wound up tossing half of it. There was just no way I could take that home to my wife and pretend it made sense.
I know there's a wacky combo pizza place out in Danbury (in 2022 anyway), but I think I'm done with dumb pizzas for dumb pizza's sake. Sorry.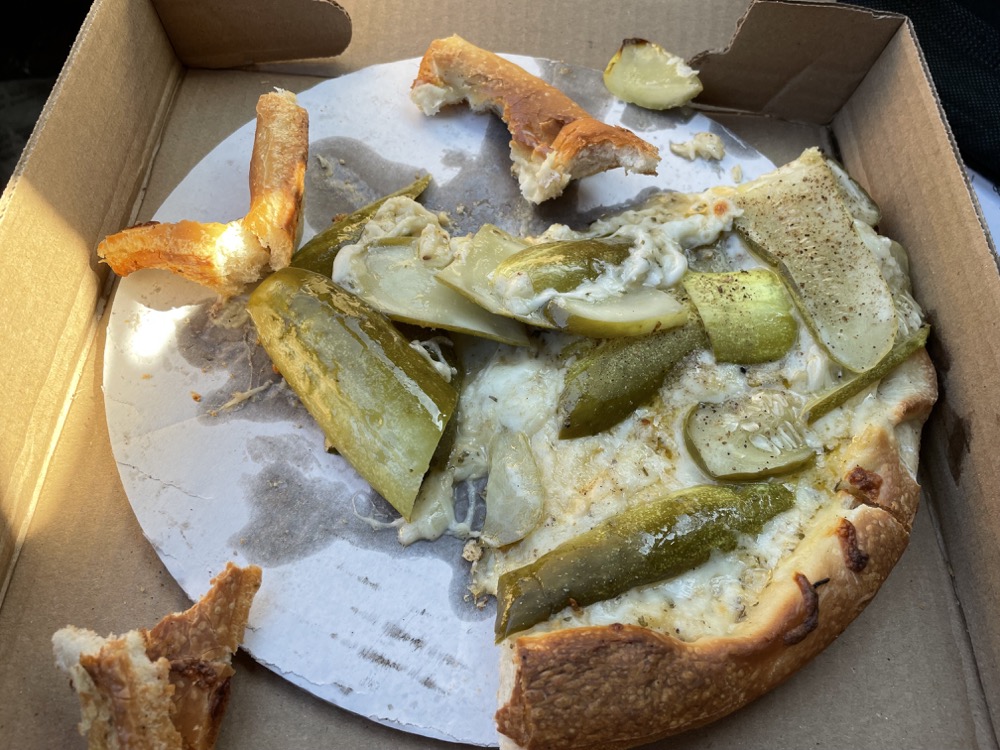 Willington Pizza House
CTMQ's Unique & Historic Restaurants & Food