I Made Up The Following Waterfall Names…
Broad Brook Falls, East Windsor
Paper Mill Falls, East Hartford
June & July 2019
I was listening to my friend Peter Marteka on NPR recently and he was discussing waterfalls with the host. He said something I found interesting… well, I found everything he said interesting, but one thing stuck in my brain: "People keep finding more waterfalls and documenting them now that everyone has smartphones and GPS – and that we keep encroaching on nature."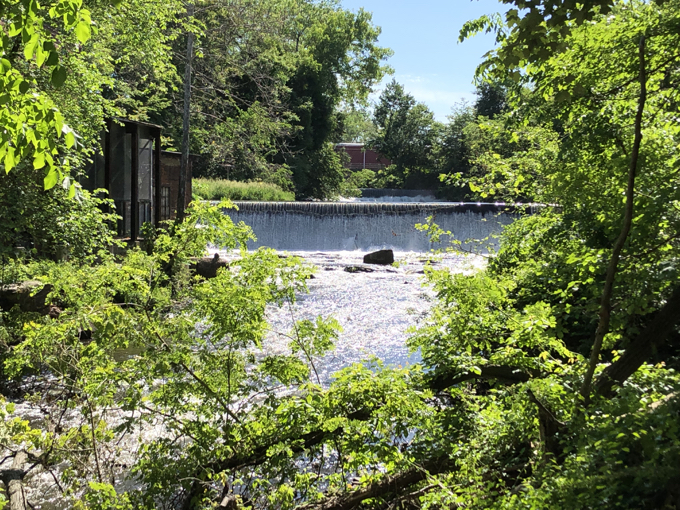 My list of falls is pretty darn extensive, gathered from the Connecticut Waterfalls book as well as a few online sources. So I don't expect to ever find falls that I don't have on my master list. When I do… I get exciiii- no I don't. I have an existential crisis because surely the falls I'm staring at aren't really real waterfalls. Furthermore, both falls below literally pass under roads that are fairly frequently trafficked, so how are they not on lists? Such mystery…
Because they aren't entirely natural falls? But there are a ton of questionable falls in the guidebook and on online. So it's weird that these two I'm featuring on this page don't seem to be listed anywhere… until now.

Broad Brook Falls, East Windsor
These falls are not called Broad Brook Falls. Or they might be. I have no idea. They could be called "Opera Falls" as they do fall right next to the Broad Brook Opera House. But no, the "Broad Brook Opera House" was actually just the temporary home of Enfield's Opera House Players.
We'll stick with Broad Brook Falls. They pass underneath Broad Brook's Main Street along Broad Brook. Broad Brook is, of course, a section of East Windsor. (I feel compelled to mention that Broad Brook Brewery, which was in the non-Broad Brook section of East Windsor for a few years, has moved to Suffield which is obviously not Broad Brook. I <3 Connecticut fake towns.)
These falls are dammed falls, meaning they aren't true falls. But the dammed portion, on the eastern side of Main Street, are a precursor to the waterfall falls on the western side. After speaking with a guy at the Agonist Gallery next to the western falls, I became convinced that I should include these falls on CTMQ.
"They are surprisingly beautiful," he said. I don't know about that. They did surprise me, sure. But with so many much more beautiful falls around the state, I'm calling this waterfall… just okay. Let's head down route 5 to East Hartford…

Paper Mill Falls, East Hartford
These falls are not called Paper Mill Falls. Or they might be. I have no idea. They could be called "Hockanum Falls" as they are part of the Hockanum River. But we already have a Hockanum Falls upriver in Vernon, so that doesn't work.
We'll stick with Paper Mill Falls, as I'm guessing the series of dams that help the falls fall were built for the mill. Or, just as likely, they were built to create the Hockanum Reservoir. Again, like Broad Brook Falls, the dam(s) here are not solely responsible for the tumbles, so I feel like adding them to my waterfalls list.
I found these falls by hiking the Hockanum River Trail through East Hartford. There I was, bumbling along an "incomplete" section of trail between Hillside and Forbes Streets and voila! Waterfalls! Two of them!
After driving around to the Paper Mill and poking around the Scotland Street area, I noticed there was another dammed falls! This series of falls are way prettier than you'd expect – and way prettier than my pictures show.
Again, I'm sure both falls' lack of list inclusion is due to the dam nature of the dammed things. But something struck me about both, and dam it all, I'm including them on MY waterfalls list.