When Milling About Rockville…
Hockanum Falls, Vernon
December 4, 2016
Falls Fact: 15-foot high cascade
[Note: For my Waterfalls pages, I'm using the town designation used by the Connecticut Waterfalls 2013 guidebook. Because sometimes it's fun. It won't surprise you that these falls are listed as being in Rockville, which wishes it was independent from Vernon. But it isn't. Sorry Rockville, you ARE Vernon. Even though "Rockville" sounds so much cooler.]
Hockanum Falls are certainly not the prettiest and they are located behind dilapidated vacant mill buildings in the Rockville section of Vernon. Yet, they are cool in their own way.
There are two sets of falls as the Hockanum River emerges from its underground causeway and tumbles down a series of falls. (If you've ever driven past the mills going down the hill on route 74, you can appreciate the falls' fall behind the mills to your left.)
Unfortunately in late 2016, the upper portion of the falls is inaccessible, as the state is doing some sort of remediation at the mill site. But no matter, I was able to check out the lower set over the dam behind Ano-Coil.
Interestingly, the upper, true, Hockanum Falls are behind a mill that housed millworkers from 1868 through 2012! From Dart's Stone Mill to the White Manufacturing Company to the J.J. Regan Company to Amberbelle Textiles in the 2000's, that building has seen a lot of textile manufacturing.
Unfortunately, Amberbelle permanently closed in 2012 and is now a brownfield project of some sort. And I couldn't get to the upper falls. Hurrumph.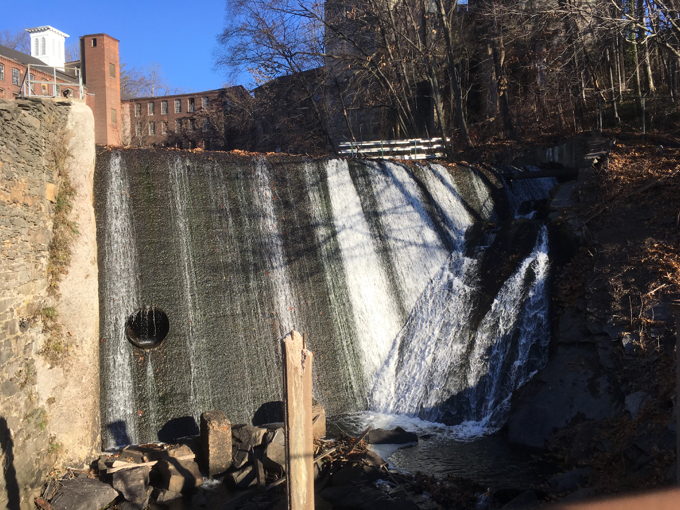 Oh, and Ano-Coil was acquired by Presstek in early 2016, so that building will probably no longer be as it was when I visited too.
Accessibility: You can literally see this waterfall from the Ano-Coil parking lot. Or park in the lot and walk the 10 feet to it.