You Can Take the Broad out of the Brook…
Broad Brook Brewing, East Windsor/Suffield
October 2013 & September 2020
As I try to do with long-standing (by Connecticut standards) breweries that have changed drastically since their beginning, I will split this page into Original East Windsor Broad Brook and Fancy new Suffield Broad Brook.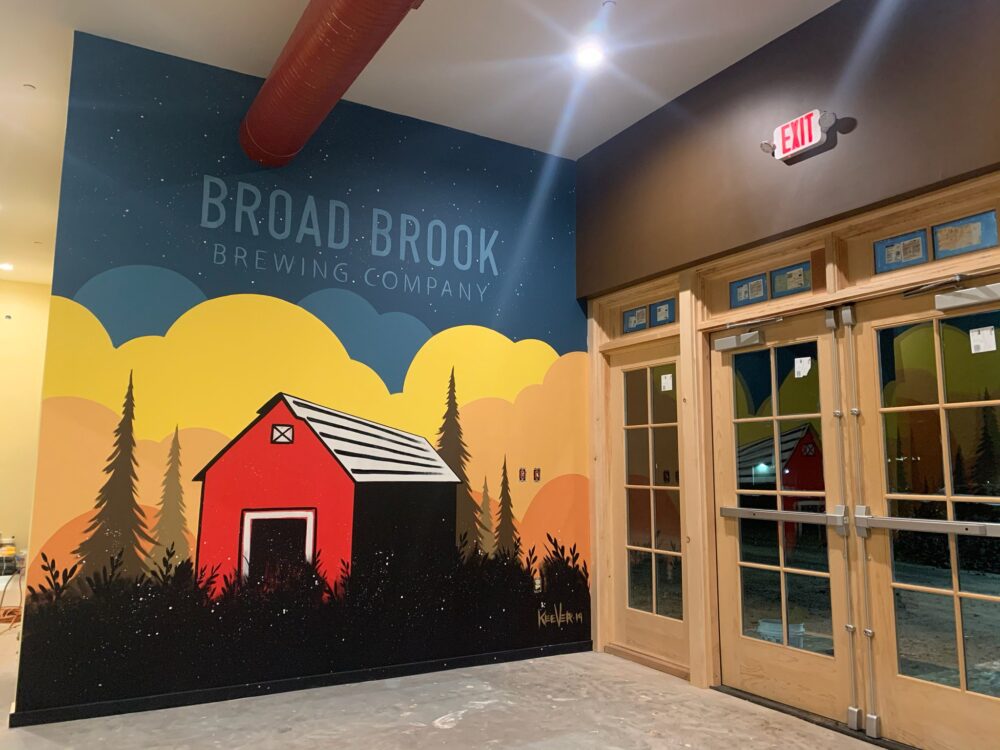 Except in this particular brewery's case, there's a third time period that cant be ignored: The two and a half YEARS between the two breweries being operational. That's right, Broad Brook left their original building when their lease ended 12/31/2017 and didn't open for business at their new place until mid-2020.
That wasn't quite the plan, but we'll get to that in a bit. Let's go back to the original spot.
October 2013 – December 2017, East Windsor
Broad Brook Brewing opened during the second wave of the Connecticut brewing renaissance. It was near my workplace so I had the opportunity to go every so often after work. This was cool back in 2013 and 2014 because they used to have these little downlow "happy hours" when local restaurants would bring in a bunch of free food for patrons in the know. When it started, there was always more than enough food for the small crowds.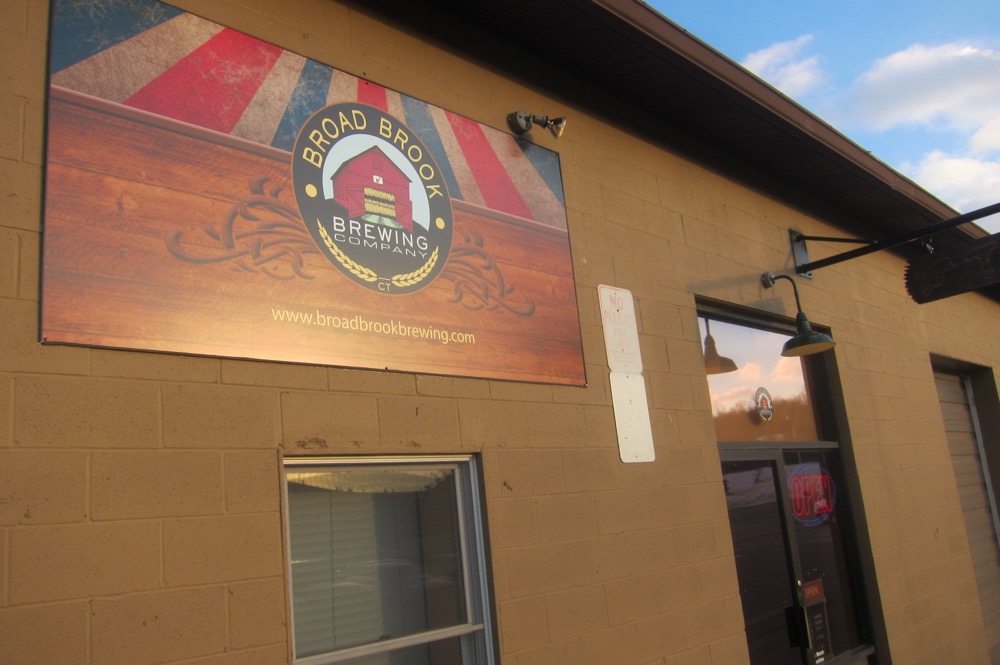 Once word got out, however, it became impossible to keep that going in any workable way. Ahhhh, Broad Brook 2014… back when they focused their brewing on the classics. Broad Brook Ale. A red ale. A brown ale. A porter. An altbier! Their first descriptions of their IPAs focused on the "strong malt character" and "mild hop profiles." You scoff now, but Broad Brook's location, in a scruffy shopping center next to a pool hall – yes, an actual pool hall – in a fairly blue collar area, meant that their clientele would be new to craft beer to a degree.
I kind of miss having a lot of these normal beers being available to me now. The brewery's space was a rather well done homage to the area's tobacco farming past and present. Barn elements were present and tobacco equipment and photos were placed around on the walls – but not to an annoying TGIF's extent. It was locally and historically thematic, and I liked it.
Only one beer Broad Brook brewed back then ever jumped out at me as something to get excited about: the Pink Dragon Wit. But nothing they brewed was poorly made at all. The stout was a stout. The Octoberfest was an Octoberfest. The old school IPAs were a bit behind the trends of the time, but whatever, they were fine and I liked them well enough.
It was only when they started dipping their toes into the new styles of hop-heavy IPAs and DIPAs that their inexperience showed. Some of those early efforts were rather bad. I chalked that up to former homebrewers moving out of their comfort zones; something correctable over time. But back to that ridiculous sounding Pink Dragon Wit for a second.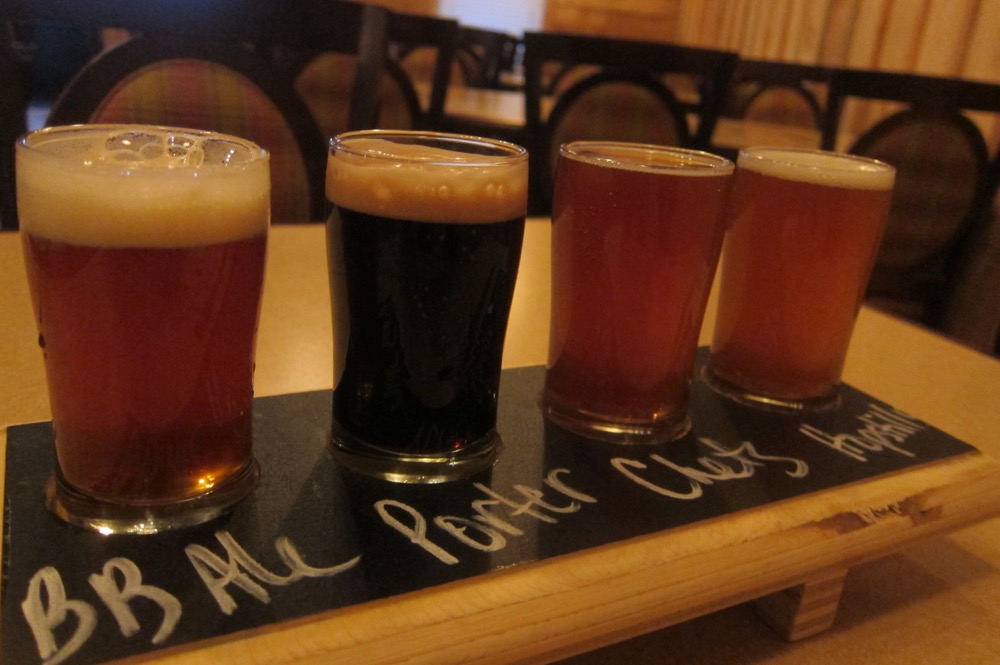 They are still brewing it in late 2020 and it's still great. I have no idea why I love this beer, but I do. It's a traditional witbier that they add hibiscus flowers to at the end of the boil, thus giving it a pinkish hue and a unique flavor. They carbonate it with tiny, tight bubbles too which really works with my favorite pink beer.
Actually, Broad Brook is still brewing a lot of what they were making back in the old East Windsor spot. One beer they likely won't be brewing again is the Made in the Shade IPA. This was a very good collaboration with Cigar City Brewing and I thought it would really put Broad Brook on the map. However, I don't think it moved their needle as much it should have.
As far as their classic styles and sticking to them? Good for them. Of course now that they have massively expanded their capacity and have reacted a bit to consumer tastes, they brew a lot of new styles as well. That's all well and good now in 2020 and beyond, but what the heck happened in 2018?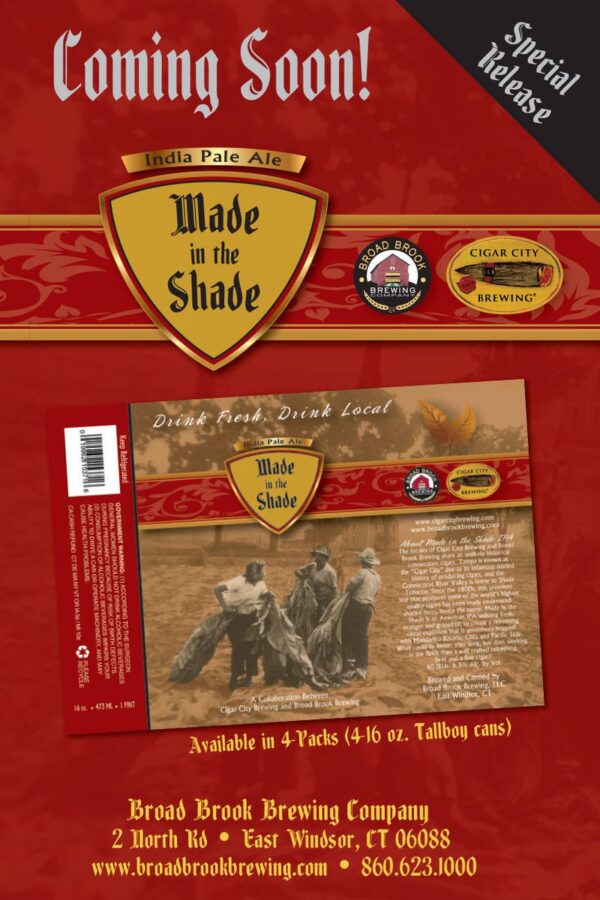 We will be closing our Sophia's Plaza location in East Windsor on January 1, 2018. This brewery's location is where we officially became a CT Brewery, a place where not only beer was made, but many friends also, we'll always remember where we started, and the people that made us who we are!

While we go through a short time without a taproom, we'll continue to work diligently to open our much larger, and more productive brewhouse and taproom in Suffield, CT, where construction is well under way. We're beyond excited to share this new building with all of you, we just need a little extra time to make it exactly what it should be for all of us! Our expected opening is Spring 2018.
Insert ominous music. For the "Spring 2018" became the "Summer of 2020."
January 2017 – June 2020, Nowhere
Okay, they weren't "nowhere," as they did keep the brand alive by contracting at… I forget. Thimble Island or Stony Creek. Or maybe it wound up being both over time. It's not important at this point at all. Although it is mildly interesting to me that Broad Brook is the only brewery I ever noticed not printing the provenance of their contracted beers on their labels.
I can understand that they ordered a ton of labels assuming they'd be brewing in Suffield at that point, but… I also understand this was a pretty flagrant violation of some federal law or another. But how did they get to the point of contracting for two years?
It's a sordid tale, full of angry accusations, engineering minutia, and general all around screw-ups. I've heard rumors about what really happened behind the scenes regarding some of this, but I'll try to separate them from what was printed in newspapers.
The owners, Eric Mance and Tom Rossing wanted more brewing space for their original location. They wanted a canning line and, well, they wanted what every brewer wanted in 2016. So one story is that they attempted to make that work by simply expanding their footprint at their location. And when that didn't work, they explored finding a spot in East Windsor to build their own bigger place.
Neither of those worked out. Why? That's where the story gets a bit murky.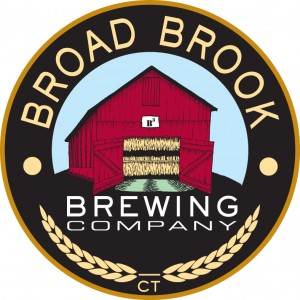 Reports suggest that there may have been friction between the brewery's owners and East Windsor town officials that preceded the decision to move. At a board of selectmen meeting in early October, a resident asked why the brewery was leaving town. Selectman Steven Dearborn replied that "things between Town Hall and the owners were not working out to[sic] well," but he declined to give more detail, according to meeting minutes.

The Journal Inquirer later reported that the strife was related to conflict between Mance and East Windsor building inspector Rand Stanley, including disagreements over requirements for a certificate of occupancy and disputed valuation of the construction project. Stanley did not return requests for comment.
I heard at the time, from two people I trust implicitly, is that one or both of the owners simply refused to work with the town and were quite unreasonable about it. They essentially drove themselves out of East Windsor.
So they looked and ultimately found a piece of property right on route 75 in Suffield, right next to Bradley Airport. From that point, it was "goodbye East Windsor, hello Suffield." Smooooth sailing. Terms were agreed to with leaving the original spot at the end of 2017 and exciting plans were drawn up for Suffield.
And Suffield was excited! Reading through some of the press from the time, this quote from a town official proved to be prescient:
O'Neill said that while for most businesses the lot would be difficult to build on because of its topography, a natural hill on the property works in the brewery's favor, allowing the large tanks used for fermenting beer to fit next to the building without digging into the ground.
Well, the first part is the prescient part. The second bit, not so much. As you can guess by now, the build out did not go well. They started quickly, laying the foundation and then… whoops. That "difficult topography" proved a bit too difficult. At some point there was some sort of inspection and Broad Brook failed. A stop work order was issued and then…
And then here's where more rumors come in to play. I've been told, again by reputable sources, that the owner(s) once more did not approach the setback quietly. They were justifiably upset and that became anger and that resulted in the town of Suffield taking their sweet old time with anything moving forward. This made Broad Brook more angry, which put them at odds with the very entities and people necessary to move their project forward. I'm sure it was pretty ugly. Broad Brook ultimately had to concede to the structural remediation requirements and they got moving again.
In the meantime, Problem Solved Brewing moved into the old Broad Brook space and were up and running in 8 months. *Shruggie emoji*
By the end of the day, there was a big ditch along most of the east and north sides of the building, about seven feet deep and four feet across the bottom, tapering back up to grade level. With that, the soil pressure against the tall foundation walls was relieved, as required by the stop work order, removing any danger of collapse. Mance had maintained that there had been no danger, but the interpretation of the building codes by Building Inspector Ted Flanders, supported by respected engineering analysis, had prevailed. Hence the excavation.
The time between the stop work order and actual work being done was a long, long time. I can't imagine what this ultimately cost Broad Brook in the end, but I do know that their architectural firm lists some stats on their site for the new building:
Location: Suffield, Connecticut
Project Type: New Construction
Total SF: 18,650
Construction Cost: $4.2 million
Oof. I'm not sure this even accounts for the whole remediation/rebuild stuff. Even once they were able to build again, it still took quite a long time. Then the pandemic hit in early 2020. Man, I feel for these guys. But they persevered, stuck it out, probably leveraged themselves up to their eyeballs (I have no idea of course), and here we are. In late 2020 with a beautiful new brewery in Suffield.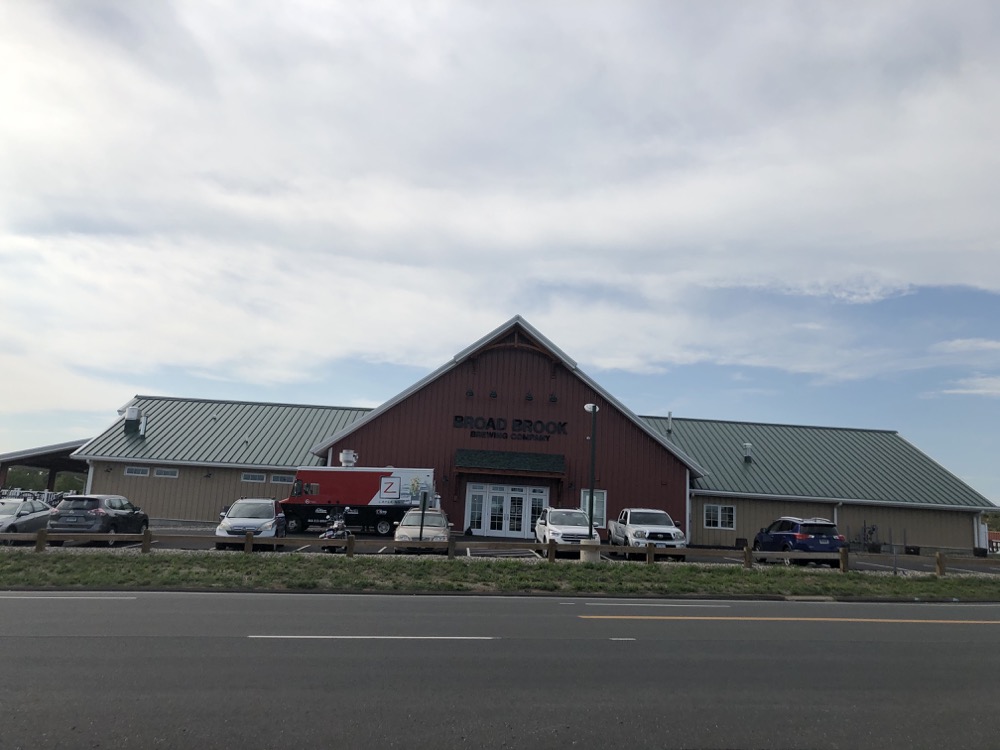 June 2020, Suffield
Three times bigger. A brand new canning line. An outdoor deck and a large handsome bar. There's a fully functional kitchen with food like Bavarian pretzels, cheese and charcuterie plates, burgers, sandwiches, and a slew of specialty pizzas. Broad Brook is now a destination.
The deck allows patrons to view planes landing and taking off at Bradley with the backdrop of West Suffield Mountain. Special shout out to the brewery's social media person who has captioned a photo of people there with, "Enjoying some flights on the deck." Well played.
The building was designed to look like a combination of a tobacco and dairy barn, and I think they've done fairly well with that. After all the headaches, set backs, and negative press, the brewery has turned out to be pretty darn nice. Heck, it better be for the price tag. What's that? That price tag is still causing problems for the Broad Brook boys?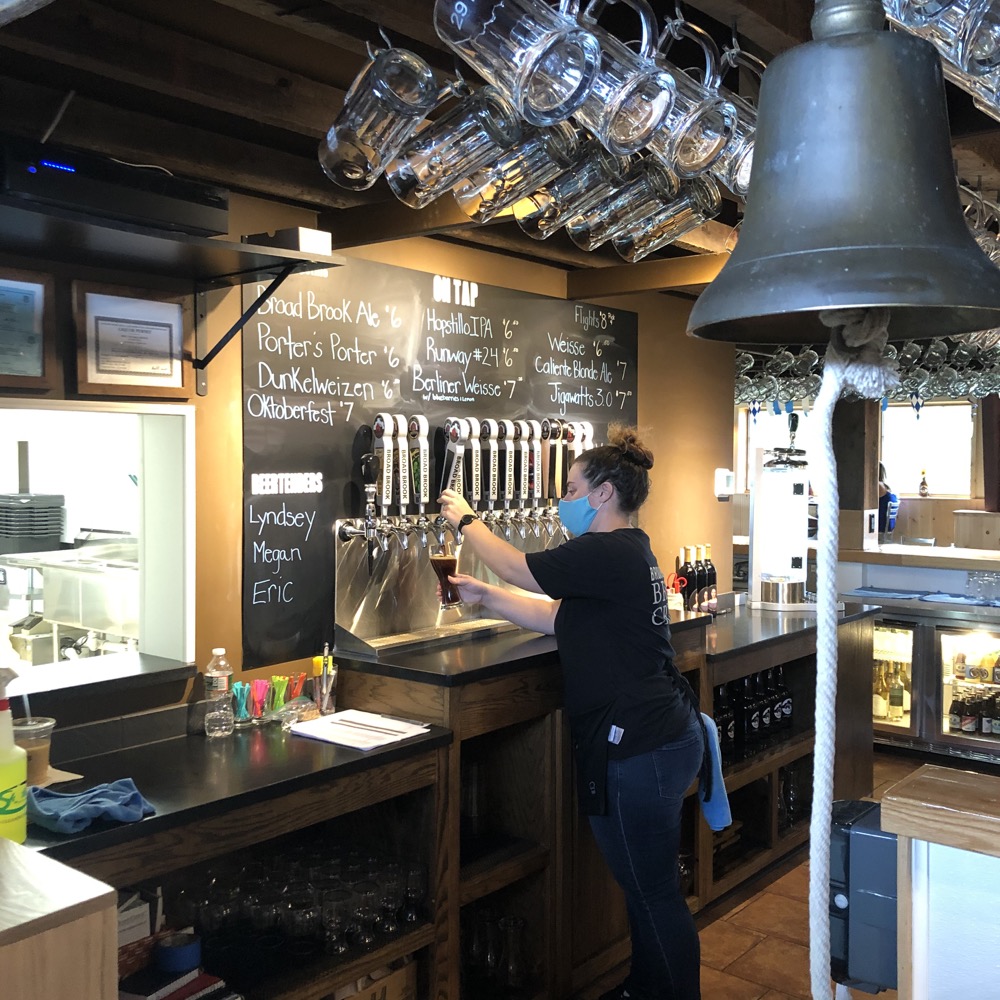 Sigh. Yes. Yes it is. In addition to all of the costs you'd expect, Suffield is still owed the money it spent for having outside engineers review the building's plans after problems arose during construction. Fifty grand more and Suffield wants it pretty quickly. Oof again.
Lesson: Don't be a jerk to entities that can financially hurt you.
I realize I've spent way too much time on the business side of things, but Broad Brook's lengthy closure was such an extraordinary situation, I felt I must. Plus, it's the rare time that a brewery's financials were made so public. The people who found and own independent breweries face more obstacles than most people realize, and often operate on such thin margins – and are usually indebted for many, many years – that I think it's important to shed some light on this stuff.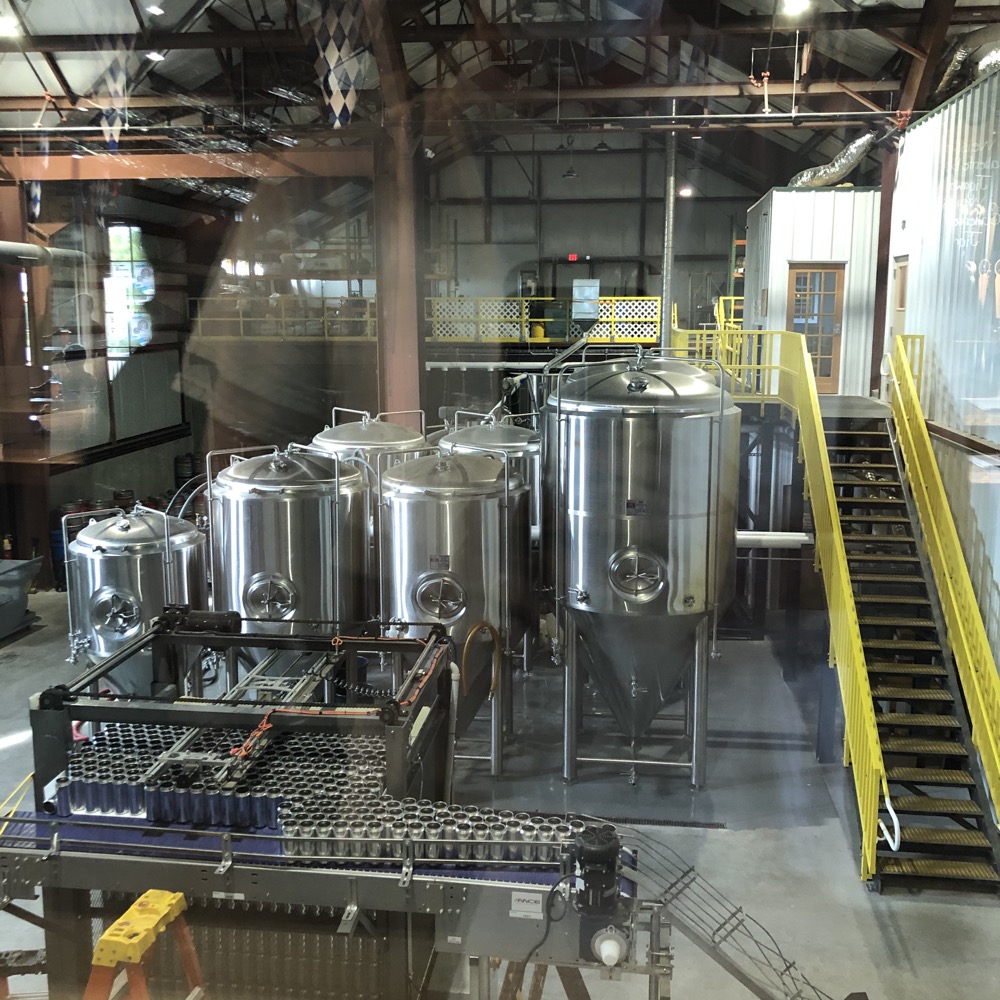 Probably a bit unfair to Broad Brook to use them as the example here though. *Shruggie emoji*
Then again, they have (or had for many years) a beer named "Rooster Inhaler." So maybe all this hassle and hardship is karma for that awful beer name.
Just inside the front door is a huge Dean McKeever painting of a stylized Broad Brook. McKeever is known for being Tree House Brewing's label artist, but he's worked for many other breweries, skateboard companies, and other concerns. He's done several labels for Broad Brook and I generally enjoy his work, but…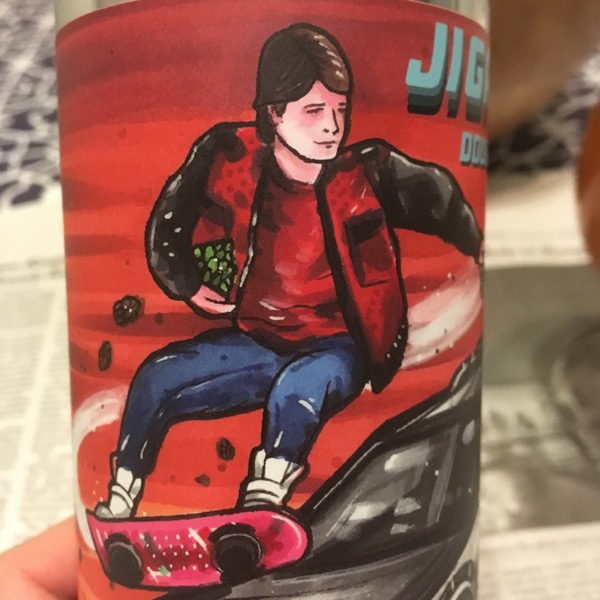 C'mon now, McKeever. (That's Michael J. Fox from Back to the Future on Broad Brook's Jigawatts can.)
There's an entire wall of glass in the taproom that allows customers to gaze upon the fascinating brewing operation from on high. The space is large and comfortable, and the deck is the cherry on top.
During my visit there were maybe a dozen beers on tap; mostly all the classics. I'm happy to report their NEIPA efforts have improved quite a bit from five years ago and that the Pink Dragon Wit is still on point.
Broad Brook is a necessary brewery. Sort of like a bridge brewery for people who want to see what all the hubbub is about but isn't quite ready for the high end stuff. Nothing is bad, nothing is wacky, and nothing will get me to drive up to Suffield just to purchase it. Which is fine. Broad Brook Brewing is now more or less the best bar in Suffield (Bobby V's, five minutes away, is in Windsor Locks if you're wondering) and that's perfectly fine.
I hope they get out from under their debt, I hope their food is good, and I hope the pandemic does magically disappear somehow. For everyone's sake.
Breaking late October 2020 news: An industry friend has told me that Broad Brook sued the town and the builder and won a $1 million settlement. I cannot, however, find anything in the press to confirm this.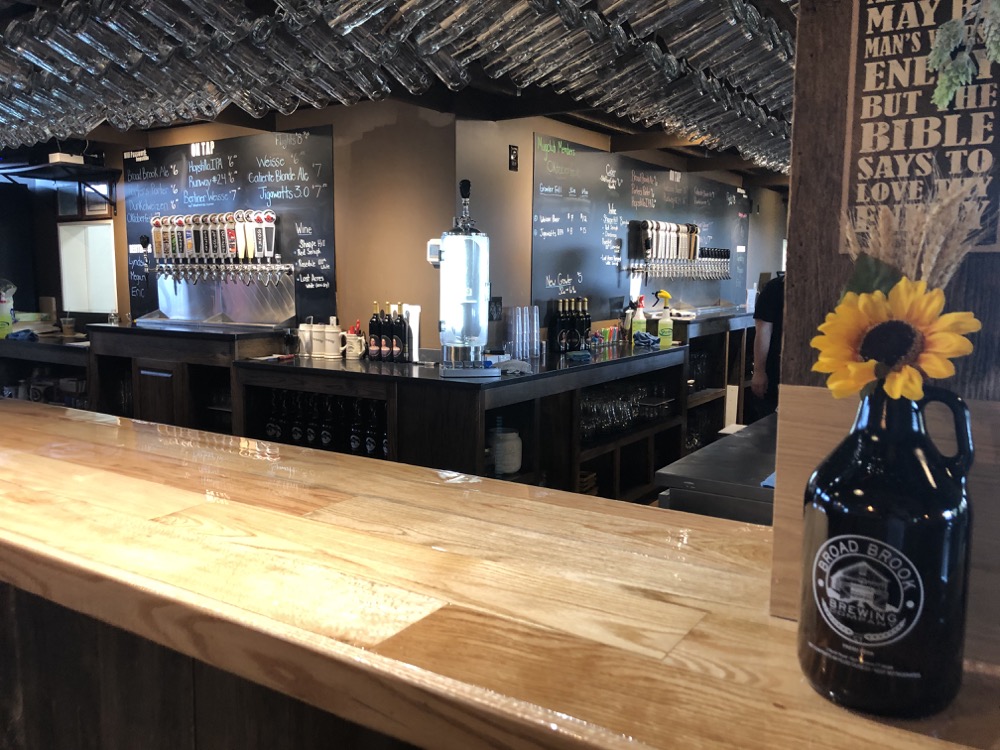 Broad Brook Brewing
CTMQ's Breweries and Brewpubs