The Agonist and the Ecstasy
East Windsor
July 10, 2019
I often struggle when it comes to these little art galleries. Struggle with whether or not they deserve a hallowed spot on the CTMQ Connecticut museums list. After all, if you make it, fame and riches will assuredly come your way. If you don't, well, you should just close up shop. Such is the agony and the ecstasy of CTMQ.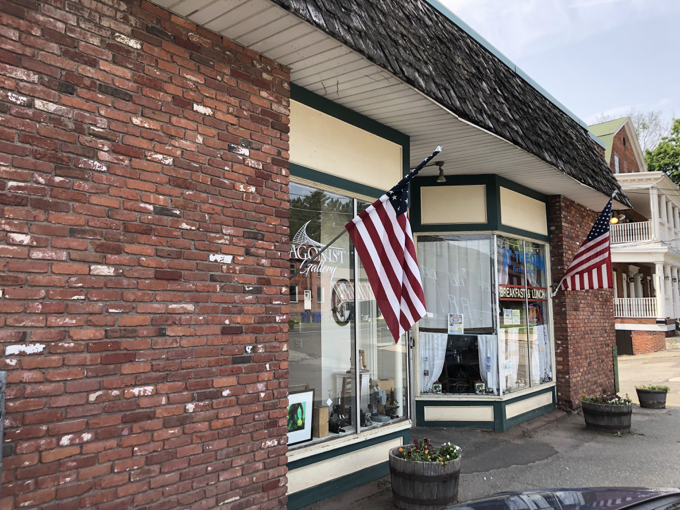 I'm kidding, of course. But over the years I have waffled quite a bit on what I should visit and include and what I should not. I get stuck on that "if I include one, I must include all" thing. Such is the agony and the ecstasy of writing CTMQ.
For whatever undefined reason, this little gallery in East Windsor made the cut and another new gallery nearby, the K. Simon Arts Center did not. Oh well. The name of the gallery, "Agonist," comes from the criticism artists and scientists received back in the day because they were ahead of their time, according to the owner, Jeff Holcombe. Those often brilliant people were vilified at the time. I hope I don't get vilified for writing about this place.
I stopped by on a random afternoon that the gallery was open. Granted, upon parking in the lot it looked anything but open, but it was. After checking out the waterfall outside, I sheepishly tugged on the door and entered. My footfalls echoed the mostly empty space as I made my towards the center.
A figure stirred from the back and greeted me with a warm hello. This was Jeff Holcombe, a man I learned is quite the Renaissance Man. Teacher, scientist, artist, PhD, jazz aficionado, naturalist, traveler, business owner… Holcombe immediately struck me as a guy I'd like to hang out with.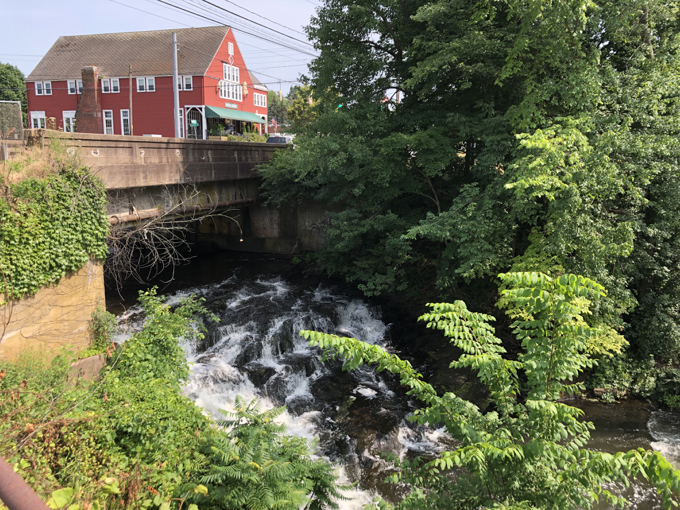 Which was a good thing, since I was now alone with him having a conversation, beginning with my usual white lie as to why I was even there in the first place. "Oh, I was just driving by and saw there was a little waterfall here so I stopped to check it out and, oh heaven's me, I noticed there was an art gallery here so I thought I'd check it out and, oh the vapors, it was open and I had no idea it was here and now here we are!"
Note: I drove to the Broad Brook section of East Windsor specifically to come to this gallery for this here CTMQ website, although the waterfall was a surprise. I usually am totally cool with my fake stories, but looking back, something tells me Jeff would dig CTMQ and I should have been truthful.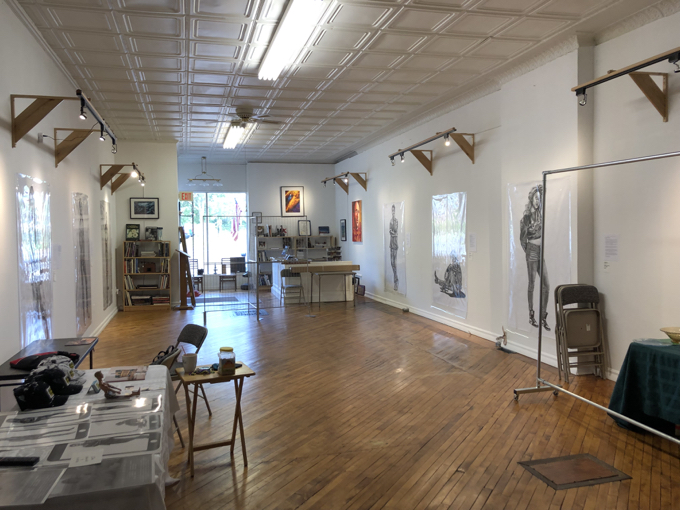 If I was, perhaps I'd have at least one good picture to populate this page. My furtive quick shots, as evidenced here – while part of CTMQ's charm – are pretty stupid.
Furthermore, through our conversation I learned that Jeff is friends with the guy who owns Photosynthesis in East Hartford (formerly Manchester). I almost gave up my cover when I offhandedly mentioned that I had been to both locations (what are the chances?), but whatever.
Agonist features rotating exhibits plus Jeff's own unique work. Supposedly there's also a virtual reality center, which allows guests to interactively engage in different scenarios – such as climbing Mount Everest and extinguishing fires – but I didn't see or experience that.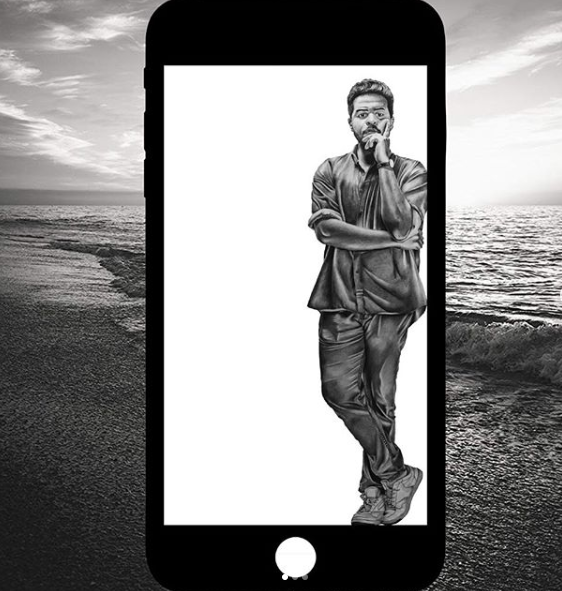 What I did experience was "I AM YOUR BEST FRI3ND," a multi-media production by Alexander California (né Ranniello – the guy loves California). The works on the display were large pencil drawings of people in Alex's life. The idea here is that they appear framed by smartphones, covered in acetate. That acetate barrier symbolizes the barrier that smartphones put up between people in our modern society.
Or something like that. The drawings were quite well done and I imagine each took a heck of a long time. Each work was accompanied by some narrative and poetry, and there is a companion video to go along with the exhibition.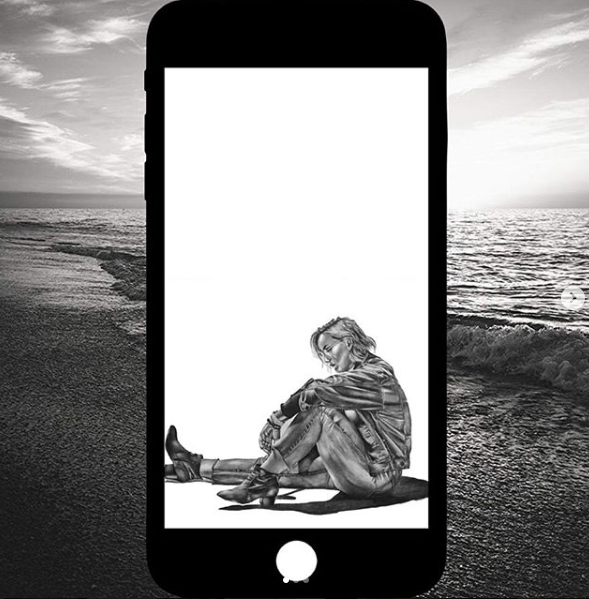 While discussing the works, Jeff and I noted that here we were, two strangers having an actual conversation. We talked about jazz – he had Ornette Coleman wailing in the gallery and I had just been listening to Miles Davis in my car. We talked about herons and Florida and my son Calvin's burgeoning artistic skills. (Jeff even offered Calvin a spot at his artists' market wherein people can pay ten bucks to show their work and hopefully sell one or two of them. Pretty cool.)
And then we talked about Jeff's own work. He went to Duke and then Michigan, earning a PhD in plant biology. He has always been a photographer, once publishing a book featuring dance photography on ancient Roman roads. He taught biology at Loomis-Chaffee in Windsor. His whole deal is marrying science and art. I really like Jeff.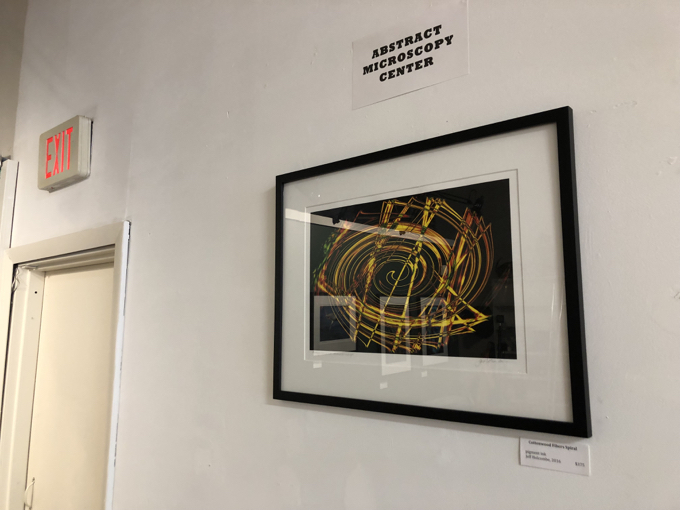 His current photo gallery, "Nature at Unnatural Magnifications," focuses on abstract micrographs. Parts of nature, such as a wing from a bee or a fish scale, are magnified and altered to show an array of patterns and colors. He showed my his microscope and camera set up, explaining how he manipulates the colors. After 30 years or so of landscapes, animals, and dancers, Jeff now focuses on the minutia. I really like Jeff's work.
And so did the Vernon Community Arts Center, awarding his "Bumble Bee Study 2" top prize at a recent exhibition.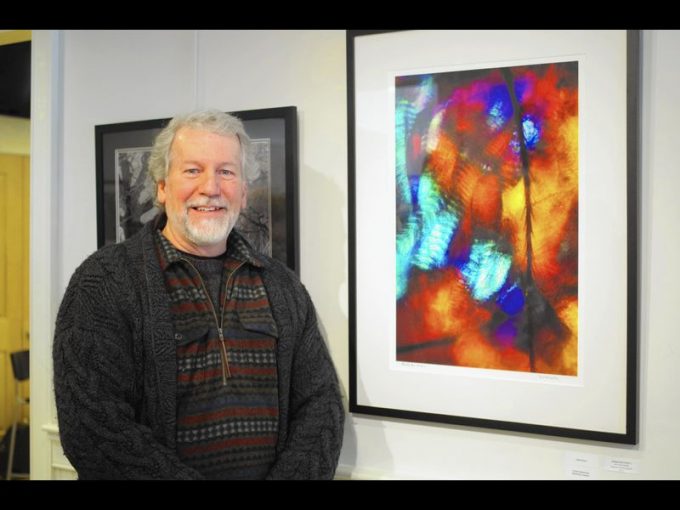 That picture is from the Hartford Courant, as is the following paragraph.
I set up a microscope, and added polarizing to it, because I had never done that before," Holcombe said. "Since last May I have been exploring biological things, and crystals, with a polarizing effect. By changing the wavelengths of light that can pass through the specimen, you allow the substances within the specimen to diffract light in a specific plane. Only certain wavelengths get through and certain parts bend the light differently. It's scientifically useful to identify things, but it also has some artistic qualities.
He sells his work, framed by the Photosynthesis friend, for affordable prices too. I almost sprung for one during my visit, but held off with a promise to return someday with cash.
Which I may or may not do. It wouldn't be the only fib I told Jeff during my visit. Hopefully you'll visit and be a better person than I.