This Place is ACEs
Vernon (Google Maps location)
May 2017
Note: I've tried to include the correct artist/work throughout this page, but I'm sure I've messed up somewhere. Sorry.
What a joy it is to visit a little art gallery/museum with a just-turned-six-year-old who is totally into it. I could write 4,000 words on Calvin's burgeoning art career, and perhaps I will on other pages more relevant to that pursuit – after all, he's already shown at a museum!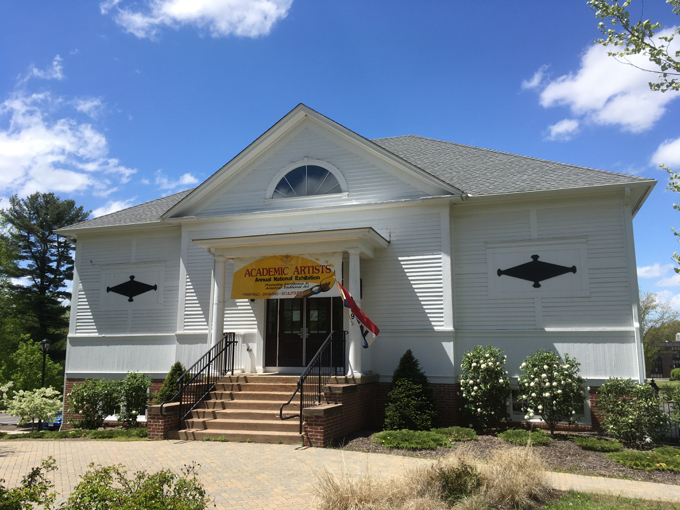 But I'll spare you for the most part here.
Two things happened in early 2017: Calvin's kindergarten focuses on the masters for several months. They each create their own masterpieces copying the likes of DaVinci, Van Gogh, Seurat, and many, many more. It's a whole thing – a very, very impressive thing. There's even an annual Kindergarten Art Museum there.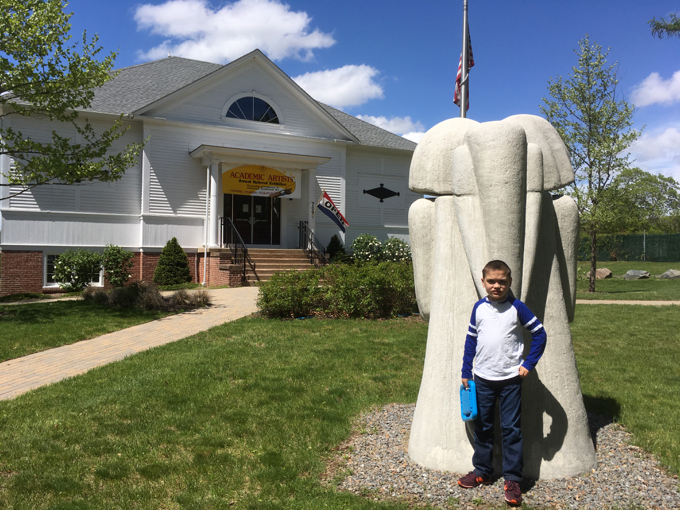 The other thing that happened is that we learned that Calvin is a fantastic artist. I'm not just saying that; everyone says that. My brother is an artist and Hoang's family has some serious ability too.
I do not.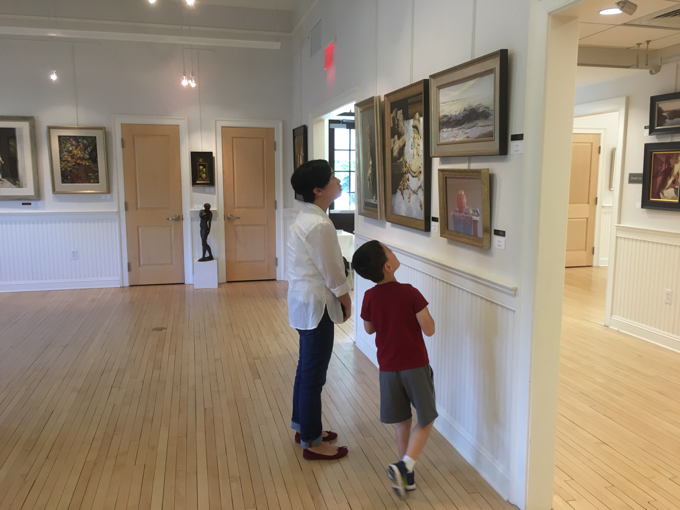 Calvin was chosen by jury to show in a town wide art exhibit at the West Hartford Art League Galleries even! That's my longwinded introduction to Vernon's Arts Center East. Now I'll give them the floor.
Arts Center East hosts numerous exhibits, special events including receptions, children's programs, paint nights, gallery tours, and music, dance, puppetry, and theater performances…

Our mission is to bring the arts to the entire community east of the River. Our vision is to become a regional arts destination. Our name reflects this mission and vision. All are welcome to enjoy the innovative exhibits, educational programming, performances, and events offered at Arts Center East.
If I was a marketing guru, I'd tell them to pull back on the whole "east of the river" thing. Why not go for a larger radius? We live west of the river and didn't wind up here by accident.
The space lends itself nicely to an art gallery. A couple decent sized rooms and a lot of great natural light. But clearly it wasn't built to be an art gallery.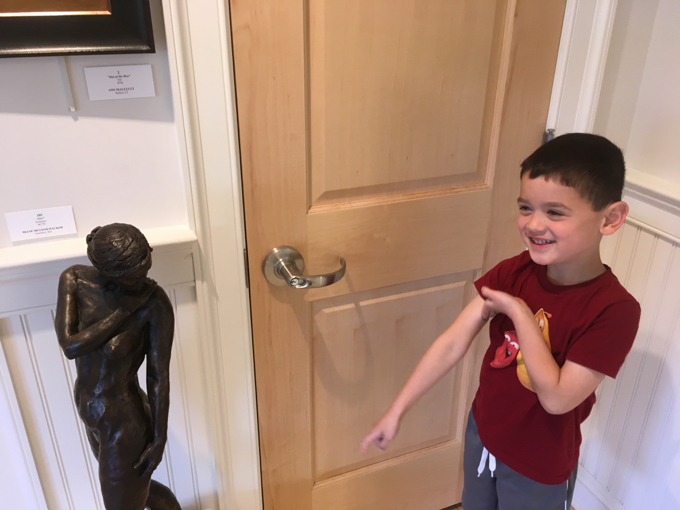 So what was it?
The Arts Center East building was constructed in 1927 in the popular Colonial Revival style. It served as the County Home School for the children residing in an orphanage located where the police station on Route 30 stands today.

When the orphanage closed, the school building continued to serve the community, first as the Vernon Elementary School and later as the Vernon Kindergarten. It closed as a kindergarten in the 1970's and was used for storage and office space by the Board of Education. By the turn of the new century, it had fallen into disrepair.

In July 2010, through the efforts of a committee of town residents, Vernon received a state grant for $1.7 million to fund a renovation of the historic building. In June 2012, it was reincarnated as an arts center.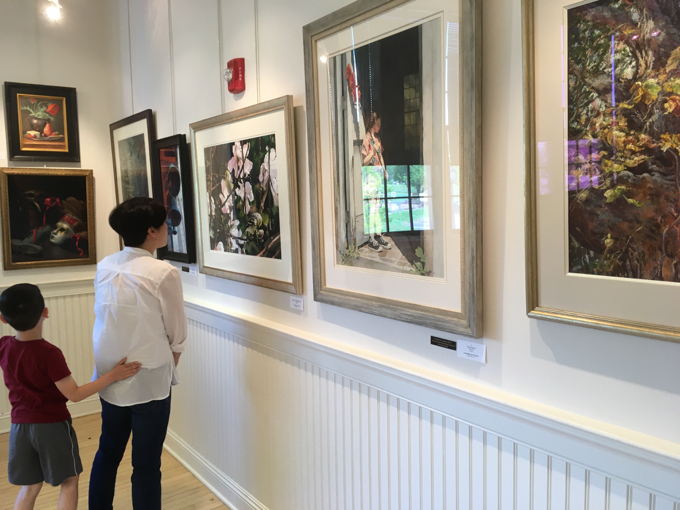 Arts Center East puts on several shows per year and hosts all sorts of fun programs like Paint Nights and stuff for kids. We visited during the 67th Annual National Exhibition of the Academic Artists Association.
There's more at their website, but here's what the Academic Artists Association is:
In the 1940's as the art world moved toward modern interpretations, some artists were determined promote the study and appreciation of traditional realism in art.
They have grown to include 250 Selected Artist Members; mostly in New England.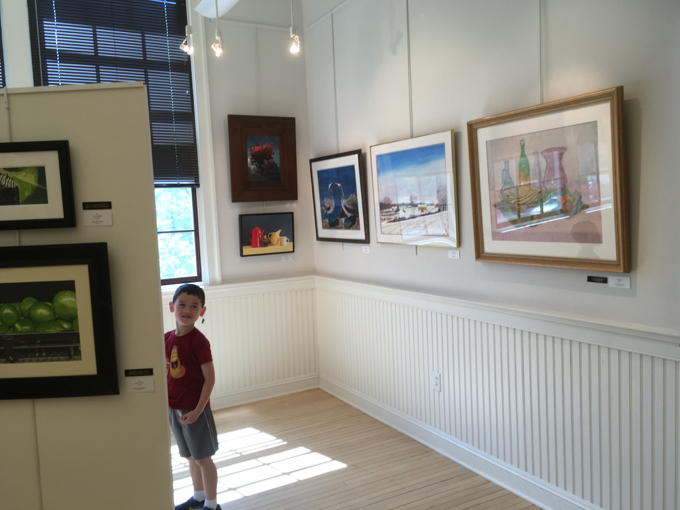 I'm never sure how these shows work… but I'm guessing all 250 are offered the opportunity to create a new work in any medium to be shown on the walls here. (The AAA used to show up in Springfield and the move to Vernon was very recent.)
Then a jury pores over all the submissions and judge them. 106 submissions were chosen for this show. My quick scan tells me about 40 won an award. The awards are sponsored by businesses or patrons.
The Best In Show scored a $1,000 prize! (Steve Wilde of Hadley, MA won with is "Lost Soul, South of France, 1917" painting. A bunch of the winners took home fifty bucks for their efforts. (Which is cool; after all, that's more than I get for writing this site.)
To my amateur eye, the skill level on display here was as high as anywhere. I never really know what to expect at these little art galleries, but I was mildly blown away at this show.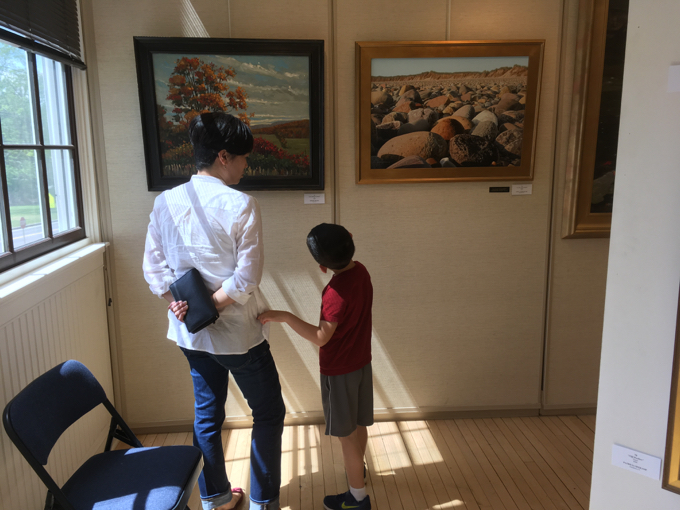 We spent way more time here than I thought we would. As I've said, Calvin was really into it, and kept asking a ton of questions. Good questions too. Every now nad then he found a work that he would liken to a masterpiece.
Like this one – "This is like Georgia O'Keefe!"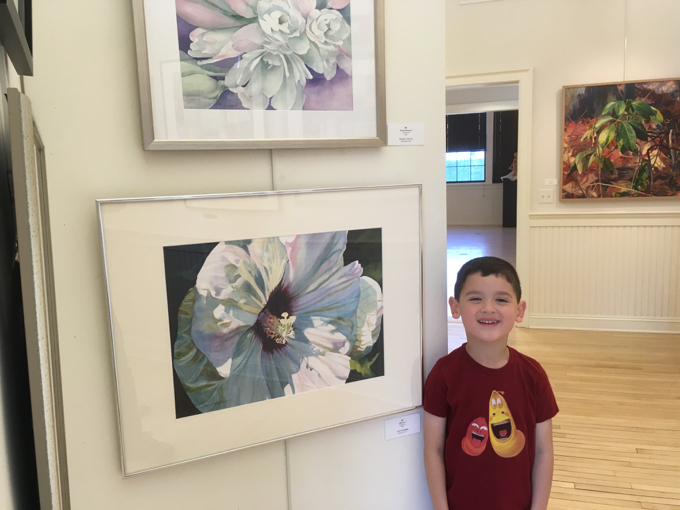 But for whatever reason, the star of the show to him was Michael Graves' oil painting, "Sailing off Isleboro."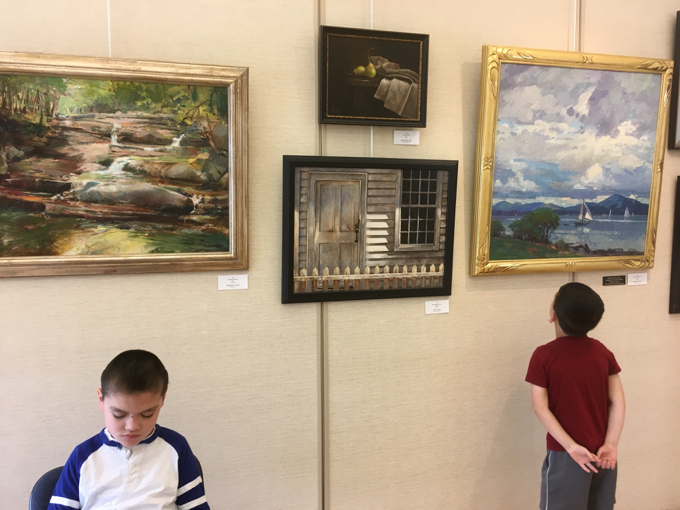 He kept going back to it. And just staring at it.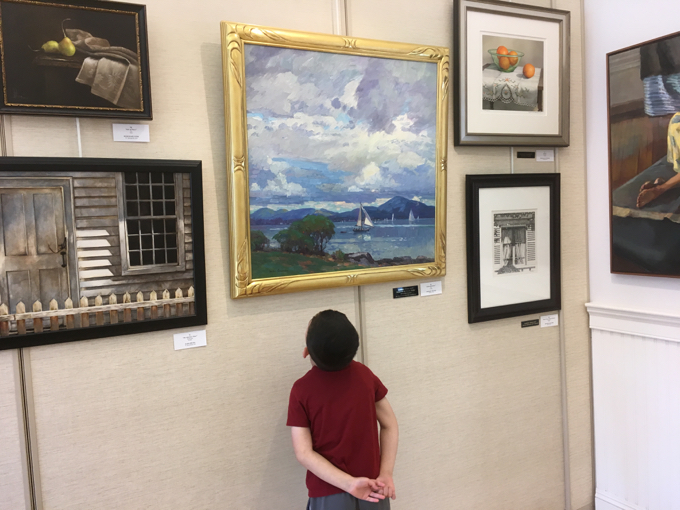 He remarked that he could see the texturing of the paint in the clouds. I walked around some more and found Calvin still there, transfixed.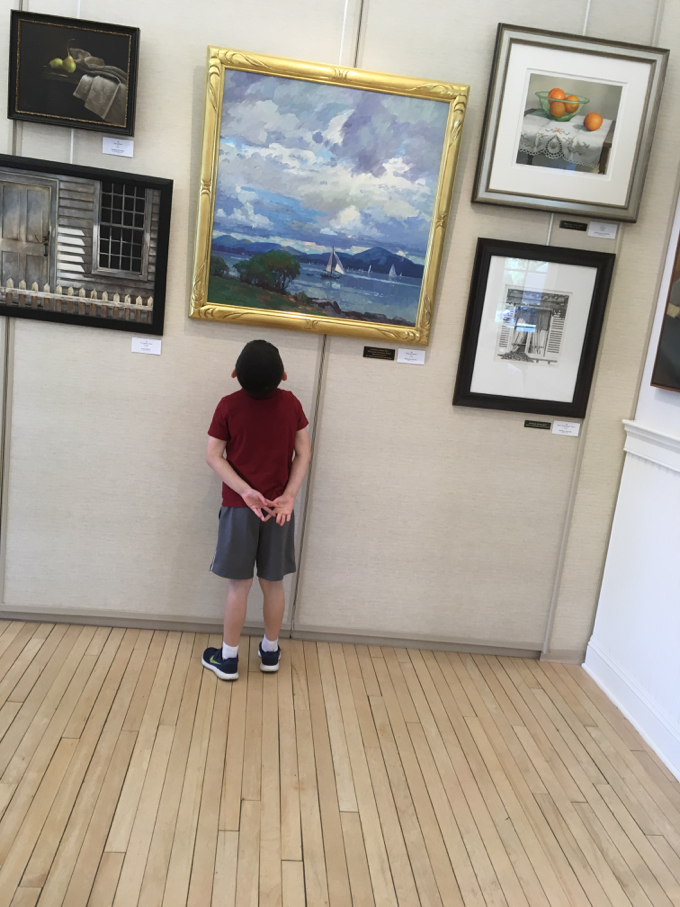 It was pretty cool to see. His singular focus drew in a crowd.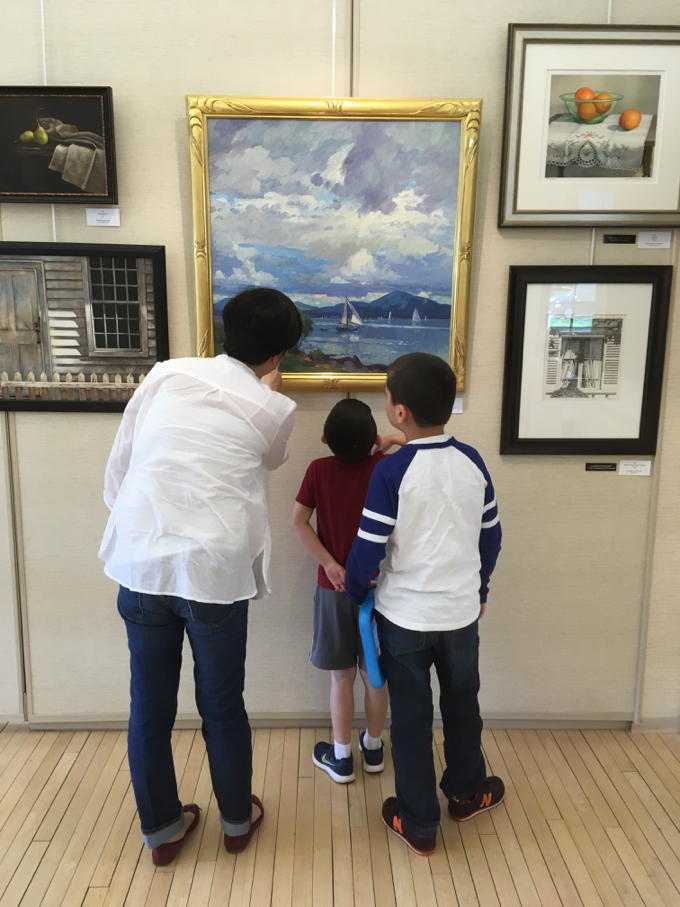 Congratulations to Michael Graves of Millbury, MA. While you didn't win any of the jury prizes at this show, you won in my son's eyes. And I can only imagine how much that's worth to you.
My winner? That would be Marc Vanderleeden from Longmeadow, MA. Of course, the painting on display here wasn't for sale. (One of only two or three that weren't.) Does that mean I picked the best… or the worst? I don't know.
Turns out Marc Vanderleeden is actually Dr. Marc Vanderleeden, an endocrinologist at a hospital in Springfield. He's entirely self taught and I love his style. So much so that I'll link his sparse website here.
The women at the gallery were not only super nice, they were very kind to Calvin – and also blown away by the art knowledge he gained in kindergarten. They made him feel important which was pretty cool.
As if that weren't enough, we all went to enjoy some ice cream at Fish Family Farm in Bolton afterwards.
And if that weren't enough, we enjoyed some more treats at Cold Creek Brewing in Ellington after that!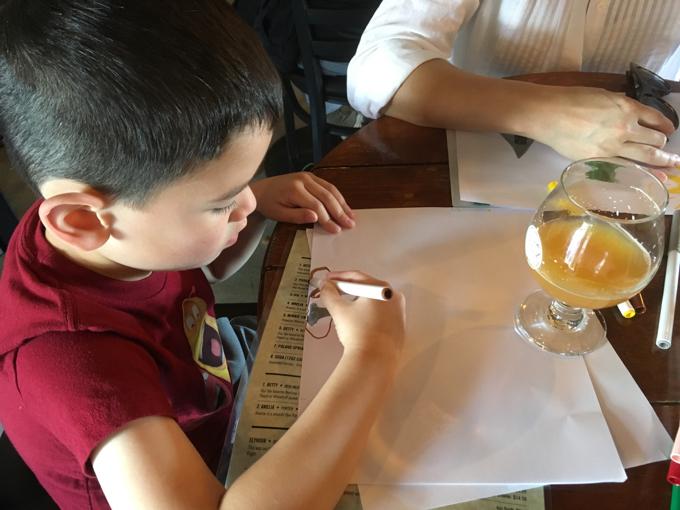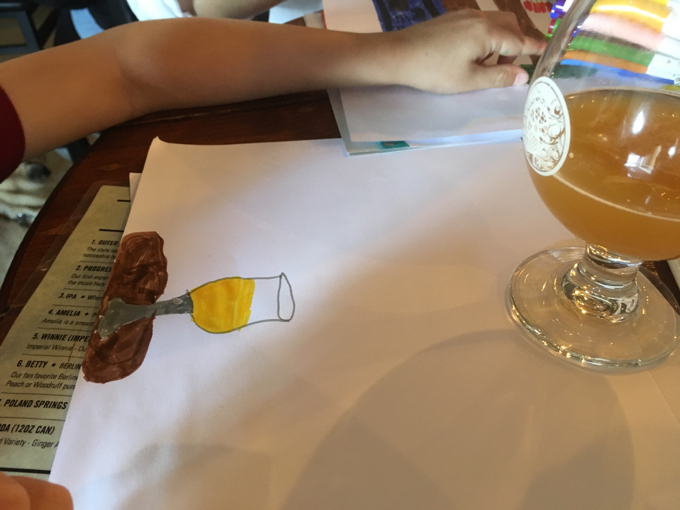 It was here that Calvin, perhaps inspired by the "realism" art show he'd just seen, sketched out a still life of a beer and his brother on his iPad while Hoang and I drank in celebration of another CTMQ afternoon well-spent.

Arts Center East
CTMQ's Museum Visits