This is My Site and My Son, So There
West Hartford
May 4, 2017
Warning: This is a vanity post. I am writing this for me and my family, not any of you. It's not the first and it won't be the last. And I don't care. I deserve to be able to do such things once every five years or so.
The Norfeldt Kindergarten Museum isn't a real thing. Not in the sense that you can ever go visit it or anything… unless you happen to have a kindergartner and happen to live in the small radius in northwest West Hartford that is. If so, hello neighbor!
For those kindergartners and their families, the Norfeldt Kindergarten Museum is a very real thing – and it's a really cool part of the school's curriculum every year. West Hartford has a dozen or so elementary schools and some have slightly different curricula than others. Or at least they did when my sons were there.
That's right… "were." I'm writing this page a few days before my youngest son Calvin "graduates" elementary school. Five years after this "museum" visit. It's an emotional time of transition in our house, as Calvin absolutely loved his elementary years and especially his kindergarten teacher – who wound up being his first grade teacher as well.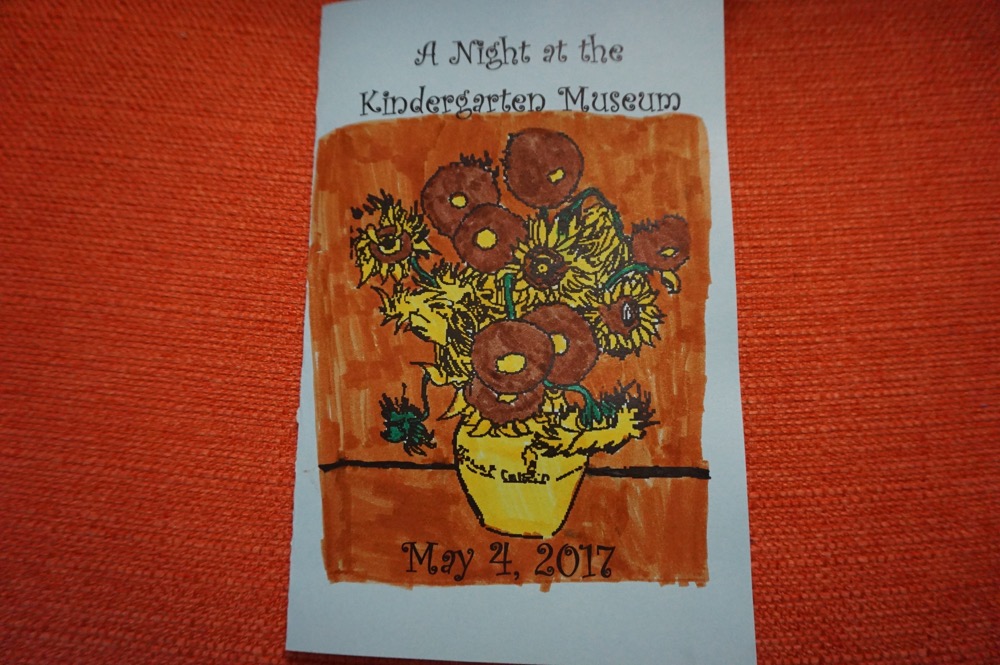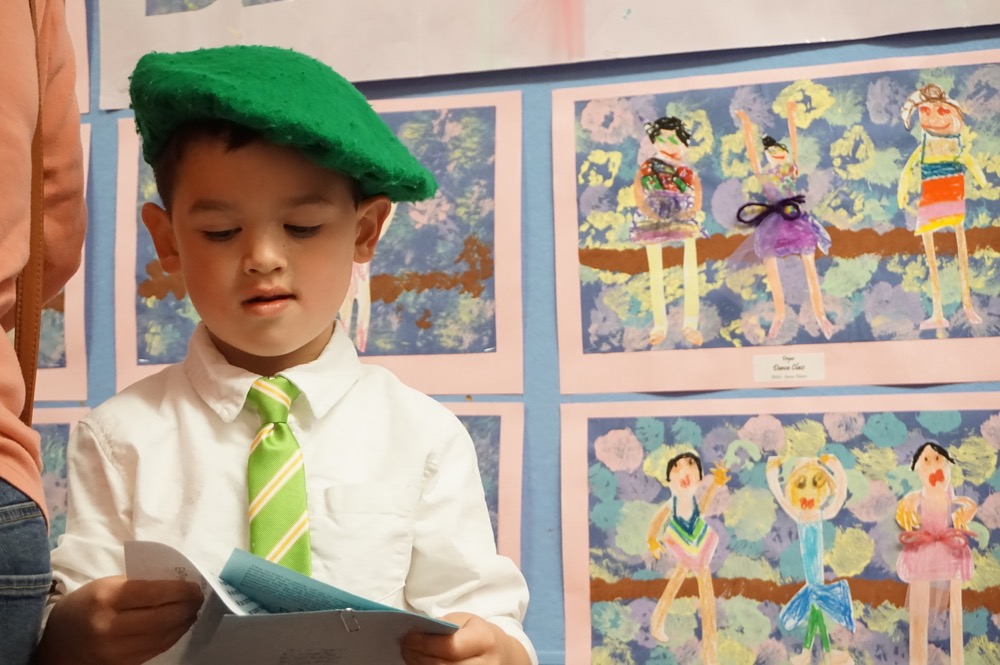 The school has/had this whole "classical education" model folded in to the traditional core of studies. Languages are taught starting in second or third grade (though I can't pretend my son is fluent in French quite yet) and there is a fairly intense focus on art in the early years. It is this focus on masterpieces that results in the "museum."
And it's awesome. It is mind-blowing how good the five and six-year-old kids are at recreating the Van Goghs and Cassatts. It's incredible that even now, my son remembers the artists and their works. I love this part of what Norfeldt (and surely other schools) do.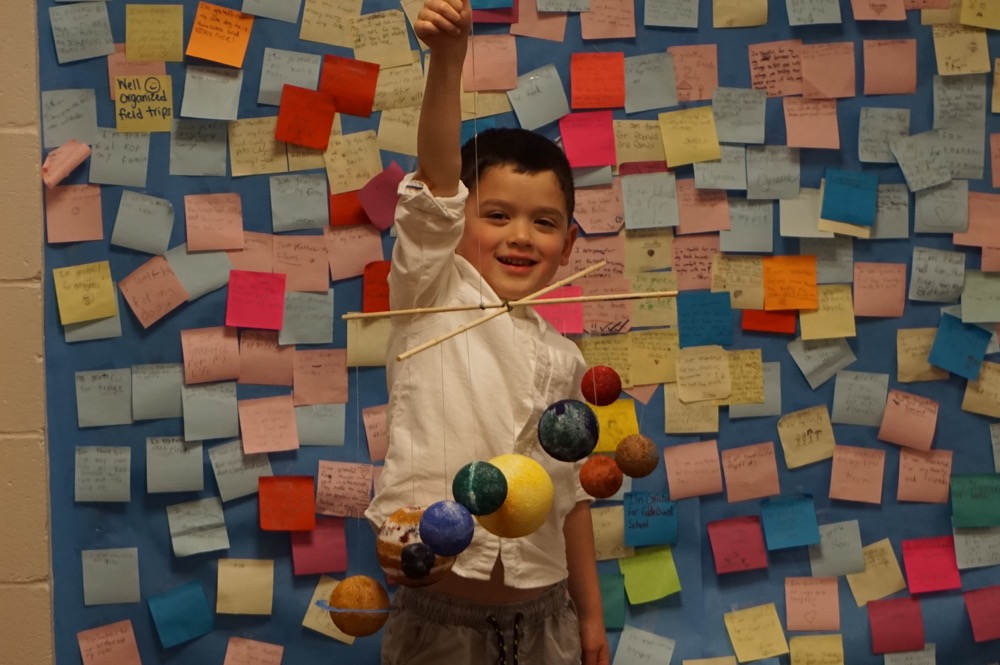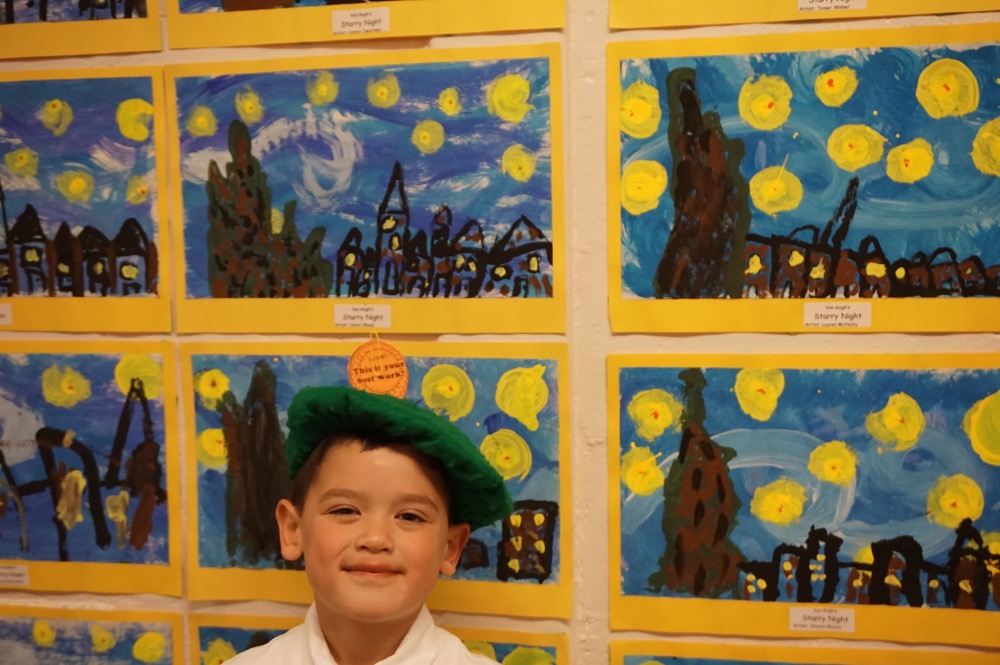 They spend months learning about the artists through various ways of learning and then every kid recreates the piece using different techniques. Georges Seurat's pioneering pointillism technique was known as "Dot Dot Seurat" to the kids. And Calvin will always remember that. Cool, huh?
Look at that picture above! All those little kids painted their own "Starry Night!" (We still have Calvin's framed and hanging in our living room. I loved this whole thing… clearly.)
I don't have much more to write about it, as like I've said, this is merely my attempt to preserve a memory from 2016-17 for my family. Calvin showed an aptitude for art early on and that continues to this day. In fact, he was chosen to be "shown" at the West Hartford Art League annual exhibit of town students both in kindergarten (one of only two or three) and first grade as well – then COVID took away a couple years of that.
So I'm just going to show a bunch of pictures from the night at the museum.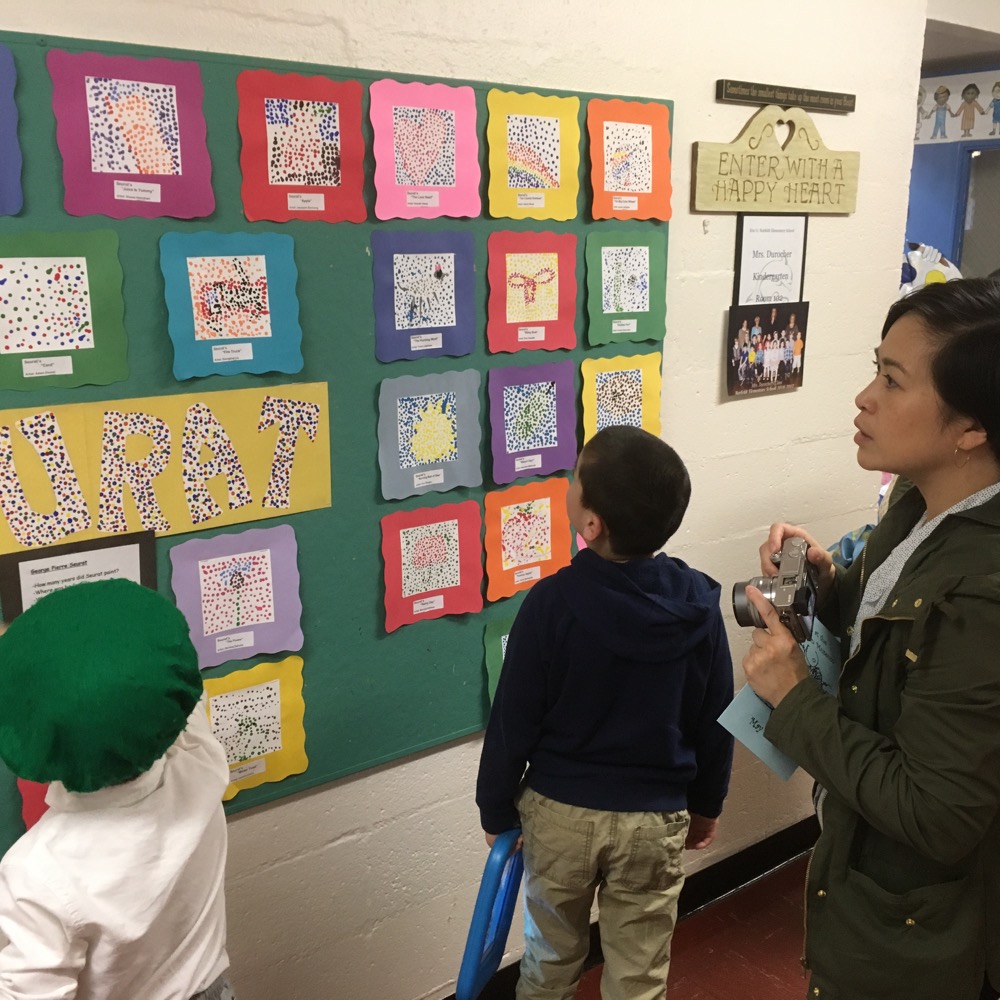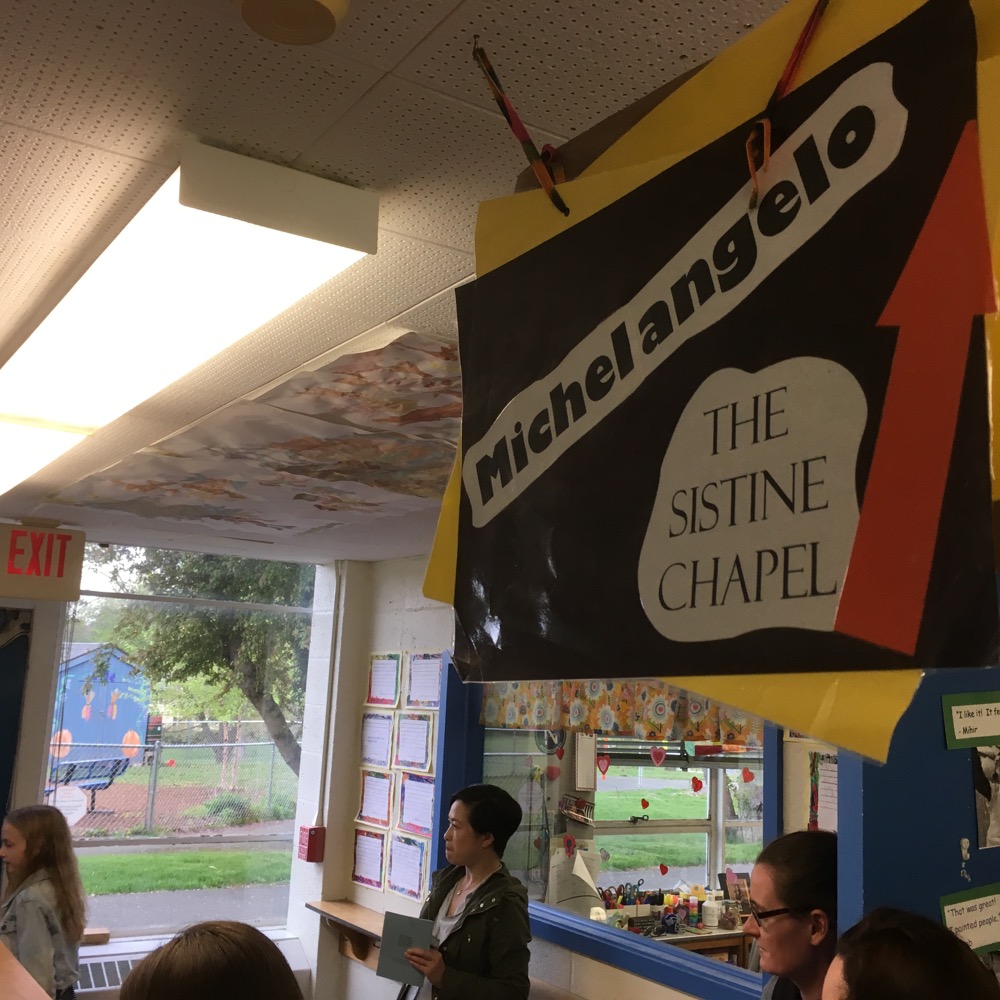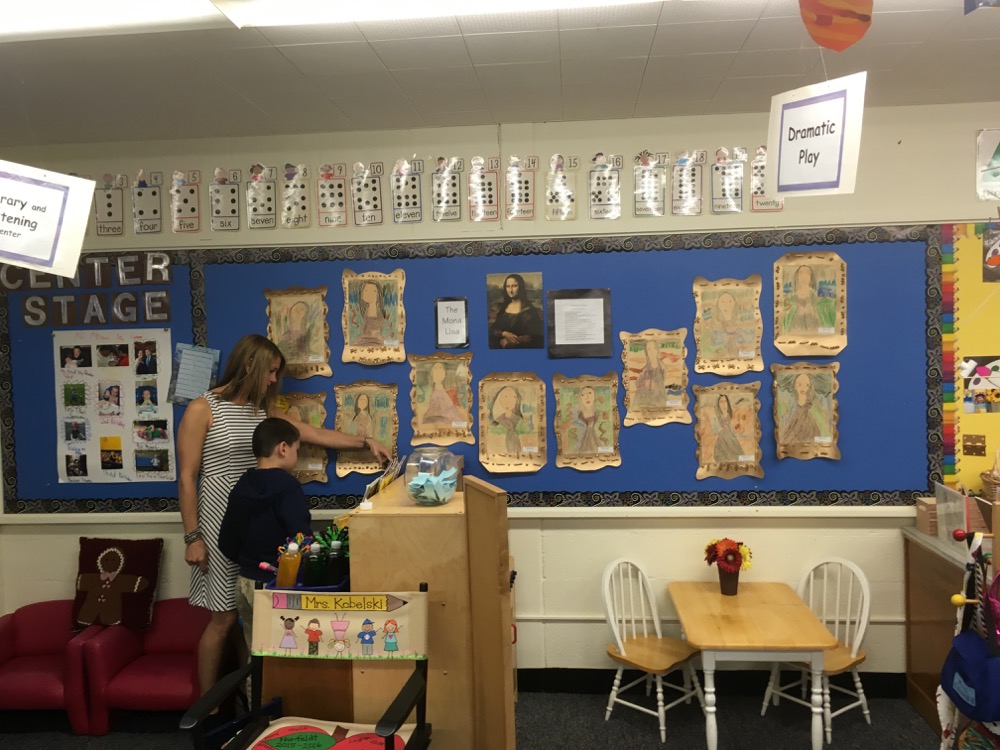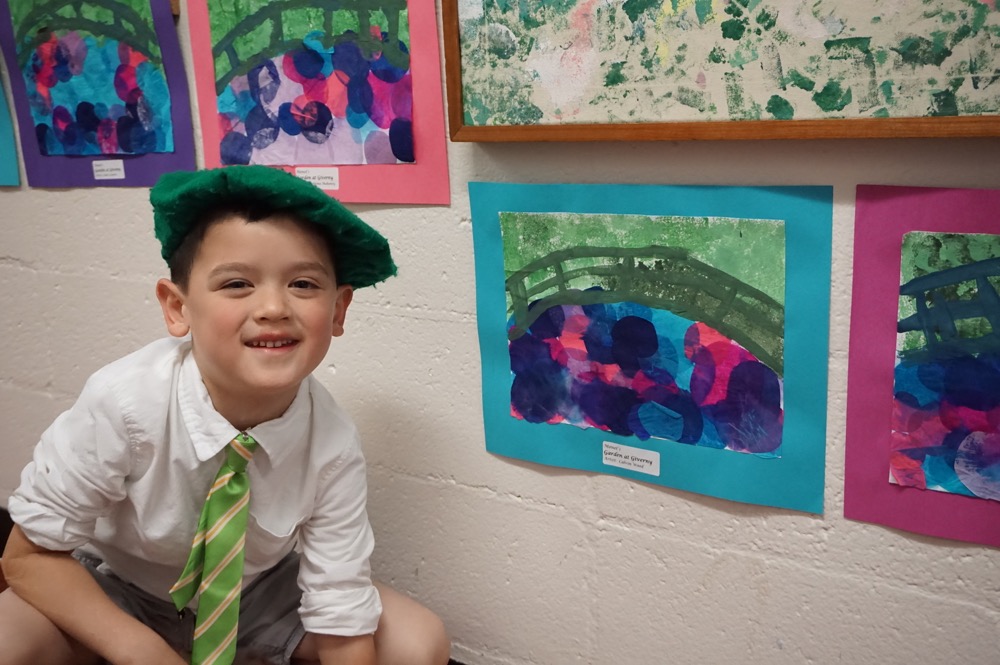 Okay, okay… I know that's a lot. But I'm proud of my son! And getting wistful for those young, innocent days.
And I might as well take this opportunity to thank his teacher those first two years: Mrs. Kobelski. Calvin loved her, still loves her, and she loved him – and still loves him. He still pops by her room everyday at the end of school to say hello. Now, early elementary teachers say they love every kid, but I believe these two have a very special relationship.
When we visited her room before 5th grade during some meet and greet, she had two things on her wall from a past student: A picture my son drew in kindergarten or first grade and a letter he wrote on "compliment day" – a day on which kids are supposed to give each other compliments I believe. Calvin chose Mrs. Kobelski.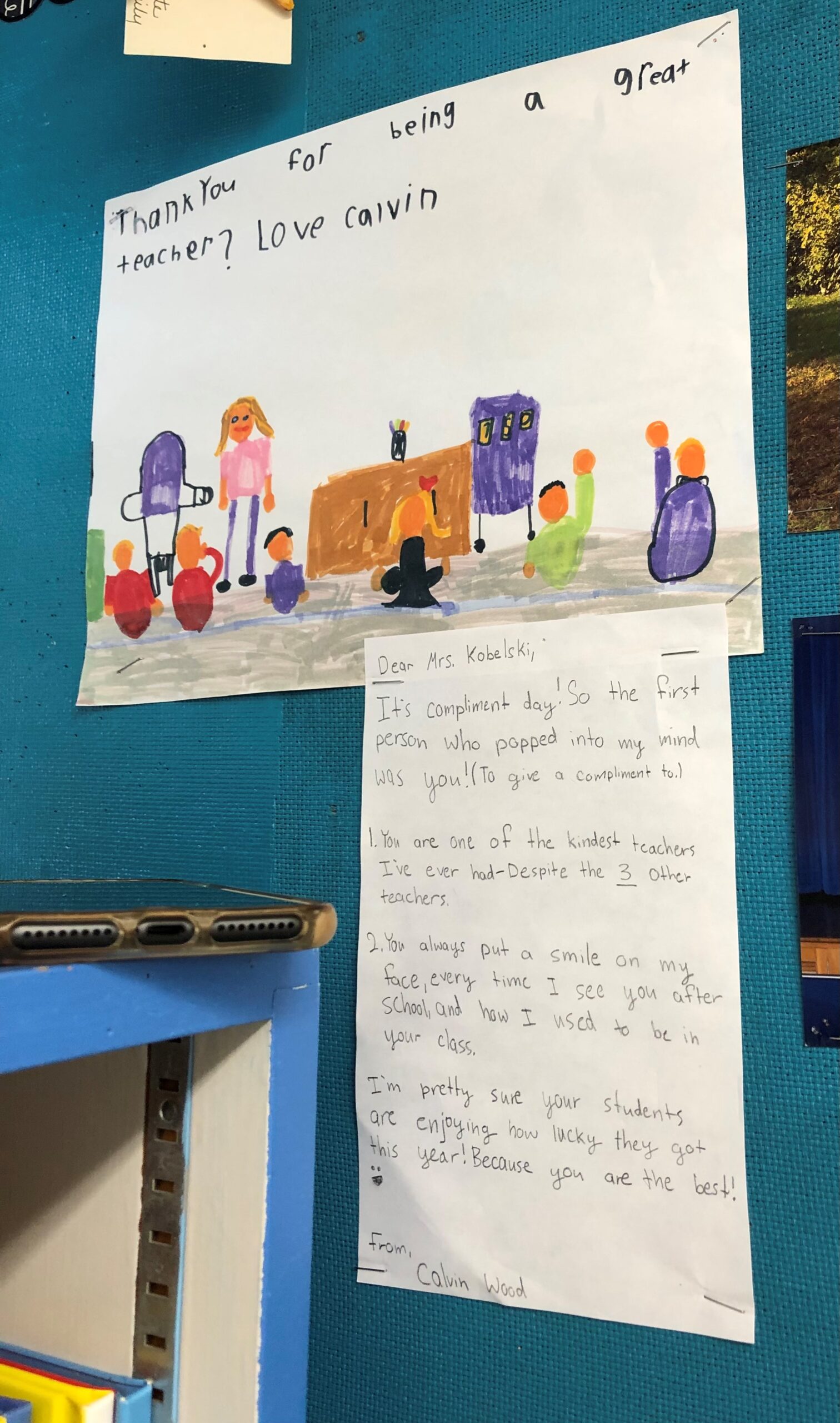 Sigh. I better end this before getting too sad about our baby boy all grows up. Or before his tween attitude ruins this moment for me before I finish writing it.
Norfeldt was incredible for my older son in that the special needs program did all they could for him before he was outplaced. Calvin's experience was entirely different, but just as special in many ways. (No, it's not perfect, trust me. But I'm keeping this to Kindergarten which was pretty darn close in our experience.)
So thank you Mrs. Kobelski and the whole Norfeldt community. We are lucky to live here and Calvin will miss you more than anyone could ever know.