Don't Mind Me, I'm Getting VerKlimpt
West Hartford (Google Maps location)
April 2017 & 2018
As a resident of West Hartford I've always sort of felt that out arts scene is a bit lacking. For such a "liberal" and "wealthy" town (neither of which holds entirely true), you'd think we'd have a thriving community with a bunch of galleries and whatnot.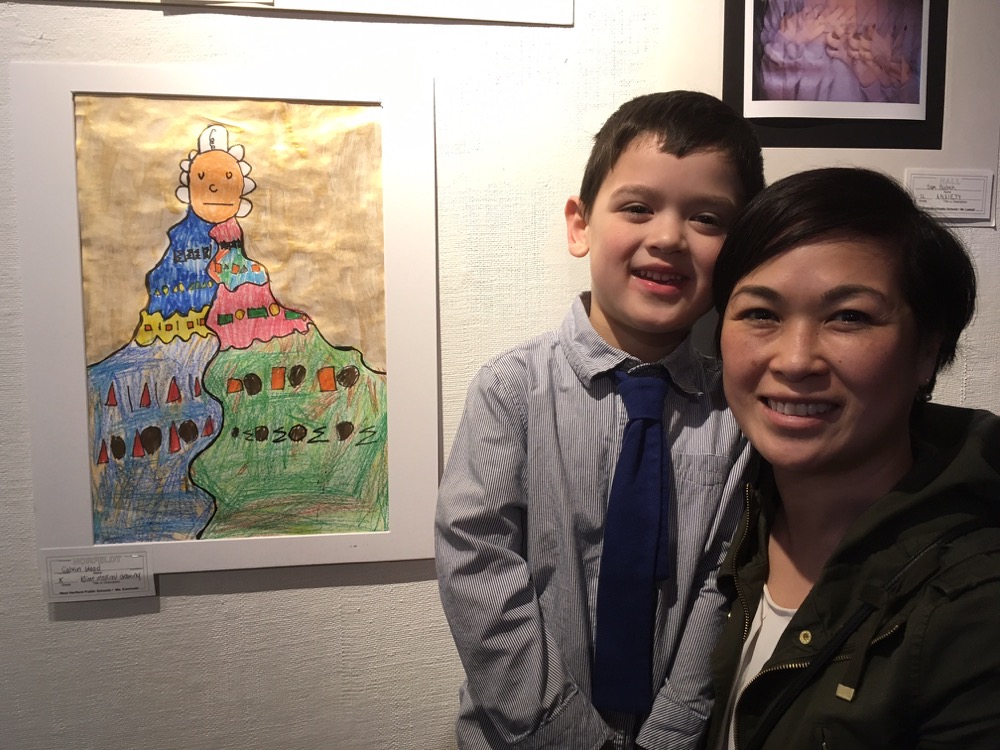 We don't. There are zero art galleries; commercial or not, in the entire center of town. The ninth largest town in the state, by the way. The minute someone tries to open one, it will become a restaurant anyway.
There's the legendary Jerry's Artarama Art Supplies over in Elmwood and there's this place: the historic West Hartford Art League and the Saltbox Gallery.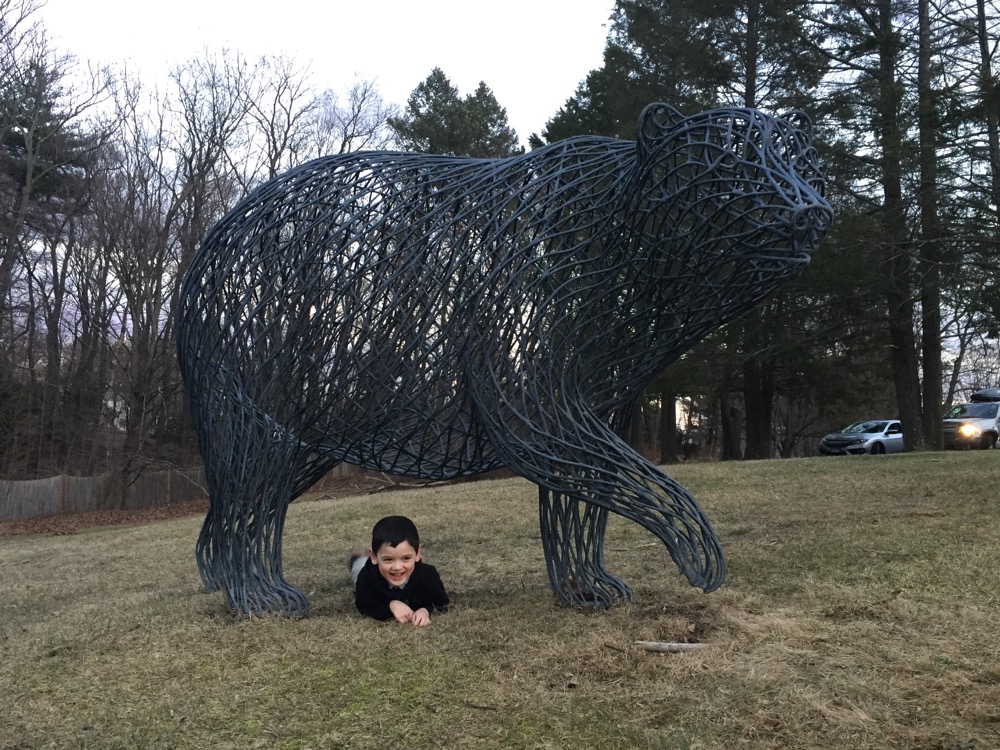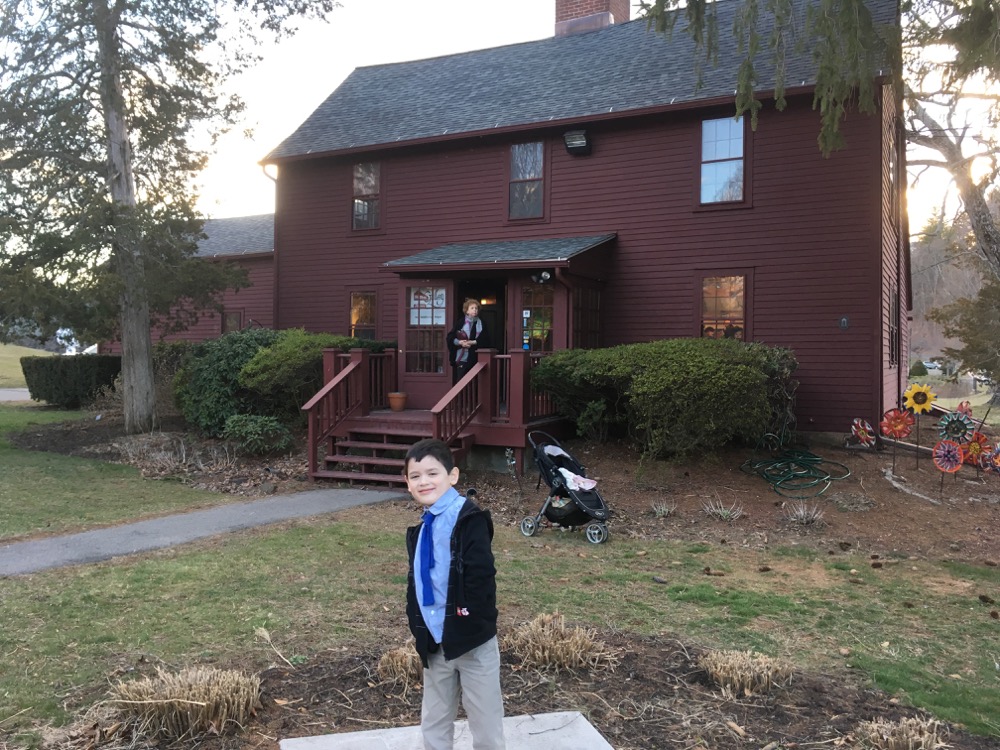 Founded in 1934, the organization has been teaching art classes and holding exhibits for a long, long time. But I've only visited twice. (Some champion and patron of the arts I am, eh?) And I only visited twice because my son Calvin was exhibited there twice.
(I swear I thought it was three times, but I can't find pictures of a third time and, well… oh well.)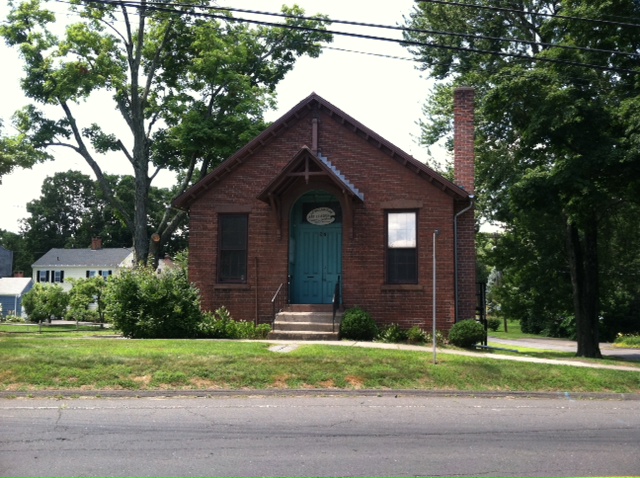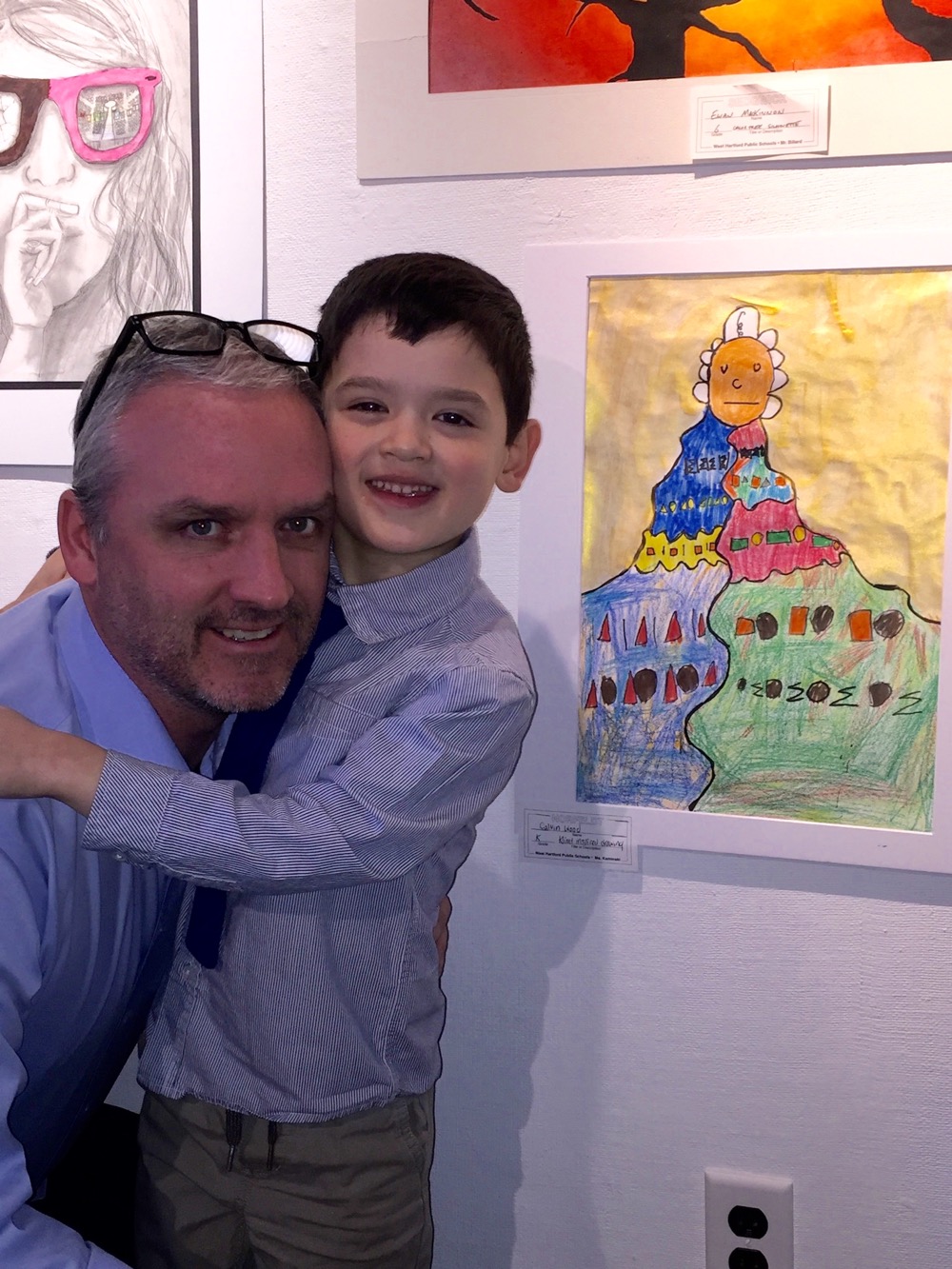 The Art League began as most of these things do; two women approached the town for a meeting space to teach art to town children and residents. The town hooked them up with the tiny brick West School on Mountain Road which is still used today for the same purpose. If you live around here, you've driven past it a million times and likely didn't even know what it was.
Mrs. Rebecca Field Jones, a sculptor and painter, and Mrs. Gertrude Patterson, a portrait painter and art teacher successfully convinced West Hartford to give them something. Heroes. They still had to raise money through potlucks to be able to add plumbing and heating, and the organization was able to grow.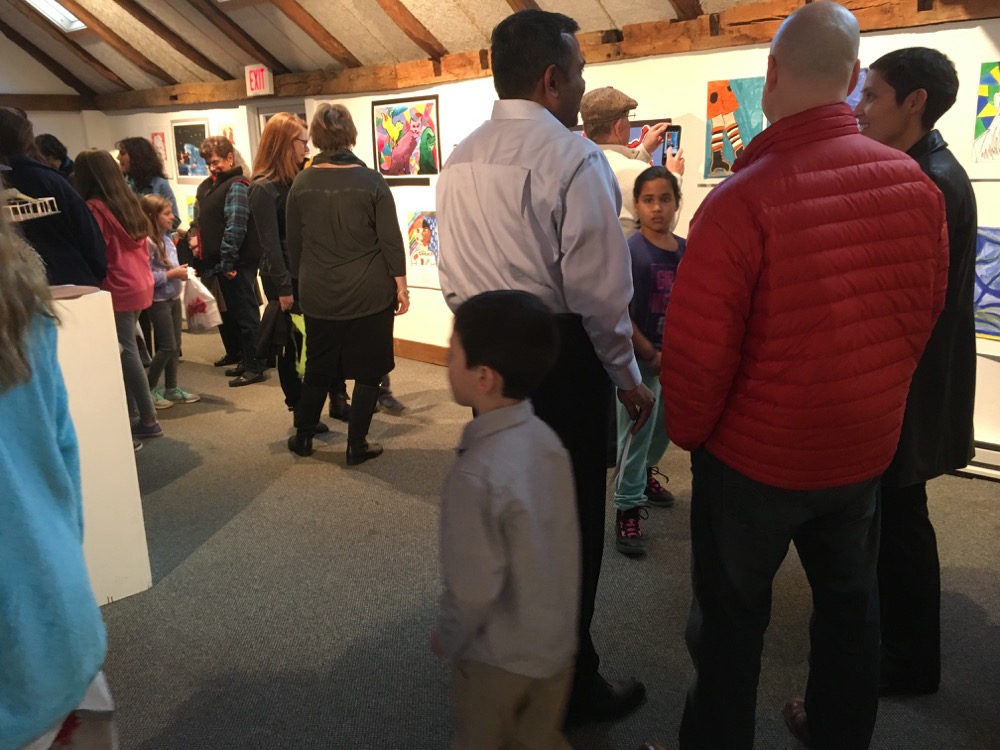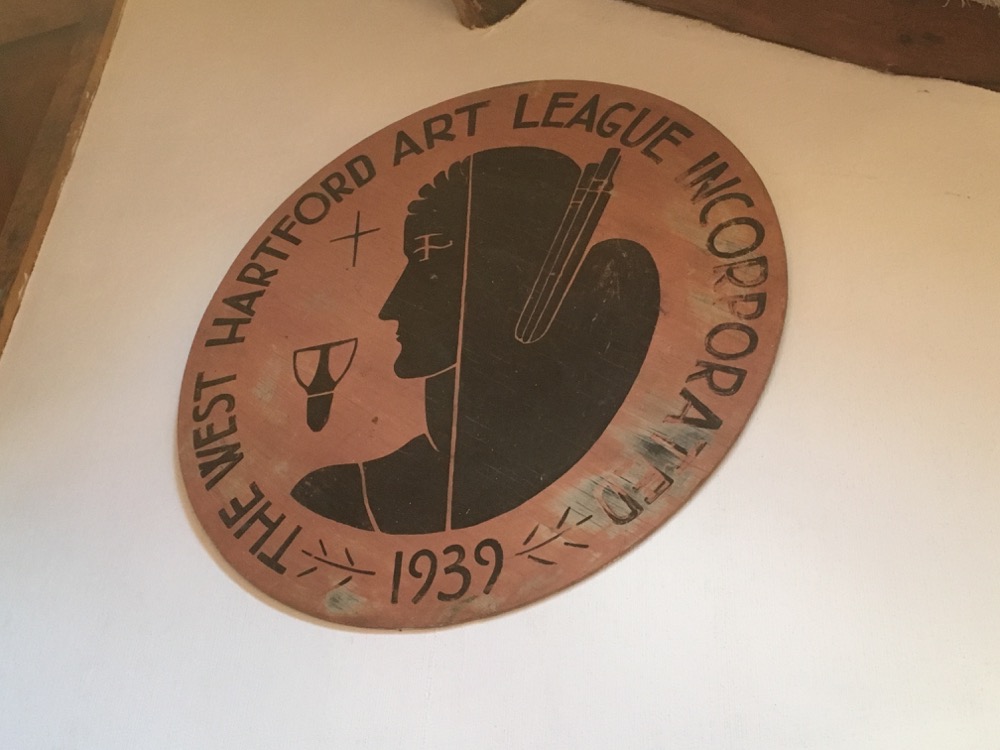 And they were able to again get hooked up by the town! This organization is magical!
Fast forward to 1976. The Art League needed more room so they approached the town again. This time they salvaged a second historic building, the Woodruff Allen house, which was built in 1752 as a farmhouse. It was acquired by West Hartford in 1943 as a caretakers house for the town's golf courses. We negotiated a nominal lease in exchange for funding the building renovations.

Ten years later, the town offered the adjacent Buena Vista Clubhouse to us for use as a second gallery and classroom facility. We renovated this building as well for additional classroom and gallery space. The Clubhouse, along with the Saltbox and Schoolhouse now comprise the Art Leagues grounds.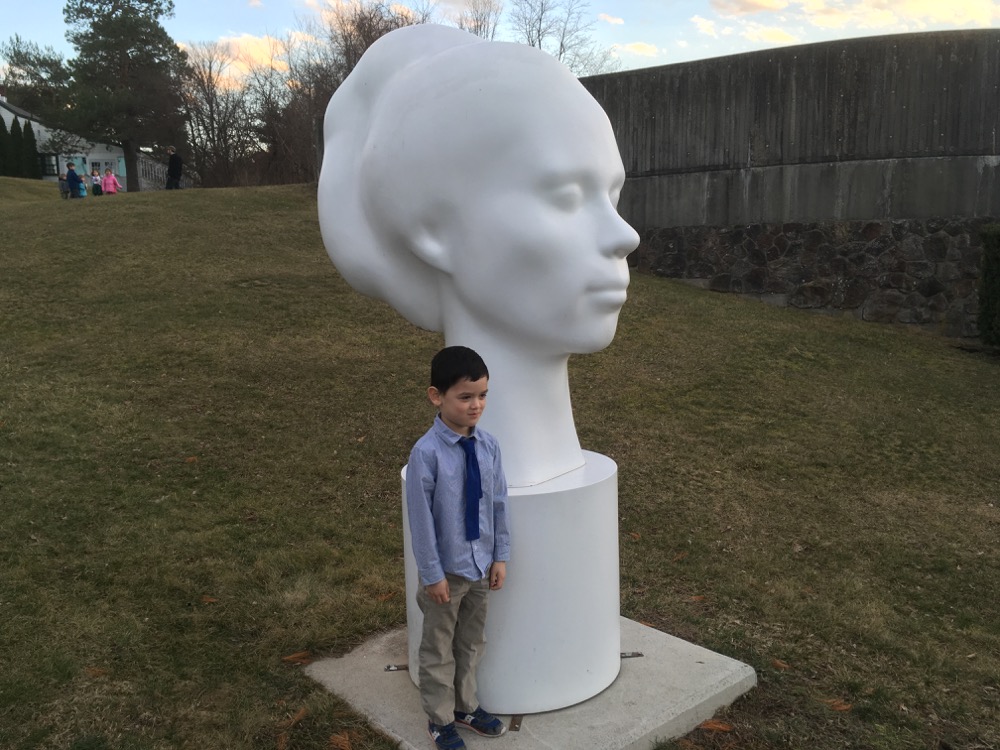 Wow. And speaking of magical, each (non-pandemic) spring, every public school's art teacher juries an exhibition featuring town students called ArtBeat. I do not know the process, but I believe it is a blind jury and teachers from other schools (a dozen elementary, two middle, and two high schools) choose works to be in the annual student exhibit. It is a very big honor to be shown in Artbeat. Only 9 artworks from each school are selected each year.
And Calvin was chosen in Kindergarten and first grade and I swear second grade too. But whatever. Two years is pretty good. In fact, only two or three kindergartners from the entire town were chosen when he was that young and I'm pretty sure no one else rocked it two years in a row, let alone three.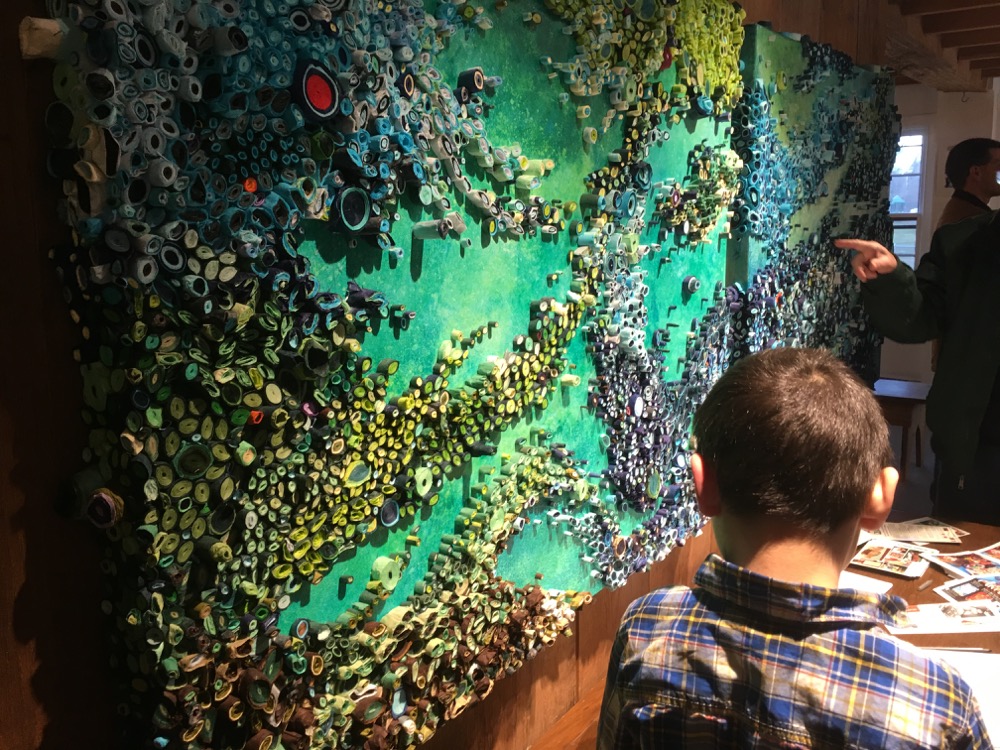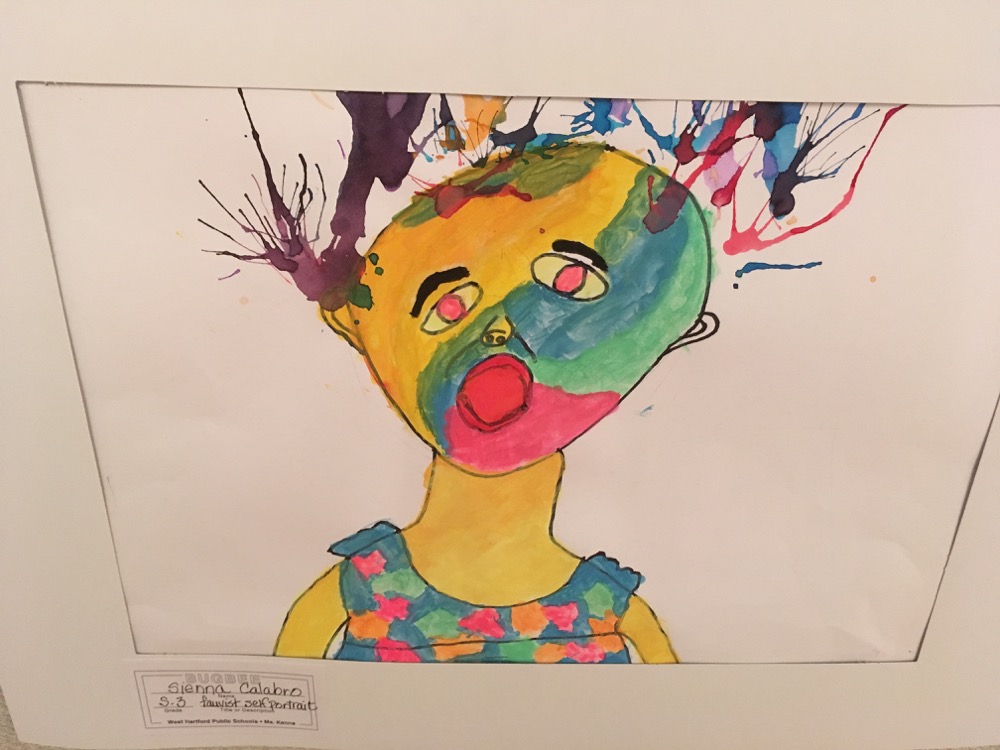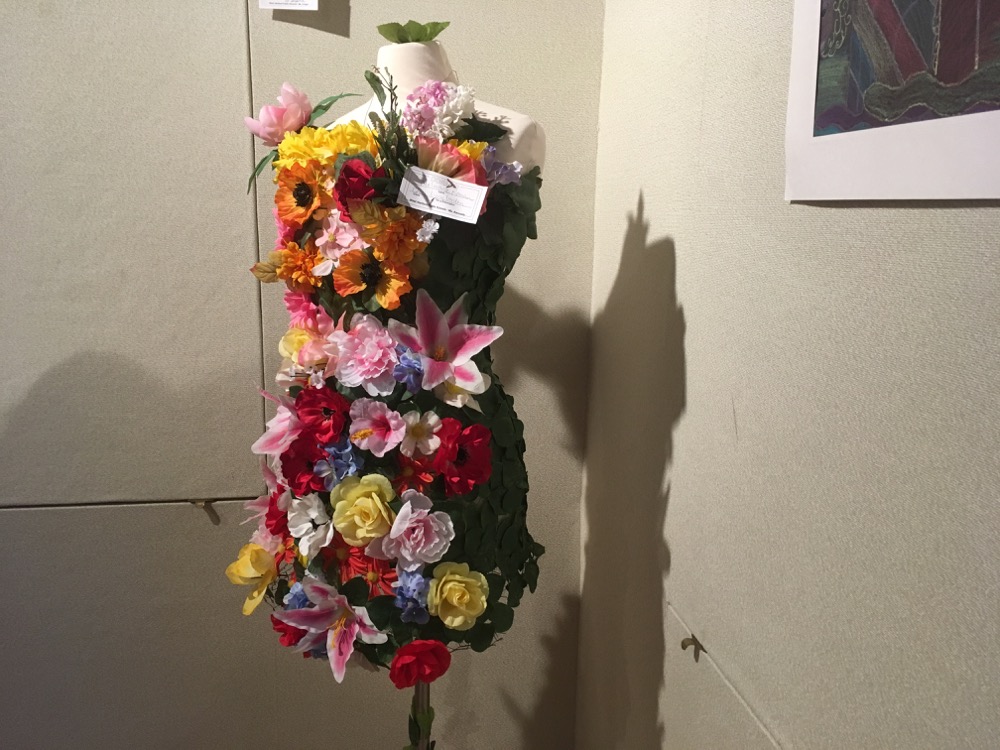 Calvin is a cool kid and we are proud of many of his accomplishments, but the fact that he excels at artistic things is the most impressive to me… simply because I don't. At all.
We encourage young artists, and donate gallery space annually to the West Hartford Public School System for ArtBeat, an exhibition of artwork of students in kindergarten through 12th grade. We offer two partial college scholarships every spring to graduating seniors in the region going on to an accredited art school or University to study art.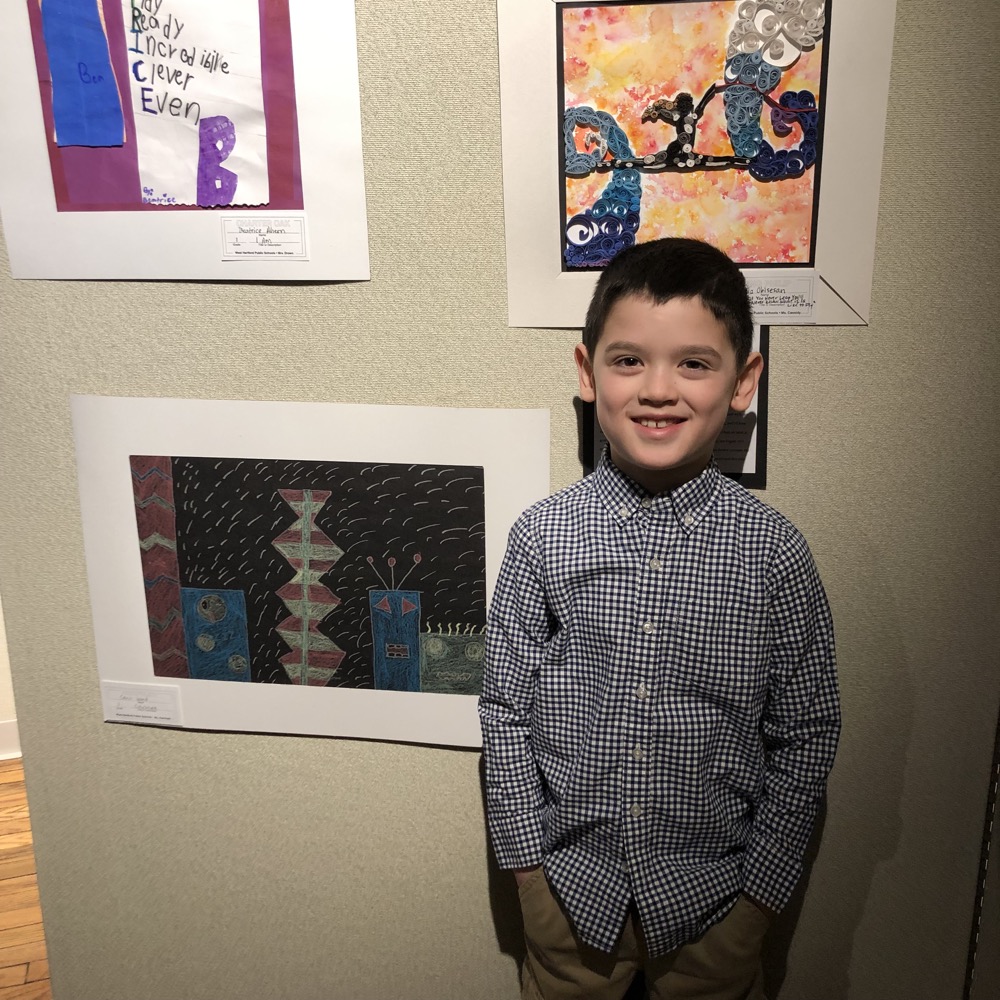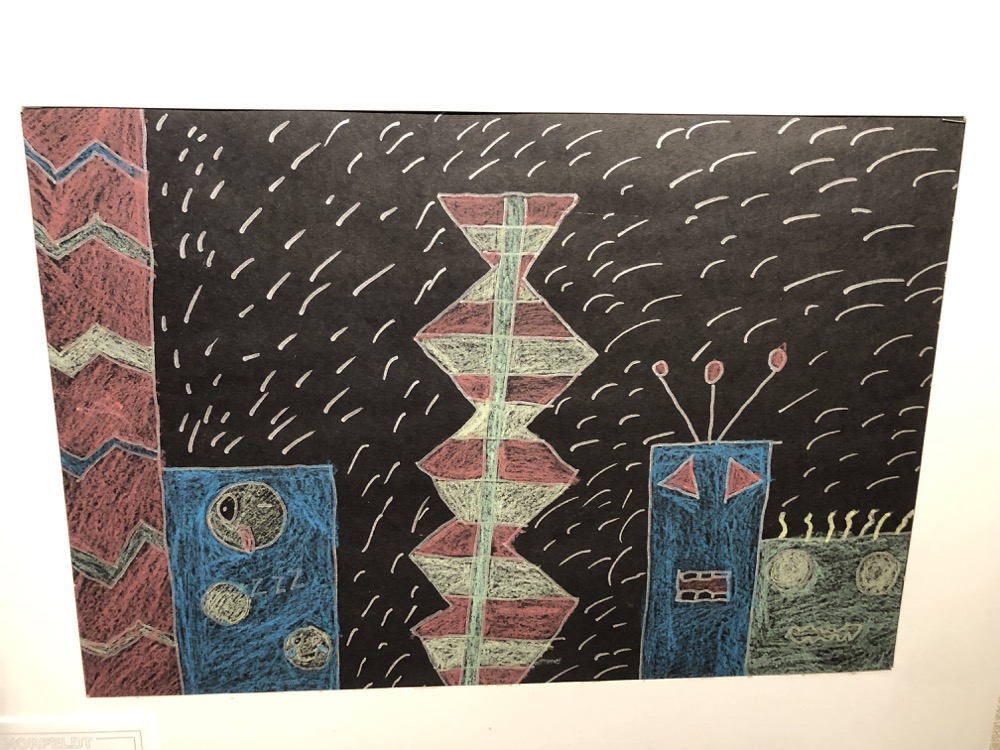 That's cool. In kindergarten in my son's school, they focus heavily on art and masterpieces and recreate many of them. This culminates in a The Norfeldt Kindergarten Museum which is a pretty great thing that happens here.
And apparently one artist they studied was Gustav Klimt and one project they did was to create a Klimt inspired piece. That was what was chosen for the ArtBeat exhibition in 2017.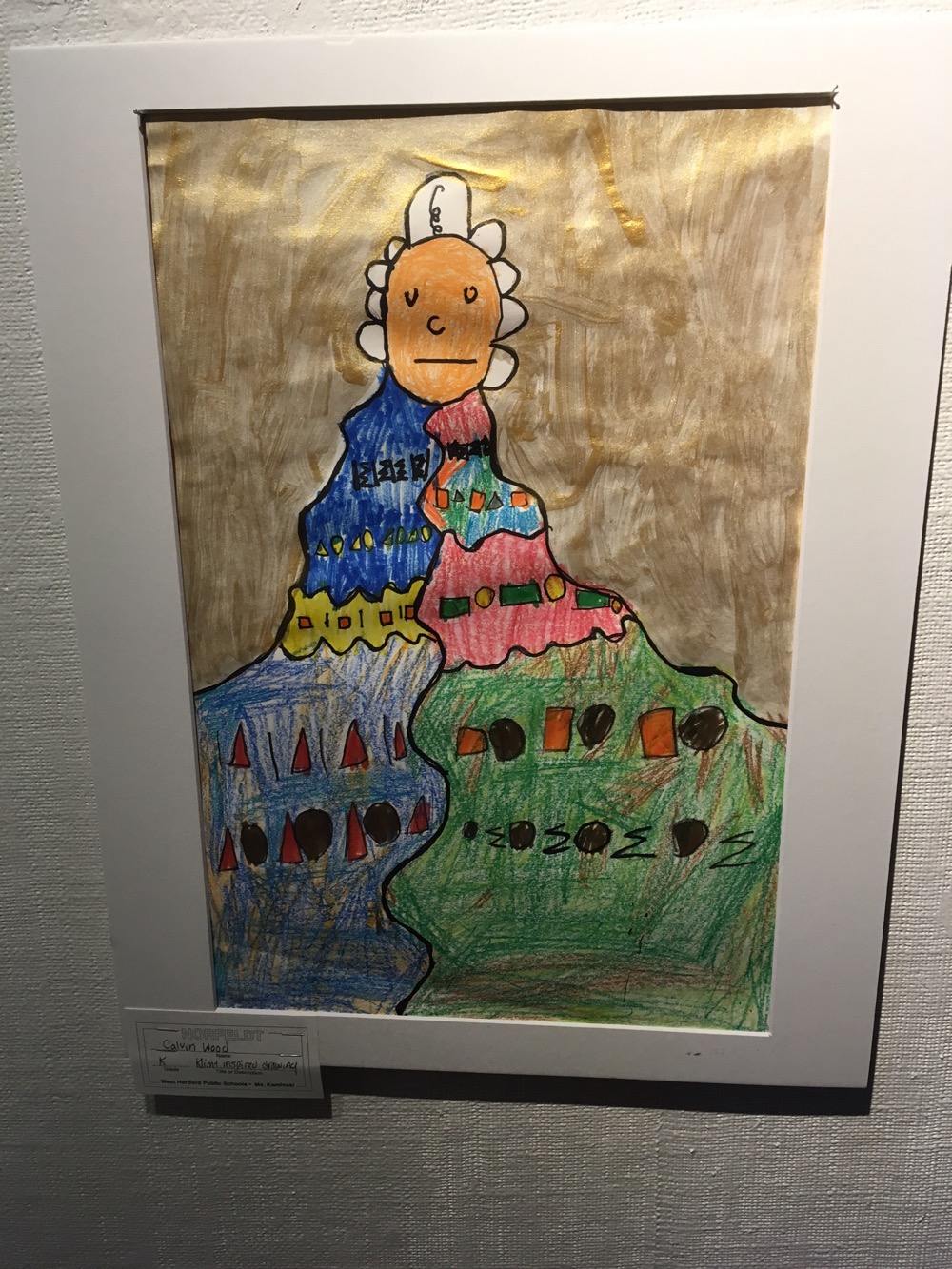 Oh, you want to see the other two kindergartner's work that were also chosen that year? What kind of person would intentionally seek out and photograph the creations of six-year-olds as a comparison to my son's effort? That person would have to be such a jerk…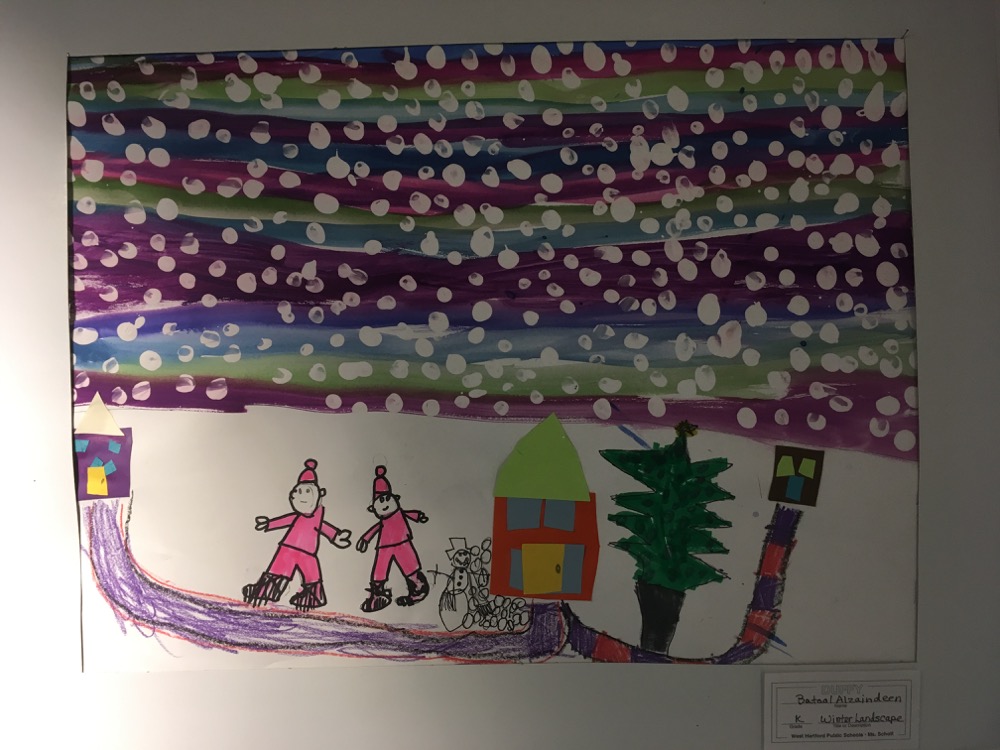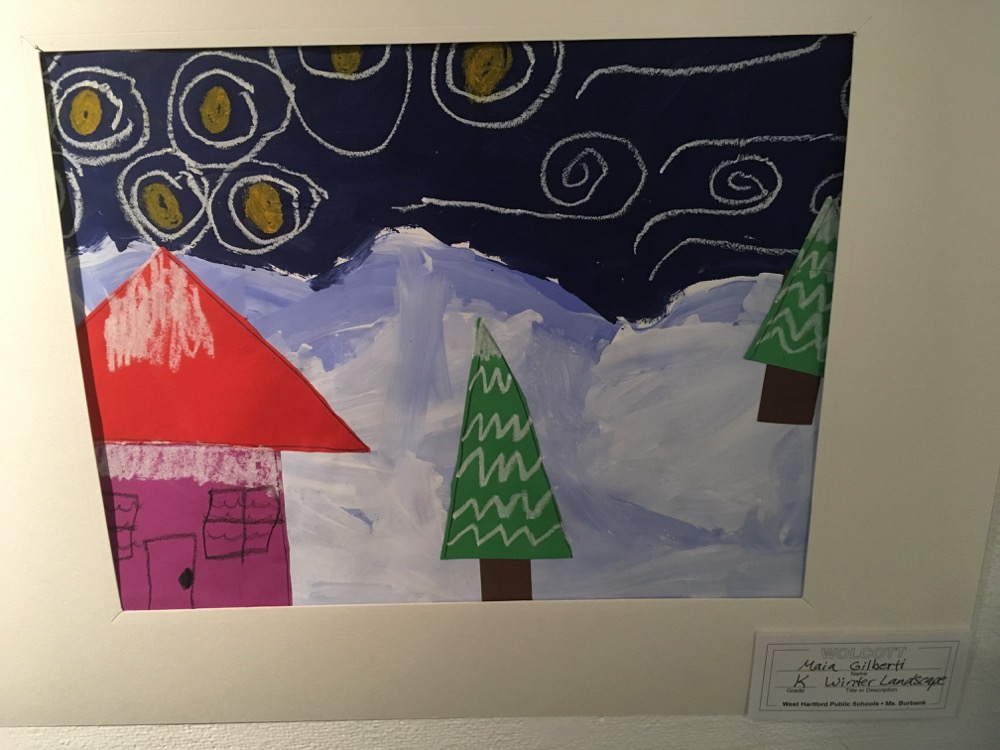 … and that jerk is me.
The ArtBeat thing is really fun. Rooms full of beaming parents and students aged six to 18 being forced into embarrassing pictures. I loved it so much we did it again the next year.
To be honest, I have no idea how Calvin's cityscape piece was chosen, but again, these are blind selections. And I guess it was a cool piece of art. What do I know?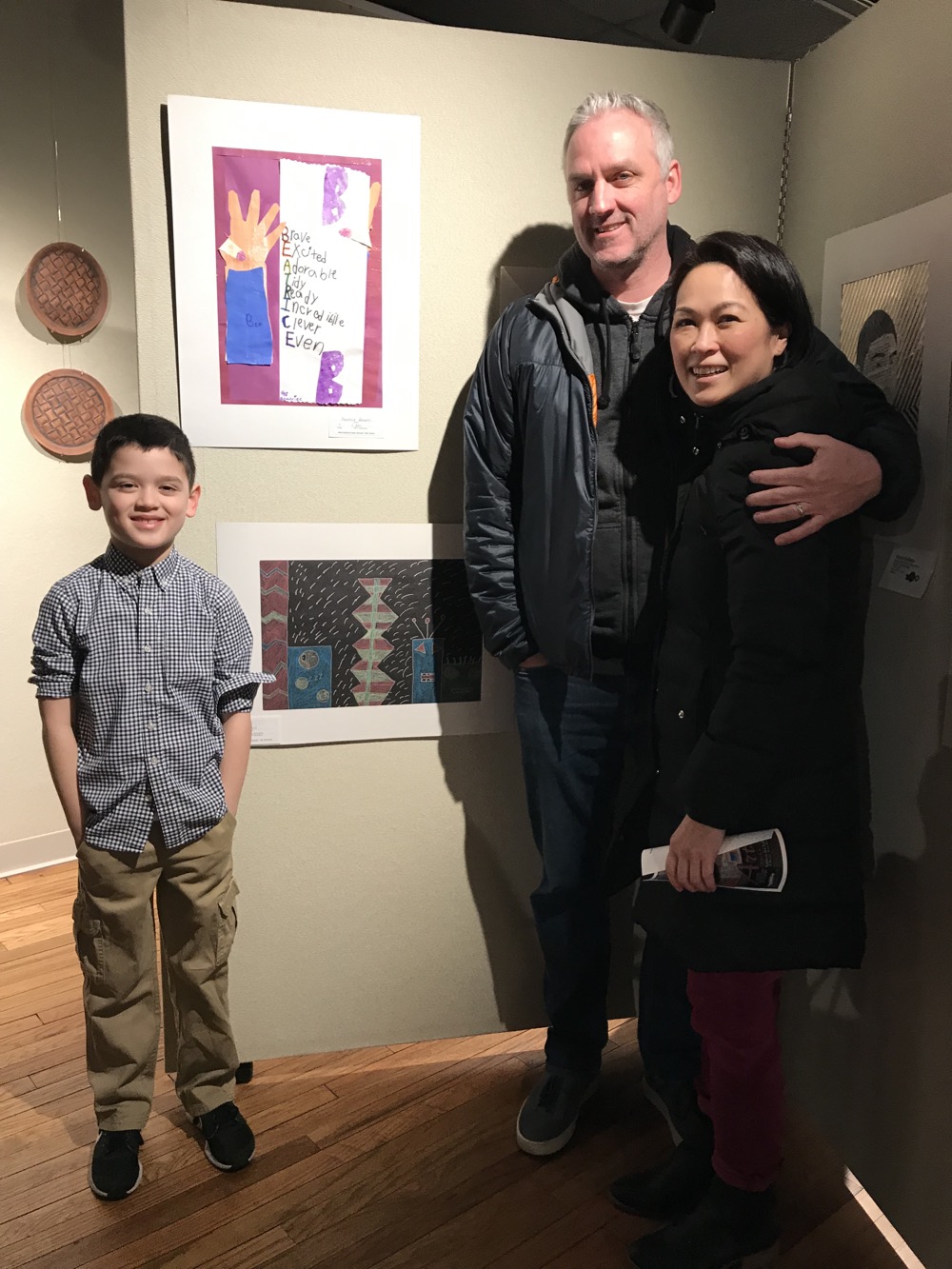 The Art League has monthly exhibitions and they are always free and feature all sorts of media and artists from the area. (And they are usually quite skilled adults, not little kids.) The League also sponsors and promotes things like the Art In Public Places program, that has placed large scale works of art by CT sculptors Charles Perry, Tim Prentice, Peter Busby, Karen Petersen and Philip Grausman on public land around town.
This is one of those pages here on CTMQ that I'll look back on quite fondly when we're all old and forgetful. Calvin will go graduate from high school in 2029 and as I write this, I have no idea where he'll end up or what he'll pursue, but Hoang and I both hope he continues growing his interest in art.
The kid is pretty good.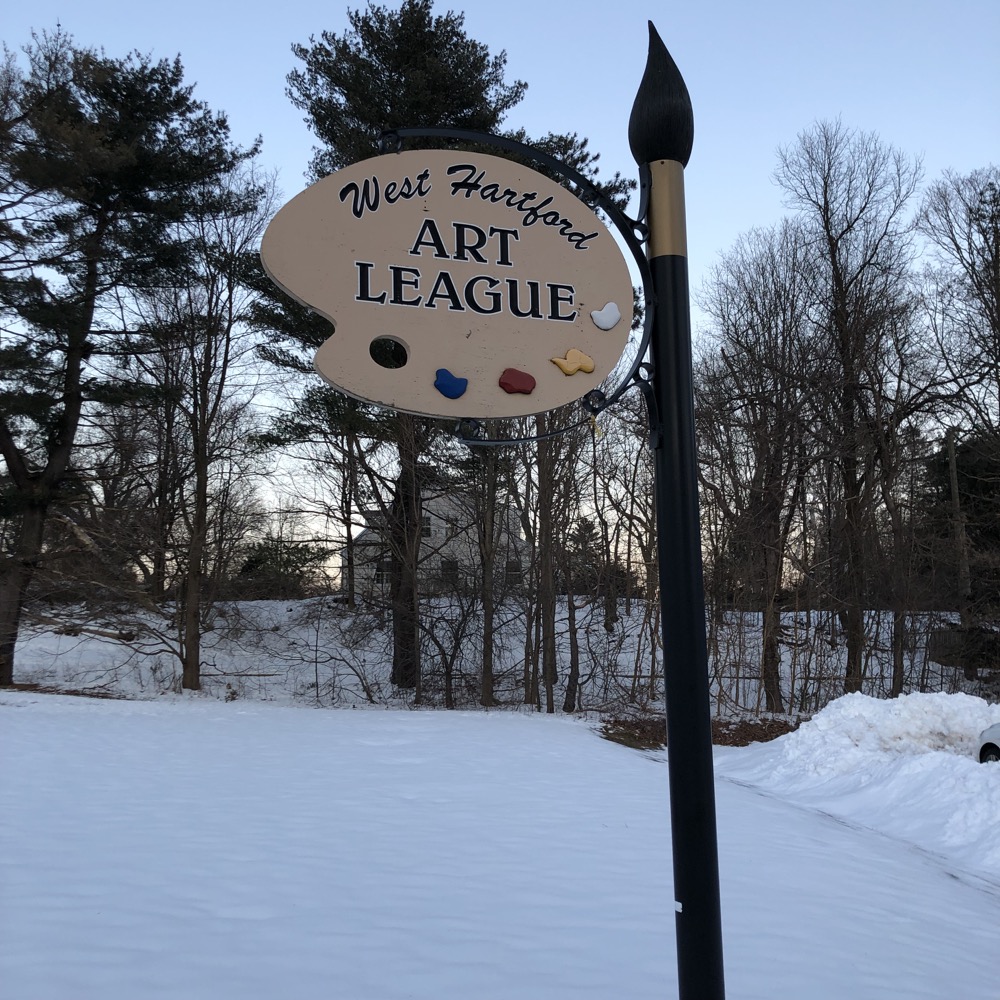 West Hartford Art League
CTMQ's Museum Visits