"Only Wanna Co-Work With Youuuuu"
Third Place by Half Full Brewery, Stamford
April 2022
When I wrote about Half Full Brewery, which is not too far away and also in Stamford, I focused a lot on the founder/owner's Wall Street and corporate roots. About how he, Conor Horrigan, left the Street to get into the brewery game… and brought his corporate jargon and wonky project management skills to his new chosen profession.
So what better way to rub it in my less successful face than to open a second location with a straight up corportism name? Well played, Horrigan, well played. You win this round.
Yes, Third Place by Half Full is just over a mile northeast of the "OG Taproom" (as they call it), up near the train station surrounded by one of Stamford's 30 billion new loft apartment blocks. And if you're unfamiliar with what a "third place" is, it's not the bronze medal. No.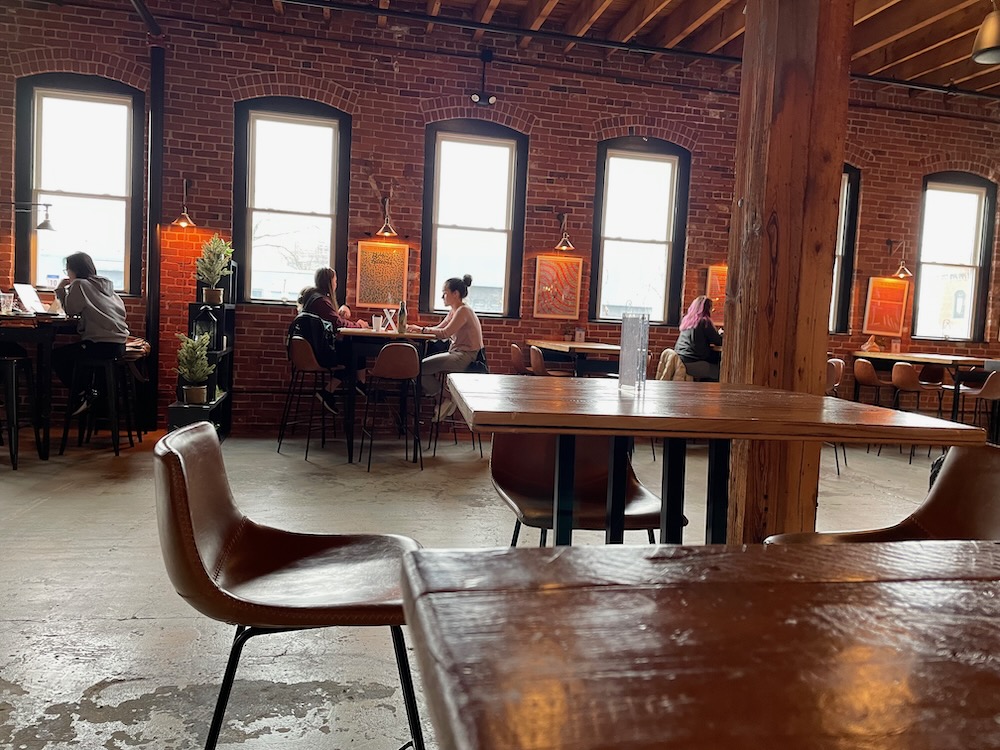 And okay, "Third Place" isn't – or certainly wasn't – a corporate thing when sociologist Ray Oldenburg coined the term in the late 1980's. Third places are "social surroundings separate from the two usual social environments of home (first place) and the workplace (second place). Oldenburg suggests that for a healthy existence, citizens must live in a balance of three realms: home life, the workplace, and the inclusively sociable places – the third places. He argues that these third places are "important for civil society, democracy, civic engagement, and establishing feelings of a sense of place."
And while true third places certainly exist: cafes, coffee houses, breweries and the like, they've morphed to become a freaking second place at which to work! Co-working spaces… that sort of thing. When I worked for LEGO, we had a "third place" in downtown London. It was super cool and modern and relaxed and… it was created to provide space to… work. WeWork and other co-working spaces, hot desking… all that junk. Those are now considered third places by many.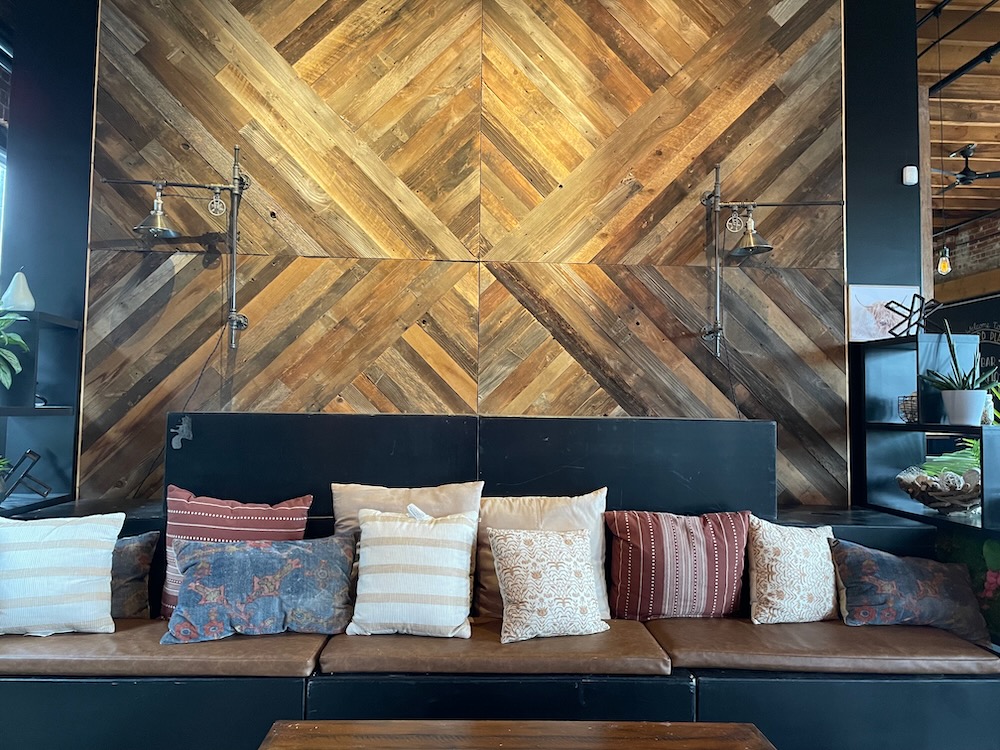 And heck, one of the main draws of Half Full's Third Place is that it is a co-working space!
What do you get when you mix a co-working space, tasting room, event space and coffee shop? Third Place by Half Full Brewery. Stop by for a coffee, post up for the day with your laptop, hop in one of our phone booths for a work call, and then finish with award-winning draft beer. We want our Third Place to be your third place outside of home and work and that's why we try to offer guests as many options here as possible coffee and co-working in the morning…
Oh pandemic, what have you wrought? Besides, death, pain, suffering, and economic ruin that is.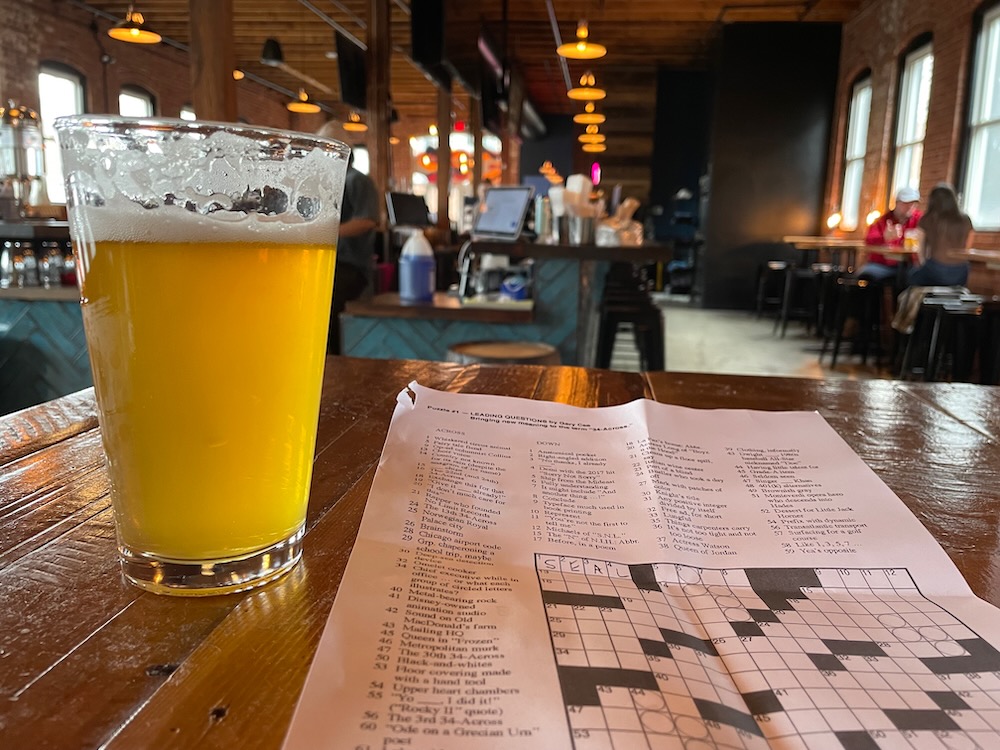 I went to Third Place not to work, but to have a beer. With a crossword puzzle to do. Oh, not just any crossword, but a final puzzle from the American Crossword Puzzle Tournament across town. I may have missed it, but parking seems to be a bit difficult here, but once inside, Half Full has done a great job transforming the space into what they wanted it to be.
It is homey, funky, fun, and comfortable. This was a Sunday afternoon, but there were several people feverishly tapping away on their MacBook Airs. There were young couples who appeared to be on first or second dates. And there was one old guy doing a crossword puzzle on actual paper. Oh. That's right. That was me.
Most of the beer on tap is brewed at the original brewery a mile away. Which, again, they insist we call the "OG Taproom." Yes. OG as in "original gangster." Because this Fairfield County brewery, a stone's throw from some of the wealthiest companies and hedge funds in the world, screams "OG." And if the May 2022 live music lineup doesn't hammer home their street cred, I don't know what will: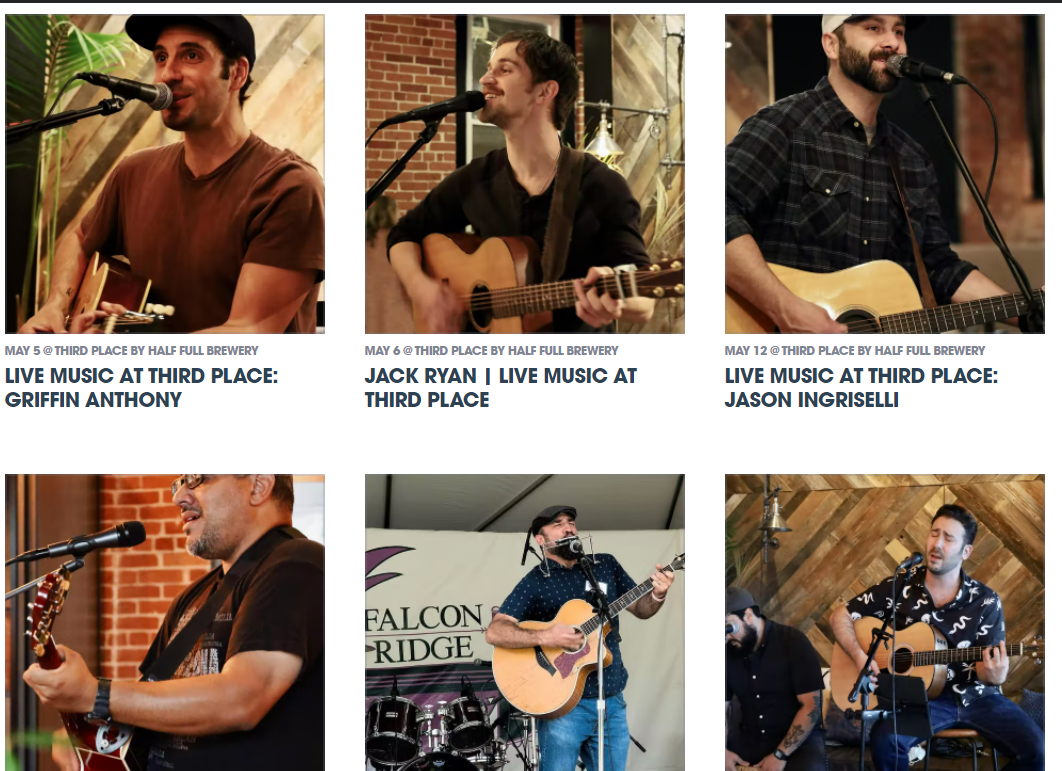 Some Twitter responses to that included, "This image just LOOKS like a Hootie song," "One of those guys doesn't even have facial hair so that's diversity to me," "It's like an SNL skit," and "I play a bit of everything, from Margaritaville to Wagon Wheel."
(And yes, sure, hedge funds and Wall Street firms are of course some of the biggest gangsters in the country, but that's a tangent not worth exploring here.)
I ordered a pale ale and was confronted with that new thing where you have to pay by card or Apple Pay or whatever and they have the pre-set tip amounts starting at 20%. I don't know how much the pint is on its own, but I know that I paid $9.66 for 14 ounces of a low ABV straightforward beer.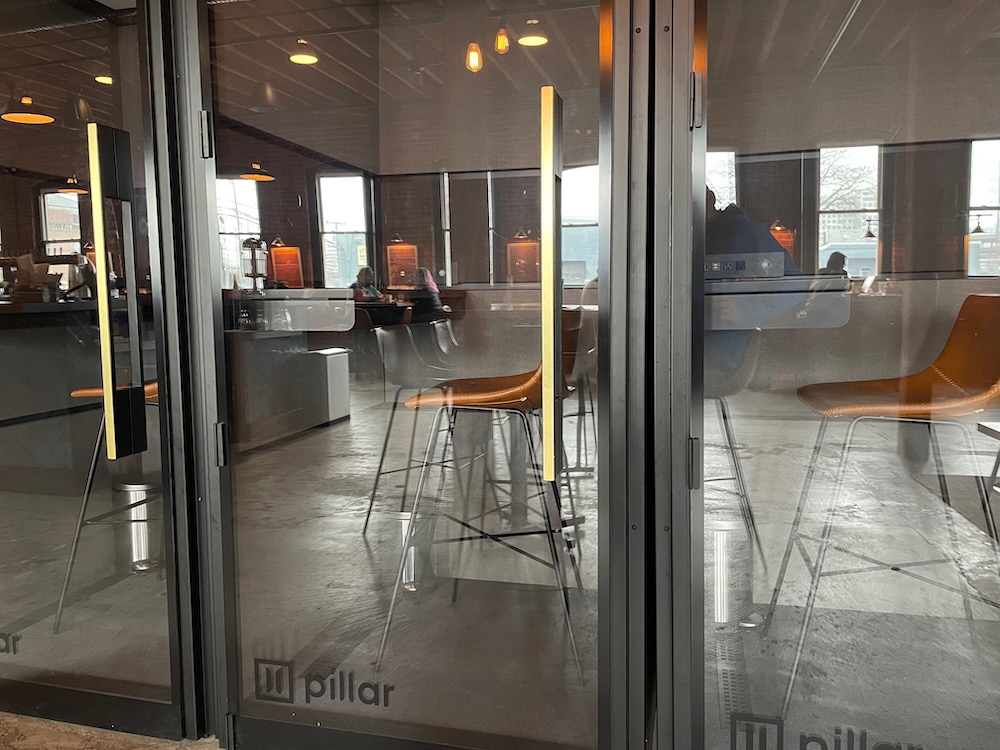 Someone has to pay for these fancy "phone booths" and the living wall I guess. Going here with five friends, two beers each and nothing else, your treat and that's a hundred bucks. Is Half Full's beer worth that?
Not that their beer is bad. It's perfectly fine. But c'mon.
They do brew here, as there are three 5-barrel fermenters and two 7-barrel foeders for barrel-aging. I didn't bother to sort out if anything available to me was brewed here or a mile away. Who cares. My one beer was very good. I wasn't interested in any of the leftover pastries from the morning when Third Place is a coffee shop.
They plan to have an in-house kitchen at some point, and the space shifts from coffee shop to taproom every afternoon. I remember way back in the mid-1990's when ZuZu did this in Hartford. (ZuZu became XandO and then later, Cosi, and then later, nothing, but it was a cool thing for a while here.) And it is a cool thing.
Third Place is cool. It's outside of the trendy downtown section of Stamford, but not too far away. Knowing the MBA cred of the owner, I'm sure many demographic studies were done to show that there is a huge customer base of Millennials with disposable income within walking distance.
Half Full isn't a big name in the Connecticut beer scene outside of lower Fairfield County. I'm not even sure it's all that big down here, but they are big enough to expand and distribute. And good for them.
Distribution in Connecticut beerland is the Third Rail, and Third Place has taken care of cutting out of a bit of that by opening a second location. The only question is, since they hint at opening a third place on their website ("Just Third Place and the OG Taproom… for now"), what would they call their third place?
I only hope they do open another location… on 2nd Street. (Which would actually be an ideal location – no joke.) Good luck to Half Full. But stop making me feel like I should work at a brewery.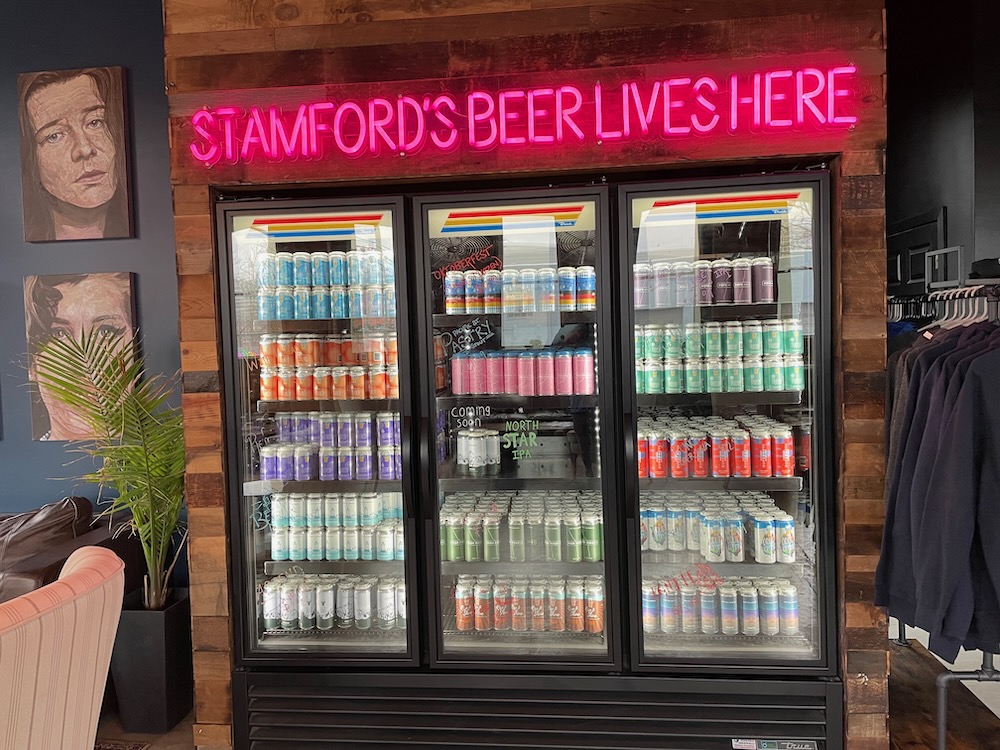 Third Place by Half Full Brewing Company
CTMQ's page on CT Breweries and Brewpubs