Wesleyan Beer Pong Champion Huzzah!
Middletown (Google Maps Location)
March 16, 2009
Many towns in Connecticut have Sports Halls of Fame to honor their own heroes. The large majority of these are not worthy of this fine blog however, as they are merely a few plaques stuck on the wall of the town hall or Senior Center – although Enfield's also made it to CTMQ for some reason. But some, like this one in Middletown, fill an entire large room with plenty of exhibits and historic pictures.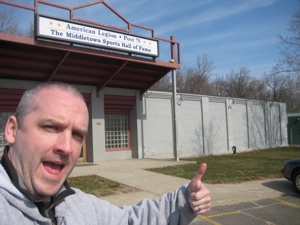 Why does my neck look so fat?
Of course, my initial attraction to this museum was the promise of two wholly distinct museums under one roof. You see, the little American Legion Post off of Route 66 behind the gas station and next to the ball field is supposed to also contain the Greater Middletown Military Museum. But alas, it doesn't.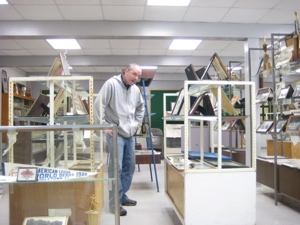 It turns out that the military museum was merely "in the works" and has been for quite some time. After my arrival and after startling the fine veteran gentlemen and after telling them I'd like to check out the Hall of Fame, I asked about the military museum. The two guys brushed off the whole thing with a wave of the hand – not instilling confidence that it will be off the ground anytime soon. But I'll hold out hope.
It did open in 2020.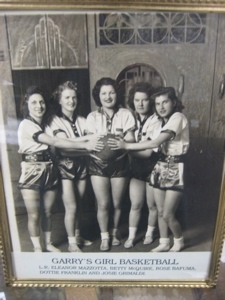 The door to the Hall was unlocked, lights were turned on and I was turned loose. Great! Another random museum to peruse at my whim. The Middletown Sports Hall of Fame and Museum was created to honor the numerous outstanding athletes and other sports minded individuals, and to preserve the deep and rich history of sports in the life of the City of Middletown.
The idea to establish a Sports Hall of Fame surfaced in 1988 during The American Legion Baseball World Series. Discussions about Middletown being the first city in Connecticut to have the honor of hosting a National Legion World Series led to the realization that Middletown has always been an excellent sports town, even back to 1872 when Middletown was a Major League Baseball City for a brief period. (More on that fact here.)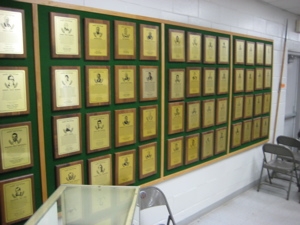 There have been so many excellent teams in all sports – so many outstanding athletes who brought excitement, honor and pride to our City. It was at this point that it was suggested to the members of The American Legion, Post 75 that the Post should make an effort to lease the run-down town maintenance building in the Palmer Field parking lot; renovate it for a meeting hall in one half of the building and make the other half into a Sports Hall of Fame.
It took some time, but the building was renovated and the next order of business was deciding the criteria to get into the Hall. They studied the operations of Hall of Fames in Meriden, Bristol, Naugatuck and Branford. After much debate, the committee agreed that the Middletown Sports Hall of Fame be exclusively for sports. All sports would be included and to be eligible to be inducted into the Hall of Fame, an individual would have to be a native of Middletown, or have played on a Middletown team. It was also agreed that dedicated sports fans and sponsors of sport programs would be eligible for induction into the Hall of Fame.
It opened in May 1993 and has been inducting people ever since. I was quite excited to see that this place is indeed as much of a museum as it is a Hall of Fame. There are lots of historic memorabilia and some cool old newspaper clippings. But there's really not too much to expound upon here.
From a worldwide standpoint, the most famous inductee surely must be Willie Pep. Born Guglielmo Papaleo in Middletown, Pep was a boxer who fought a total of 242 bouts during his 26 year career, a considerable number of fights even for a fighter of his era. His final record was 230-11-1 with 65 knockouts. Pep, known for his speed and finesse, is considered to be one of the best fighters of the 20th century and was inducted to the International Boxing Hall of Fame in 1990.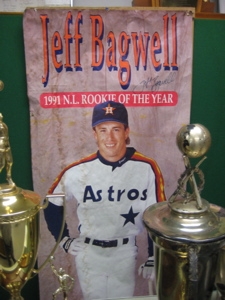 Seen here, even in losing, Willie the Whisk was fun to watch. The Fame-O-Meter falls off a bit after Pep.
In fact, the only other inductee I am familiar with is Jeff Bagwell. Bags went to high school at Xavier in Middletown, a private boys school known for recruiting star athletes. He went on to star for the Houston Astros during the heyday of steroids, so who knows how tainted his NL Rookie of the Year award in 1991 is or his NL MVP in 1994. He was also a four time all-star and had his number retired by the Astros. And I'm sure his head grew gigantic in the 90's too, but I have no proof of that.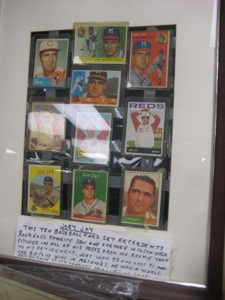 Then there is Joey Jay, a Middletown native who went on to be a major league pitcher for 13 seasons. His claims to fame weren't really from his play though, but rather his pedigree and salary.
In addition to being the first Little League player to advance to the major leagues, Jay was one of the first 'bonus baby' players in the major leagues. This resulted when he signed a significant contract ($20,000) with the Braves, which forced the Braves to keep Jay on their major league roster for two seasons because of the contract's amount. Heady stuff.
And after that… well… there's a display honoring the 1948 Wesleyan football team who went undefeated and untied, beating such heralded programs as the Coast Guard Academy and Swarthmore:
A pair of antique mid-19th century ice skates lovingly described with a Sharpie. ON the skates: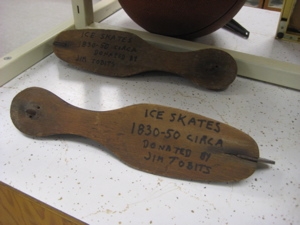 An ode to Dick Dunn; Six time Waterford Speed Bowl Champ!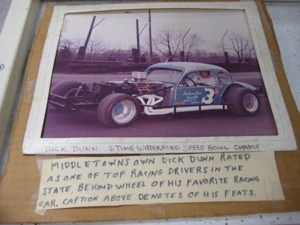 The actual flannel jersey worn by Eddie Duda for the Middletown Giants in the 1930's: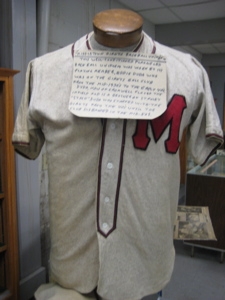 Some random picture of a bike race they used to have in Middletown. I like cycling, so I'm including this: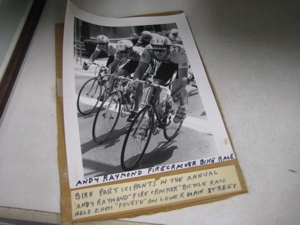 A football from some football game that was for the benefit of "Retarded Children." As a football-loving parent of a "retarded child," I'm 100% behind the concept, but I hope they rework the name if they continue to play this game.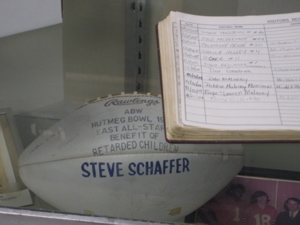 Actually, there was a nice and somewhat touching display about the Special Olympics. This got me thinking on my way home later whether Damian would be able to compete in the Special Olympics and if so, when? I hope so. I imagine it's incredibly emotional, draining, uplifting, and tear-filled. Can't wait.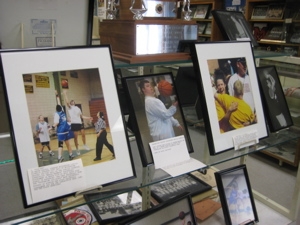 As we descend down the ladder of fame, you can surf around their website to read about the other inductees. Basically, if you excelled at sports at a Middletown high school or a small college elsewhere but have ties to the town, you're in.
A couple of my favorites:
Dan Maloney… joined the Marine Corps after high school and played pocket billiards during his 11-year Marine career and is widely regarded as the best pocket billiards player ever to come out of Middletown.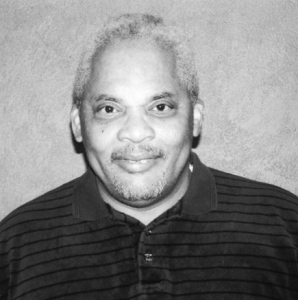 Kenneth Robinson (above)… Little League Baseball: All around player and home run hitter. Selected to league's All-Star Teams. Won batting title in 1955 with .500 batting average. Woodrow Wilson High School: 3-sport athlete, Baseball, Track, Football. Known as speedy halfback whose long yardage runs and big plays won many games for Wilson Wildcats. Named an alternate to Connecticut Nutmeg East-West All-Star team, 1961. Played softball while at Lackland, U.S. Air Force Base, 1963. Hit 17 home runs to lead his team to the base Championship.
On and on it goes.
There was actually enough stuff here to keep me poking around for a good 25 minutes. And while no one you know has ever heard of 99% of the inductees, that doesn't matter. This is a town proud of its athletic past and it was fun to pretend I cared for a small part of my day.

Middletown Sports Hall of Fame and Museum