Tschop NoTsch
Tschudin Chocolates & Confections, Middletown
January 9, 2015
I have no idea how to pronounce Tschudin. Is the 'T' completely silent, or is it a whisper of a 'T' sound? Or does it not even matter, because the mad (in a good way) polymath behind the eponymous chocolate shop has the full name of Rob Tschudin Lucheme.
Such a fancy name is apt for his fancy creations.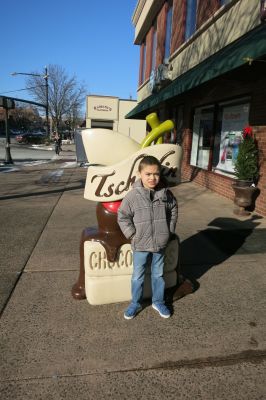 I'd heard and read about Tschudin for a while; as he was featured in the Hartford Courant for his victorious appearance on the Food Network's "ReWrapped" show (which I've never heard of, but congratulations, Rob Tschudin Lucheme!)
In addition, Tschudin was a finalist on something called "Sweet Genius" and they won the People's Choice "Most Creative Chocolate Creation" and the Critic's Choice "Most Amazing Chocolate Flavor" awards at the 2016 "Chocolate to the Rescue" competition. Additionally, Yankee Magazine recently awarded Tschudin Editor's Choice as Best Sweet Shop.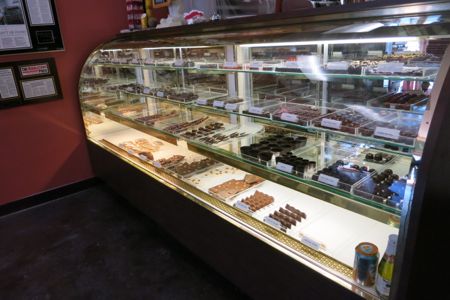 Okay, this place checks out. Tschudin Lucheme studied candy and chocolate making at the Culinary Institute of America and then studied under two professional chocolatiers to perfect his craft.
Tschudin the chocolate chef has had quite an interesting life. He's been a television reporter and a fireman and has been a practicing lawyer for 40 years. It also told me a little of what to expect when I met Rob – he is a very excitable man.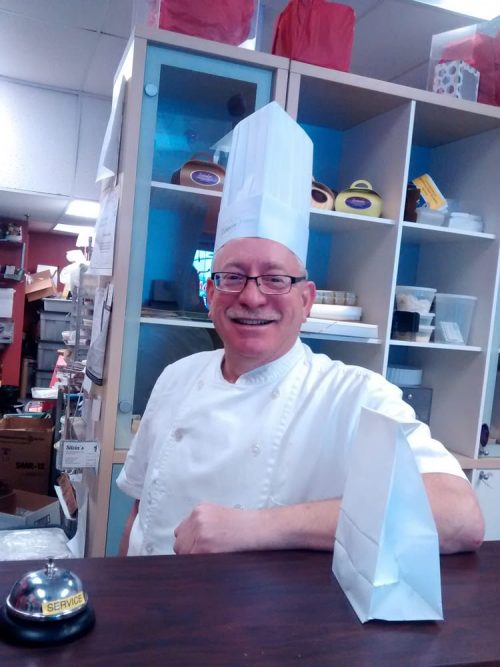 And I mean that in a good way; he effuses energy and excitement. He loves his job and he appears to love customers. The four of us entered and were greeted with a hearty hello.
It was freezing cold outside so Rob offered us a round of his hot chocolate. Okay, why not.
This is REAL hot chocolate; decadent, silky, rich, and, well, chocolatey. The store itself is a bit of a mess. There was one table top and what looked like a garage sale going on. There's an old organ here for some reason. A "Taco Time" slot machine of some sort. And all sorts of knick-knacks and, to put it bluntly, junk.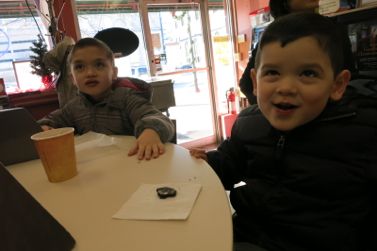 [2017 Update: to start the new year, according to their website, Tschudin's will be cleaning out the junk and making the customer area more inviting. Or at least I hope that's what they mean by:
We will be "officially" closed until Thursday, January 12, 2017.

If and when we are here, you are still welcome to come in so long as you are patient – service may be slow – and can put up with clutter as we rip the place apart.
Hmm. Perhaps that's what that means.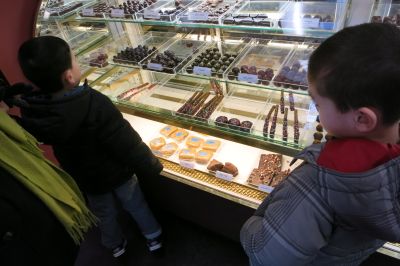 Regardless, the quality and creativity of the chocolates overwhelms any reservations one might have dropping major coin for high-end chocolate amidst junk.
The Chocolate Trail says:
Adventurous chocolate lovers will find plenty to surprise the taste buds at Tschudin Chocolates on Middletown's vibrant Main Street, where the sweets are handmade using exotic flavors and spices and fresh, local ingredients. Grownups will enjoy a cup of fresh-brewed coffee, custom-made hot chocolate and amoretti truffle, while the young (and young at heart) can take a "Wonka" tour of the candy kitchen and then taste the treats they have seen created.
Chef Tschudin wears chef whites and a toque blanche apparently at all times. After all, he came bursting from the back kitchen in his full regalia on a random afternoon in January when we entered. Despite his apparent wackiness, he takes this chocolate thing darn seriously.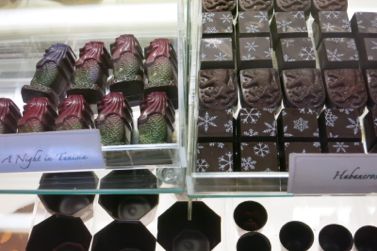 We heard stories upon stories about the derivation of some of his chocolates.. Some of the spiced chocolates evoked travelogues from years gone by. Upon learning that Hoang was from Vietnam, we got a story about a trip to southeast Asia and the award-winning "Night in Tunisia" candy (chocolate filled with pepper and coriander)… and I assume everyone knows Tunisia is nowhere near Vietnam, but whatever.
When you meet Rob, you'll want to hang out with him for the rest of the day. And we probably would have, gorging ourselves into a diabetic coma were it not for our two little boys who couldn't have cared less about where Rob sources his coriander.
We ran into the owners of the Norwich Inn and Spa who were positively effusive about Tschudin's chocolates. They were there, apparently, to talk about an exclusive contract to serve Tschudin's at the Spa's restaurant, but now that I look at the menu… they went with some place called Hauser's in Westerly, RI.
Oh well.
Here's more from Tschudin's website:
Our hand-made artisanal chocolates and sculptures feature only the finest ingredients including, whenever practicable, local honeys and herbs and top-shelf spirits. All our chocolate is stone-ground, all of it is super-premium coverture-grade (the top 2% of the world's chocolate supply) all of it is fair trade… We proudly participate in the Connecticut Department of Agriculture's Farm-to-Chef program whenever practical. We can also make special order tarts, cakes and breads, in some cases gluten-free.
Tschudin is perhaps most well-known for his chocolate shoes. That's right, shoes. They look like real high heeled shoes and I imagine they cost a pretty penny. Each shoe can take up to 20 minutes just to remove from their molds. (Who knows how long it takes to get to the point of getting the fine chocolate into the molds; what with all the tempering and heating and cooling and all the other steps that go into these things.)
We enjoyed our visit to the small, cluttered Middletown shop and I'd slot these chocolates right up there with the best in the state.

Tschudin Chocolates & Confections
CTMQ's Connecticut Chocolate Trail