You TiBetter Believe
Tibetan Kitchen, Middletown New Haven
January 2016
Tibetan Kitchen closed and re-opened in New Haven Chapel Street in 2022.
As I begin putting this page together, I find myself getting lost in the mountains of Tibet and the geopolitical twists and turns of the east Asian country. This isn't the place to pretend I know anything about the various Chinese incursions and limitations on the land, the people, and their religious practices.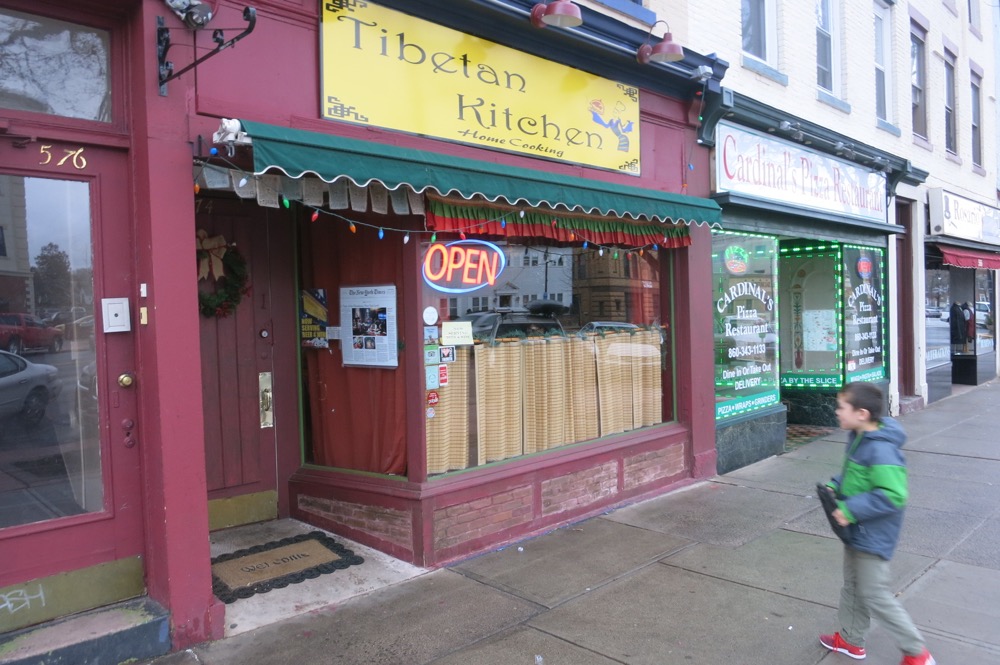 (It's also not really the place for me to pretend to be any sort of food writer or critic or cuisine expert, but alas, here we are.)
I was curious what really defines Tibetan cuisine and from what I gather, it is more influenced by northern India and Nepal than by China. Although, obviously, Chinese cuisine – specifically Han cuisine – has crept into Tibet over the last century or so.
Traditionally, Tibet is known for its use of noodles, goat, yak, mutton, dumplings, cheese (often from yak or goat milk), butter, yogurt (also from animals adapted to the Tibetan climate), and soups. I don't think the Middletown restaurant imports yak meat, but other than that, they've brought Llasa to central Connecticut.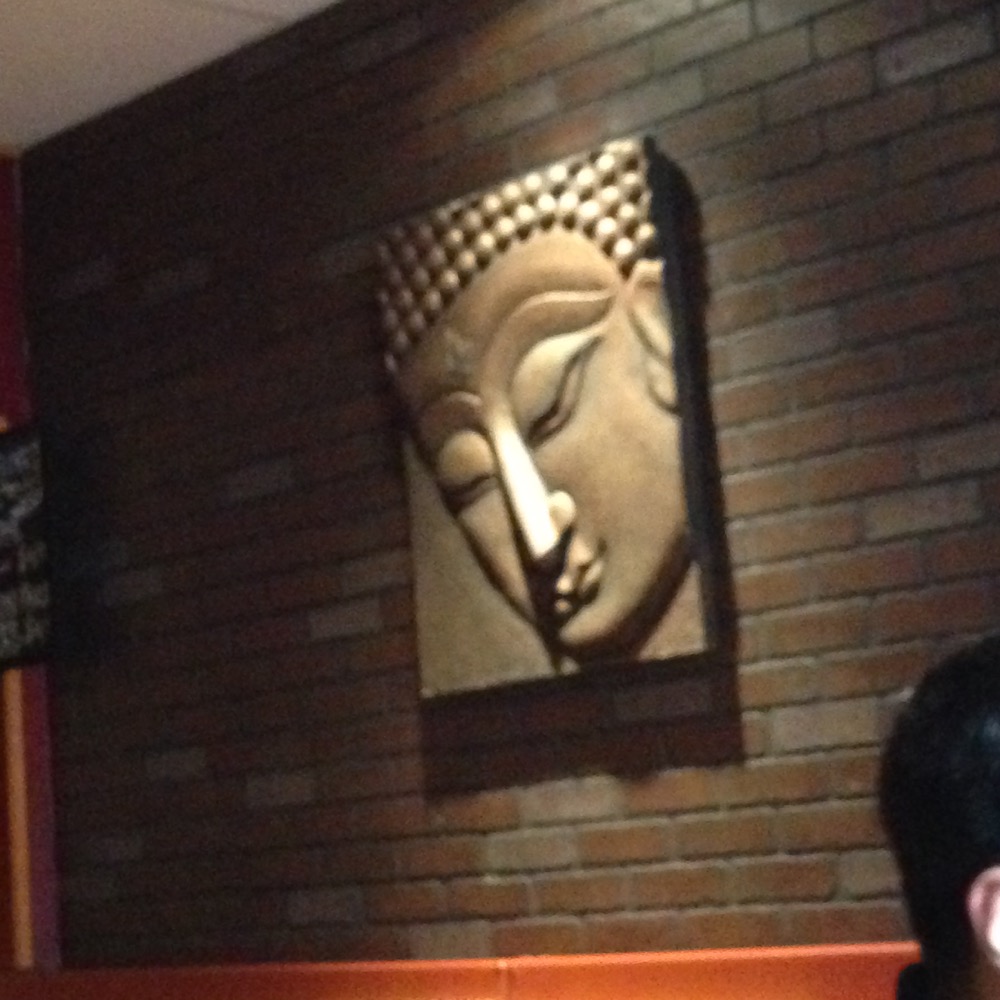 One interesting thing I learned is that while vegetarianism is prevalent as a result of Buddhism, being a vegetarian in Tibet is very, very difficult. You see, not many vegetables grow in the country with the highest mean elevation of any place in the world – and shipping routes around the Himalayas are pretty dicey for more than half the year. So there are a bunch of Buddhist vegetarians there who eat meat because, well, they kind of have to.
The menu at Tibetan Kitchen has plenty of vegetarian options of course. And plenty of meat dishes. All with more flavor and prepared with more care than you'd expect. Though I don't really know what you'd perhaps expect at a Tibetan restaurant.
I'm happy to tell you that you should expect deliciousness. Middletown's Main Street has gone through quite a resurgence in the early 21st century – at least as far as dining is concerned. There are higher end (mostly) Italian places now as well as a few hip and trendy joints that cater to the Wesleyan crowd and their families.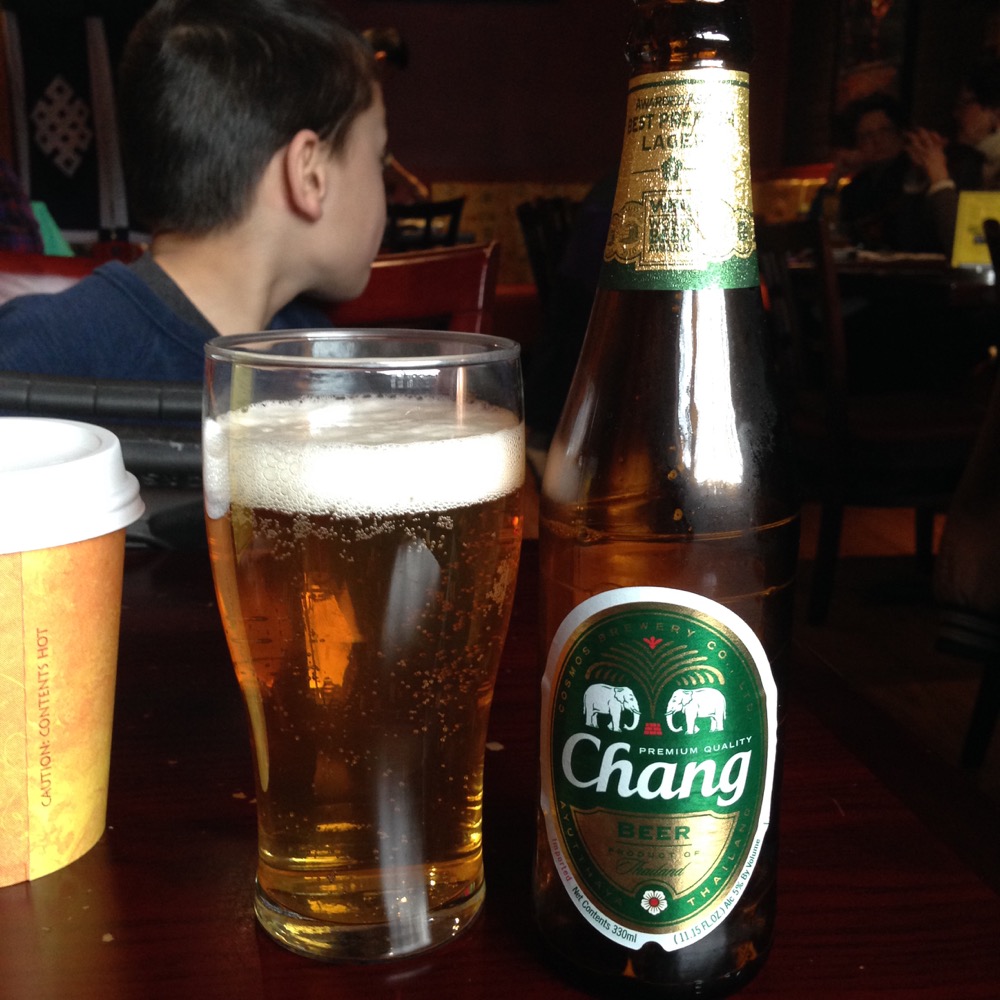 Every city in the state has nice Italian restaurants. Not every city has a Tibetan restaurant. I went with Damian on a whim one day and found the tiny little dining room quite cozy. The staff here is almost too kind and seem to always have a smile on their faces. (I've dined here since this visit, but this is the visit I have pictures from.)
The space is decorated with picture of the Himalayas and the Dalai Lama. The color palette is red and yellow, just as you'd expect if you knew what to expect at a Tibetan restaurant.
Tibetan Kitchen is run by a husband and wife, and they stick to tradition as much as possible. This is (yet another) restaurant that serves food that takes an enormous amount of skill and labor to produce, yet is very affordable because Americans just don't or won't pay a premium for any Asian cuisine other than sushi. It's a very odd thing and it's something both the late Anthony Bourdain and David Chang (among others, I hope) have brought necessary attention to in print and on television.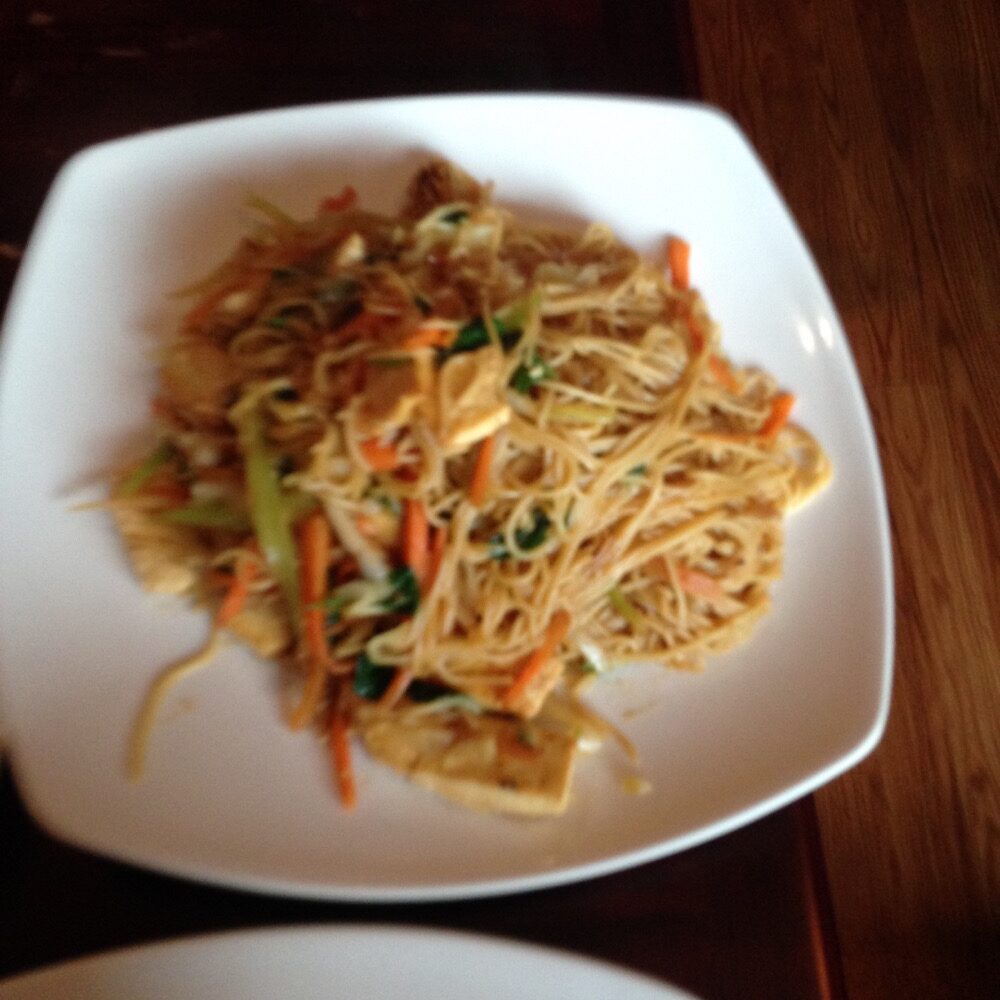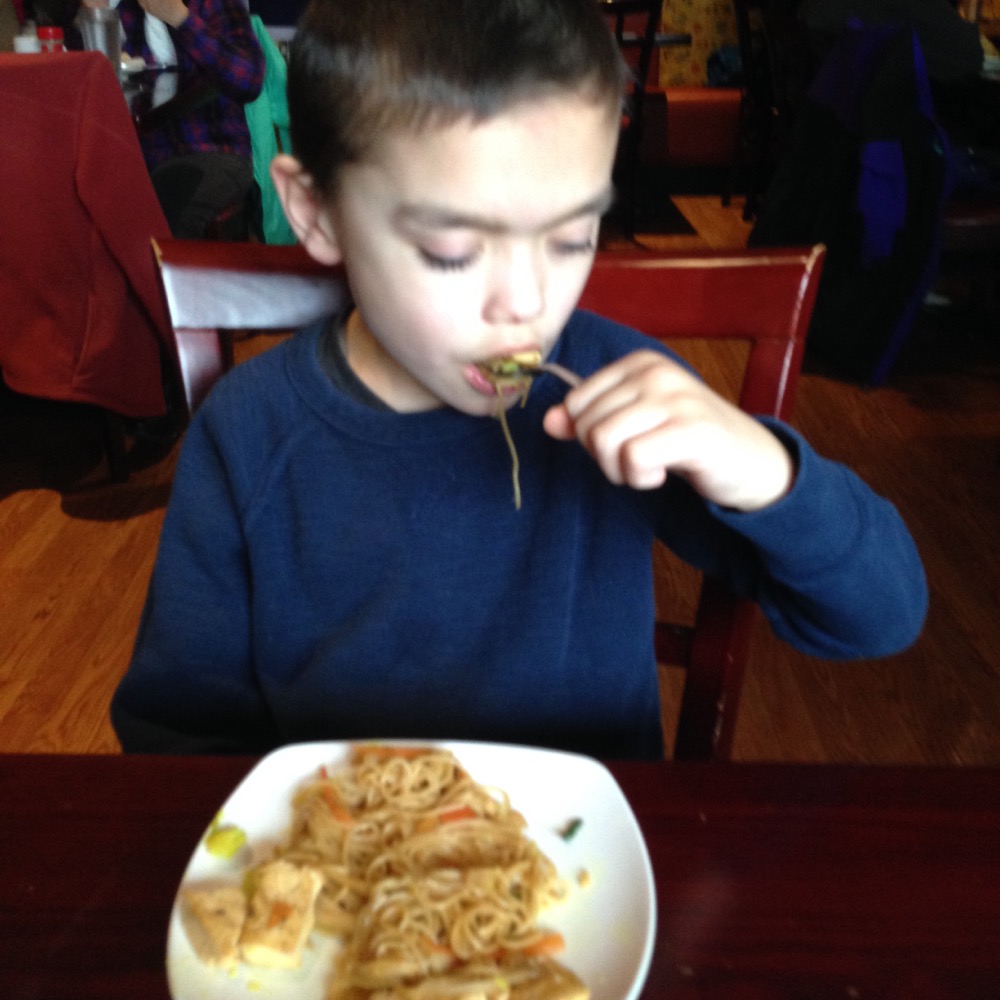 Everything here is made from scratch. Hand-pulled noodles, the soup broths, the sauces, the dumplings, the so-beautiful-they're-art steamed buns… on and on. The various doughs are rolled out every day and shaped and filled and steamed to order. Why in the world we're fine with paying a premium for freshly made pasta and not this stuff – the same stuff more or less – boggles my mind.
Alright, let's see what we ate here. I spy some Avocado Salad (Himalayan style potato & mashed avocado in lemon dressing), along with a nice plate of Gyathuk Ngopa (sautéed noodles mixed with fresh green vegetables & tofu), and of course the Tsel Mokthuk (Mini vegetable dumplings in a clear vegetable broth), accompanied with Tingmo (hand-rolled steamed bun). Got all that?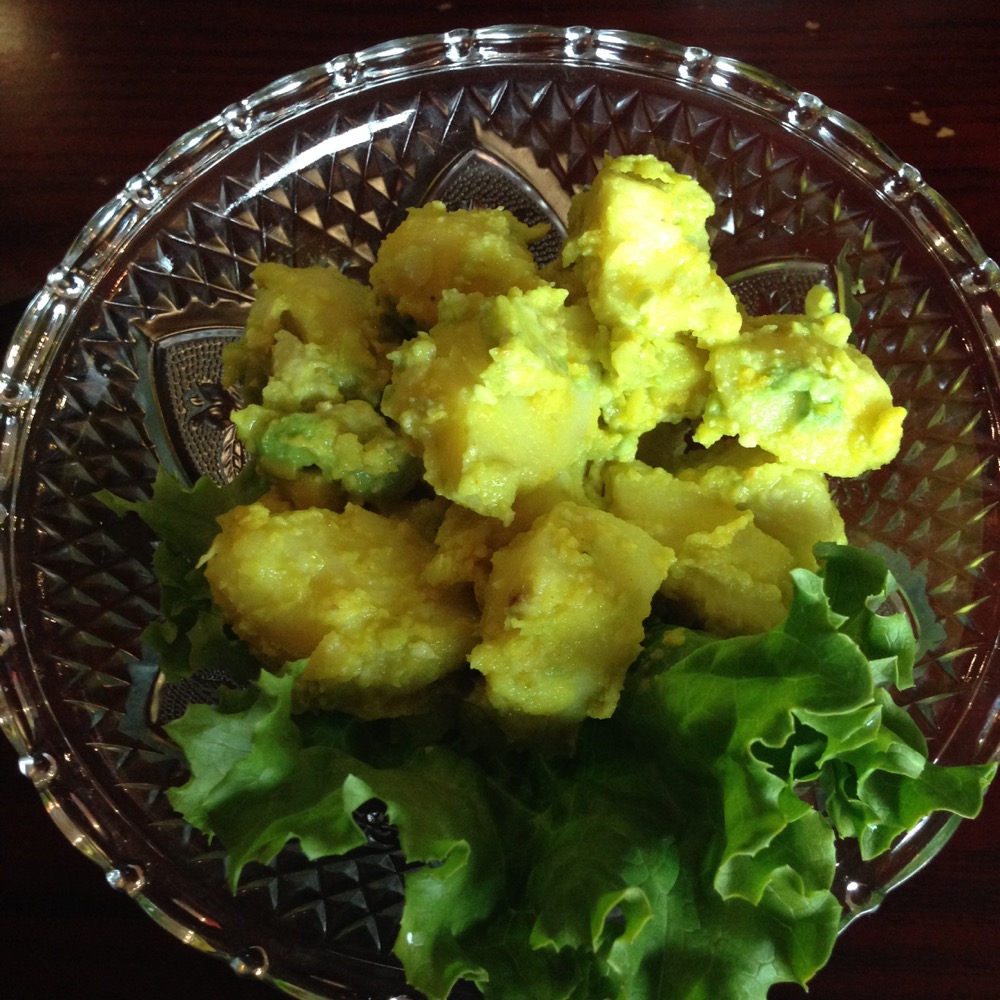 Don't worry, as it doesn't really matter. It's all rather delicious.
Many of Tibet Kitchen's dishes feature heat – as in Thai or chili pepper heat. You can, of course, ask for tamer versions. But many come with the hot pepper sauces on the side; perhaps a nod to the largely WASP clientele. Damian and I ate everything up, and my main takeaway from this place is that this isn't "Chinese food" or "Indian food" (two phrases I'm trying to phase out of my vocabulary, as both countries have such a massively divergent food culture), but is Tibetan food.
A comforting, satisfying, flavorful cuisine best explored with an empty stomach and open mind. And thankfully, we don't need to fly to the ends (and heights) of the earth to get it.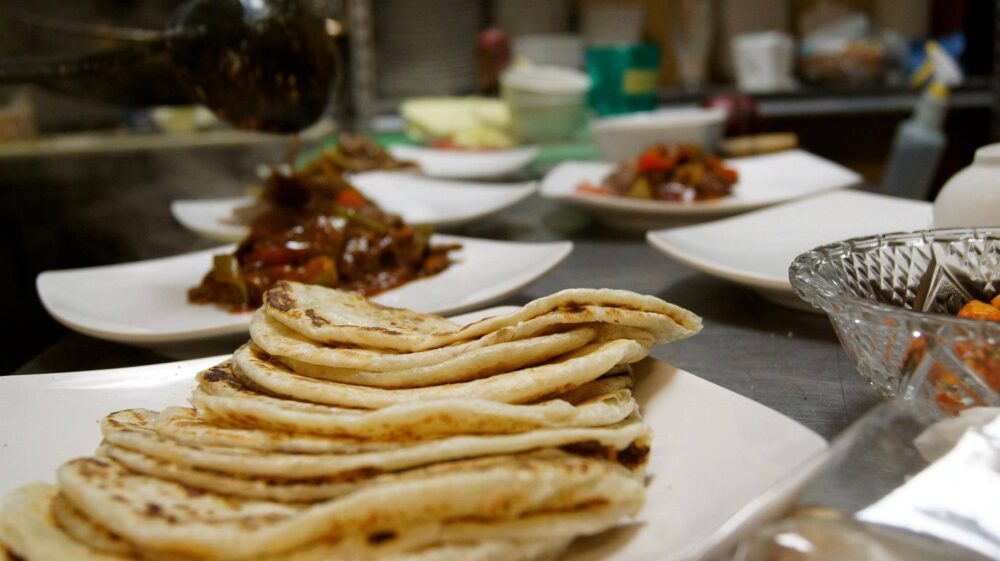 Tibetan Kitchen
CTMQ's CT World Food Tour