Section 2: Still NatCHUGGING Along
10 miles, Eastford, Chaplin, & Hampton
July 2017
What a thing… splitting this trail into two hikes; the first in single-digit temperatures in March and this one in the heat of mid-July. I guess that's not really a very interesting thing, as I've done that plenty of times. You know what I haven't done plenty of times? Hiked with my friend Matt Woodward.
And that's a shame.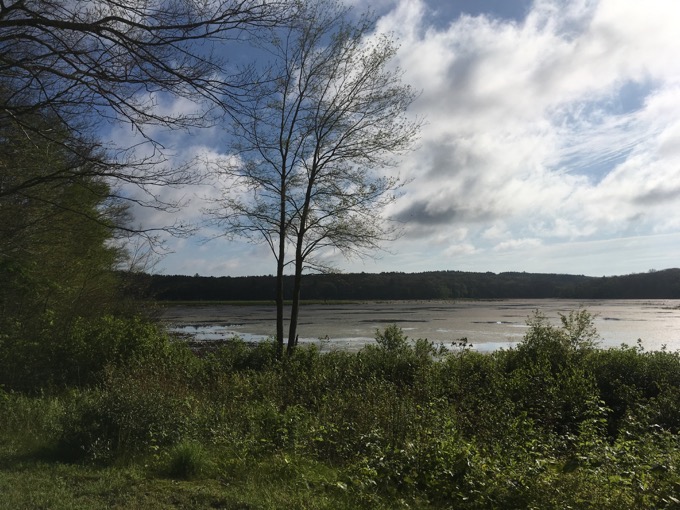 Matt's a really cool and talented guy who runs Explore Connecticut, where I find myself admiring his focus on the outdoors – rather than getting bogged down with all the other stuff that I do. I'm jealous of him. He's also younger than me and far more fit. I used to be one of the fastest and most nimble hikers out there… but meeting Matt and hiking with him was a humbling, "oh yeah, I'm approaching 50" life moment.
We picked up the Natchaug where we'd last left off: General Lyon Road in Eastford, just off of Route 198, south of its intersection with Route 44. We found the trailhead on Pilfershire Road and began walking along the Still River, catching up with our lives' goings on. Still NatCHUGGING Along.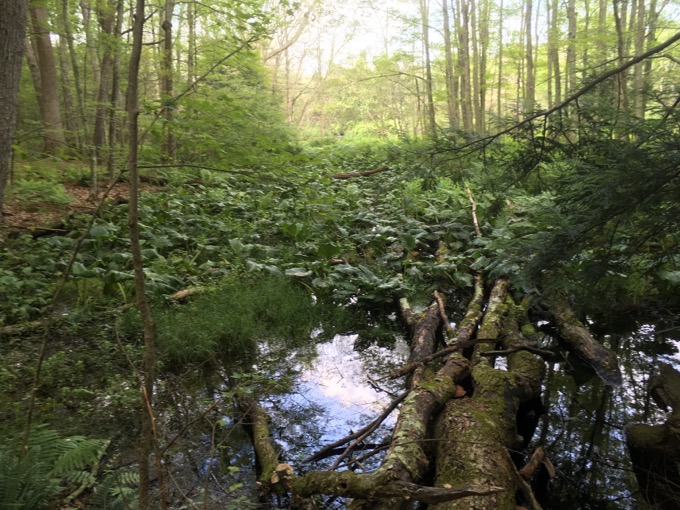 Matt led and on the flat riverside first stretch, I was fine with his five miles per hour pace. Then the trail turned east away from the river and straight up an incline. Matt's infernal pace did not wane. Mine did. Holy crap, what was happening to me?
No joke, that was the moment I remember thinking to myself that I can no longer keep pace with the whippersnappers. Matt was now the guy I was just a few years ago and I was the "other" guy. I had a moment. I faced my own mortality. I told Matt to hold up a second. Bruh.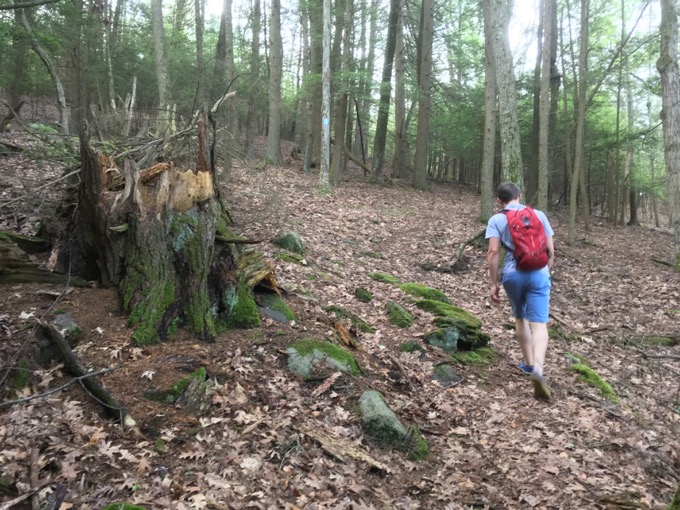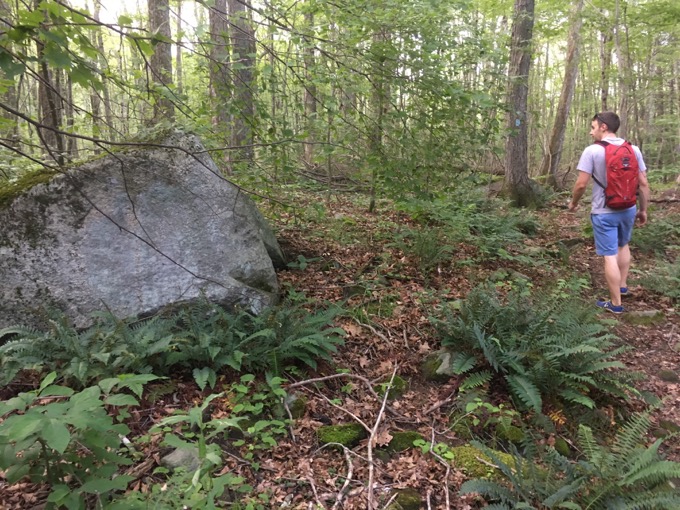 He did and I reviewed my fully lived life for thirty seconds and that was that. I was good. Just needed a second. We continued to the crest of the hill and continued southward. I was fine for the remaining nine miles – including a few nearly equivalent uphills – but that's probably because I took the lead – or Matt took pity on me.
The Eastford woods are open and quiet. Clearly this area was farmland 200 years ago, as stone walls crisscrossed our path several times. We hiked through some planted tree stands of white pine and fir. You're not going to get a lot of civilization in Eastford, but you will get a Civilian Conservation Corps side trail that branches off to the east and courses along the Still River.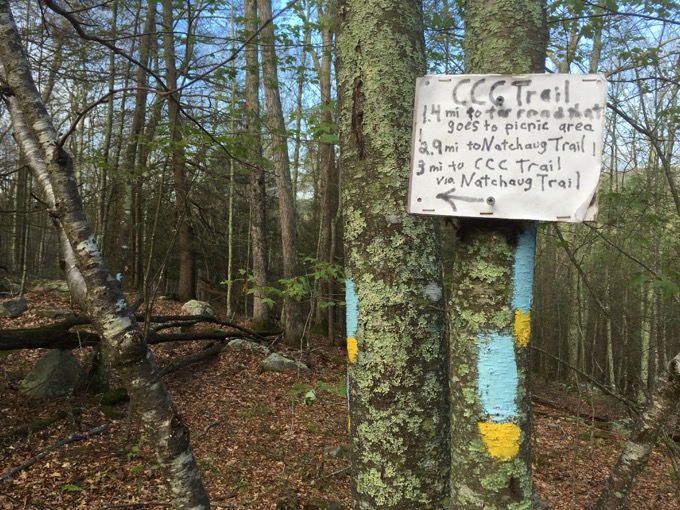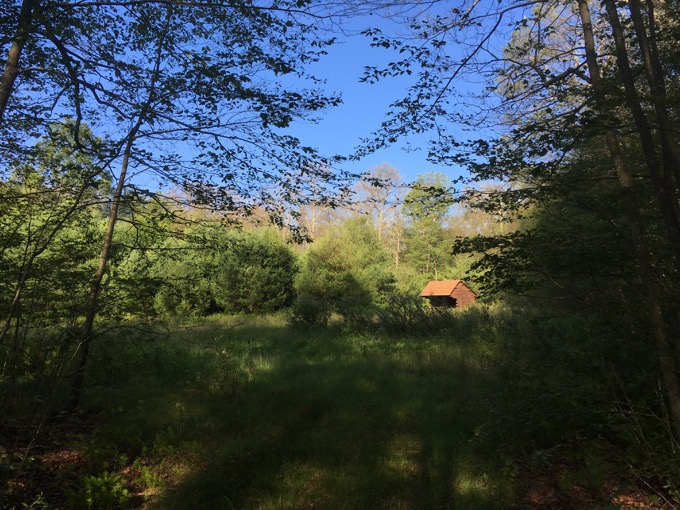 We left that trail alone and stuck to the Natchaug plan. Up another hill, down a short road walk and then through General Lyon Memorial State Park.
Yes, that's right, we began near General Lyon Cemetery on General Lyon Road and were now walking through General Lyon Memorial State Park. I'm generally telling the truth when I tell you that General Lyon is Eastford's most famous son – whether you've heard of him or not.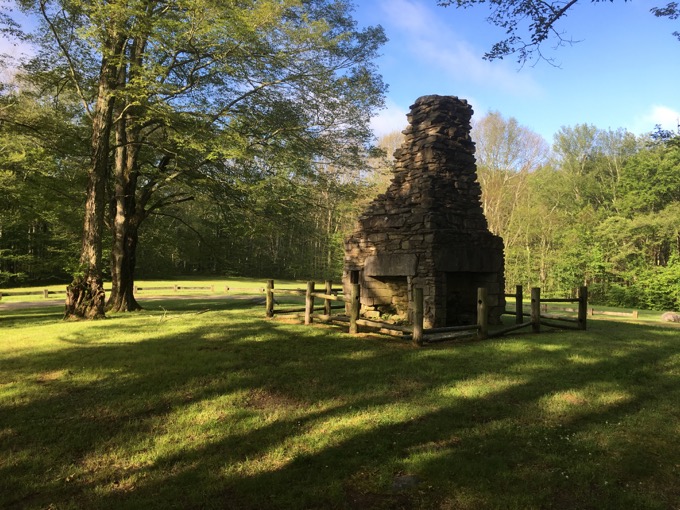 From Peter Marteka in The Courant:
The battle at Wilson's Creek had been raging since dawn in the stifling heat of a Missouri summer morning. Gen. Nathaniel Lyon, blood flowing from a head wound and bullet wounds in his ankle and thigh, climbed onto his orderly's horse — his own steed had been shot from under him — and urged his outnumbered Union troops to keep up the fight.

"Come on my brave boys," he is quoted as saying. "I will lead you! Forward!" A gunshot soon echoed over the din, and Lyon — the pride of Eastford — was struck in the heart by a bullet and fell to the ground, becoming the first Union general to die in the Civil War.
There are General Lyon memorials and a park near St. Louis too. Here, in the middle of the Natchaug Forest in Eastford is a park at his birthplace. All that remains of it is a massive and well-preserved chimney, but as many times as I've been here (three, over a dozen years), it's always a well-maintained patch of land.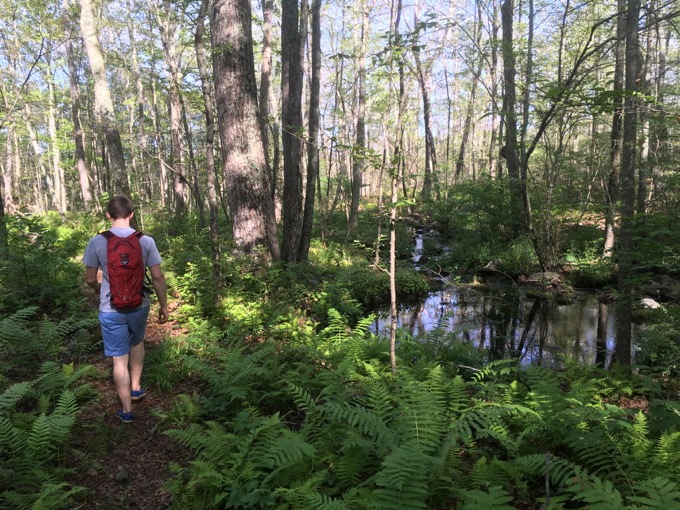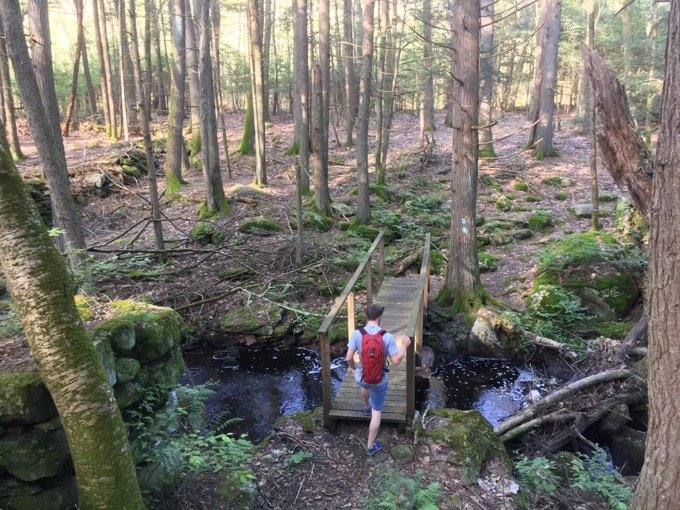 A hardpack dirt road allows cars to come here. I don't imagine it's a highly visited state park, but I'm pleased it exists as it does. Visitors can park and walk north to the General Lyon Cemetery if they're Lyon fans, but normal people can still follow the state forest trails or do the CCC loop I mentioned earlier. (I returned a few years later and did a couple loops, including the CCC Trail.)
The Still River from earlier and Bigelow Brook we hiked along in the first section merge and form the Natchaug River around here and it is simply one of the prettiest forest rivers in the state. Unfortunately gypsy moths devastated this area the summer of my hike so a lot of the deciduous trees were in a winter-like state.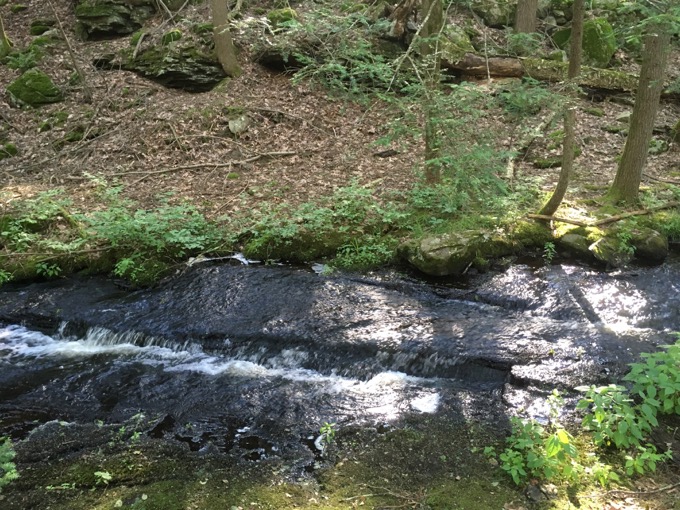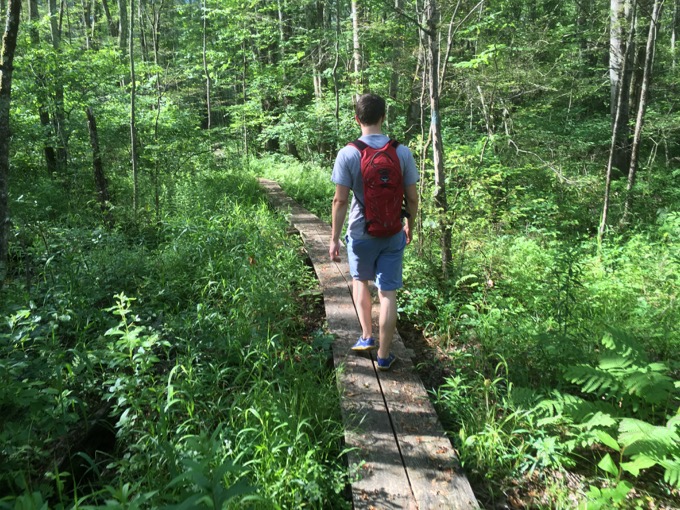 Matt and I ambled past Beaverdam Marsh, helpfully identified as such with a big sign out in the middle of nowhere. The Natchaug Trail turns westward again back towards the river and the southern end of the CCC Trail loop. Here, the trail crisscrosses some streams and marshy areas before aiming south towards the terminus.
I admit to being rather surprised at the decent little waterfall here on Beaverdam Brook. Matt had been here before so he just kept moving along as Matt is wont to do. But I stopped to check it out. Rifling through my brain full of nonsense, I knew that this isn't a waterfall listed in any guidebook (Though the CFPA Walk Book does mention it) and that got me wondering if I should include it on my massive list of Connecticut waterfalls.
Let's catch up with a bunch of pictures.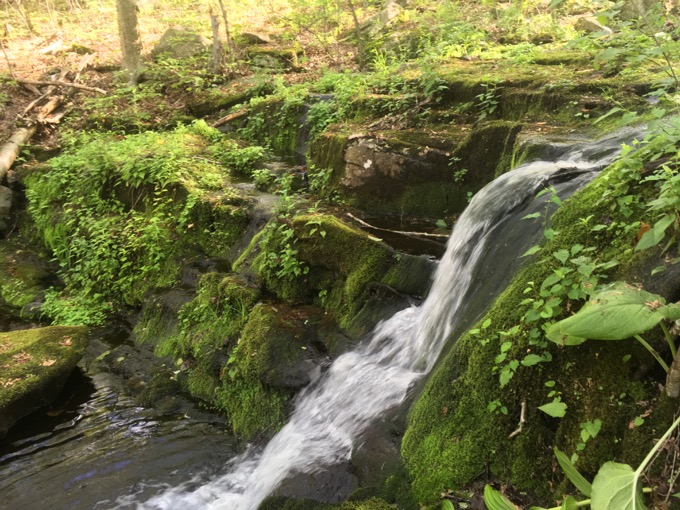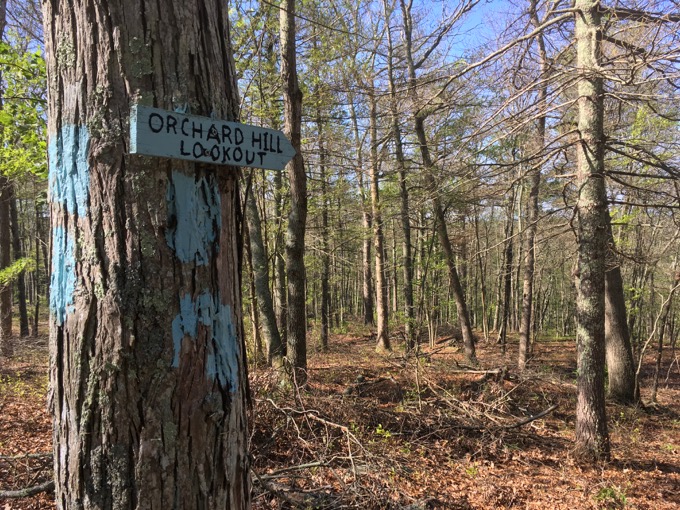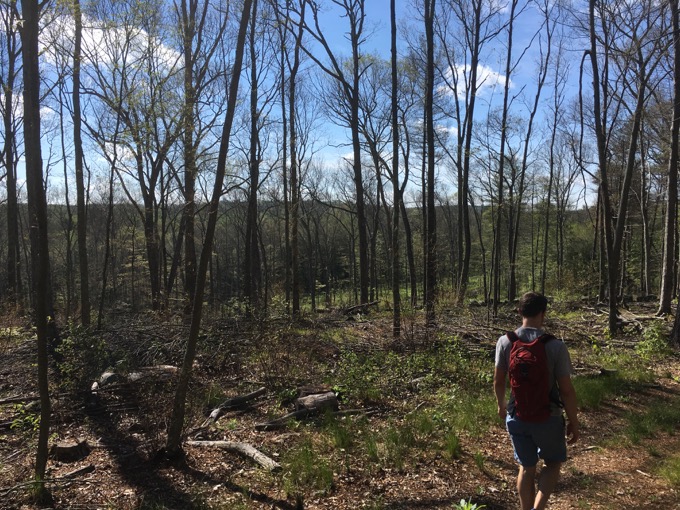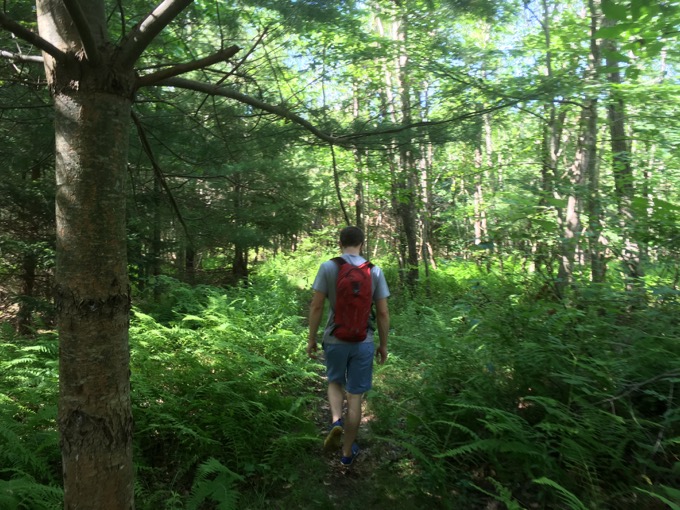 As I write this sentence, I have not yet decided. Do I have enough pictures to justify its inclusion? It certainly qualifies from a height and volume perspective, relative to some of the other clunkers on that list.
Ok, ok, I'll move on. There are several forest roads to cross from this point south, as we crossed over from the Natchaug State Forest into the James L. Goodwin State Forest.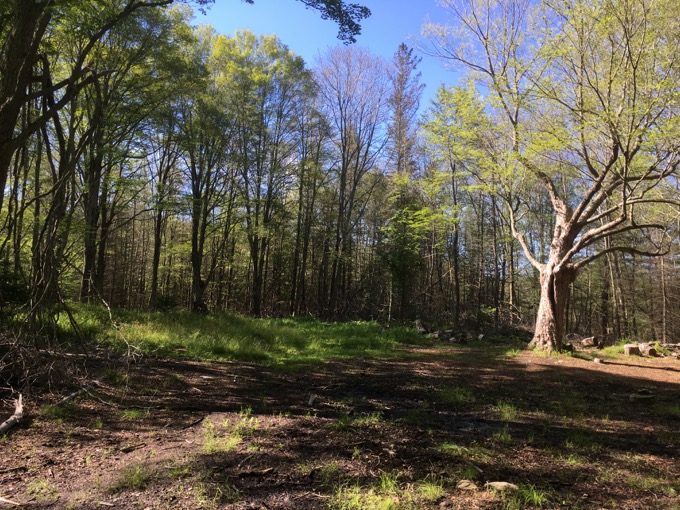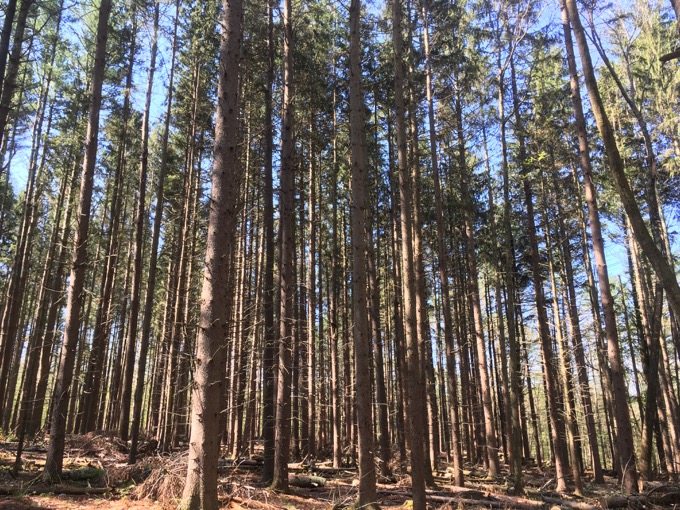 We climbed a named hill – Orchard Hill – and more or less disregarded the faint view at the summit. From this point to the end, the trail is generally flat. We passed Black Spruce Pond, crossed the Air Line Trail, intersected with several Goodwin trails, and eventually followed the Air Line Trail and took in Pine Acres Lake for a while.
The Natchaug took us into Chaplin for a while which is only interesting because Matt was currently living in Chaplin. I have told him several times that he is the only Chaplin resident I've ever known, so we talked about life in the town.
That conversation lasted about 40-seconds. And shortly after this hike, Matt moved out of Chaplin, as most residents of Chaplin eventually do. (I kid, Chaplin is a lovely town.)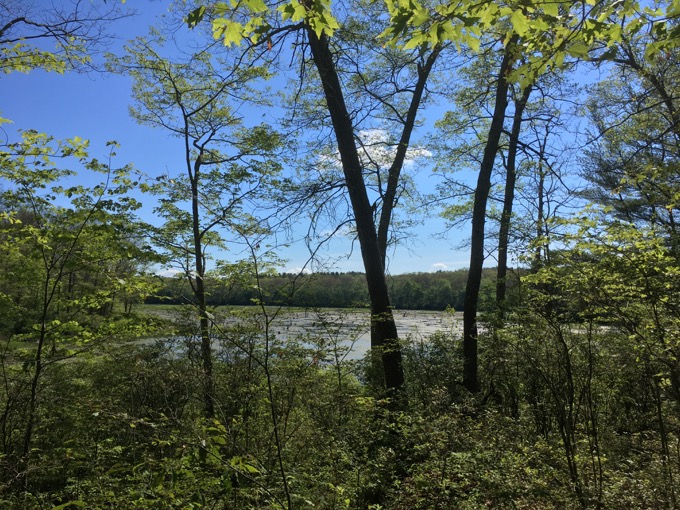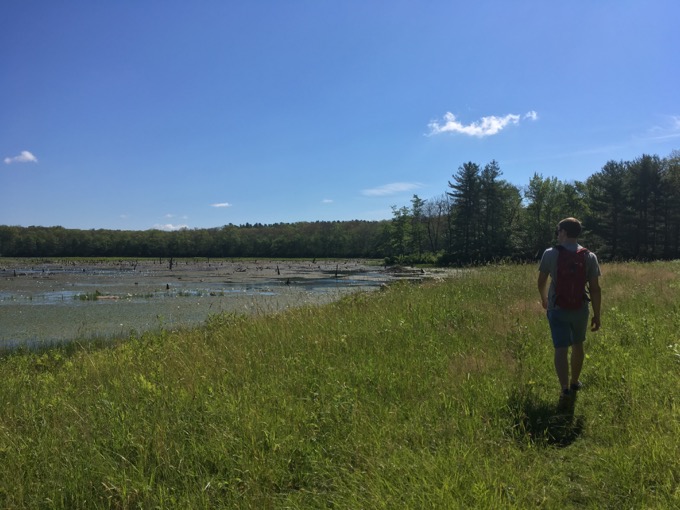 Haven't heard enough about this Matt guy? Ok. I marveled at Matt's uncaring attitude towards poison ivy and Lyme Disease. The trail took us through a lot of high ferns and tall grasses and Matt's bare legs and no socks thing had me freaked out.
I guess, in a way, when you have completely bare legs you can keep checking yourself for ticks as you go. I think I was surreptitiously checking out Matt's legs… errr… you know what I mean. (But he does have nice legs, I can't lie.)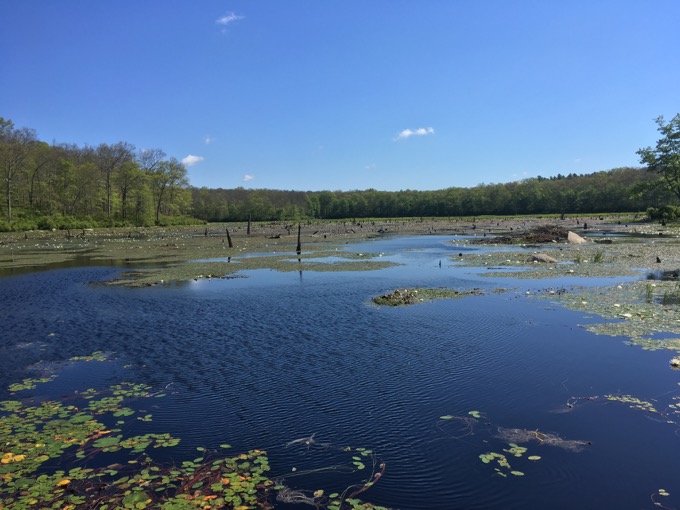 As we approached the Goodwin Nature Center in the heat of the day, we began wrapping up our hike and talking about future plans. There are a few museums here at Goodwin and even a cool "secret" writer's retreat that we both daydreamt about occupying at some point in our lives. (Unfortunately, the application makes it clear that they only accept actual writers. Oh well.)
I knew I'd be back here several times in the future. The nature center, Goodwin Cabin, the state forest's other trails, the Air Line Trail… all in Hampton. Do Hampton people bust on Chaplin people? And where do Eastford people fit in?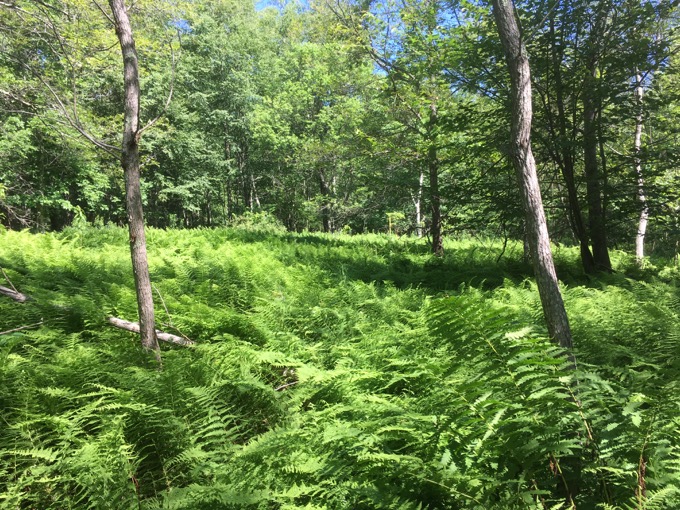 Eh. They're probably all in it together against big city folks of Willimantic. It's probably a whole thing out here that I'm unaware of. As for me, I love these forested towns as they remain (relatively) untouched by development and allow for me and Matt to spend a few hours in their woods along their rivers doing what we love.
The Natchaug is a nice 19-mile rather flat hike with some loop trails that allow for nice out-and-backs. Thanks to Matt for keeping me company and putting up with my old man legs. I hope you find a hiking partner as accommodating and check this trail out.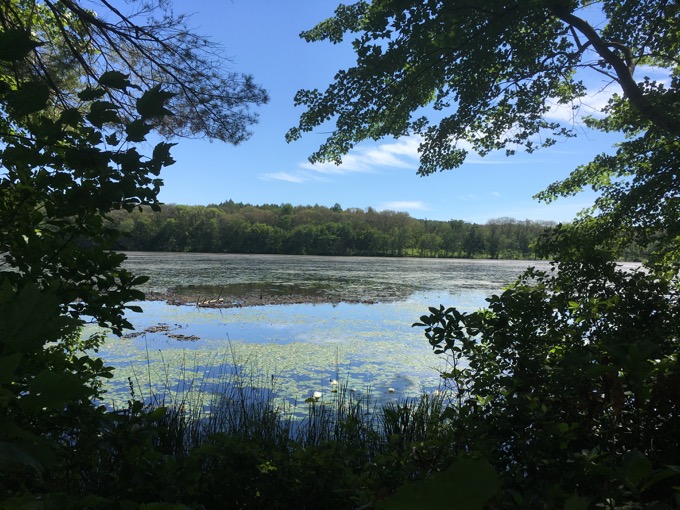 CFPA Trails Map
CTMQ's Natchaug Trail Intro
Chaplin, Eastford, & Hampton Natchaug Block & CFPA's CCC Trail
CTMQ's Natchaug State Forest Intro
CTMQ's James L. Goodwin State Forest Intro
CTMQ's CFPA Blue Trail Challenge