Section 1: NatCHUGGING Along
8.9 miles, Ashford & Eastford
March 2017
Alright brain, get your stuff together. You've got to come to grips with this thing.
No, not the fact that I would be hiking at dawn on one of the coldest mornings of the 2016-17 winter.
No, not the fact that in order to reach the trailhead of the Natchaug, I'd have to walk a mile or so along an already trodden section of the Nipmuck in Ashford.
No, not the fact that I'd have to be personable with a hiking partner for once.
My brain had to come to grips with the fact that I'd be hiking a multi-hike trail from the north to south.
That's just not something I do. Or did. Until now.
Welcome to the Natchaug Trail.
I have no issue with cold weather hiking, or retracing steps, and certainly have no issue hiking with Matt Woodward. In fact, I rather like hiking with Matt very much. And I love his Explore Connecticut website. But… yeah, this may have been my first multi-day hike from north to south.
Weird, I know.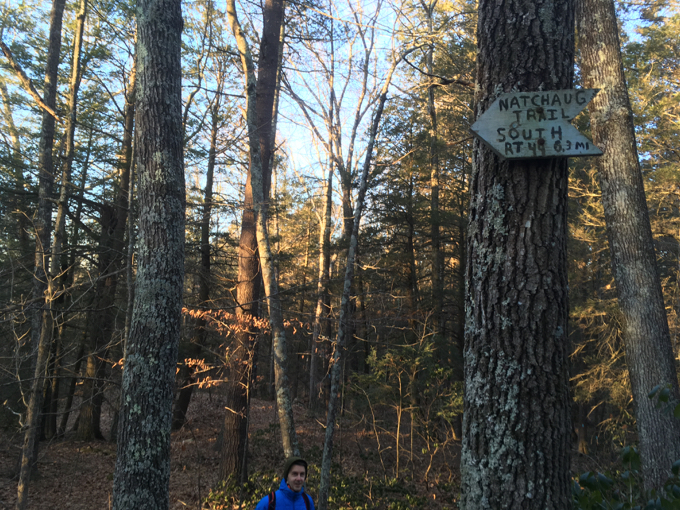 After spotting a car down on Pilfershire Road in Eastford, we drove and parked along the dirt Eastford Road in Ashford. (There are a LOT of dirt roads in Ashford, by the way.) We flew down the mile of Nipmuck Trail we had hiked (FROM SOUTH TO NORTH LIKE PROPER HUMANS) a month earlier to reach the junction with the start of the Natchaug.
When taking a picture of the start of the Natchaug (or the end of it for you normies), I realized Matt likes to be in pictures (See his smile above). Which is great! Just a new experience for me.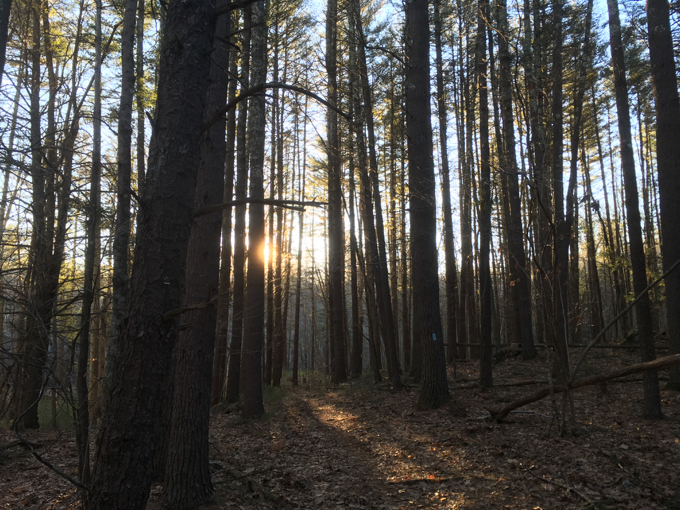 Anyway, as we hike down the next 9 miles of trail, you should know up front that there's nothing really explosive or super awesome about the northern half of the Natchaug.
It is, however, a well-maintained and rather pleasant trail. It's flat, but it spends a lot of time along Bigelow Brook. And Bigelow Brook is very pretty – making this hike worth it on its own.
The sun peaked over the horizon just as we began our trek… but offered little in the way of warmth. No matter, both Matt and I were dressed properly and we had no issues with the cold at all.
Shortly into our hike, the Walk Book noted a viewpoint. There is no viewpoint worth getting excited about, but there is a little pond off in the distance.
At another point, there's a huge glacial erratic about 100 yards to the south of the trail. Matt and I agreed that there must be some weird reason why the trail didn't take us to it. After all, every CFPA trail goes out of its way to walk alongside such things. We let it go without too much thought.
After a very short uphill flanking the side of Spooner Hill, we came upon a little pond. It was chilly.
The next mile or so was rather uneventful, though we did walk along and cross another of Ashford's many dirt roads: Moon Road. (Did I mention that Ashford has a lot of dirt roads?)
From there, we continued east on a hillside that, for unexplained reasons, caused me to mention to Matt, "This place has a weird vibe." There was a barbed wire fence alongside of us for several minutes through the pine forest; dogs bayed in the distance. But neither of those are valid reasons to call a random patch of woods in eastern Ashford weird.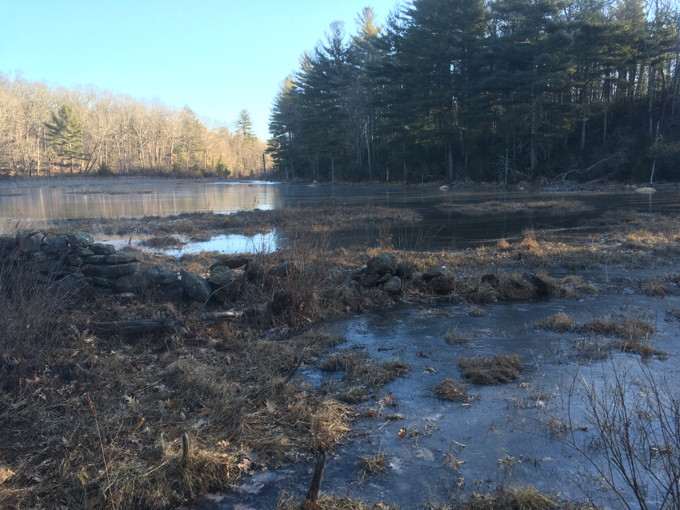 We crossed into Eastford with no fanfare and came upon Jerry's Bench shortly thereafter. You know… Jerry. And his bench. In Eastford. At the top of a field in the middle of the woods.
I have no idea who Jerry is or was, but this was a nice little respite. Matt quipped that Jerry probably sat on this bench and shot deer that surely walk across this field often. We developed a totally unfair story about Unknown Jerry and his lazy hunting ways.
I told you I liked hiking with Matt.
I'm sure Jerry was an animal rights champion.
Let's move along.
Around Summer Hill, near some remote backyards, past the communications tower, and then down to Bigelow Brook. I took a billion pictures of Bigelow Brook. After all, the next few miles of the Natchaug hug the winding waterway.
We crossed Ashford Road (remember, we are now in Eastford. We parked our car on Eastford Road in Ashford.) and continued along the babbling brook. It really is pretty.
The trail traverses some floodplain area that certainly must be a mess after heavy rains. Just know that my pictures are from a frozen day after several very dry months. Your mileage may vary.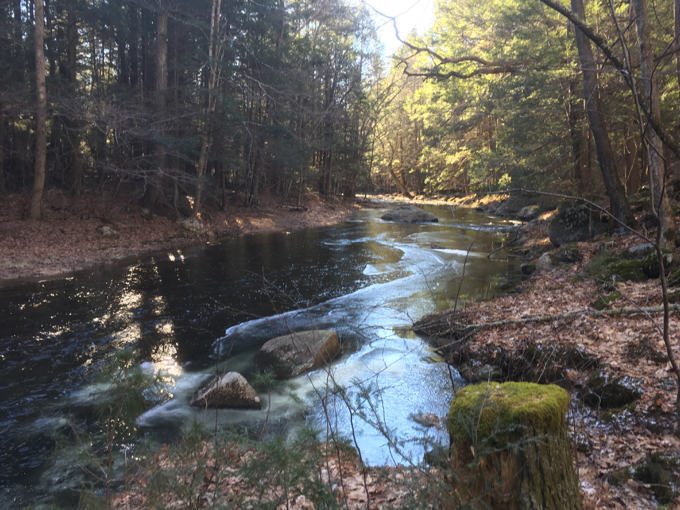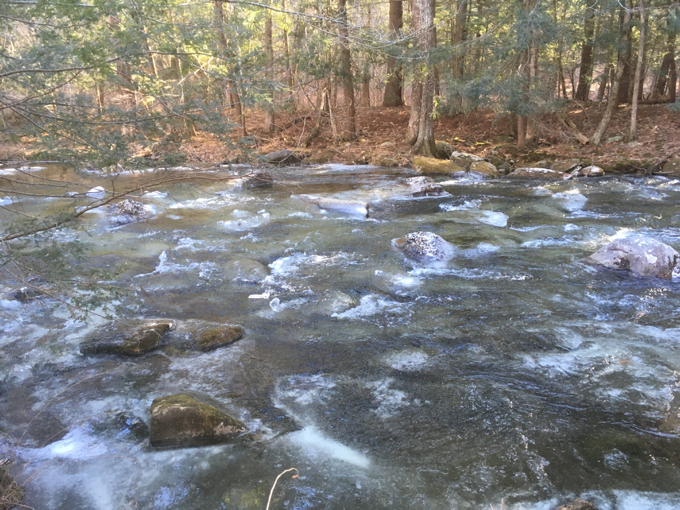 I found a leg bone, presumably from a deer. The interesting part of my find were the bite marks. Just a dog gnawing on a bone? Or… or, Eastford Wolves sucking life-giving marrow to fuel their nightly marauding?
You Decide.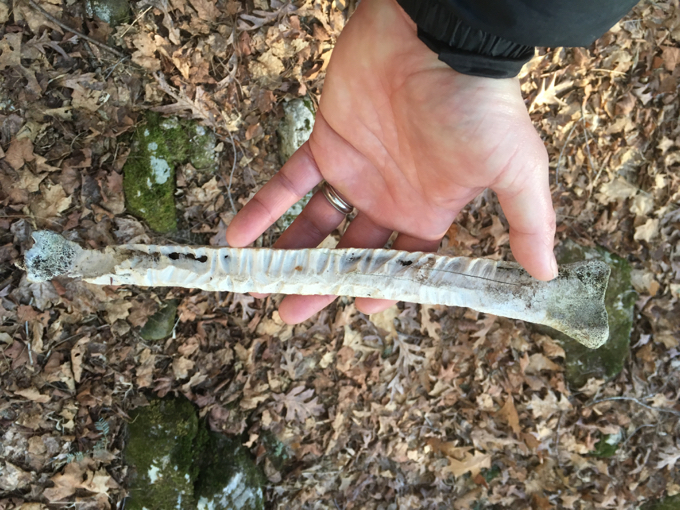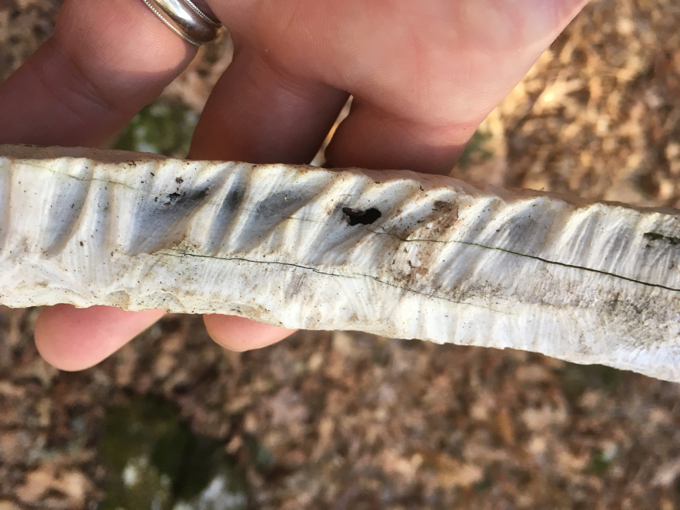 The trail turns away from the brook and climbs a bit to go around the Hole in the Wall Gang Camp. You've probably heard of this place; it's pretty awesome.
The Hole in the Wall Gang Camp was founded in 1988 by Paul Newman to give every child – no matter their illness – the chance to "raise a little hell." Including our summer Camp in Ashford, Conn, we run 9 programs that serve more than 20,000 kids and family members throughout the Northeast each year.
It is certainly the most "famous" thing in Ashford. (Yes, the trail is now in Eastford, but the camp has some property along Bigelow Brook here; presumably to give the kids a sort of "wild" camping experience.)
Paul Newman was a pretty awesome guy and this camp is extraordinary. Matt and I spent some time quietly reading a bunch of inspirational/funny signs made by the kids the previous summer. Here are some of my favorites: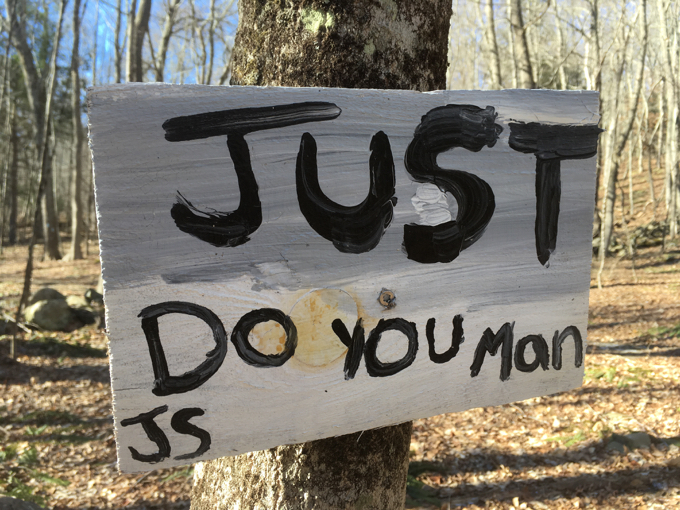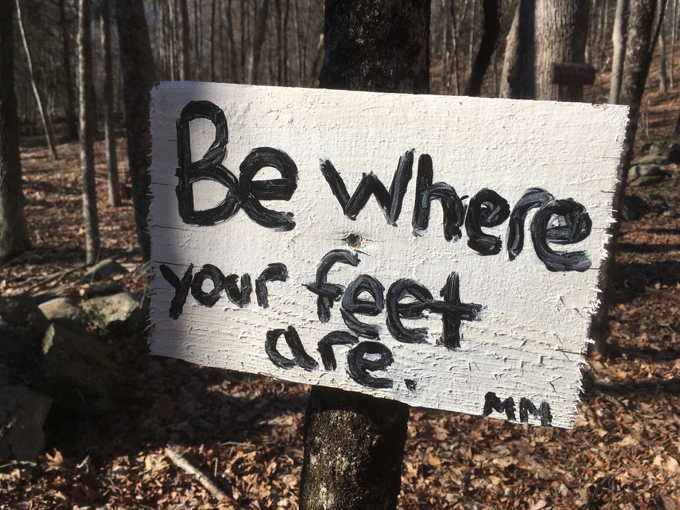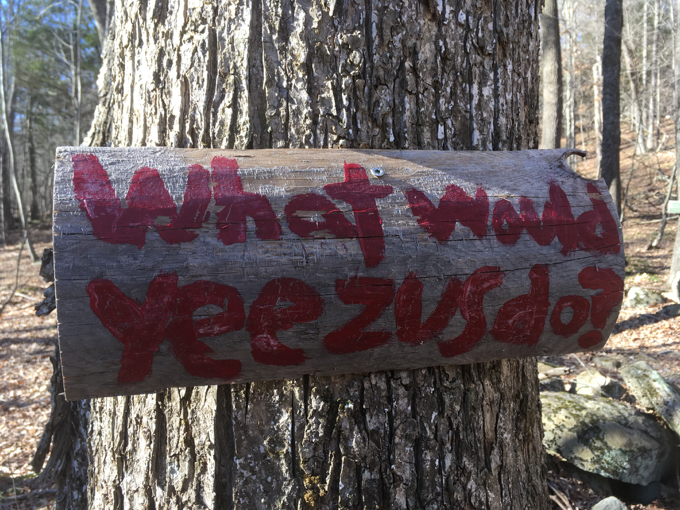 We hit the trail again and actually lost it for a few minutes. (There are other camp trails and roads here.) We made our way back to the Natchaug and Bigelow Brook and walked south down to Route 44.
After crossing 44, there is a little bridge over a small stream with a trail register. We signed it and then made quick work of the last couple of miles to our car. Strangely, I don't remember much about this last section at all. We left Bigelow Brook and it was flat and traveled on a bunch of old woods roads and… yeah. Not much going on here.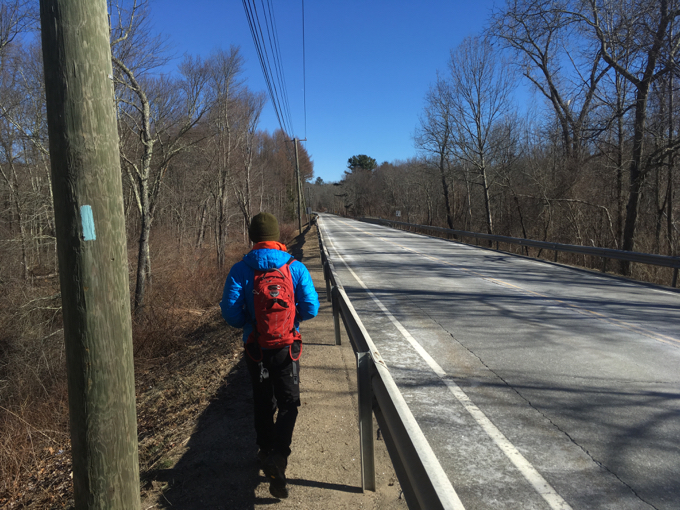 The final bit of the section was a road walk up route 198 towards the General Lyon Cemetery. It's a pretty neat little place and General Lyon was famous/infamous for being the very first Union general killed in the Civil War.
Yay?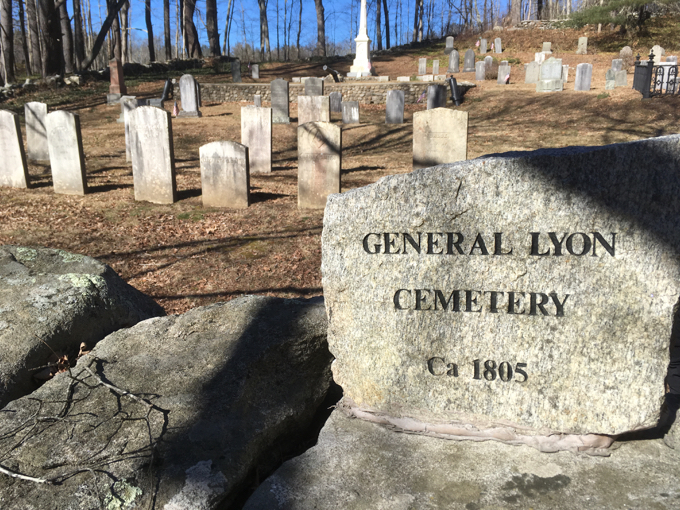 I wrote a bit about him over here, on a page ostensibly about his memorial, which the Natchaug passes in the next section.

Continue on to Section 2: Still NatCHUGGING Along
Matt's Explore Connecticut site
CFPA Trails Map
CTMQ's Natchaug Trail Intro