Hope for Bozrah
Hopemead State Park, Bozrah/Montville
March 2018
Poor Bozrah (again). The town I pick on more than any other got a postage stamp state park (60 acres) in 1955 and… a chunk of it is in Montville. Bozrah can't even have a little undeveloped state park all to itself. And look at this thing. It's a trapezoid.
The state's land does go all the way to the water's edge, despite what Google Maps is showing you. Because even Google Maps is conspiring against Bozrah. I was determined to have an excellent time in town, so I brought my sons to beautiful Hopemead State Park and parked on the desolate Cottage Road and we began exploring in a chilly early spring drizzle.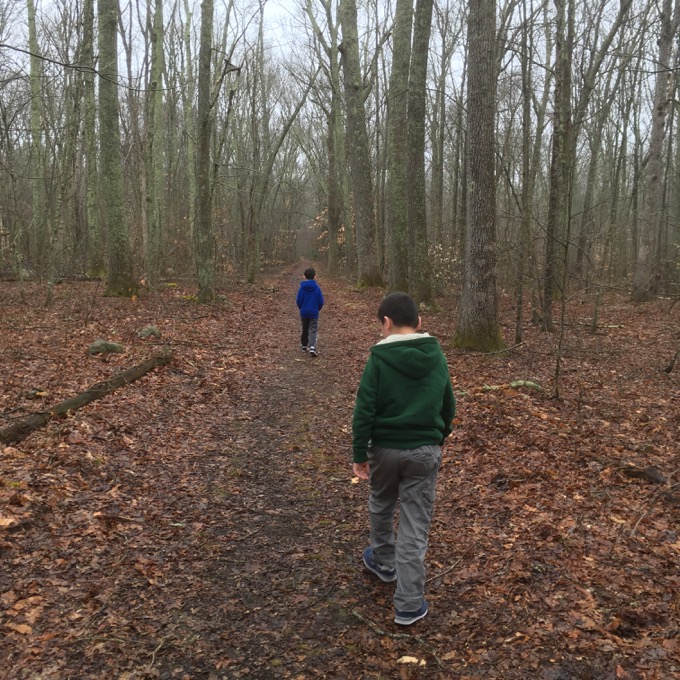 Hopemead features one "trail." The unnamed and unblazed trail is an old woods road; likely a former driveway to the former estate of George Dudley Seymour who donated his land here to the state. The site included a main house, summer lodge, carriage house, and barn – all of which are now long gone.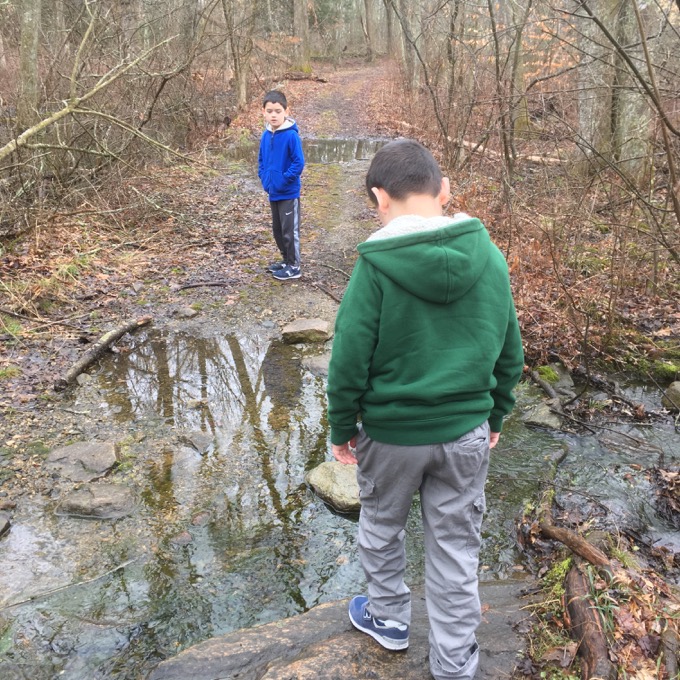 A few remnants remain down nearer the lake, but first we had to navigate the flat, straight, marshy trail.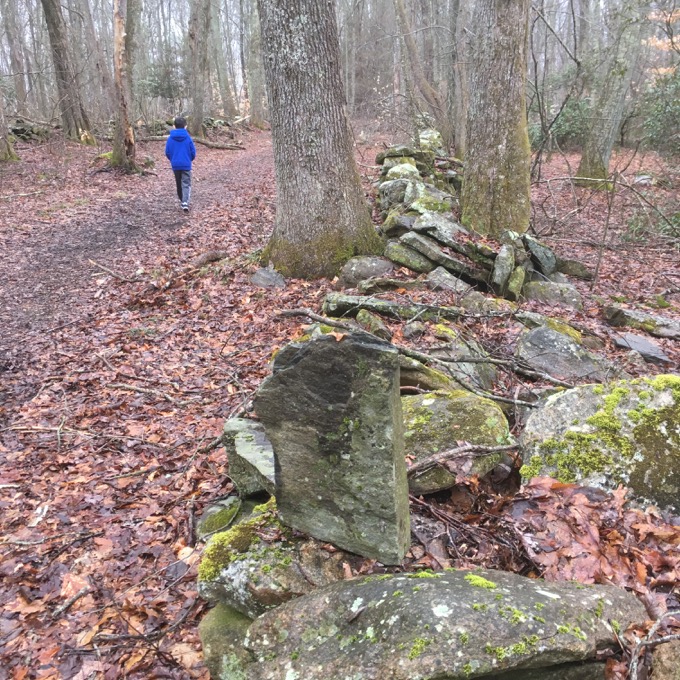 It wasn't exactly difficult. Although the red cedars here suffered mightily in this winter's string of snow, ice, and windstorms, as two giants have recently crashed across the trail. This merely made for fun ninja exercises for Calvin.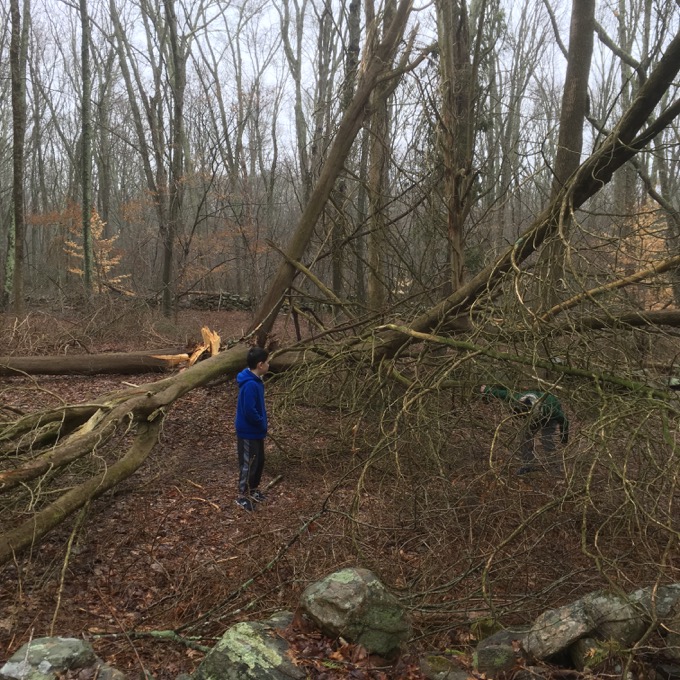 But Damian is not exactly adept at navigating unexpected challenges like massive trees blocking his way. However, probably once again because he watched his little brother snake through the boughs, he gave it a go and did it by himself.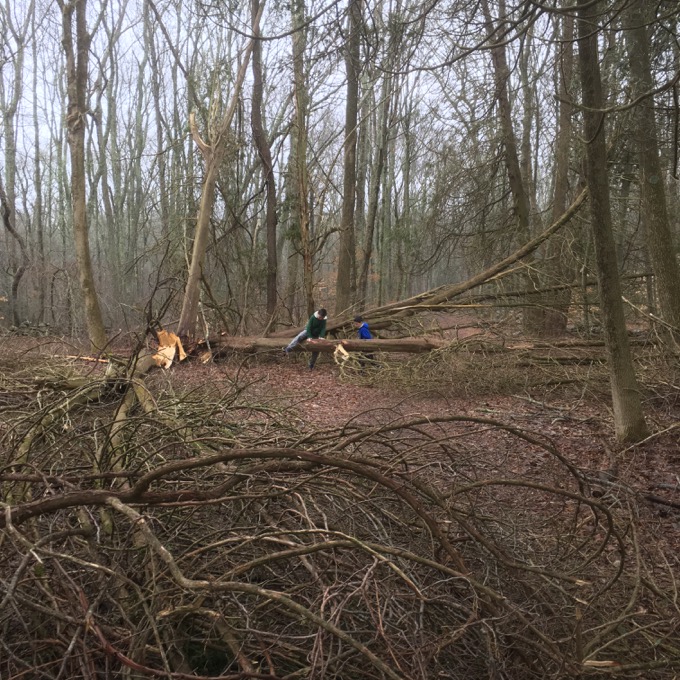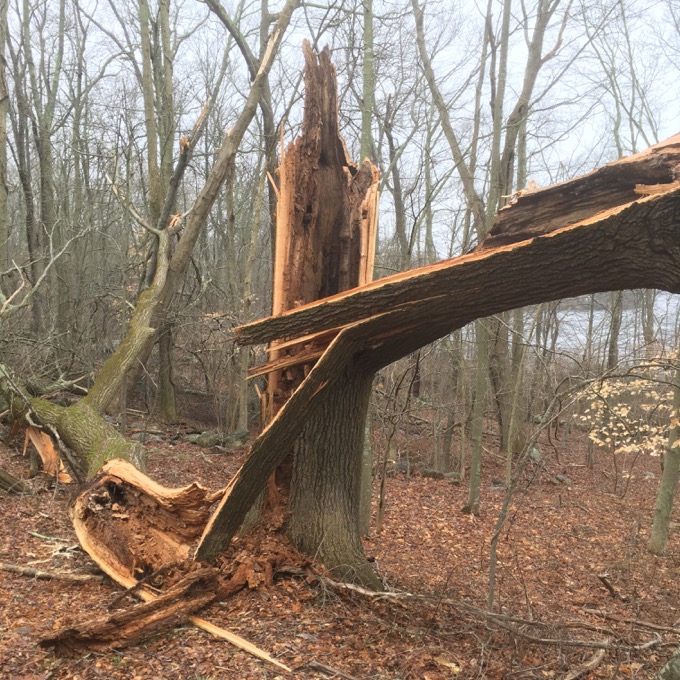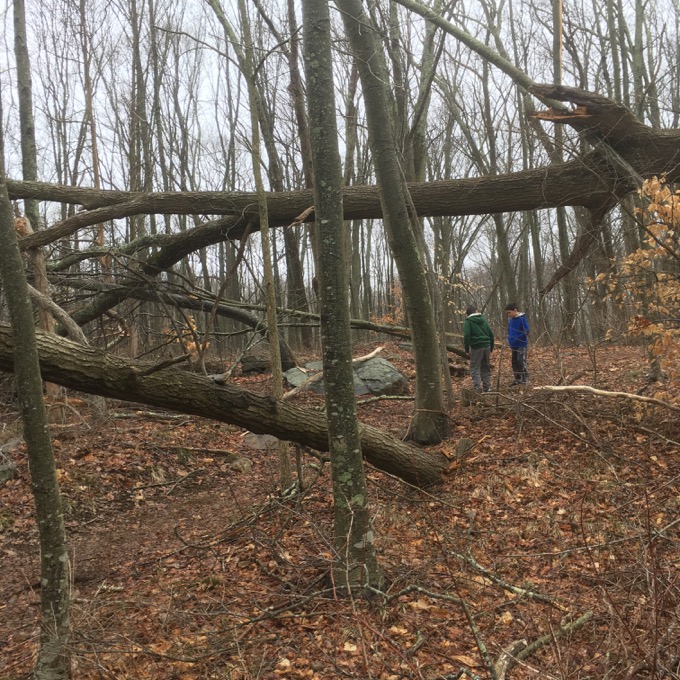 Once down near Gardner Lake, a vast network of stone walls appeared in the open woods. One would suppose this is where Mr. Seymour's house was.
And what house is complete without a root cellar of some sort? This one is fantastic! My children could literally live in this one and in fact, now that I think about it, isn't there a chance that these "root cellars" were actually "punishment dens" for unruly kids?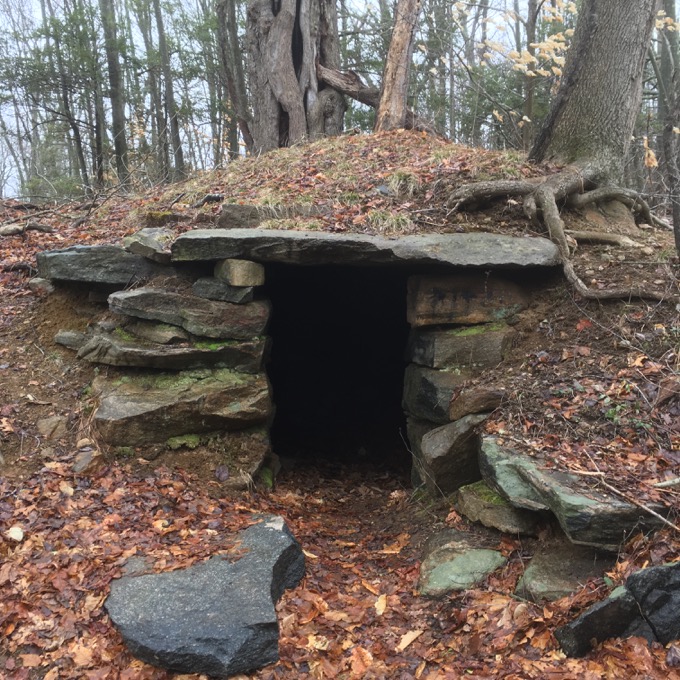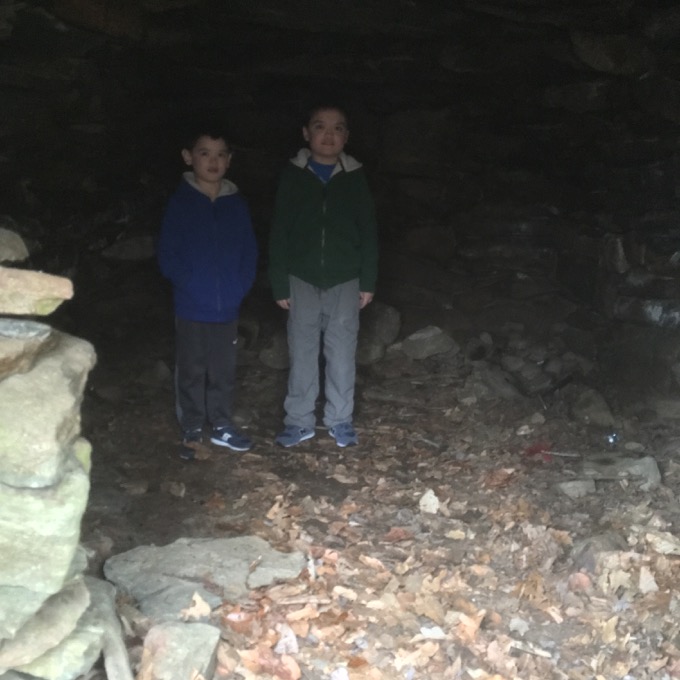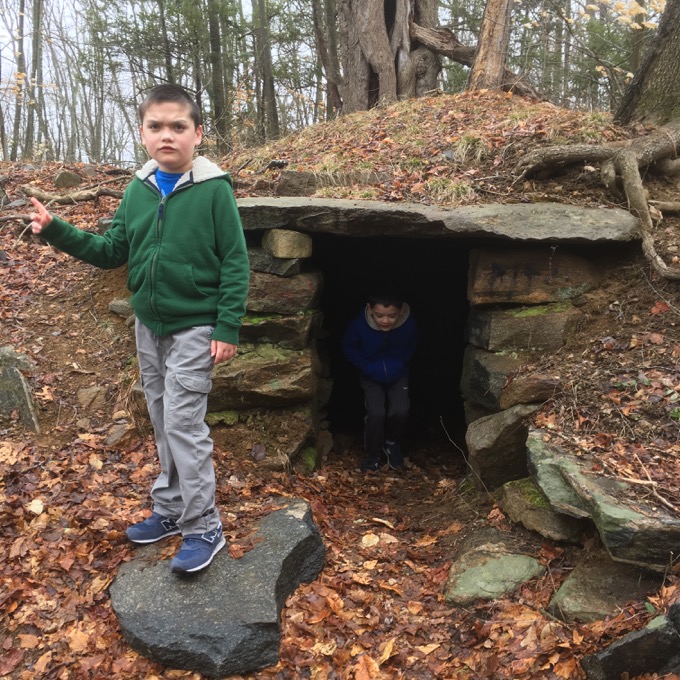 Just think about that… that's all I'm saying.
Down to the water's edge and there are really only a couple small places that allow people "water access." (There are plenty of launch sites on Gardner Lake that don't require a half mile walk with a boat on your back, of course.)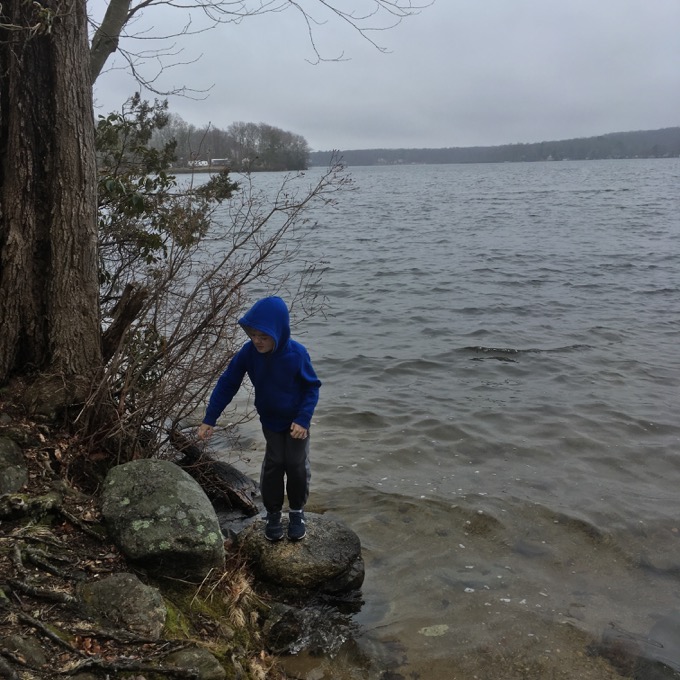 Calvin tested each rock that may or may not be wobbly, because that's what Calvin does. We all threw rocks for a spell.
I pointed out two more little state parks to them: Gardner Lake State Park (just a boat launch site) and Minnie Island State Park – perhaps one of my favorites in the state.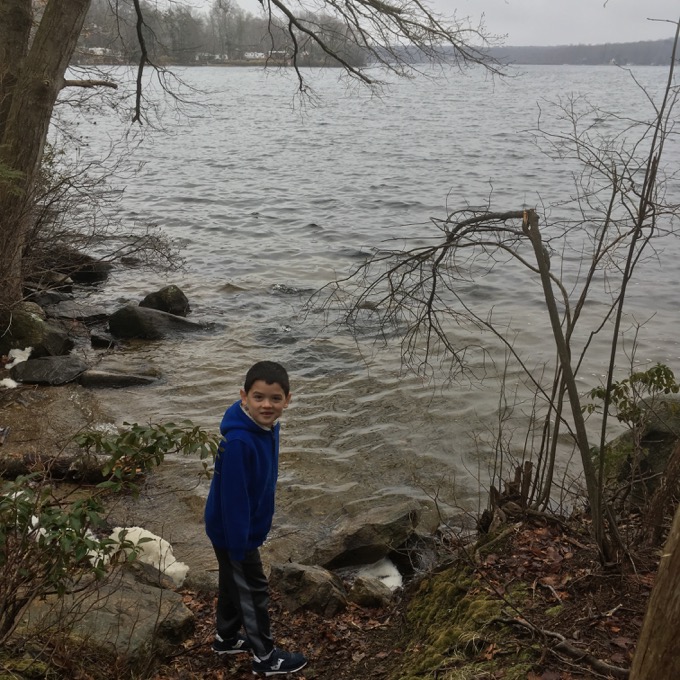 Gardner Lake, situated on the border between Bozrah, Montville, and Salem in southeastern Connecticut, is home to Gardner Lake State Park which is located on the lake's south shore in Town of Salem. The lake is natural in origin, though a 168 foot long earthen dam raises the water level 4 feet, bringing the average depth to 14 feet and providing a surface area of 529 acres. It reaches its deepest point at 39 feet near Minnie Island State Park, which is both the only island in the lake and Connecticut's smallest state park at 0.88 acre.
The story that everyone loves about this lake is the sunken house story. It's a pretty good story that I'll explore further when I visit the other two state parks here.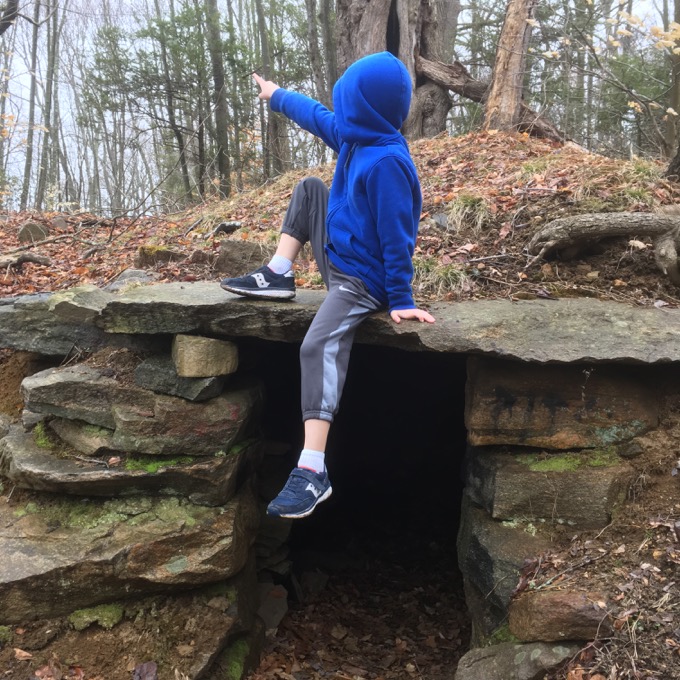 The lake is named after the Gardner family, who originally owned much of the land in the area. In February of 1895, a grocer by the name of Thomas LeCount decided he wanted to move his house. Rather than dismantling and rebuilding it, he decided to wait until winter and pull his house across the lake. He got about 100 yards off the south shore of the lake when the house slipped into a large snow bank. Thomas could not right the house without breaking the ice. Eventually, he decided to leave it for the night and come back in the morning to solve the problem. Overnight, the mill operators drained some of the lake's water for power. This caused the house to crack through the ice, pitching over at a steep angle. It stayed there until spring, and sank into 15 feet of water when the ice thawed. For many years the second story and attic remained above water looking much like a lighthouse. Children fished from it in the summer and skated through it in the winter. Some fishermen claim that on quiet nights they can hear mermaids playing the piano that sunk with the house.
Yeah. And some fishermen drink way too much.
Darnit – I just realized that half this page about something in Bozrah is about other somethings in Salem and Montville.
Sigh. Such is Bozrah.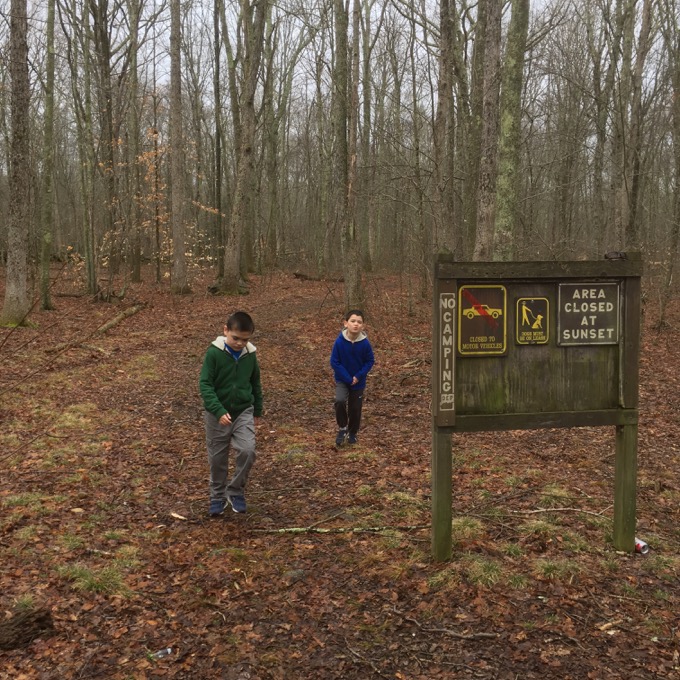 CTMQ's State Parks & Forests
CTMQ's Caves, "Caves," & Dens