Everything Salem
I've been exploring and writing about Connecticut since 2006. After a decade, I began compiling CTMQ guides for each town in the state. I plan on "completing" Salem CTMQ-style… as well as the other 168 towns, cities, and boroughs in Connecticut. After all, that is the ultimate goal of CTMQ.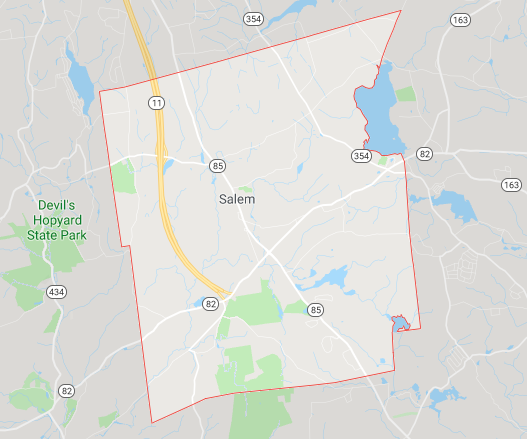 What do you know about the town most famous for not being the witchy Salem. You can scroll down for my list of things to do in town. Or, as always, you can click on the town's tag to see what I've done.
If I've missed anything in town or if anything has closed or changed, please let me know.

All The CTMQ Salem Stuff
Links take you to my reports.
Museums
Music Vale Museum (Potential future museum)
Old Ransom Farm Carriage Museum
Salem Historical Society Museum
Hikes & Paddles
Gardner Lake State Park
Minnie Island State Park
Zemko Pond Wildlife Management Area
Nehantic State Forest
Richard H. Goodwin Trail – Intro
Section 1 (East Haddam, Lyme, Salem)
Section 2 (Salem, East Lyme)
Salem Land Trust Trails – Intro
Ahnert Preserve
Big Brook Gorge
Bingham Preserve
Darling Road Preserve
Salem Riverside Preserve
Smuggler's Rock Preserve
Tatson's Woods Preserve
Zemko Sawmill Preserve
The Nature Conservancy Trails – Intro
Salem's Town Trails – Intro
Food & Drink
Salem Valley Farms
Fox Farm Brewery
CTMQ&A: Zack Adams of Fox Farm
Looking for your favorite restaurant? Here is an explanation as to why it's not here.
Everything Else
Ghost Highway (Route 11)
Music Vale Seminary
Weird Salem:
Dumb Thomas LeCount
Tragic & Brilliant Frederick C. Rawolle, Jr
Heroic Hirams Bingham III and IV
Cheeky Witch Meadows
Completion Celebration Meal & Salem Wrap-Up
2 Brothers Pizza