Richard H. Goodwin Trail
East Haddam, Lyme, Salem, & East Lyme
These trails that sort of "exist" outside of the state and towns and CFPA and everything else always vex me. And excite me. The Goodwin Trail is overseen by an outfit called The Eightmile River Wild and Scenic Coordinating Committee. Doesn't exactly roll off the tongue. And I've just read all about them and while I support their efforts, I can't really summarize what it is they do beyond protecting the Eightmile River watershed.
And stuff.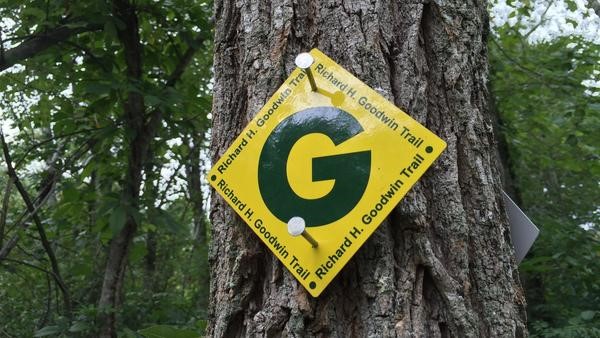 But I'm really only interested in this trail; a relatively new (2016) trail that co-opts other trails to a large degree. It travels through four towns (East Haddam, Lyme, Salem and East Lyme) and they have an eye to expand it further north someday. The Hartford Courant's Peter Marteka calls it "sheer outdoor brilliance," which is certainly high praise. The trail, officially The Richard H. Goodwin Trail is named after the late, world-renowned botanist and conservationist who lived in East Haddam. He as one of the founders of The Nature Conservancy and also started the organization's Connecticut chapter. Today, the conservancy works in all 50 states and more than 30 countries. The group has protected more than 117 million acres and 5,000 miles of river around the world.

Section 1 (East Haddam, Lyme, Salem)
Section 2 (Salem, East Lyme)