Ah-Salem `A-Makum My Ice Cream
Salem Valley Farms, Salem
July 16, 2011
I know I'm the king of clever title puns, but c'mon, this one is extra special good. Just like the ice cream down in Salem, right at the end of the current Route 11. You see what I did there? Geeze, it's almost like I'm a real professional writer or something.
And now that I've ruined what was a good transition, let's get back into it. As I put together the CTMQ list of homemade ice cream places in Connecticut, it came to my attention that there seems to be a proliferation of them in eastern and southern Connecticut. I guess it makes sense, as the beaches and most dairy farms are in that part of the state.
We take the Route 11 way down to "our" beach at Camp Harkness. I never had any idea that this joint existed until we started heading down that way fairly frequently and chances are that the vast majority of casino-goers and others that take this route don't know about it either.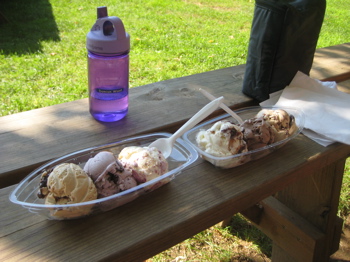 But that's not to say there aren't crowds at Salem Valley Farms. I think they're doing just fine by the looks of things during our visit. There are a million flavor choices from which to choose, so while we're doing that, you can go ahead and read about the operation in their own words – words that just may inspire you to make the long drive to Salem:
All our ice cream is handmade on premises just two tubs at a time. This is how we've done it since 1988, and will continue to do so. We use the best ingredients we can find for the flavors we offer, and all candies, nuts, and such are added by hand AFTER the ice cream comes out of the machine. What this means to you is lots of large chunks, not ground up tiny bits.

We don't add artificial colors, so our mint chocolate chip is white, as is our pistachio. BUT, it's REAL. And really good!

Some examples of our premium ingredients are we use Pure Madagascar Bourbon Vanilla extract, 100% pure coffee extract, special dark chocolate chips made to be able to be tasted in ice cream and not freeze like rocks. If a flavor calls for nuts we use lots of REAL nuts.

Our ice cream is made with a 16% ice cream mix, making it a premium, rich and very creamy product.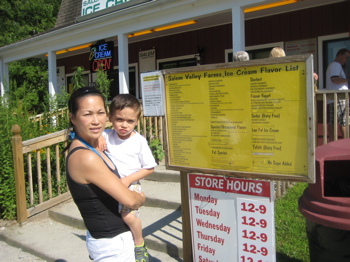 The site goes on to explain the low-fat, no sugar, and no dairy (!) options, but that's not what we're about, so no need to post that here. Just know that they care about your heart and digestive and vegan ways. They really do.
We arrived after a few hours at the beach with empty stomachs. But how in the world would we choose from this gigantic menu? It's simply amazing to me that Salem Valley Farms makes their ice creams in such small batches but somehow are able to have a kajillion flavors.
There site does warn, "Our flavor list is not a guarantee of availability. Most flavors are usually available, but are subject to change and sometimes run out!" – a fair warning, considering.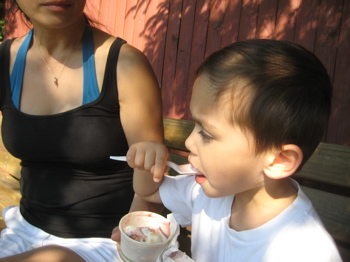 Fortunately for gluttons like us, these guys offer "sampler boats" of either three or four "small" scoops. Perfect. I chose the peach melba for Damian and then it was up to me and Hoang to decide for ourselves.
Hmmmm…
I selected three flavors not usually in my repertoire. Cappuccino Fudge Crunch, Blueberry Cheesecake and something called Purple Sable, which is black raspberry ice cream with chocolate chips. Hoang also went with the Cappuccino thing and coconut almond fudge and I forget.
All were beyond excellent. (I don't want to do it, but I have to mention that I really didn't like the Cappuccino Fudge Crunch, but it was my fault. The menu clearly stated that it contained 'coffee ice cream with cinnamon flavor." I do not like cinnamon very much and didn't expect it to be so strong in this flavor. It was way too strong for me and, well, bleh.)
For the record, Hoang loved it. And Damian loved his peach melba. Salem Valley Farms provides a bunch of totally unshaded picnic tables which is a slight minus, as everyone was crowded into the scant mid-afternoon shadows.
But you better believe we'll be making this place a regular stop whenever we travel down Route 11 to its abrupt end in Salem. I mean, I can't go through life without trying their 60 other flavors, now can I?

Salem Valley Farms Ice Cream
CTMQ's Homemade Ice Cream Trail